How to Sync WhatsApp Messages to Fix WhatsApp Not Syncing Messages
Category: Transfer WhatsApp
3 mins read
Transferring WhatsApp data is not a difficult task, but sometimes, the syncing does not work due to some issues. If you are also going through this difficulty, then read this article carefully. This article is going to be a complete guide on how to sync WhatsApp messages and how to fix WhatsApp not syncing messages.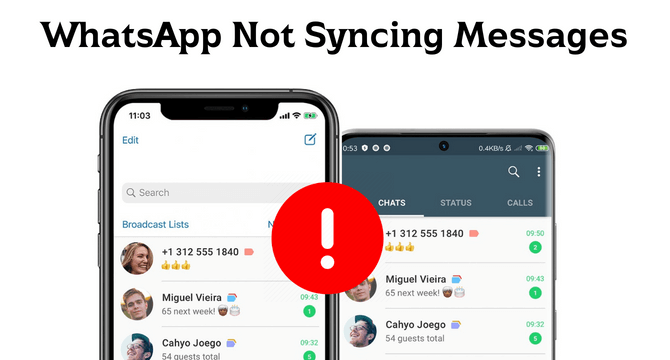 Part 1: Why Is WhatsApp Not Syncing Messages
WhatsApp is an online messenger application; it creates problems due to security issues. Sometimes, it causes some issues like syncing problems and hurdles in data transferring for both Android and iPhone. This can be because of many reasons, and some of them are listed below. Just check all these things and make sure to set everything correctly. Any unwanted change can be a cause of WhatsApp's not syncing problem.
Poor internet connection
Cellular data mode
Uncharged device
WhatsApp sleep setting
Due to multiple people connected to the same WhatsApp account
Disabled WhatsApp App Permissions
Part 2. How to Sync WhatsApp Messages from Android to iPhone
WhatsApp data can be transferred from Android to iPhone in multiple ways. It has become easy to get selected or whole WhatsApp data from Android to iPhone using built-in functions or reliable third-party tools or software.
The third-party tools allow transferring whole data at once, but if you want to move specific and selected data, then transferring through E-mail can be the first option. Here are some simple steps you can follow to sync your WhatsApp data from Android to iPhone in seconds.
Step 1. First of all, go to the menu of WhatsApp on your Android device (the device from where you want to share/send the data). Tap on the Settings option.
Step 2. On the next screen, you will see the option of Chat. Tap on it to get all the settings related to chat. At the bottom of the next screen, tap on Chat history > Export chat.

Step 3. This step will show you all the options of transferring available on your Android device. Select via Gmail or Email and provide all information about the receiver's account. In the end, tap on the Send icon. Your chat will be sent to the receiver's email account on iPhone.
Part 3. How to Sync Old WhatsApp Messages to New iPhone for iOS Users
In case you have upgraded your mobile and want to shift your WhatsApp from one iPhone to another iPhone, then you can use the built-in function or any software for this task. Here, we have discussed both methods with listed steps on how to use them.
1

Sync WhatsApp Messages with iCloud

WhatsApp offers a built-in iCloud Backup option to save, restore, and transfer app data from one mobile to the other one. You can also use this method by following a few simple steps listed below.
Step 1. Enable iCloud Backup on both devices. Go to the WhatsApp settings of the device from where you want to send the data.
Step 2. Tap on Chat > Chat Backup > Back Up Now. This will start saving your data on the iCloud server.

Step 3. Now, take the second mobile to which you want to get or receive app data and install WhatsApp on this device. Sign in to your account on the same mobile number you used on your first mobile's WhatsApp.
Step 4. After creating the account, WhatsApp will show you an option to restore your chat. Tap on Restore.
2

Transfer WhatsApp Messages with iTunes

iTunes is another way to create WhatsApp backup on computers easily. You can save your data to a PC and then from the PC to any other mobile. Follow these simple steps to do so:
Step 1. Connect your iPhone with your PC having an updated version of iTunes installed. After connecting your mobile, it will ask you to give permission by tapping on Trust the computer from your mobile.
Step 2. Now, open iTunes on your computer and provide all credentials of your Apple account. After logging into the software, click on the Summary option from the left panel of the screen. Identify and select your device name and move on.
Step 3. You will see a button with the name Backups. Select the option This Computer and click on the Done button at the right bottom of the screen. This will transfer WhatsApp data from mobile to PC.
Bonus Tips: Sync WhatsApp Messages from One Phone to Another [No OS Restriction]
If you feel that the first two methods are still a little cumbersome, then use a wonderful third-party software can be a better choice for you. iMyTrans is recommended to transfer data from one device to another. Due to its extraordinary features, you can use it easily for all kinds of WhatsApp data transferring from one device to another without any OS restriction. You can download and use it free for data backing up; it also offers a paid version with more efficient features and functions.
Step 1. Open the software iMyTrans and connect both mobiles to the computer through USB cables. Allow permissions from both mobile phones.

Step 2. You will see an option Transfer; click on it. The software will require some time to shift data from one mobile to the other.

Step 3. After data transferring, the program will show you a Done button. Click on it to finish the process.
Conclusion
There can be many reasons for a person to sync WhatsApp messages to a new phone. There are a lot of ways available for this process, but it sometimes shows syncing problems. We have listed the possible reasons that you can check if you are also facing this issue. Moreover, we have shared four different ways on how to transfer or how to sync WhatsApp messages and data between different devices. You can choose any of the above-mentioned ways for this task, but iMyTrans is the simplest, easiest, and most reliable method.
Customer Reviews