WhatsApp has become a necessary tool for all of us these days. Whether we talk about businessmen or individuals having personal communication, WhatsApp is the tool that helps everyone stay connected. However, switching from Android to iPhone is tricky because there is a risk of losing your WhatsApp data and chats. Here we'll do a review about whether Dr.Fone WhatsApp Transfer from Android to iPhone can solve all your issues.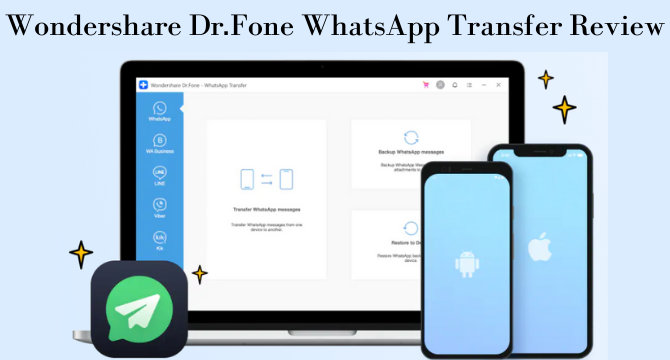 Part 1. Wondershare Dr.Fone WhatsApp Transfer Review
It helps you transfer your WhatsApp chats between different devices. It is one of the tools available in the market right now. In this Wondershare Dr.Fone Review, we will be elaborating on everything you need to know about it.
1.1 What Can Dr.Fone WhatsApp Transfer Do for You
It is a tool that brings many attractive features and functionalities to make your life easier, especially when you are switching your devices. Some of the things it can do are:
Transfer WhatsApp chats among different devices: Whenever you are transferring from different operating systems, it is hard to transfer WhatsApp chats. So, with the help of Dr.Fone WhatsApp, you can easily transfer your chats from iPhone to Android. However, keep in mind that it does not allow you to transfer your WhatsApp chats the other way around.
Works with WhatsApp business: When you use Dr.Fone WhatsApp, you can use all the chat transfer functionalities in the basic WhatsApp application and the business version.
Easy backup: Creating backup and restoring it is so simple with Dr.Fone WhatsApp. This function also works on the basic and business versions.
1.2 Steps to Transfer WhatsApp Using Dr.Fone
When you want to transfer WhatsApp using Dr.Fone, it is steps process with backing up WhatsApp on source device and then restoring the backup to target device:
Step 1. Starting Dr.Fone on your computer and choose WhatsApp >> Transfer WhatsApp messages.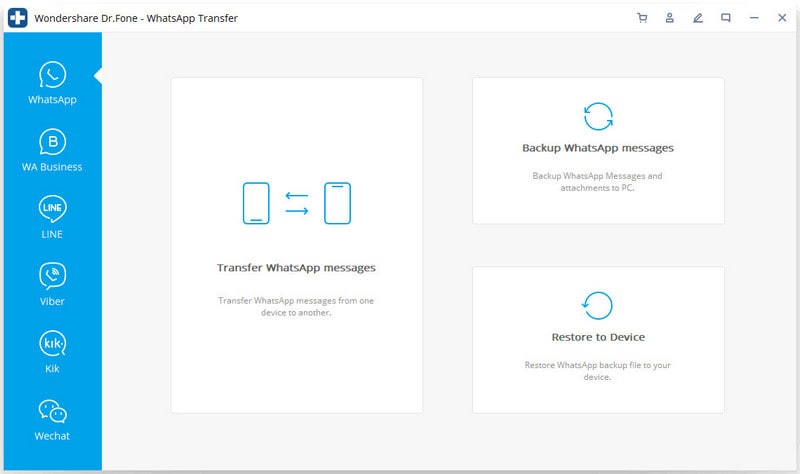 Step 2. Connecting your mobile phones with the computer and click on Transfer.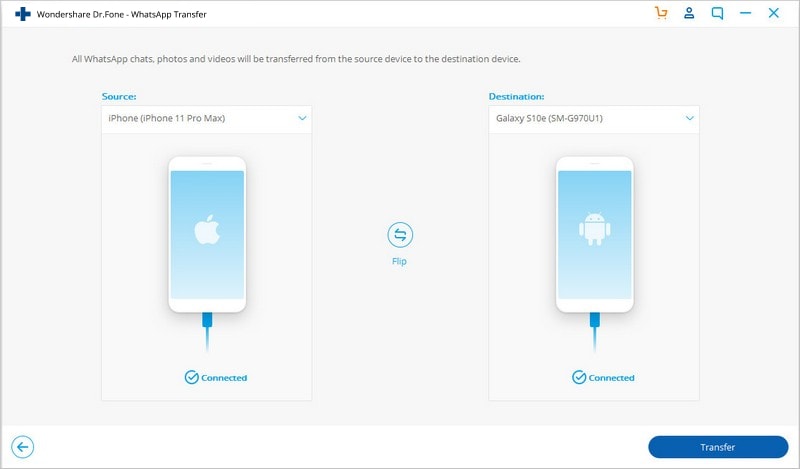 Step 3. Wait for the process of backing up WhatsApp and restoring, and carefully follow the instructions on screen.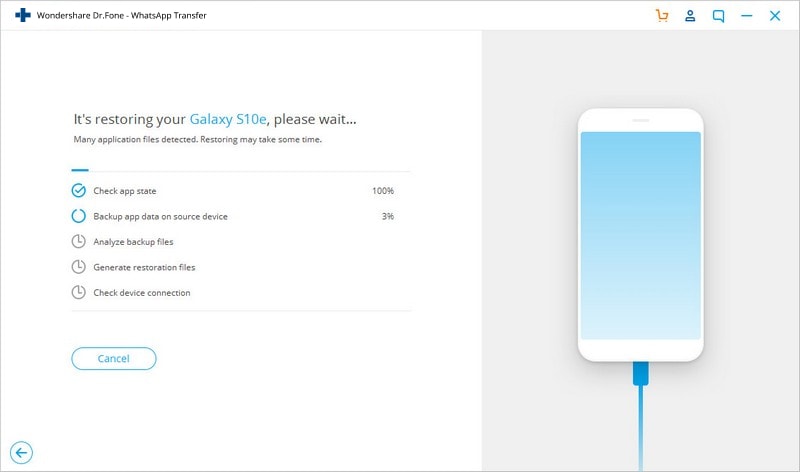 1.3 Dr.Fone WhatsApp Transfer Download/Price
You can use Dr.Fone for paid version, and it is available on Windows operating systems. There are 3 paid plans available, which are as follows:
1-year license to use Dr.Fone on 1 PC, where you can use 1-5 mobile devices, will cost $21.95.
Perpetual year license to use Dr.Fone on 1 PC where you can use 1-5 mobile devices will cost $29.95.
1-year business license to use Dr.Fone on 1 PC, where you can use unlimited mobile devices, will cost $245.99. There is no auto-renewal with this package. If you want this package on more devices, you need to contact Dr.Fone.
With these 3 pricing plans, Dr.Fone is a good choice for individual users and makes an amazing option for the businesses who sell their WhatsApp transfer services.
Part 2: Dr.Fone Free Alternative WhatsApp Transfer from Android to iPhone
Dr.Fone is one of the tools that you can use to transfer WhatsApp from one device to another. However, iMyTrans is an amazing alternative to Dr.Fone if you do not want to use it because of a missing feature. Here is all you need to know about iMyTrans.
2.1 Why Choose iMyTrans
Choosing iMyFone iMyTrans (pre iTransor for WhatsApp) will be your perfect decision because it comes with all the features and functionalities you may need. Some of its functionalities include:
Transferring: It does not matter what device you have when you want to transfer your data. As long as you have an iPhone or Android device, iMyTrans will allow you to seamlessly transfer your WhatsApp chats across different devices.
Backup: If you want to save something from your WhatsApp chats out of your phone, you can use the free backup feature available here. In this way, you will always have a copy of that chat or chats out of your phone.
Restore/Export: Just like you can create WhatsApp backup from different devices, iMyTrans allows you to restore or export that backup to different devices for an easier experience.
Google Drive backup restore: One of the best features that you will get here is that you can access and restore WhatsApp files from google drive to your iPhone or Android. This feature makes things easier for you.
2.2 Steps to Transfer WhatsApp from Android to iPhone without Data Loss
iMyTrans helps you easily transfer all of your WhatsApp data across your different devices. So, if you want to transfer WhatsApp from your Android phone to your iPhone without any data loss, then you will need to follow these steps:
Step 1. Start your computer and launch iMyTrans. Connect mobiles to the tool using data cables and allow your computer to access the phone's data.
Note
Remember to turn the "Find my iPhone" option off. For Android, the program will install a customized WhatsApp on your phone where the program can access your data.
Step 2. Click Transfer once everything is ready. Wait for the transfer process and follow any instructions on interface to make sure that WhatsApp data is transferred smoothly.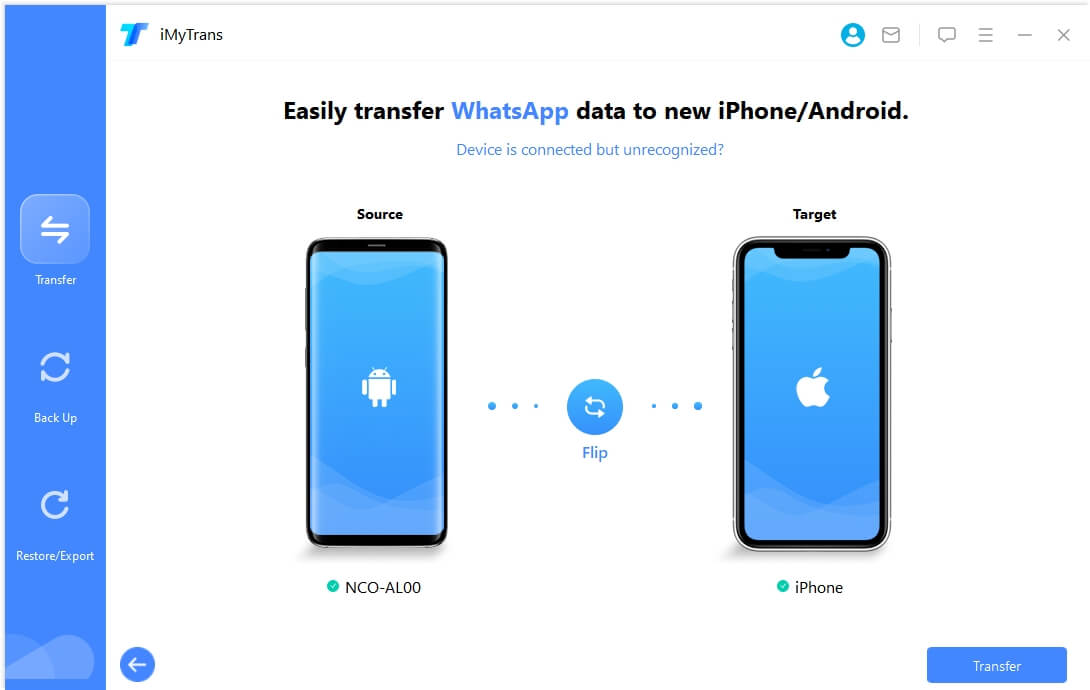 Step 3. Keep devices well connected and click Done to finish the process.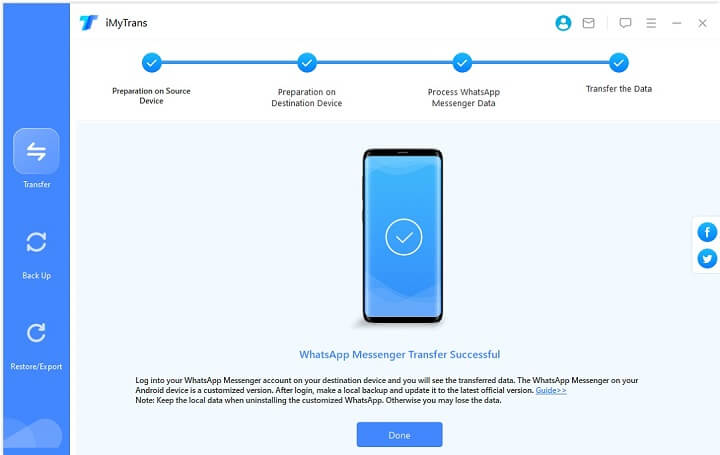 With these 3 simple steps, you will easily transfer your WhatsApp from one device to another. While the process is very simple and quick, it also brings peace of mind that you are not losing any data from your WhatsApp. The best part here is that this feature is not only limited to chats, but it also includes everything from attachments to media and everything else.
2.3 Prices and Purchase Plan
While you can try this amazing tool for free, it is available for businesses and individuals. Below are all the purchase plans you need to know about:
Individual Plan
The individual plan costs $29.99 for a month, allowing five devices. You can restore WhatsApp backup from Google Drive to iPhone, transfer data between iOS and Android devices, as well as export WhatsApp data to HTML, PDF, or CSV.
There's also one year plan available for $39.99, which also allows you to restore WhatsApp backup from Google Drive and access all features of the WhatsApp tool. This is the best selling plan.
Business Plan
The business plan comes with one offer, one year. You can also choose as your choice. One Year plan for unlimited devices & PCs costs $109.99.
While the lifetime plan with the same number of devices costs $89.95, allowing you to use all features without any limitations.
A lifetime plan is the best deal as it costs less, and you can restore WhatsApp backup from Google Drive to iPhone. So, choose the plan that suits you best.
Part 3: Comparison between Dr.Fone WhatsApp Transfer and iMyTrans
Dr.Fone and iMyTrans are both amazing when transferring WhatsApp chats and data across different devices. There are many overlapping features with some unique ones as well. Here, you can look at the features both of these bring for you.
| Features | Dr.Fone | |
| --- | --- | --- |
| Android to iPhone transfer | | |
| iPhone to Android transfer | | |
| Backup and Restore | | |
| Google Drive Backup and Restore | | |
| Media and Attachments transfer | | |
| Prices | $41.95 yearly | $49.99 lifetime |
FAQs: More You May Want to Know About Dr.Fone Whatsapp Transfer
1

Why is Dr.Fone WhatsApp Transfer stuck at 90?
The most common reason for having this issue is that you are using an older version of the WhatsApp application on your devices. So, go to the application marketplaces and update your application. The issue will easily go away this way.
2

How can I get Dr.Fone Whatsapp Transfer Coupon?
Different websites providing discount offers provide a coupon for Dr.Fone. This coupon allows you to have this software at a cheaper price. So, if you are also looking to get this offer, make sure to look for the websites providing discount coupons.
3

What can I do when Dr.Fone WhatsApp Transfer failed?
There could be many reasons why the transfer is repeatedly failing. There could be issues like incompatible devices or storage issues in the most common scenarios. Similarly, you may face WhatsApp application issues or connectivity issues. To solve these issues at your end, track down which of the issues is causing the problem and then try to fix that accordingly.
4

Why is Dr.Fone Whatsapp Transfer not working?
If Dr.Fone is not working, there is some issue with your devices or the wires you are using to connect them. So, try using different wires for connecting the phone. If the issue is still there, you can try updating your phone OS or application.
Conclusion
There was no solution to transfer your WhatsApp chats from your Android device to the newer iPhone you just switched to. Many people hesitated to change their ecosystem, while others lost valuable data. Some paid tools were not that reliable. So, nobody has to go through such issues because of our tools today. You can also solve the problem using iMyFone iMyTrans to transfer WhatsApp from Android to iPhone and similar tools.