"I am looking for a way to find disappeared text messages on my Samsung phone. I would be grateful if someone could help me out."
Text messages can be important for helping us keep in deep touch with friends, families, school mates, colleagues, business partners, etc, in our daily lives. However, we could get in the situation in which we accidentally delete some of the important texts. So is there any way to restore the deleted text messages? Does Samsung provide any methods for smartphones such as Samsung S3/S5/S6/S7? Yes, they do! Moreover, there are also many other methods to restore deleted text messages. In this article, we will discuss why my Samsung text messages disappeared and how to find disappeared texts on Samsung using various methods.
Part 1. Why Are Samsung Text Messages Disappeared?
So before we begin, let's discuss, why are Samsung messages lost, anyway? There can be multiple reasons, but let's keep it simple. Three most common reasons are:
Accidental deletion: This is the most common reason. One issue we all face while using a smartphone is space management. We have a lot of images, videos, messages, and more stuff that need to be deleted so we can add more data in the smartphone's storage. Sometimes, we choose to delete data in bulk. And woosh! everything is deleted in a single click and then we realize, the important text messages are also gone.

Factory reset: Smartphones become sluggish after some months of heavy usage. All data including text messages would be wiped after a factory reset.

Smartphone crash: Now this is rare. But it happens. Sometimes our smartphones crash with a warning because of a virus or hardware issue. So this can result in losing messages.
Part 2. Where are Deleted Texts Stored on Samsung Galaxy Phone? How to Find it?
We know the reasons why messages are lost on Samsung smartphones, now let's talk about how we can find them.
We can use different methods such as Samsung backup, restore app or D-back android. We will discuss all these methods one by one.
Find
disappeared

text messages on Samsung from Cloud

If you are a Samsung user, you know what the Samsung Cloud is. It is an online backup service for Samsung smartphones and tablets. It is a simple data management system that is very helpful when it comes to the recovery of lost data.

So if you have lost your text messages on Samsung, just don't panic. Check if you have a backup of your phone to the cloud. If yes, then just follow the following steps.
1. Find Settings on your phone, click on Accounts and back up.

2. Click on Backup and Restore.

3. Click on Restore data, choose your Samsung smartphone.

4. Next, select the content you want to restore. In our case, text messages.

5. Click on Restore.
Note
It requires a previous backup. Or, you can only try the following methods.
Find disappeared Samsung Messages from your service provider
Most people do not know that the service providers have copies of your personal data. This personal data includes your text messages too. Providers such as AT&T, Verizon, T-mobile, and others keep your personal data mainly for political reasons. But this means we can recover text messages on the Samsung smartphones from the service provider. This is a tough method to restore messages but it can work.
Go to the website of your service provider and log into it. Then navigate to the message section where you can look up the historical data. You can find your text messages in the previous billing period. In case you can't, contact the customer support. They may pull your lost text messages.
Note
It also depends on your terms of use. For some service providers, you may have to pay some extra fees.
Find
disappeared

text messages on Samsung with SMS Backup & Restore app

Apart from the Samsung cloud and service provider, there is also a useful method to restore the lost text messages in Samsung. This method is using third-party applications that are available on the Play store. There are several such applications available on the Play store. But as these applications provide backup just like the Samsung cloud, you need to make sure you have backed up your messages to these applications. One of the best third-party applications for messages backup is SMS Backup & Restore.

The SMS Backup & Restore application is available on the Play store. Follow the steps to restore messages on Samsung smartphone using this application:
Step 1. Install SMS Backup & Restore, and launch it.

Step 2. Tap Restore.

Step 3. Choose the backups which contain text messages, and tap the checkboxes next to it.

Step 4. For recovering multiple backups or a specific one, tap the arrow next to the SMS messages backups.

Step 5. Tap Restore.

Step 6. It requires you to set SMS Backup and Restore as the default messaging app temporarily. Choose OK.

Step 7. Tap Yes. The restoring process will be started.

Step 8. Once the restore is completed, tap Close.
So such applications are useful. But there is something you need to know. There is a hidden folder in your smartphone's memory that contains all the deleted text messages. You can't access this folder by file explorer. You need to root your smartphone for this. So remember, such applications only restore your messages after rooting your android device. It is not at all possible without rooting. If you don't want to root your phone, you can recover text messages from your unrooted phone as well.
How to find
disappeared

texts on Samsung via D-Back Android

The last method we are going to discuss is using the D-Back Android tool. As a professional data recovery tool, it can recover everything you have lost without any hassle. Except for text messages, it also supports other kinds of data types. Though newly-launched, D-Back Android features a high success recovery rate.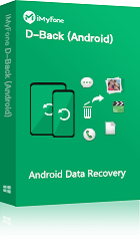 1,000,000 Downloads
Features of D-Back Android
Capable of recovering deleted texts on Samsung phones/tablets with or without backup.

Capable of retrieving your lost/disappeared texts caused by accidental deletion, water damage, system crash and more.

The application has a high recovery success rate, and very safe to use.

The recovery process is very simple, you can find your photos through only a few steps.

Compatible with Android OS 2.0 to 9.0.
Let's see how we can restore text messages using this tool.
Step 1. Launch it and choose the recovery mode you need. There are three modes - 'Recover Data from Google Backup', 'Android Data Recovery' and 'Broken Android Data Extractor'. Let's go for 'Android Data Recovery'.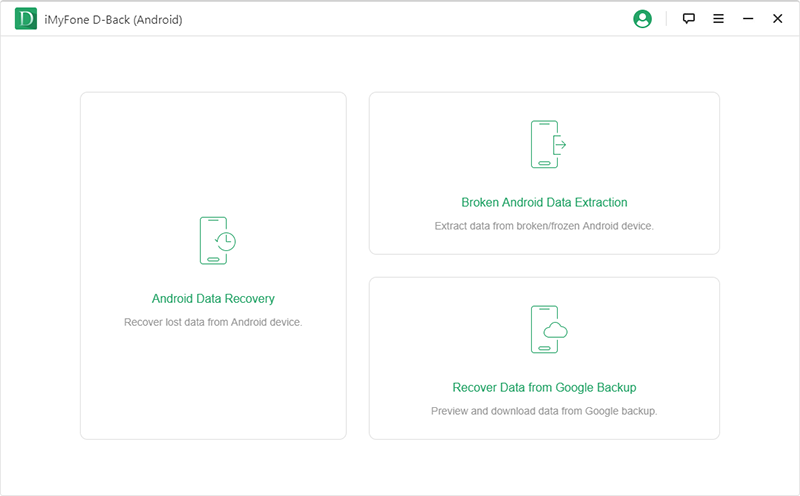 Step 2. You can choose your device information. Select the correct device name and model. Click on next and the application will automatically download the data package.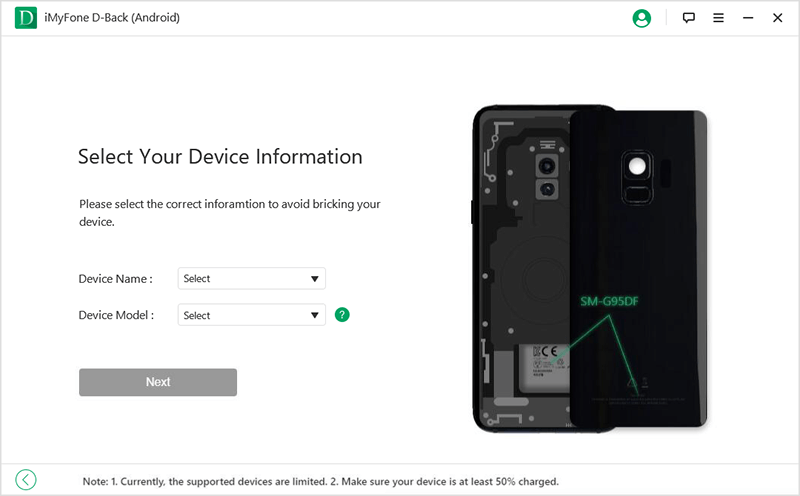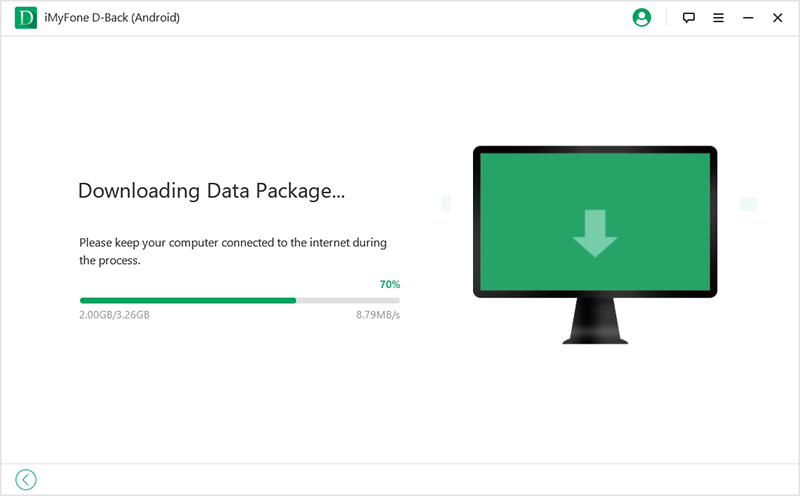 Step 3. After that, connect your smartphone with PC via USB cable. Next, you have to follow three simple steps provided by D-Back to put the device in the downloading mode.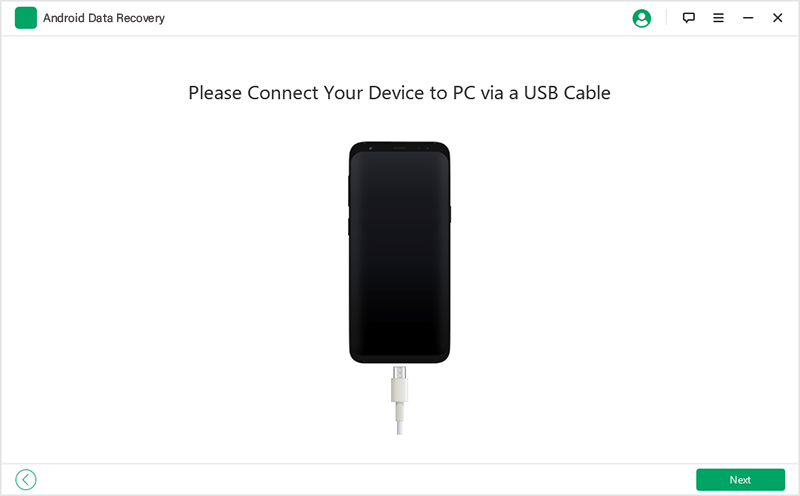 Step 4. Now you can choose the file type "Messages"you want to restore. Click 'Next' to scan the type you selected.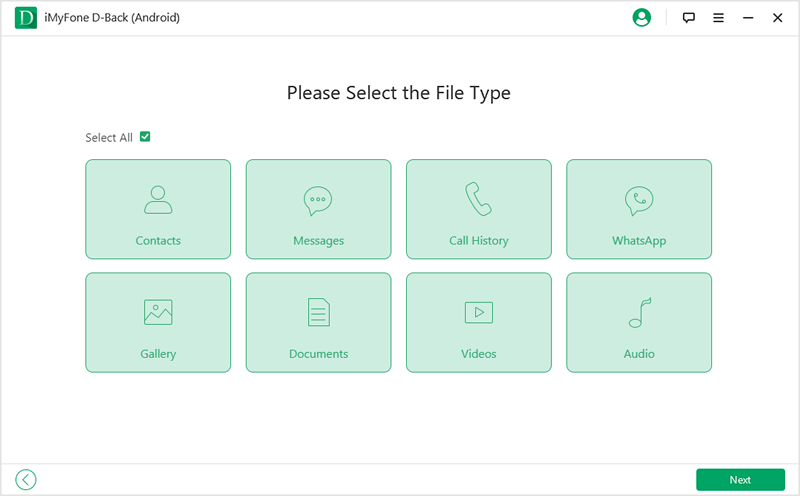 Step 5. At last, you can see all the lost files listed on your screen. You can preview them and choose which files you want to recover. Click on 'Recover' and all the selected files will be saved into your PC.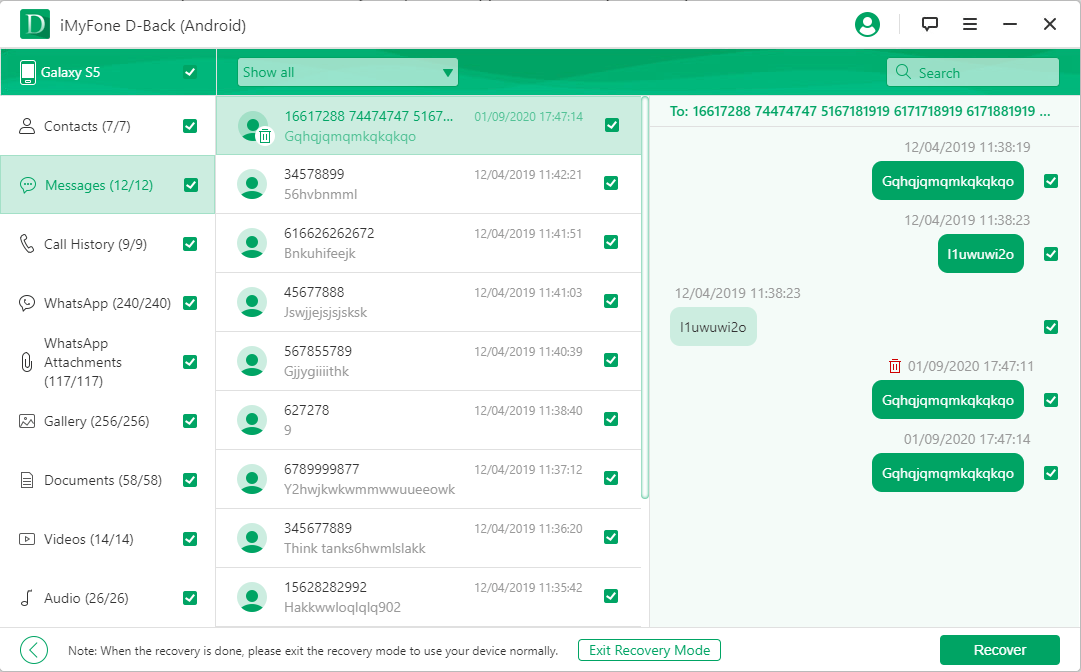 Bonus Tip. How to Avoid Losing Texts on Samsung Permanently?
The deleted text messages will still be reserved on your device after the deletion until they are replaced by newly deleted data. There are also ways to prevent losing texts permanently. Follow these tips to avoid losing text messages on Samsung permanently.
1. Do not use your smartphones before recovering the deleted text messages.

2. If you have lost your text messages, try to restore them as soon as possible. Because it is harder to recover messages later as there is a high chance of them being overwritten.
Conclusion
The above methods are useful and can help in restoring lost messages. Always keep in mind to recover your data as soon as possible to avoid further data loss. If all the free methods above fail to recover texts for you, why not take a chance and try D-Back Android out?