"Are there any cheats for Pokémon GO?"
The answer is yes. There is a number of cheats that are available online to get the work done with perfection. You only want to cheat Pokémon GO to stay ahead of others and to make sure that you capture more tiny monsters. The game is competitive and therefore you always want to be on top. This article will help you through the process and will make sure that you stay alive and kicking when it comes to this game.
Part 1: 5 Ways to Cheat Pokemon Go in 2022

In this section, the top 5 ways that can be used cheat Pokémon GO will be discussed in detail. It will make sure that you get to know the processes where applicable for better understanding.
Way 1: Use a VPN service

This works on both jailbroken/rooted and regular devices. It is easy to carry it out on the open devices as the chances of detection are low. Use a VPN service to get going with the process. Below are the steps for Pokémon go GPS cheats:
Step 1. Lookup for Nord VPN within the app store.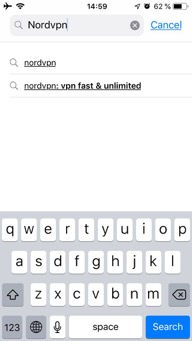 Step 2. Download and install the app so that it shows on your device main interface. Launch the application and create an account or sign in.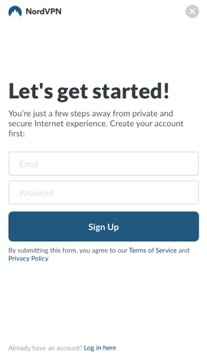 Step 3. Click on quick connect so that the VPN connects with the server.
Step 4. Allow the application to connect on the pop-up window. The green header of the application means that it has connected. Spoof the location and catch as much Pokémon as you want.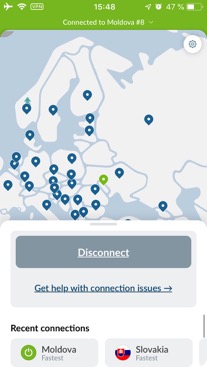 Way 2: Account Sharing

It is another way to make sure that you jump up the levels without doing all the hard work. It is easy but you need to be extra cautious. There is no way that your account is logged in simultaneously. If your buddy is in a different region then you need to make sure that the account is logged in at intervals that are not regular. Some users are using the accounts to clear the gyms and then logging in again to ensure that the gyms are filled again from the main accounts. This is strictly prohibited by Niantic but not as bad as other cheats.
Way 3: Botting

Though it is not used frequently but still who does use it climbs up the ranks with speed. It is a type of auto spoofing where all the powerful Pokémon are caught from all over the world. The worse part of this cheat is that you will get banned as the chances of detection are high. A bot account has been integrated into all such cases and it catches the Pokémon at a very high rate making Niantic suspicious. This is another auto form of Pokémon go cheat GPS mechanism but even worse than that.
Way 4: Auto Individual Health Checks

These are again banned by Niantic as they directly link to the account. The auto IV checks also mean that you get to catch the most powerful Pokémon without being vague about health. The manual check is allowed in all cases but it is a time waste. Auto health check saves both time and effort for the players but unfortunately banned.
Way 5: Skipping the Evolution Animation

This is another way to cheat the game and save time. It is also the easiest cheat on the cards and hence applied by many throughout the world. To make this happen you just need to make sure that as soon as the animation starts playing you force quit the game. Re-launch it and you are set to go as the animation is gone saving you time and effort to watch it.
Part 2: Top 4 Pokémon GO GPS Cheating Apps

There are literally hundreds of apps that can be used to cheat Niantic servers. These are known as the GPS cheat apps and hence they have highly sought after. This section will present to you the best Pokémon GO GPS cheating apps that widely used by game players.
1. Excellent Location Changer - iMyFone AnyTo (Compatible with iOS 16)
iMyFone AnyTo allows you to change your GPS location, or create a virtual route to move along in the game. The application lets you specify the moving speed from one place to another. In this way, you can capture more rare Pokémons without walking on the street.
Watch Video Tutorial to Cheat Pokemon Go in 2022
Step 1: Install and launch iMyFone AnyTo on a Windows PC/Mac (You can download it from the button below). Connect your devices to the computer with USB cable. After that, click Get Started.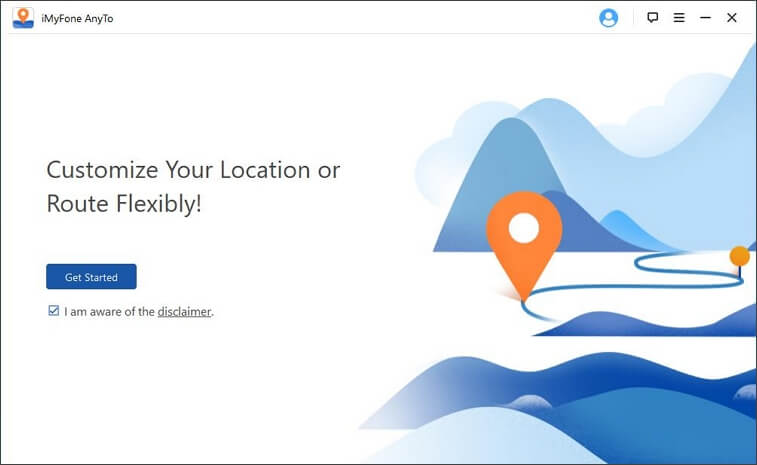 Step 2: Follow the on-screen instruction to finish the connection between your phone and Windows. Now iMyFone AnyTo will show you a map with a location. Click on the Teleport Mode on the top-right corner like the screenshot shows below.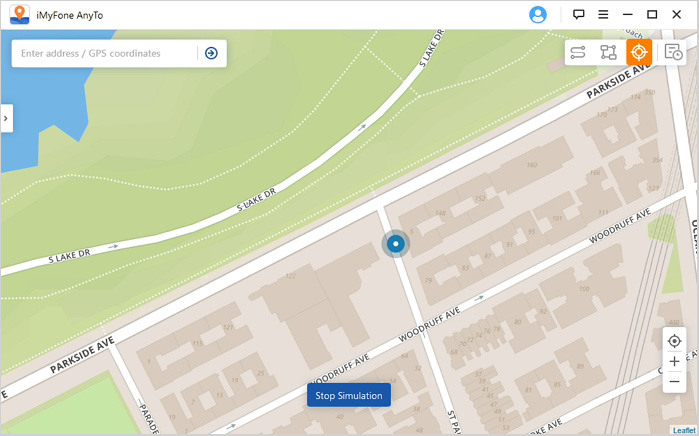 You can search a location by enterring the address or coordiantes on the Search bar. Or you can darg and zoom the map the find a proper location for your game. Once you select a location, it will show you the information about this location. Click the Move button to teleport GPS location.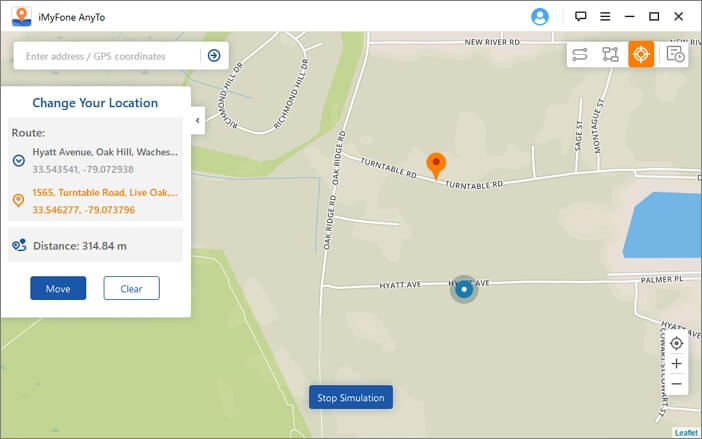 Step 3: By clicking the Move button, your location on your phone will be changed to the new place. Now open Pokémon GO on your phone and you will see your GPS location in the game is changed!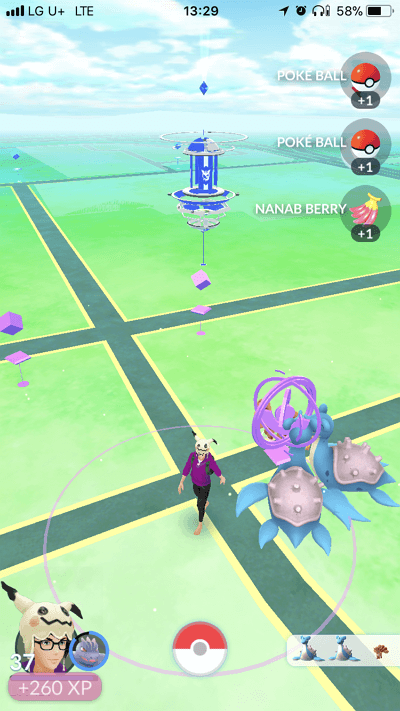 That's it! That is how you can cheat Pokémon GO using virtual location with iMyFone AnyTo. This smart tool also enables you to simulate a movement. You can choose Two-spot Mode or Multi-spot Mode to do that!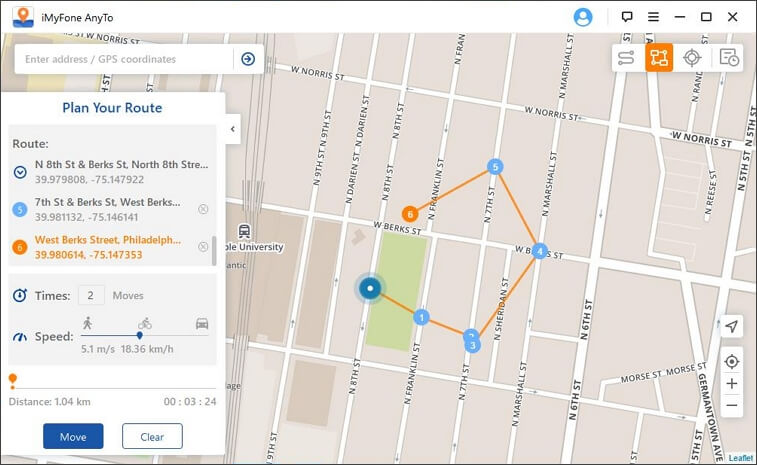 Dowload iMyFone AnyTo and have a try today!
2. Fake GPS Location - Spoofer Go
Spoofer Go is one of the best apps that are available online. With regular updates, it is one of the best apps that you can find online. It is not only easy to use but also changes the location just in a single click. It is the app that keeps the same changed location as long as the connection remains so it is highly viable for Pokémon GO. The player of the game likes it too much. The rating is high and it is all because of the mechanisms that are integrated within it.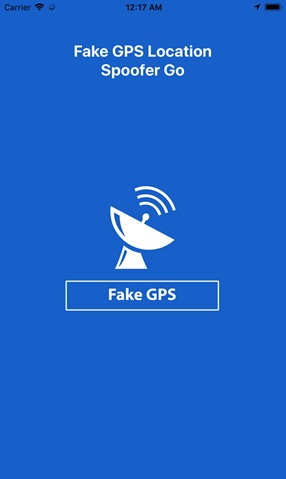 3. Fake GPS Location Changer
The best part of Fake GPS Location Changer is that you just need to long-press the map to make sure that the location is selected and pinned. You can long-press any other location to change the current one. It is one of the best and the most used apps that can be used to play the Pokémon GO game. With this application, you will also be able to share the location with the others on your team for fun.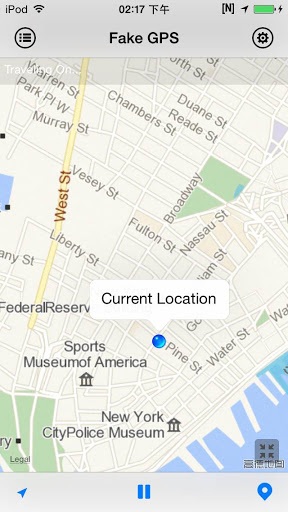 4. Fake GPS Location
Fake GPS Location is one of the best Pokémon GO gps cheats apps that can be used to make sure that the GPS s manipulated. It will make sure that the GPS location is spoofed and you get to catch more Pokémon even if you are in a remote area. This app is one of the best and most used ones on the internet.