Some users even spoke to tech support several times but they came to the conclusion that it's a Windows problem. Actually, it's not a Windows problem. We can easily get rid of this error 2 very easily.
Symptoms and Causes of iTunes Error 2 (Windows Error 2)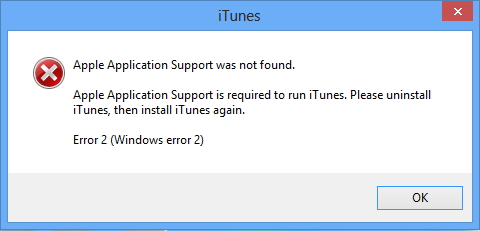 iTunes error 2 can only be seen during the following operations:
During iTunes application is being installed
While running iTunes on Windows PC
During Windows boot or shut down
When installing Windows operating system
If you're suffering from Windows error 2, then your Windows will be running slow, and may even crash. There is no particular cause for "Apple Application support not found" but this iTunes installation failure notification can surface due to the following issues:
Partial installation or interrupted download of iTunes
Virus or malware infection of Windows system or iTunes files and components
Virus corrupted Windows registry
Other unknown issues
How to Fix "Apple Application Support Was Not Found"
You may have tried some obvious solutions for this error 2 (Windows error 2) but to no avail, like updating to the latest iTunes, running as administrator, etc. Then you should stop the blind trial because it just wastes your time. Instead, take advantage of the iTunes repair expert called iMyFone TunesFix. It can fix Windows related iTunes issues and errors just like "Apple application support was not found. Error 2 (Windows error 2)".
More so, TunesFix has shown a high success rate in fixing iTunes issues, and in cleaning iTunes data to release hard drive space in order to improve iTunes performance. This makes it the ultimate fix for all iTunes errors and issues.
Key Features:
Offer you High Success Rate in fixing iTunes errors and issues.
You can repair iTunes errors with one click.
When using TunesFix in fixing iTunes errors, there is no threat of data loss.
Repair 100+ iTunes issues: install/update/connect/open/restore/backup and other errors.
You can do all the iTunes cleaning in one place, to boost iTunes and computer performance.
To fix "Apple Application Support was not found", iMyFone TunesFix offers you two options:
Way 1. Install the Repair Driver for iTunes Error 2 (Windows Error 2)
Step 1: Launch iMyFone TunesFix on your PC. It will detect your iTunes. In this case, it will show you the iTunes is damaged. (Or you will be guided to its home interface)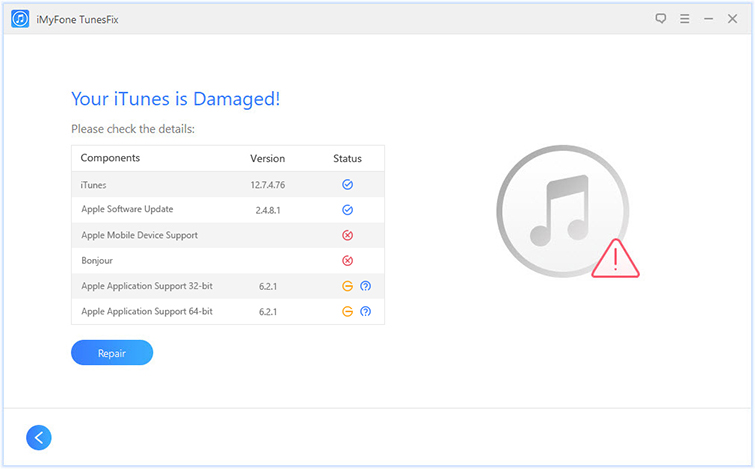 Step 2: You can view the details of your iTunes there. Then click "Repair" and it will download and install the repair driver to fix your iTunes.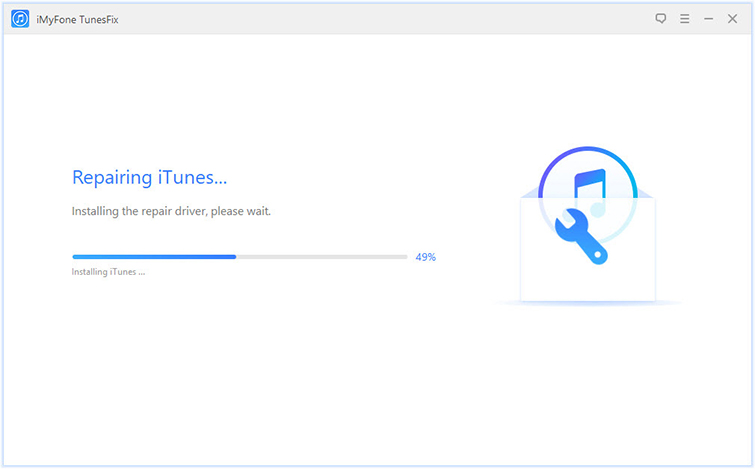 Way 2. Completely Uninstall iTunes and Reinstall it
You may have tried to uninstall and reinstalled iTunes but to no avail. This is because you didn't completely uninstall it. iMyFone TunesFix "Full Uninstall" mode is different from manual uninstall:
It thoroughly uninstalls iTunes and its related software components in the right place.
The uninstall is thorough-paced, leaving no traces to influence your computer performance.
Your iTunes data won't be deleted while uninstalling.
Steps to Completely Uninstall and Reinstall iTunes
Step 1: Launch TunesFix on your PC. If it shows you iTunes is damaged, click Back icon to the Home interface.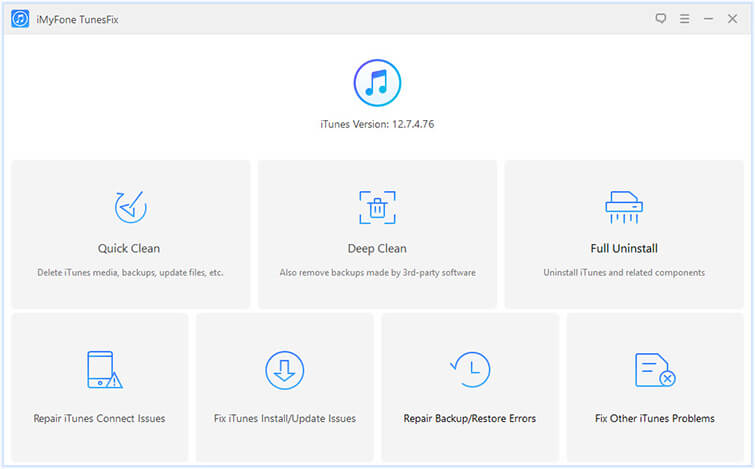 Step 2: Choose "Full Uninstall" and click "Uninstall".
Note: If you want to delete your iTunes user data like media files, backups, software update files, etc., check it before you click "Uninstall".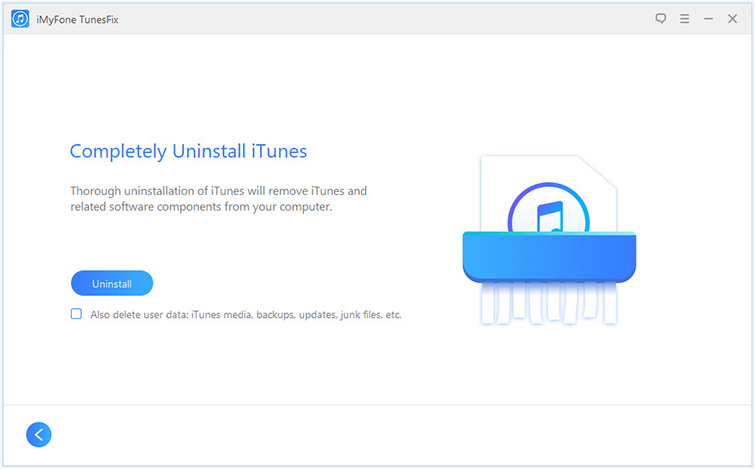 Wait for uninstallation process to finish. If you want to reinstall the iTunes, click "click here" for the iTunes download links.