Updating or restoring iPhone, iPad or your iPod touch can ordinarily take a bit of time. However, iTunes error 2005 can make it take even longer. If you have been having problems with updating or restoring your iPhone, iPad or iPod touch because of iTunes error 2005, here are some tips that you can employ to solve the issue.
What is iTunes Error 2005?
iTunes error 2005 normally appears when trying to update or restore the iOS on your iPhone, iPad or iPod. Users have experienced a lot of issues with tis error especially when trying to upgrade to iOS 11 or downgrade to iOS 10.
Start with the Easy Tip to iTunes Error 2005
Rather than go through the tedium of manually fixing the iTunes error 2005, you can simply let iMyFone TunesFix take care of the problem for you.
TunesFix is a great iTunes repairer that can fix all iTunes issues and errors. "iTunes won't update or restore iPhone" is one of the issues that TunesFix can fix. All you have to do is only one click. iTunes data is protected when repairing, you don't need to worry about the data loss.
Step 1: Launch iMyFone TunesFix and it will automatically detect your iTunes and components. If your iTunes is incomplete, it will show you the specific status of your iTunes and allow you choose to repair it.
Step 2: Or you will be directed to the homepage. On this page, you can see all the options available to fix your iTunes issues. In this case, you would need the "Fix Other iTunes Problems" mode.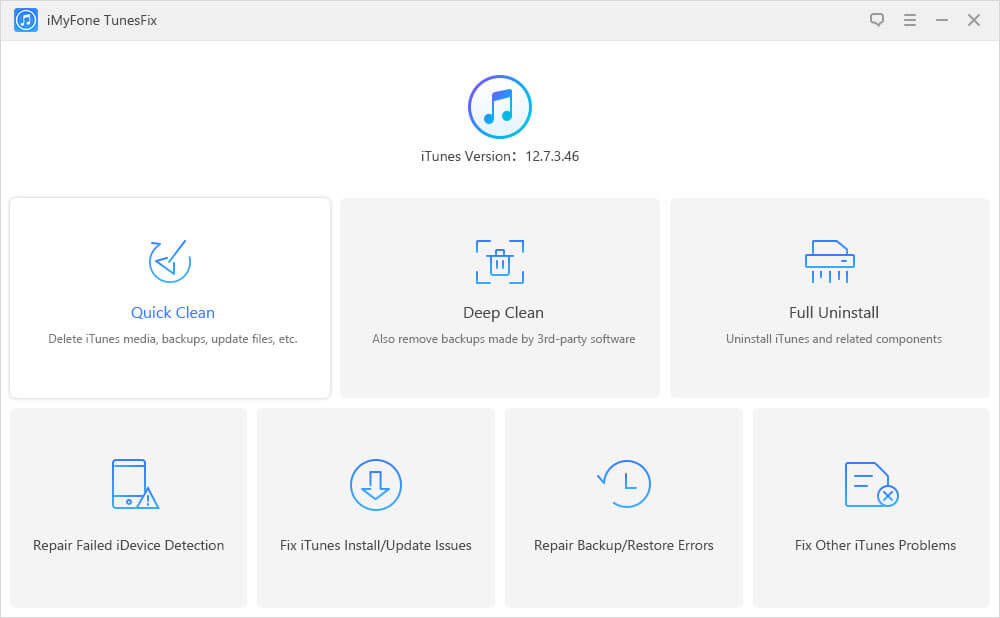 Step 3: Click on "Repair" to start the process. One done, you can try iTunes to restore or update your iPhone, iPad or iPod.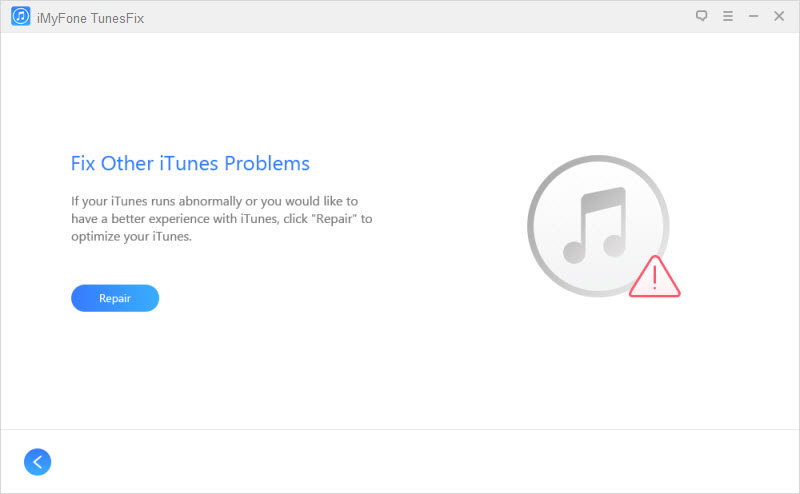 TunesFix Is Your Helper to Control iTunes:
Apart from update or restore errors, TunesFix also repairs "iTunes connect connect", "iTunes won't open", "iTunes could not backup", and 100 more issues.
Clean useless files from iTunes to boost iTunes and PC performance, like cache, logs, cookies, mobile apps, software update files, etc.
Remove old iOS backups to save huge space (also support backups created by third-party software).
Completely uninstall iTunes and its related software components without leftovers.
Common Solutions to iTunes Error 2005
There are some general fixes that you can apply to solve the iTunes error 2005. They include the following:
1

Disable Anti-Virus Software:
A lot of the time, the errors you are experiencing may be as a result of the antivirus software you have installed on your pc or mac. You can try disabling the antivirus program. Then initiate the restore or update process again and see if it works.
2

Allow iTunes Through Firewall:
Your firewall may block some files from accessing data and cause this error. If this is the case, you can either allow iTunes over the firewall or simply disable it and restart the restore or update process.
3

Check Internet Connectivity:
If your VPN setting on your Wi-Fi network does not allow connection with the validation server, it can also lead to iTunes error 2005. You can get around this by trying some other Wi-Fi network with no proxy settings when you try the restore or update process again.
4

Update iTunes to the Latest Version:
If all the other tips have failed to work, you can check your iTunes to see if it is the latest version. At times, if you have an outdated version, it can cause the errors complained of to occur.
In order to check your iTunes version on mac: Open iTunes > Menu > iTunes > Updates.
For windows: Open iTunes > Menu > Help > Check for Updates.
Note: If the menu bar isn't showing, hold down the Ctrl and B keys to make it appear.
Change Host Files to Fix iTunes Error 2005
You can also try to deal with the error 2005 by changing your iTunes host files. In order to do this, you need to follow these steps closely:
Step 1: Navigate to your iTunes "hosts" file.
For windows, you can find the file in "C:/Windows/System32/drivers/etc/".
For mac, you can find the file in: "/etc/".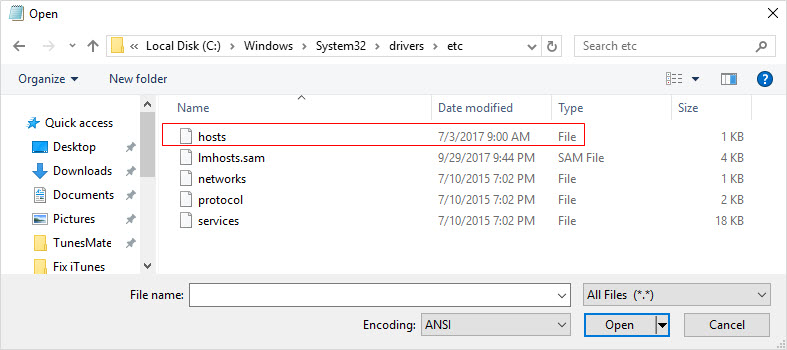 Step 2: Open the host file using notepad or any other text editor.
Step 3: Find the line: "74.208.105.171 gs.apple.com", delete the line and save the file without changing its name.
Use Alternative Way to Avoid Any iTunes Restore Error
There's another easy solution you can use to restore your iPhone without having to battle iTunes error 2005. Why not use iPhone data eraser to permanently restore iPhone to avoid any errors? Let's take iMyFone Umate Pro for example. It's an ultimate iPhone data eraser that lets you permanently restore all of your private data from your iPhone, iPad or iPod.
Umate Pro offers you several great features including 100% erasure of private data with 0% recovery and permanent wiping of 3rd party data.
Why You Need to Erase iPhone Instead of Restoring?
Permanent erasure can make any deleted data 100% unrecoverable while restoring just hides deleted files.
Restore the whole iPhone to factory reset settings or restore some specific data selectively.
Restore iPhone without updating the iOS version.
Show, preview and erase any deleted data which are still recoverable.
Support to completely erase 3rd-party app data: WeChat, WhatsApp, Snapchat, Line, etc.
Steps to Permanently Restore iPhone/iPad/iPod without iTunes
Step 1: Connect your device to computer and launch Umate Pro iPhone Data Eraser.
Step 2: Choose from the erasing modes, for example, "Erase All Data".
Step 3: Click the "Erase" button and confirm it to permanently delete the data you have selected.