While iTunes has many features that allow you to conveniently sync your iDevice media with your computer, sometimes using this software becomes a hassle due to its various bugs and errors. One common issue that many iOS users face is the iTunes keeps freezing problem. This problem usually starts occurring after you update iTunes. Fortunately, there are ways to fix this.
How to Fix iTunes Keeps Freezing Issue
Try these solutions:
1. The Best and Easiest Solution – Use TunesFix
iMyFone TunesFix is one of the best and easiest ways to solve various iTunes issues, including iTunes freezes. This software has been specifically designed to solve such issues quickly and conveniently. With a number of advanced repair modes, TunesFix makes it easy for you to scan and identify any iTunes problem and then fix it via its Repair feature. The software has a nice, clean, and user-friendly interface so you will be able to use it effectively even if you are not a tech-savvy person.
Key Features:
Automatically scan for iTunes issues upon launch.
Fix common iTunes issues such as not updating, not installing, not syncing, iTunes freezing, etc.
Manual repair modes to directly scan for specific iTunes problems and then repair them quickly.
Completely uninstall iTunes with all its related components with a single click.
One-click to boost iTunes performance.
Steps to Solve iTunes Keeps Freezing Problem via TunesFix:
Step 1: Open TunesFix on your computer and wait for its automatic scan to finish.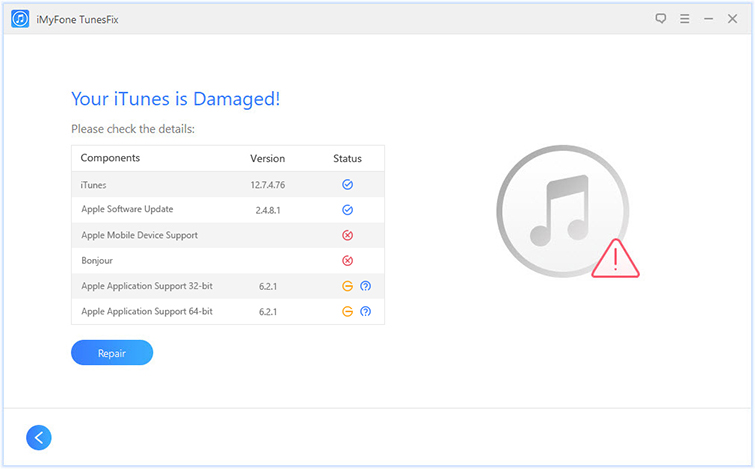 Step 2: Click Repair to solve the problem if it is detected. If no issue is detected, then you will see the home interface of the software.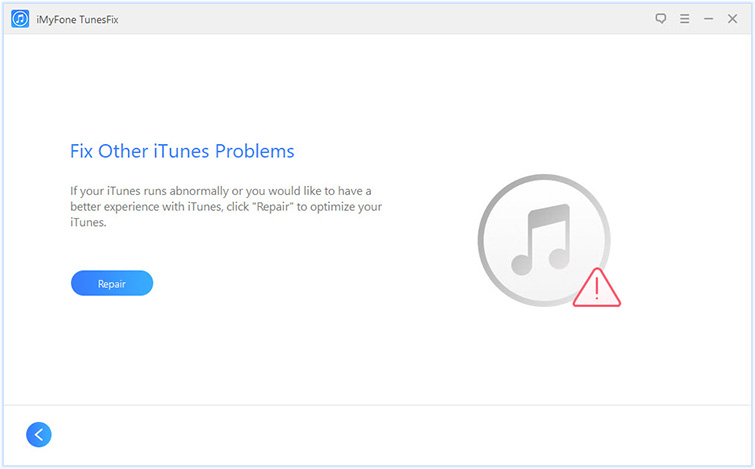 Step 3: Now click on 'Fix Other iTunes Problems' mode from the home interface of TunesFix.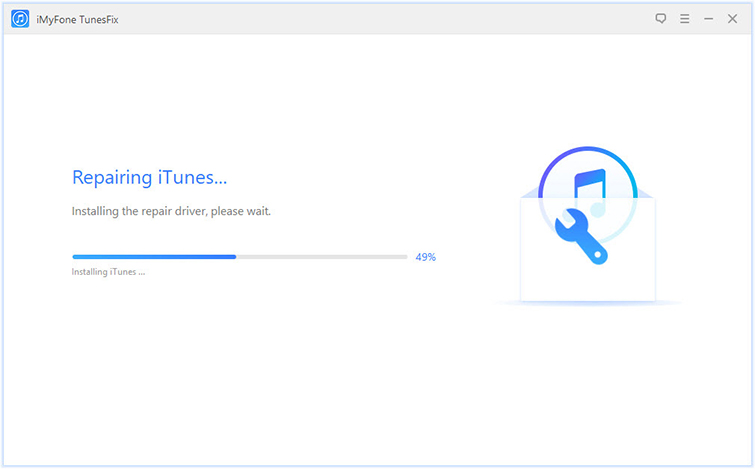 Step 4: Click the Repair button on the next screen. TunesFix will start the repairing process and once the process is completed, your iTunes freezing issue will be solved. Make sure TunesFix has internet access when its attempting the repairs.
2. Other Common Solutions
Following are some common solutions to fix iTunes keeps freezing issue you can try:
a. Restart iTunes
Sometimes restarting iTunes is enough to fix iTunes keeps crashing. Simply close iTunes from its main interface and then launch it again. If you cannot close it for some reason, then use Task Manager of Windows to End Task it and then launch it from your desktop.
b. Sign Out/Sign in to iTunes
Some users have reported that signing out and then signing in to iTunes solved iTunes freezing issue. So it is worth a try. Follow these instructions:
Step 1: Open iTunes.
Step 2: Click on your account name and choose Sign Out.
Step 3: Next, click on the same button and input your Apple ID and password to Sign in.

c. Restart Your Computer and Re-launch iTunes
It is possible that iTunes is freezing due to a problem with your Windows. In this is the case, then restarting your computer and re-launching iTunes should fix the problem.
d. Reinstall iTunes
Reinstalling iTunes is a relatively lengthier process but it should fix your iTunes freezing issue. Follow these instructions:
Step 1: Close iTunes.
Step 2: Open Control Panel and then open Programs > Programs and Features.
Step 3: Now find and uninstall iTunes and all its related components i.e. Apple Software Update, Bonjour, Apple Mobile Device Support, and Apple Application Support.
Step 4: After uninstalling, navigate to the iTunes installer setup on your computer's hard drive and install it by following on-screen instructions. iTunes freezing problem should be fixed now.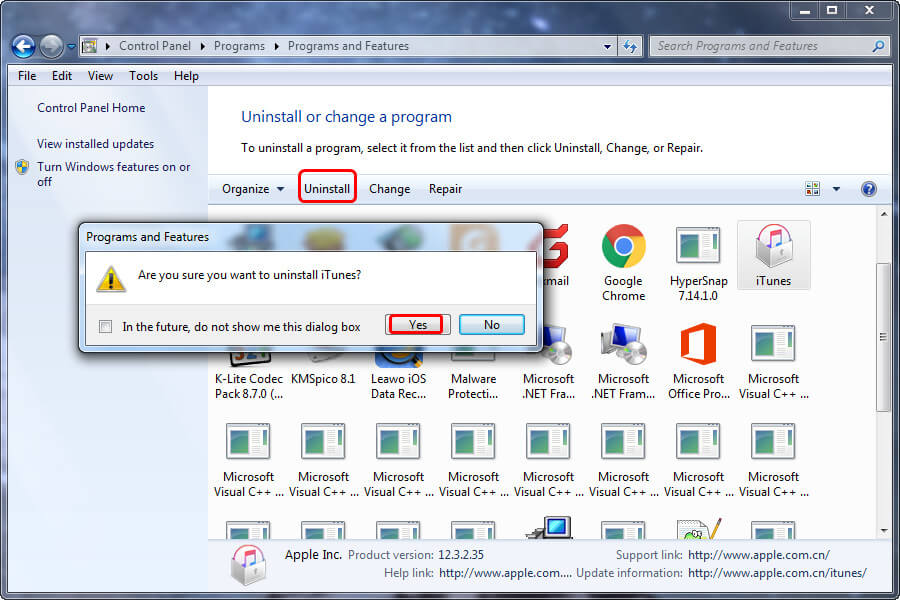 e. Update iTunes
iTunes updates bring new features as well as bug fixes. So it is likely that iTunes freezing problem will be fixed after updating it to the latest version. Follow these instructions:
Step 1: Open iTunes.
Step 2: Navigate to Help > Check for Updates.
Step 3: If a new version is found, then follow the on-screen instructions to update iTunes.
f. Downgrade iTunes
If you are already on the latest version, then it is recommended that you downgrade to the previous version of iTunes which didn't have freezing problem.
Some Other Issues Similar to iTunes Freezing Problem
Following are some similar issues:
iTunes Error 8392: This error may occur when you are updating iDevice apps via iTunes.
iTunes Error 11503: This error also may occur when updating iDevice apps via iTunes.
iTunes Quit Unexpectedly: This issue prevents iTunes from updating.
Can't Restore Because of Disconnected: You may see this error when you are trying to use iTunes to backup or restore your iDevice.
An Invalid Response: This error usually occurs when you are using an iDevice with iOS 10.3.3, 10.3.2 or iOS 11 betas.
iTunes Won't Recognize iPhone: This issue may occur when you are syncing your iDevice.