"My iTunes Helper will not run on my Windows 10 Pro HP computer, whenever I try to back up my iPad Air 2 and/or iPhone 6+ to my iCloud account. Please help me with ideas on how to solve this issue."
iTunes is the official music manager for Apple iOS devices and macOS computer that lets you purchase music and songs for your Apple devices. iTunes as a computer-based software can work efficiently on Windows 10/8/7 and Mac computers. However, for iTunes to work efficiently, it needs a software component called iTunesHelper.exe file. But most often than not, this .exe file is corrupt or not running.
Therefore, we shall be discussing what an iTuneshelper.exe file is, what functions they perform, why iTunes helper is not running, and ways to fix it.
What is iTunes Helper?
iTunes Helper or iTuneshelper.exe file is a background software component of iTunes that was developed by Apple Computer Inc. to seamlessly launch iTunes whenever an iPhone, iPad, or iPod touch is plugged into computer PC.
What's the Function of the iTunesHelper.exe File?
As a ".exe" file (i.e. executable file), iTunesHelper is a software/file that contains the step-by-step instruction that a Windows operating system follows to launch iTunes software on your computer. Hence, you won't be able to use iTunes on your computer if the iTunesHelper.exe file is missing or corrupt.
Why and When Will iTunesHelper Not Running?
One of the major possible reasons why your iTunesHelper.exe file is not working in because of virus/malware corrupt .exe files which were not properly scanned for viruses before opening in your PC.
Some of the most common iTunesHelper error messages that are likely to be seen when starting up iTunes on a windows PC include:
iTunesHelper.exe Application Error
iTunesHelper.exe is not a valid Win32 application
iTunesHelper.exe has encountered a problem and needs to close We are sorry for the inconvenience
Cannot find iTunesHelper.exe
iTunesHelper.exe not found
Error starting program: iTunesHelper.exe
iTunesHelper.exe is not running
iTunesHelper.exe failed
Faulting Application Path: iTunesHelper.exe
On the question of 'when do iTunesHelper errors occur', we would say that these errors messages appear mostly during computer startup, iTunes startup, or while trying to use a specific function in iTunes.
Note: at the point where the iTunesHelper.exe error occurs is a crucial piece of information in fixing it.
The Best Way to Fix iTunesHelper Not Running
iMyFone TunesFix is an iTunesHelper.exe repairer tool for Windows 7, 8 and 10 PCs. This tool has no competition because it's the only iTunesHelper.exe repairer software that's available to everyone facing this error. TunesFix is designed to fix all iTunes and iTunes component software errors that can arise when starting, updating, running, installing, or uninstalling iTunes.
TunesFix can fix all "iTunesHelper not running" issues to make you have a stress-free experience when using iTunes to manage music and other media files on your Windows computer.
Key Features:
Unknown errors (e.g. iTunesHelper not running) that occur while using iTunes to backup, restore or manage contents on iPhone, iPad, or iPod touch can be easily fixed
Select the particular iTunes or iTunes component software problem you're facing and fix it
Fix other iTunes backup, uninstall, reinstall, and update errors and issues with just a few clicks.
TunesFix as an iTunesHelper.exe repairer tool can solve all iTunes Helper issues and errors in few clicks.
Steps to fix "iTunesHelper not running" with iMyFone TunesFix:
Step 1: Download and install iMyFone TunesFix on your PC. Launch TunesFix and it will automatically detect your iTunes and its necessary components.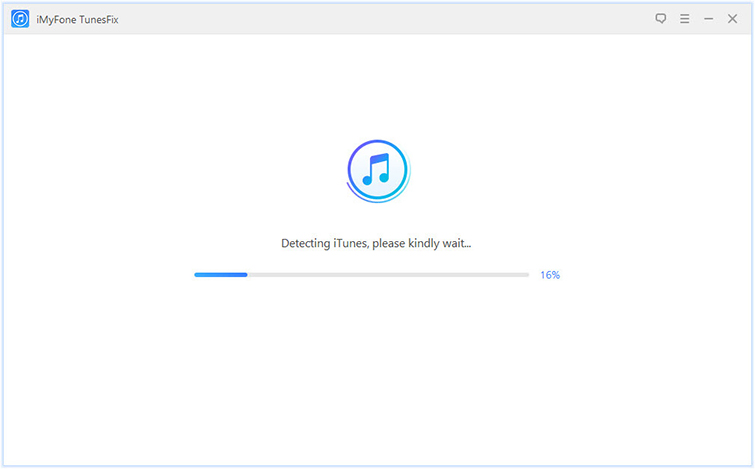 Step 2: Once it shows you the specific status of your iTunes, you can click on the "Repair" tab to fix the issue.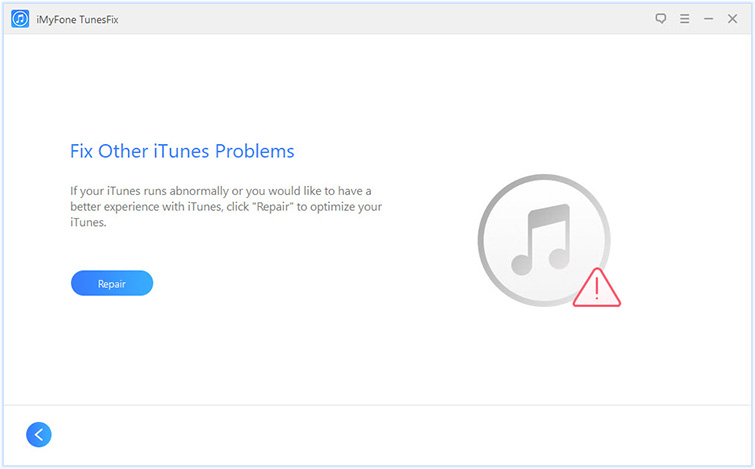 Step 3: Try to use your iTunes again, if the "iTunesHelper not working" error persists, then you need to choose "Fix Other iTunes Problems" option to fix this issue.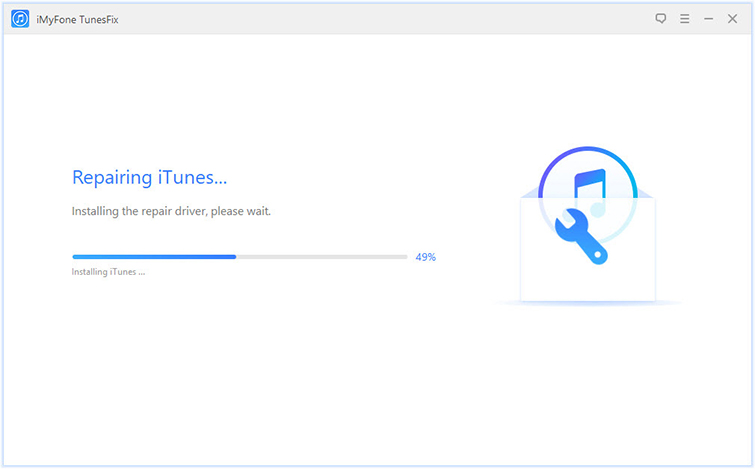 Step 4: Click "Repair" to start the process. When it's done, the "iTunesHelper is not running error" would have been solved.
Other Solutions to Fix iTunesHelper Not Running
1. Conduct A Full Malware Scan of Your PC
There is always a high chance that iTunesHelper not running error is emanating from malware infestation of your PC software and programs. This malware can delete, corrupt, or damage iTunesHelper.exe file, thereby making it not to run. To run a full virus scan of your PC:
Step 1: Go to your Windows 10 taskbar and click on "Show hidden icons". You'll see your Windows Defender icon in the menu, click on it.
Step 2: Click on "Virus and Threat Detection" and when you are on the page, click "Advanced Scan".
Step 3: Thick the circle for "Full Scan" and click "Scan Now" to scan for malicious software on your PC.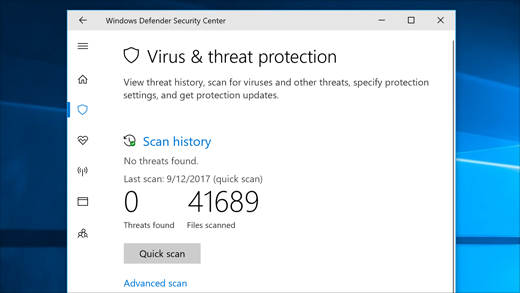 2. Update Your PC Drivers
Outdated PC drivers can be the cause of iTunesHelper not running. But the good news is that you can easily update your PC drivers.
Step 1: Go to your Windows 10 search bar and type "Device Manager". Click on Device Manager option on the results.
Step 2: Click on the individual drivers on the "Device Manager" window, then right-click on the one you would like to update, and select Update Driver.