iTunes is an audio playback program developed explicitly by Apple Computer to download music from the iTunes Music Store, play live streams of internet radio from several internet radios, and transfer music from a Mac or PC to your iPod, iPhone, and iPad. This program offers an enhanced and seamless experience to users.
iTunes error 5002 is an error in the iTunes program that pops up when there is an incomplete or no access to the iTunes store to download or purchase an application or to update apps.
How to Fix iTunes Error 5002
1. The Best Solution for iTunes Error 5002
iMyFone TunesFix is an application designed to provide a comprehensive one-touch fix to all types of iTunes errors without leaving any trace of it behind.
Key Features:
Comprehensively fixes all error issues successfully up to 98% success rate.
Fixes over 100 installation, connection, restore, and backup errors.
Repairs any iTunes error without any loss of data.
A higher efficiency rate than all known solutions.
Free up memory and boost your iTunes and computer.
Steps to Fix iTunes Error 5002 with iMyFone TunesFix
Getting an annoying error message can be frustrating and be a killjoy. iTunes can stop working and won't open, may have a missing .dll, and malfunction. However, when an error message pops up on your device, don't stress out just reach out and follow the steps below.
Step 1Launch iMyFone TunesFix
Locate the icon of iMyFone TunesFix and open it to automatically detect all error types and provide you with a seamless experience. If there are issues, you can click "Repair" button to fix them.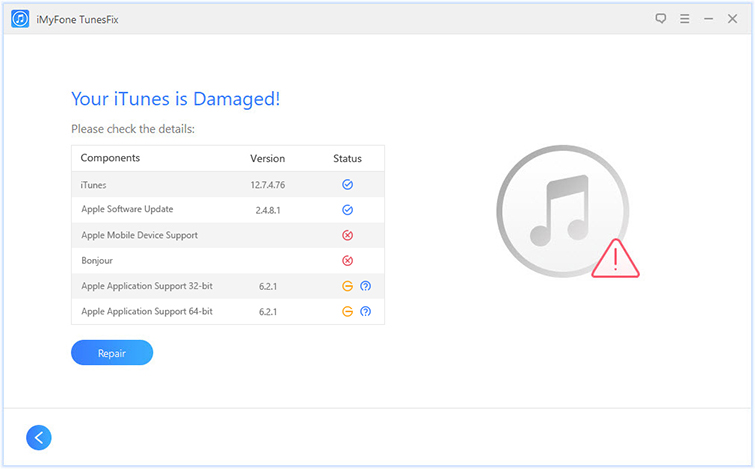 Step 2Choose a Repair Mode
iMyFone TunesFix handles over 100 error issues with your iTunes program. It offers a wide variety of repair modes to choose from. And if you are not sure which of the repair modes to choose, click "Fix Other iTunes Problems" and then "Repair" to fix the error without leaving any traces behind or skipping an error.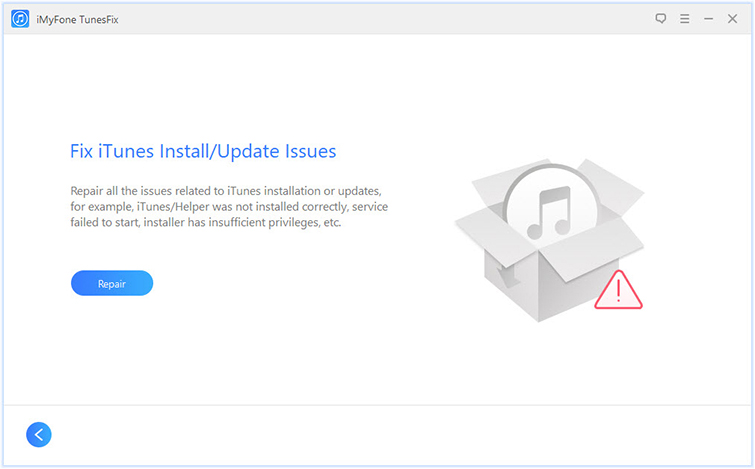 Note: For complete repair of errors, ensure to have a stable network while repairing the program.
Step 3Completed Successfully
It will complete fixing the error that inhibited the program from running smoothly without causing any loss of data in the process or creating a hassle.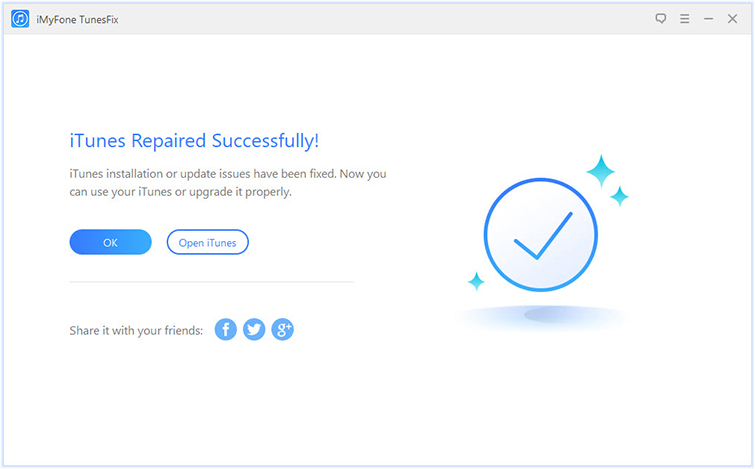 2. Other Solutions to Fix iTunes Error 5002
iTunes Error 5002 could result from several factors making it utterly impossible to run the program, download music, stream music from the internet radio and more. Here are quick solutions to likely causes of the error message:
1

Check iTunes Version
Error 5002 could pop up because you are using outdated application. The outdated version will be missing certain features and may not connect with the upgraded program. As a result, iTunes error 5002 will pop up. So, check if your iTunes is up-to-date; if not, update it to the latest version.
2

Change the Shopping Preferences
Many users reported that changing the shopping preferences is a helpful way of fixing iTunes Store error 5002. Go to iTunes Preferences, click "Store Tab" and change the preference from "1-click" to "shopping cart option."
3

Change Account Information
Step 1: To change your account information, restart your computer and open iTunes. Log in to the iTunes using your account, then click "Change Account information" and remove your credit card information and click continue.
Step 2: Restart your computer and log in to iTunes with your account. Go to Account Information, submit your credit card details again, and save the changes.
4

Clear Contents of Shopping Cart
The content stored in your shopping cart may cause error 5002. The app may experience some lags when trying to verify the information and bring out error 5002 when it cannot successfully peruse the information. Some people reported that they successfully fix this error by deleting all items in the shopping cart. Sign out of your iTunes Store and sign in again to refresh the shopping cart.
The Possible Reasons for Error 5002
The possible reasons for error 5002 include:
Connection Problem:
Error 5002 can result from the failure of iTunes to connect to your devices such as iPad and iPhone. There might be an invalid response or missing values when the iTunes is trying to detect your device.
Installation or Update Problem:
iTunes may not have installed correctly, or the installer has insufficient privileges. This will result in error 5002.
Failure to Back Up or Restore:
iTunes might not backup or restore due to the corruption of the application, incompatibility or an error occurred.
Other Unknown Factors:
iTunes may not run or have difficulty performing given commands such as restore, update, backup, and more commands.