Do you know what to do if your iTunes for Windows 10 or earlier won't open, stop responding, crashes or unexpectedly quits? If you don't know what to do, then you'll find this article very enriching and informational.
Nevertheless, before we dive into the solutions for "iTunes not responding Windows 10" problems, let's look at a complaint made by an iTunes user as regards to this issue.
"I don't know if Windows 10 updated today but now, if I open iTunes, it freezes and won't let me make any selections. I have to close it through task manager and it seems that it drives disk usage way up. I am using an HP Laptop. Any help would be appreciated. – Adimike55"
The problem narrated above by Adimike55 can be resolved using various solutions and strategies. We shall be discussing the best and easiest solution first, and then we will add other likely solutions.
Part 1. The Best and Easiest Solution for iTunes Not Responding Windows 10
iMyFone TunesFix is a software whose primary feature is to fix all iTunes errors and issues on a Windows PC. Hence, when iTunes is not responding Windows 10, freezes or crashes, then there is no other perfect solution that can help your fix iTunes except iMyFone TunesFix.
Apart from fixing "iTunes crashing Windows 10", TunesFix can also serve the purpose correcting other iTunes errors such as installation errors, iOS device detection errors, iOS data restore errors, Backup errors, and other errors. Moreover, if your iTunes is not working efficiently, you can utilize TunesFix to repair or clear out iTunes junk files to make iTunes work optimally again.
Key Features:
Fix "iTunes not responding Windows 10" and 100+ other iTunes installation, connection, data restoration, and backup errors.
All iTunes issues and errors can be repaired with TunesFix without any chances of data loss.
Optimize your iTunes or PC performance by using TunesFix to scan, repair and erase unnecessary iTunes libraries and junk files.
TunesFix offers you "1-Click to Repair iTunes" feature, which can fix all your iTunes problems just in one click.
Steps to fix "iTunes not responding Windows 10" using TunesFix:
Step 1: Download, install and launch TunesFix on your Windows PC and it will automatically detect your iTunes and its related components.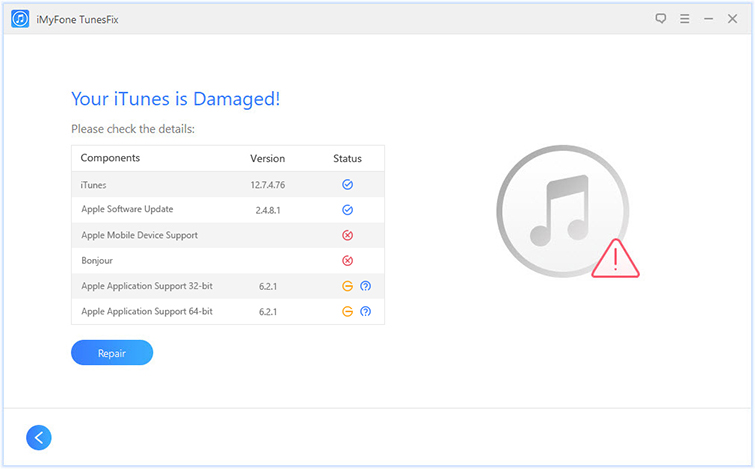 Step 2: If there is no issue found, you will be directed to the Home interface, but if errors where found, then the detail of the issues will be displayed. Click "Repair" for TunesFix to start repairing your iTunes and its components.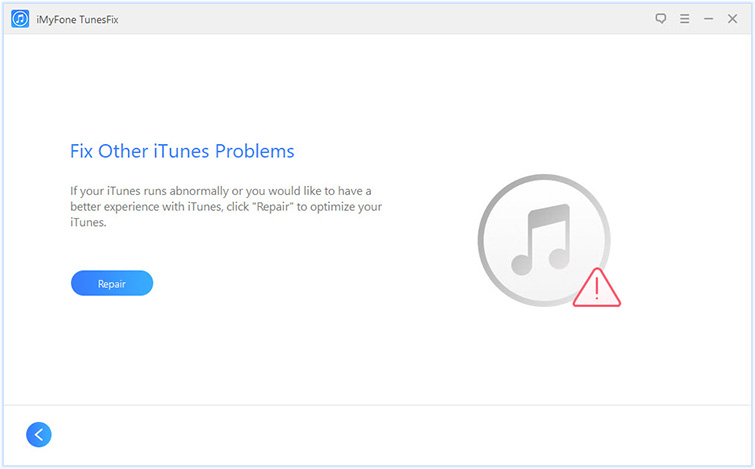 Step 3: After that, open your iTunes to check the problem. If your iTunes still cannot be used. Open the software again, select "Fix Other iTunes Problems" mode, and click "Repair" to fix the issue.
Part 2. Other Common Fixes for "iTunes Not Responding Windows 10"
Here are common ways to troubleshoot "iTunes not responding Windows 10".
#1. Run iTunes on Windows 10 as An Administrator
Step 1: Close your frozen iTunes software, if it does not respond, close it with Task Manager.
Step 2: Reboot your PC, then right-click the iTunes icon on your desktop.
Step 3: Select "Run as administrator" from the drop-down menu.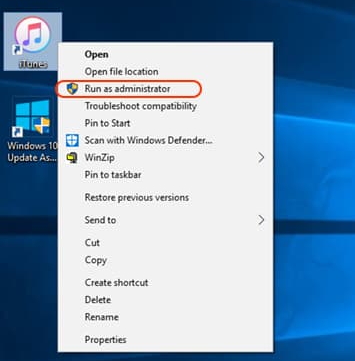 #2. Run iTunes in Safe Mode
The reason for running iTunes in safe mode is to isolate iTunes from interferences caused by third-party plug-ins. Here are the steps:
Step 1: Hold down the Shift and Control keys on your keyboard while opening iTunes.
Step 2: You'll see a notification "iTunes is running in safe mode". This means that all the plug-ins that could have been causing an error in starting iTunes have been temporally disabled.

#3. Reinstall QuickTime
QuickTime is one important component of iTunes that when it's not functioning properly can cause "iTunes crashing Windows 10". But you can repair it by following these steps:
Step 1: Go to your Windows 10 Control Panel. You can find the Control Panel by searching for it on the Search bar.
Step 2: Click "Programs and Features > QuickTime".
Step 3: Click "QuickTime" to uninstall it. Then, go to https://support.apple.com/downloads/quicktime to download and reinstall it.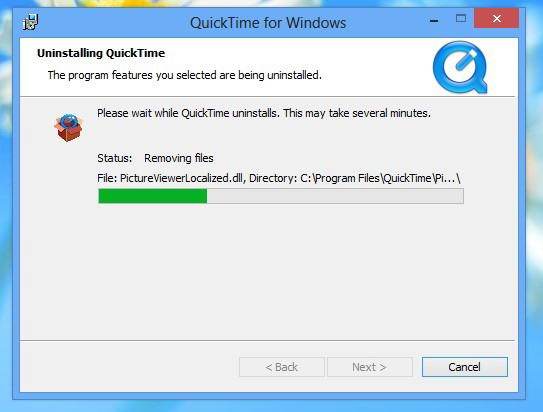 #4. Restart iTunes, iPhone, and Computer
Does this sound too easy to solve the big problem right? However, this option may be the perfect solution you need.
To restart your Windows PC:
Step 1: Click on the Windows icon on the left-hand side of your Windows.
Step 2: Then click the "Switch" icon and select "Restart".
Restarting iPhone and iTunes does not take much hassle as they require you to simply hold down the power button for a while, and close the iTunes software respectively.
Part 3. The Main Reason for "iTunes Not Responding Windows 10"
If your iTunes software is not responding, then the common reasons for this problem may include:
Corrupt or virus/malware infected iTunes software.
Over long and usage of Windows 10 PC, iTunes or iPhone without restarting or rebooting it.
Corrupt iTunes component software such as QuickTime.
Too many iTunes junk and redundant files.