What's iTunes Error 1671?
iTunes error code 1671 is one of the common errors from iTunes that are not easy to fix. It may occur while downloading the software for your iPhone, iPad, or iPod. It may also occur while establishing the link of the software to update server as it cannot be contacted. Generally, it can be seen that the users face this error because of any kind of interruption with the server of Apple or the software update server is missing on your PC.
Why Does It Happen?
If the user has virus infected PC or Mac system
Faulty or outdated Anti-Virus program package
Slow or Faulty USB hub connection causes interruption in connecting iPad, iPod and the iPhone
Incompatible or Older version of iTunes
Establishing the connection of many USB controllers to the computer at the single time
Outdated operating system in the user's iPhone
Start with the Most Effective Solution for iTunes Error 1671
If you don't want to waste time but to no avail, just try iMyFone TunesFix iTunes repair Expert directly. It's the most professional iTunes tool that offers the most effective way to detect your iTunes issues and fix it without any manual trials. It helps not only in repair any kind of iTunes issues, but also cleaning iTunes to reclaim huge space and boost its performance.
Key Features:
Auto-detect iTunes and its related software for free, show details of the issues and fix it
Offer 4 fixing modes for 100+ iTunes issues: install, update, connect, restore, back up, and other problems
Repair is simple to apply just in one tap and no data will be lost
Completely uninstall damaged iTunes and its related components from PC, leaving no harmful fragments
2 cleaning options to smartly remove useless cache, cookies, logs, junk, old iOS backup, temporary downloads, media, etc. from iTunes
If offers two ways to repair iTunes error 1671:
Way 1: Auto-Detect iTunes and Fix Damaged Software Update Server
Open TunesFix and it will detect the iTunes components automatically. If your iTunes or its components are missing or damaged, it will show the specific status. Here Click on "Repair" and it will help you fix this error 1671.
Way 2: Fix the Interruption with the Server of Apple
Step 1: Open TunesFix and it will detect your iTunes. If your iTunes and components are complete, you will directed to the home interface. There you will see 7 modules. Choose the specific fixing mode "Fix Other iTunes Problems".
Step 2: Click on the "Repair" to start repairing process. This will help you to install the repair drive. Now, you can use the iTunes in a proper manner.


iMyFone TunesFix has helps a great amount of iTunes users to fix their iTunes back to normal and improve iTunes performance. Lots of famous media also awards TunesFix 5 stars as a profession iTunes repair tool. Here are some software reviews left by TunesFix users:
Try the Obvious Ways to Repair iTunes Error 1671
The users can follow some of the important pointers for iTunes 1671 error fix.
Update iTunes: This is the most obvious way to keep away any kind of error from occurring. Users must use the newest version of the iTunes software for proper synchronization. The outdated version of the iTunes may not be compatible with the latest iOS devices that may cause the problem.
Update the Computer System: Similarly, your PC or Mac device must also possess the latest operating system so that the error 1671 iTunes does not take place.
Update the Anti-Virus System: You must get rid of all the viruses that are present in the PC system by running the full system scan. For this, the user must update the Anti-Virus to the latest version that will help in keeping out the error 1671. However, in few cases, the user can quit their anti-virus software and then start the restoration or updating process from the beginning.
Unplug Unnecessary USB Cables: You should make sure about the compatibility of the iTunes with your iDevices. If you have plugged in redundant USB cables, then just unplug them so that only iPod, iPhone or iPad is the only current iDevice connected to your PC.
iTunes 1671 Error Fix though Host File
Step 1: First, disable the anti-virus installed on your computer.
Step 2: Open Windows explorer and go to "C:WindowsSystem32driversetc".
Step 3: Cut and paste Hosts file to the desktop or Cut and Paste to the desktop. Leave the Windows Explorer open.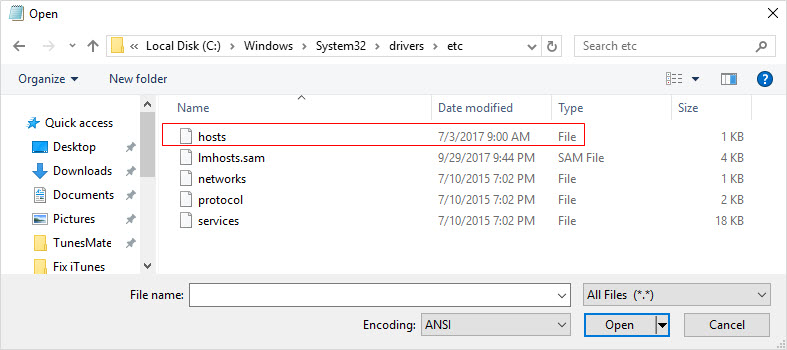 Step 4: Open iTunes and process with your previous action, like to restore, back up, sync or update on iTunes.
Step 5: When it finishes, restore the "Host File" to its initial location from the desktop.
Step 6: After iTunes restoration is completed, now restore the "Host File" to its initial location from the desktop.
Now, you can enable your Anti-Virus software.