PDF has a lot of advantages over other document formats. But at the same time, the size of the PDF file could also be much bigger. Although Adobe has many dedicated applications or services for us to process our PDF files, Such as Adobe Acrobat pro, Adobe online PDF converter and so on, sometimes those Adobe programs are not the best tools.
So in this article, we're going to have a look at some of the best solutions to reduce PDF file size without using Adobe's programs or services.
Now let's dive right in.
Part 1: Disadvantages of Adobe's Solutions
Since PDF is a file standard started by Adobe, it seems natural to use Adobe's own programs or services to compress A PDF file, right? Well, fact is, there are plenty of reasons why PDF's own solutions are not always the best ways for us to process our PDF files.
Based on our own, and many Adobe users' experience, these are some of the main reasons why you need to stop using Adobe's programs for the PDF compressing.
1

Constantly Crashing
One of the most frustrating problems with Adobe's programs is that they crash a lot. Although Adobe provides some of the world's most creative and productive applications, the crashing problems are like the shadows they could never shake. Same goes with their PDF processing tools. Sometimes the application crashes for no reason and you could lose your work if you didn't save it.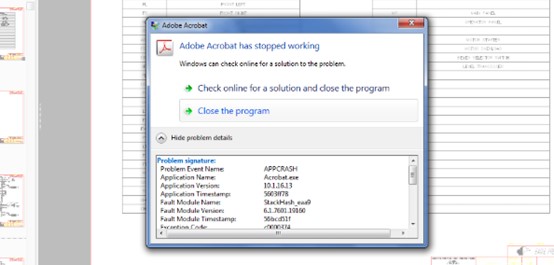 2

Lack of The Ability to Multitask
Most of the tools provided by Adobe, such as Adobe Acrobat DC, or Adobe Acrobat pro, does not allow you to process multiple PDF files at a time. That means if you have more than one PDF files that you need to compress, you're going to have to go through the entire compressing process once an once again, which is very time consuming.
3

Server Issues
If you didn't know before, Adobe also has an online PDF converter service that allows people to convert or compress a PDF file online without installing any additional programs. However, this online tool Is not perfect as well. The Adobe online PDF converter service is only available in Internet conditions. There are chances that you come across a "You don't have permission to access" problem landing on the site. So it's very likely that when you need to compress a PDF fine with this online tool, you'd find that you cannot even open the website at the first place.

Part 2: Works Anywhere - Compress PDF with an Online Tool
To replace Adobes PDF compressing solution, you can use an online PDF compressing tool like Small PDF. Small PDF is an online PDF processing service that provides not only PDF compression, but also various PDF converting functions. With this online PDF processing tool, you can easily compress your PDF files without Adobe, or even without any additional programs or applications.
Small PDF provides a very simple user interface, and an intuitive interacting style, which makes the PDF compressing process fast, an also efficient. Now here is how to compress a PDF file without Adobe using the online tool Small PDF.
Step 1: Go to the website of small PDF compression tool with your web browser.
Step 2: Click choose files or directly drag and drop your PDF file into the center of the red box on web page.
Step 3: Then you get to choose a compressing level for your PDF compression. After that, the compressing process would start immediately, and you can download the compressed PDF file back to your computer once the compression is done.

Pros:
No need for additional programs or applications.
Cloud upload is supported.
Cons:
Strong Compression is only available for Pro users.
Highly dependent on Internet connection.
Note
The Adobe online PDF compressing tool is only available for users in some certain Internet conditions. But small PDF, as another online PDF compressing service, it's available for people all around the world. However, to use the full functions of this online tool, you still have to purchase the Pro version of the service.
Part 3: For Mac Users: Compress PDF with PDF Expert
PDF Expert is an excellent replacement for Adobe's PDF solutions on Mac. Although the program is also a paid application, the functions and utilities provided by this application is definitely worth it if you need to process PDF files a lot in your work.
PDF Expert features many PDF processing tools, and PDF compression is one of them. In PDF Expert, You can freely adjust the PDF compressing level, and get a compressed PDF file with a decent balance off quality and file size.
Here is how to compress PDF without Adobe using PDF Expert.
Step 1: Download and install PDF Expert on your computer.
Step 2: In the toolbar, click "File", then "Reduce File Size"
Step 3: Now select the quality of the compressed file. Once done, click "Save" to save the compressed PDF file.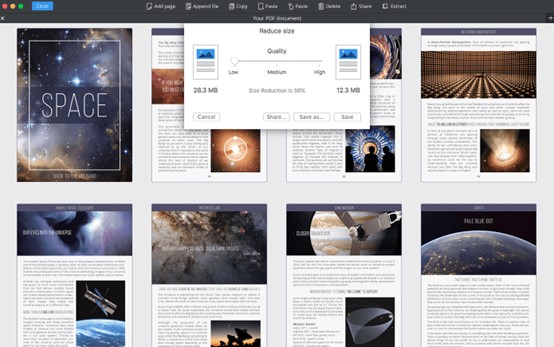 Pros:
Multiple PDF processing tools included.
Precise Compression level control.
Cons:
Costs $59.99 for individual use.
Takes too much disk space.
Note
Comparing to Adobe's solutions, PDF Expert provides a very intuitive compression level adjusting, which give us more control over the quality and file size of the final output PDF file. but at the same time, the price of this program starts at $59.99, which could be a little bit high for casual users.
Part 4: For Windows Users - Compress PDF with Free PDF Compressor
Unlike neither of the solutions introduced above, free PDF compressor is a completely free application for you to compress a PDF file on windows without Adobe. It is a lightweight PDF compressing program, and the function off it is pretty straightforward. It compresses your PDF files and does nothing more.
You can download this program from its official website. Now let me give you a quick tour on how this program can help you compress A PDF file without Adobe.
Step 1: Download the program from his official website and install it on your computer.
Step 2: Launch the program and click browse define your source PDF file.

Step 3: Designate an output file directory and choose an output profile in the settings section.

Step 4: Finally click the compress button to start compressing your PDF file.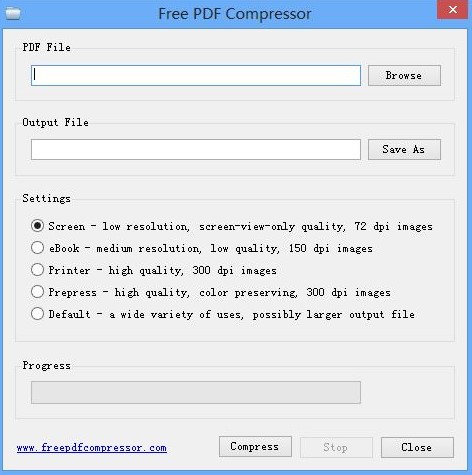 Pros:
Easy to use.
Multiple output profile options.
Completely free.
Cons:
Poor compressing efficiency.
Outdated user interface.
Note
The biggest advantage of Free PDF Compressor is that, the program is completely free, and it provides multiple output profiles, which you cannot find in the professional PDF processing tools provided by Adobe. This alone can make the small free PDF compressor application a better option for many users comparing to Adobe's solutions.
A Conclusion
Today we talked about 3 different solutions for you to compress the PDF file without Adobe. Although Adobe provides most of the professional PDF processing functions, these other tools or services could be better than Adobe's solutions in a lot of scenarios. But in the end, it all comes down to your own actual needs. Do you need more control over your output file? do you need a completely free program for the task? or do you need a quick and efficient compression solution. I'm sure with the introductions in this article, you will have a better idea on how to compress a PDF without Adobe.