Indeed, PDF is one of the most commonly used non-editable file formats that does not depend on the software, system, and device. You can open the file in any device without any hassle. But sometimes, you need to make changes in the PDF. Unfortunately, you cannot directly edit the PDF, so you need to convert the file into Word file to make changes.
There are various ways to edit PDF file in Word, but not every method is up to the mark. We are going to introduce some of the best methods to edit PDF file in Word, and we will also share the best method that can help you edit the document with more accuracy and like a professional.
Part 1: The Simple Solution - Directly Edit PDF in Word
This is the simplest method if you want to edit PDF file in Word. If you want to do it quick, you should go for this method. You can easily edit the file without any hassle.
How to Edit PDF in Word:
Step 1. Open Word.
Step 2. Go to "File", then "Open".
Step 3. Select the desired PDF file and open it.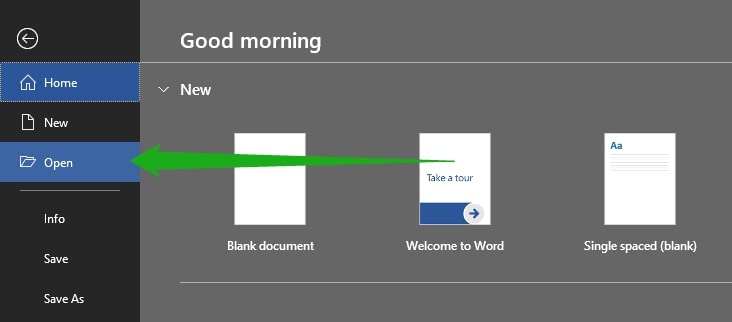 By following the above three steps, you can open a PDF file in Word to make changes. Make sure to click "OK" when you're asked to confirm that Word will convert the file to Word document and that some of the formatting will be lost.

Then you can edit the PDF file in Word. After making changes, you can save the file in the desired format, such as PDF or Docx. After editing, you can follow the steps below.
Step 1. Go to "File", then "Save As".
Step 2. Now type the file name and select the format of the file from the drop-down menu.
Step 3. Click "Save".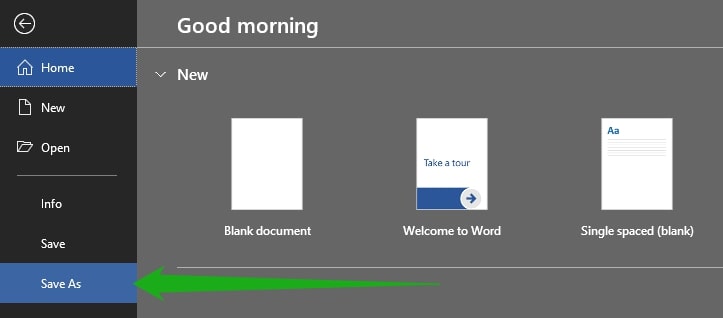 Your file will be saved in the desired format. If you have chosen PDF, then it will be a new file that has been stored after the required editing. Most importantly, Word does not make changes in the original PDF; it only copies the content, so the original file will be the same as before.
Note
When you open a PDF in Word, most probably, the format is changed. In some cases, the fonts, image placing, page-to-page format, and other things will be different from the original file. Also, you can only convert and edit one PDF at a time. If you have more files that you need to make changes to, you need to convert them one by one.
Part 2: The Online Solution - Convert or Edit PDF Online
Online PDF Converter:
There are dozens of online PDF to Word converters, and you can use any of them to edit PDF file in Word. Even people who don't know how to edit PDF file in Word can use the converters. You only need to upload the PDF file. Within a few seconds, the converter will give you the file in Word format. Here is how to do it:
Step 1. Go visit the website of an online PDF converter tool. We will take Freepdfconvert.com as an example here.
Step 2. Drag and drop your PDF file to the webpage to upload.
Step 3. Read the limitation of the service, choose "Word" as the output format and proceed to the converting process.

The best thing about these converters is that they provide better accuracy in terms of the format. They provide good results that you cannot get from the above-listed method. So, it is better to use these online converters to convert the file.
Online PDF Editor:
There are also some online PDF editor services that claim to be able to directly "Edit" your PDF file. But in fact, most of these online PDF editor tools only allow you to add texts or shapes on top of the PDF file. You cannot make changes to the original PDF content. So in most cases, they are not very useful in editing PDFs.
SmallPDF is one of the online services that provide this kind of PDF editing function. You can add slements to your PDF online with this tool. Here is how to do it:
Step 1. Go visit the website of this online PDF editor.
Step 2. Drag and drop your PDF file to upload it.
Step 3. Now you can choose to add text, shape image or drawings on top of your PDF page.
Because they are web-based converters, you can use the online converters or editors without downloading the software. That's one of the advantages of this solution. You can use them wherever you want. Most importantly, most of the online converters are free for limited conversions.
Note
Most of online PDF converters only give you limited access to their functions. You need to pay to get the full access. Also, Online services are highly dependent on internet connection of not only your own, but also the converter servers'. The conversion could fail any time if the network is not stable. Besides, as mentioned above, most online PDF editor tools do not really allow you to edit the PDF file. You can only add elements on top of the original file instead of making changes to the content.
Part 3: The Balanced Solution- Convert PDF in MintPDF Before Editing
Higher accuracy, higher converting speed, support for bulk conversion, no page limits, all these features make MintPDF the most balanced and effective PDF editing solution.
MintPDF is the ultimate solution if you want to edit PDF file in Word like a professional. The best thing about the software is that it gives high-quality output. Your font and layout will be the same as the original file; therefore, you can easily edit the PDF without any hassle. The output is highly accurate, but there are some chances of different fonts and layout.
Key Features:
Convert PDF to various file formats.
Supports Word(docx, doc), Excel(xlsx, xls), images(jpg, png, bmp, gif, tif), PPT(pptx, ppt), txt and html.
Allows batch conversions with high speed.
The converted files are of high quality and easily compatible with all devices.
Get 1-day free license by sharing MintPDF on social media.
MindPDF also allows batch conversion, so you can convert as many files as you need. There is no limit on conversions. You don't need to worry about the number of pages and number of files, just select them and the software will do everything on its own. Now let's see how you can use MintPDF to convert your PDF files to Word so you can edit them with ease.
Step 1. Launch the program, add the files or drag them in MintPDF to import your source PDF files.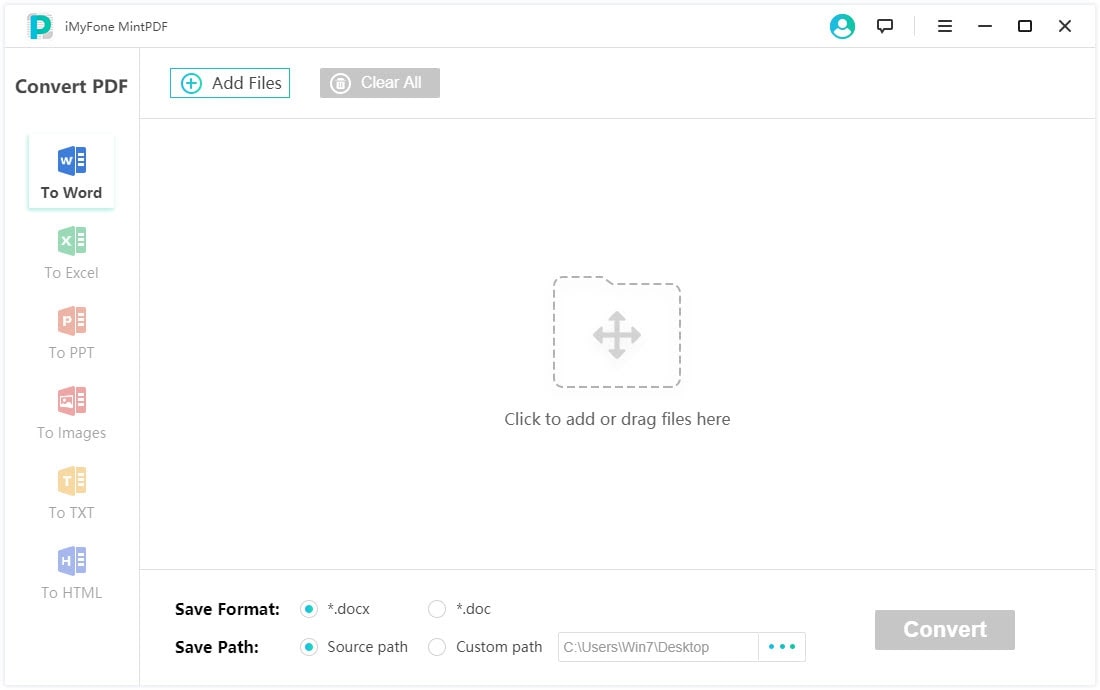 Step 2. Select an output format from the sidebar on the left. MintPDF supports multiple formats as output. To edit your PDF, choose "Word" as the output format. Finally, click "Convert" to start converting your PDF to Word.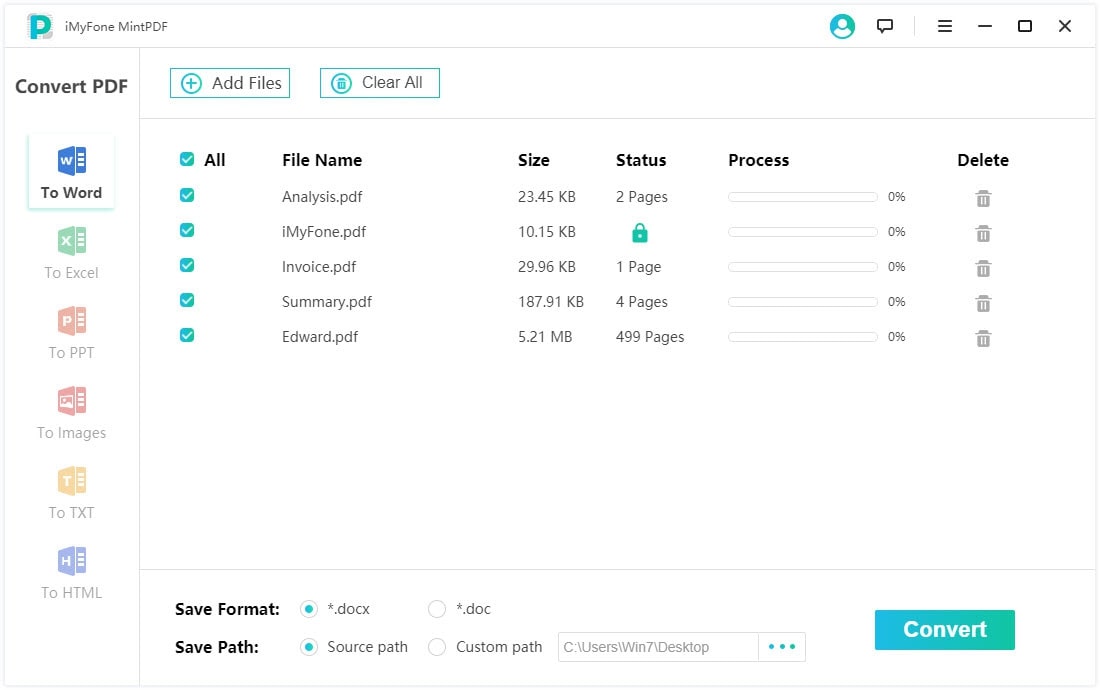 Step 3. After the conversion is done, you can then edit PDF in Word without any limitation.

PDF conversions have never been so easy. It is very fast and simple. You can convert a batch of files 30 times faster than other software. Most importantly, MintPDF is not limited to PDF to Word conversion; you can convert PDF to Word, Excel, PPT, Image, TXT, or even HTML. Thus, it's a complete package for professionals.
If you are not sure about the software, you can use the trial version. Moreover, there is a free license for everyone to claim in MintPDF's product page. You can get the get the free license now and start to enjoy all functions of this program.
To Conclude
Editing PDF files in Word is now easy. You can easily convert as many PDFs as you want using MintPDF and other similar software. We have shared three methods that are easy to use. You can do everything like a professional even if you don't know how to edit PDF file in Word. You can convert the PDF using Word or any online converter if you don't need to edit often. These methods are suitable for non-professionals. For professionals and people who need editing in bulk, MintPDF is an ideal choice.