PDF is the most commonly used format to store and share digital documents due to its high portability. Also, it handles both the text and image files with great reliability and stability. But the only downside of pdf format is that it occupies more space as compared to a word document of an equal number of pages.
With storage space becoming increasingly expensive coupled with the difficulty in sharing large size files online, users need to shrink the pdf documents.
But thanks to countless pdf compression software, one can now easily reduce the pdf size and among them, Foxit Phantompdf stands apart.
We will review various aspects of this powerful software in this article.
Part 1: Foxit Phantom PDF: What Makes It So Popular
Foxit phantom is among the biggest names among pdf compressing tools and a lot many users rely on this powerful software to manipulate pdf documents. It is a multi-feature software that offers a myriad of advanced features to edit PDF documents including edit, convert, compress, view, and create pdf documents at a remarkable speed.
Used for both personal and business applications, Foxit phantom contains many advanced editing and security features and multilingual capabilities that make it a good choice for small to large businesses and of course, personal use.
Phantom pdf comes in two paid versions, namely: Standard and Business. Each has its own set of creating and converting features. The former costs $139 to buy for a lifetime while the one-time payment of Business Phantom pdf is $179 (Too expensive? Check these cheaper or free alternatives).
Part 2: How to Reduce PDF File Size Using Foxit Phantom
Perhaps what makes phantom pdf stand apart is its ability to compress pdf files both online and offline. If you don't want to go through the lengthy process of installing and downloading the software, then follow the below steps to reduce pdf file size foxit phantompdf online:
Step 1: Go to the official website of Foxit Software and click on the Compress PDF option in the top bar.
Step 2: Now, you can either drag and drop the pdf file you want to compress or select it on the computer.
Step 3: When the file is uploaded, hit on Start Conversion to compress it.

Step 4: Within a few seconds, it will display a pop-up window confirming that the file is compressed.
Online Foxit phantom isn't intuitive and most people prefer to Foxit pdf reduce size using the desktop version. The Foxit phantompdf involves the below steps to shrink any pdf file.
Step 1: Download Foxit phantom pdf and install it on your computer.
Step 2: On the main interface, click on the File > PDF Optimizer option.
Step 3: Then, hit on the Reduce File Size icon and choose either Current File (to compress existing file) or Multiple Files (batch compression) depending on your needs.
Step 4: Now, once the files are selected, click on Audit Storage Space and manipulate the size properties as you wish, and click on Ok to start the compression process.
Part 3: Before You Try: Downsides of Foxit Phantompdf
Foxit phantompdf indeed is a highly acclaimed PDF editor that goes beyond just a simple pdf compression tool. Users can compress any and all types of pdf documents in one go. Also, you can edit both the text and the images before compressing them – a feature offered by very few software.
However, despite its dedicated user base, many people disapprove of its use because of various pitfalls – and quite rightly so. Keeping in view its features and online feedback of users, the three conspicuous disadvantages of using phantompdf are:
1. It is Very Expensive
Phantompdf is not affordable and you have to spend at least $139 (for the Standard version) to get access to compression features. That is way more than other software offering similar features and quality. For an average student or an employer of a small company, it's not feasible to spend $139 or $179 while there are cheaper or even free alternatives that offer similar functions.
So, it's considerably high-price convinces people to have double thoughts about buying and using this otherwise powerful software.
2. Users Report OCR Issues
Another significant drawback of using Foxit phantompdf is that its OCR feature needs a separate download of that specific module to function. When dealing with OCR from large files, this software crashes. What's more, users report they can't submit the crash report even when they get a crash report screen.
Foxit phantom works fine with small documents but its performance and functionality drop considerably while dealing with complex image-heavy documents.
3. Limited Trial Registration
It offers a 14-day trial period but the worst part is you don't get all functions and features during the trial period. That negates the very purpose of a free trial if you can't use all features. In a way, the free-trial is limited not just in time but in functionality as well that makes it difficult for users to make an informed decision whether or not buy this software.
Part 4: Best Alternatives to Foxit Phantompdf
The three viable alternatives of Foxit phantompdf are:
Alternative 1: iMyFone Online PDF Converter
Working along the same lines as MintPDF in terms of reliability and versatility, iMyFone Online PDF Converter is an online pdf editing software. It is 100% free to use and provides the quickest method to convert PDF files. Its jarring interface helps users convert PDF documents into 7 other formats (as of now) without any hassle.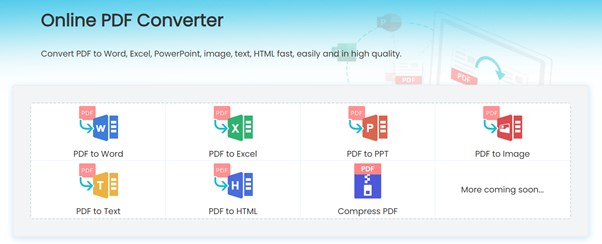 While compressing pdf documents using iMyFone Online PDF Converter, you don't have to worry about the safety and quality of your output file. The developers upgrade it regularly to meet the needs of the users.
The PDF compressing function in this online converter is also outstanding. You have 3 different levels to choose, each brings a different compressing performance to your PDF file.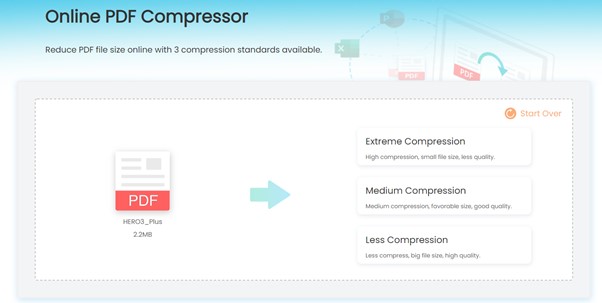 One downside of iMyFone is that it doesn't support batch conversion. That is, you need to convert pdf files individually. But its high-speed and free usage make up for this pitfall. So, whenever you're looking to convert PDF files into any format online, iMyFone Online PDF Converter is at your service.
Alternative 2: Nitro Pro
Nitro Pro has been a popular PDF editing tool for quite some time now. It greets the users with an intuitive interface, showing all the features it offers. You can:
Edit: add and delete pictures or text
Convert: Convert PDF documents into many formats including Word, PowerPoint, excel.
Compress: Compress pdf documents into the required size without losing quality.
Combine: Combine two or more PDFs or other documents into a single document that is easy to view, read, and present.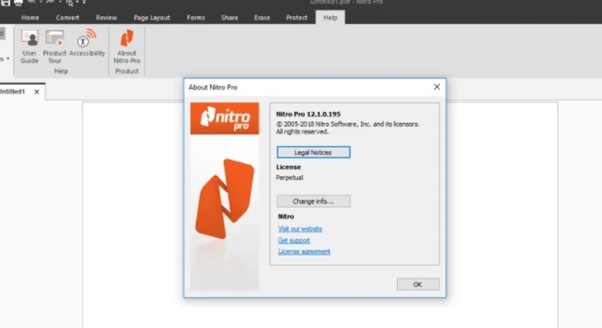 However, Nitro Pro is also expensive since it costs around $128/user which is significantly higher than that of MintPDF – making it a less preferable option for many users.
Alternative 3: MintPDF
Considered as the best PDF manipulation tool, iMyFone MintPDF offers a myriad of unique and advanced pdf manipulation features. Talking about its super-conversion abilities, it's among the rare tools to help users convert PDF documents into Word, text for editing, PowerPoint, or into HTML or image formats in just two simple steps.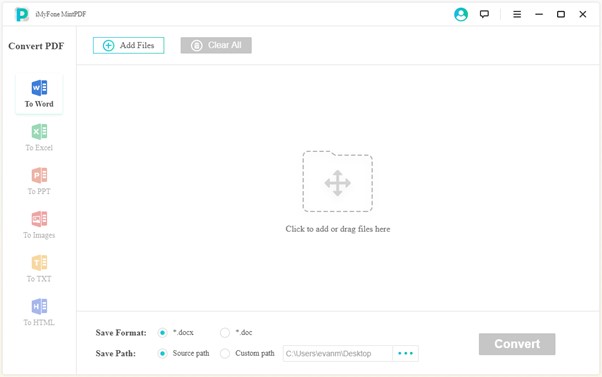 Unlike many PDF editing software, MintPDF never compromises the quality of output files and never gets slow, let alone crash, no matter how large the files are. Compared to phantompdf or Adobe which are complex and complicated to use, MintPDF is super-intuitive, easy to understand even for a novice, super-fast, and reliable in pdf file manipulation.
The best thing about MintPDF is its affordability. You can have a life-time subscription for 5 computers for just $59.95 (subject to change). Compared to phantompdf, which costs $179 (business version) for one PC, MintPDF is inexpensive and suitable for everyone. What's more, currently there is a free license for everyone to claim, making it a even better deal.
Although the PDF compressing function is still on the way, it's still a great option for multiple PDF converting tasks.
Conclusion
To sum up, it can be challenging to find the best pdf compression software as the internet is replete with such tools. But once you compare the features and price of these 4 popular pdf editor software, iMyFone Online PDF Converter and MintPDF lead the pack.
For users wanting online pdf editing, iMyFone Online PDF Converter is the best choice which is straightforward, simple, and reliable to use. Similarly, if you want increased efficiency, then MintPDF is the best option you have. Its super-intuitive dashboard, high-efficiency, compatibility with all devices coupled make it the best PDF editing tool of 2020.