PDF and JPG seem to be quite similar in term of how the information gets presented. However, sometimes we still need to convert, or merge PDF to JPG.
Be it merge all PDF pages to one JPG image, or merge PDF and JPG together, we will discuss them both and show you the best ways to do them.
Part 1: PDF and JPG: Know What You Need

Both PDF and JPG can present graphic information in a very tidy manner. Although PDF is apparently a document file, you cannot directly edit the content in that file, so sometimes those two file formats could feel not very different.
But still, those files are very different and sometimes you need to convert one format to the other to finish some specific tasks.
The need to merge pdf to jpg comes when you have to publish documents on the internet, send them to ERP or CRM systems, or present them in a video or presentation. Sometimes you need to merge all pages in a PDF to a single JPG file, or you need to merge a PDF and other JPG files together.
Today we are going to introduce how to do both.
Part 2: MintPDF – Merge PDF to JPG Fast

When it comes to the best tool to merge pdf to jpg, iMyFone MintPDF leads the pack. This powerful software helps users to convert pdf files to images in just a few minutes. Its unique and strong features, high reliability, and efficiency to convert PDF files to any format makes it a top-most choice of users.
Key Features:
Copy PDF to Word with original formatting.
Select any part of the document to copy.
Supports Word(docx, doc), Excel(xlsx, xls), images(jpg, png, bmp, gif, tif), PPT(pptx, ppt), txt and html
High converting speed and solid output quality.
Get 1-day free license by sharing MintPDF on social media.
To convert and merge PDF pages into JPG using MintPDF:
Step 1: After downloading MintPDF, install and launch it on your computer. Then Add Files option at the top of the screen and select the pdf files you want to convert. You can also drag and drop your source PDF file into the program to import it. Batch conversion is supported so you can import multiple PDF files at a time.
Step 2: After that, choose "To Images" on the left panel under the Convert PDF bar, and select "JPG" as the output format. Make sure you select "Merge all pages into one image".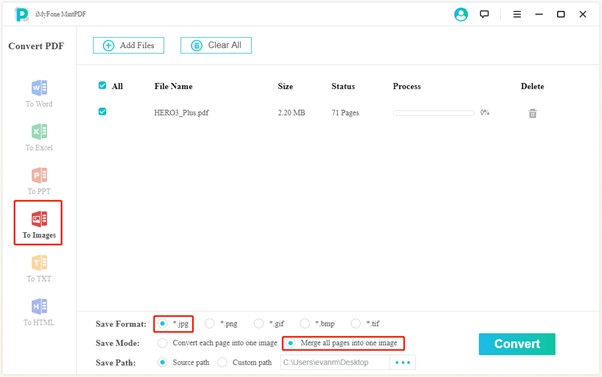 Step 3: Then click "Convert" to start the conversion. You can stop the conversion of any file you want by clicking on the Stop option. It can convert even the encrypted files – though you may have to enter a password.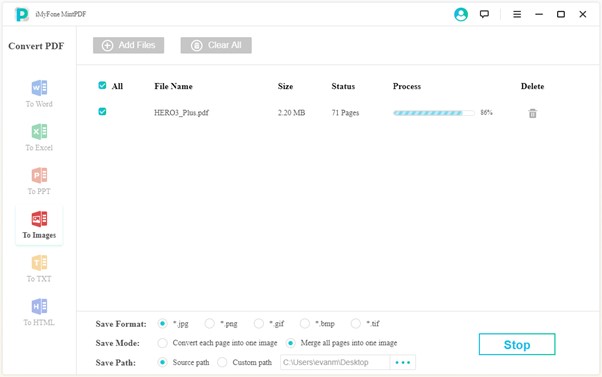 Pros of MintPDFs
Intuitive, quick, and easy-to-use
No compatibility issues
Enhanced security as files is not stored on the cloud
Can export files to almost every format, a clear example of one-in-all software
Provides a clear description of every file on the dashboard
Can convert unlimited files in one go (batch conversion)
Cons of MintPDFs
Only available on Windows
Part 3: PDF to JPG: Virtual Printer

Universal Document Printer is another efficient tool to merge pdf and jpg files without any technical complications whatsoever. It acts as a virtual printer and converts PDF files to images in just 4 simple steps. Follow the below steps to convert files:
Step 1: Download and install Universal Document Printer on your computer and launch it.
Step 2: Now, go to File > Open to load the pdf document in the software. You can add multiple files to the list. Then, again go to File and click on Print.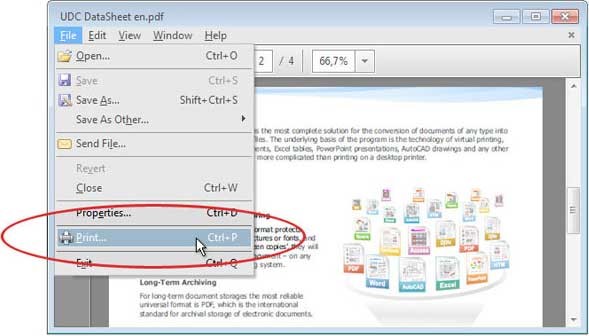 Step 3: Then, choose the Universal Document Converter from the list using the drop-down arrow and hit on the Properties option right next to it.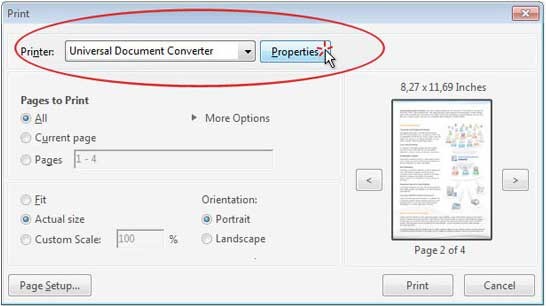 Step 4: After that, you will see a list of various output formats. Choose the JPEG Image option and click OK. Here, you can also adjust the dimensions of the output file according to your requirements. You can also save convert multiple PDFs as a single JPG image by clicking on the More Options and selecting the number of pages per image.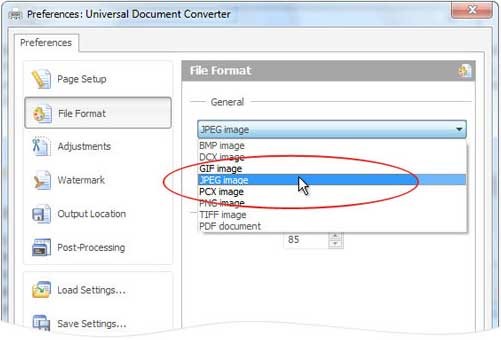 Step 5: Finally, click on print to start the conversion process.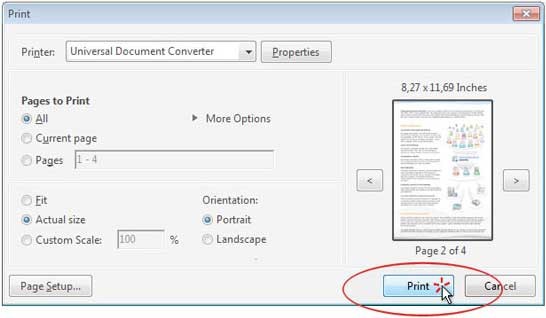 After some time, it will convert the files and you can get them in the output folder.
Pros of Universal Document Printer
Offers the feature of batch conversion (convert multiple files in one go)
Offers the benefit of combine multiple documents into one image file - and the same goes for other formats. This feature is more useful while creating large project files
It provides built-in step-by-step tutorials to walk the users through more advanced features of this software
Cons of Universal Document Printer
Offers only 8 conversion formats
Often crashes when files are heavy or more in number
The formatting isn't 100% accurate
Part 4: An Online Solution to Merge PDF to JPG

If you don't want to go through the downloading and installation process and instead want to convert PDF files online, iMyFone Online PDF Converter is the way out. It is simple, fast, easy to use. Let's discuss how can you convert pdf files to jpg images online:
Step 1: Go to the official website of iMyFone Online PDF Converter. and click on the PDF to Image option on the main interface. Now, you will enter a new window and see various conversion options. Click on the PDF to the JPG option.

Step 2: Now select the PDF files you need to convert by dragging them on to the software or clicking on the + sign.

Now, the software will ask whether you want to merge all PDF pages into one image or convert each PDF page to a separate image. Choose Merged Image to merge all PDF pages into JPG.

And bang, you've converted the PDF files. It's just that simple and straightforward.
Pros of iMyFone Online PDF Converter
It provides the quickest way to convert PDF files into JPG or other formats
It is free to use
You can use this tool with 100% confidence. Unlike other online software, it doesn't store any of your documents. Just make sure you download the converted files within 4 hours after the completion.
You can convert all PDF pages into one image or separate. This feature sets it apart from its competitors.
No wonder iMyFone Online PDF Converter is ranked as the best online converter in 2020.
Cons of iMyFone Online PDF Converter
Less efficient than MintPDF when it comes to efficiency
Doesn't offer the feature of batch conversion. For that, you have to install the desktop version i.e., iMyFone MintPDF
Part 5: Merge PDF And JPG Together

PDF Joiner is another online tool to convert PDF documents into JPG images. It's very simple to use and converts the PDF files quickly. It also allows users to convert multiple PDF files at once. To use this software, follow the below steps:
Step 1: Go to the official PDF Joiner website and click on the PDF to JPG option on the top bar.
Step 2: You will enter a new window. Here, hit on the Upload Files option to select and load PDF files to the software. You can add up to 20 PDF files in one go. The software will take some time to convert the files. Wait patiently.
Step 3: Once the process is completed, you can download the output files to the computer one by one or in a single ZIP archive by clicking on Download All option.
Pros of PDF Joiner
It's an online tool and you don't have to go through the downloading and installation process. Simply go to the website and start the conversion process
It's free to use and you can convert as many files as you want without paying a single dollar
The conversion process is very easy and simple even for the novice.
It offers 10 different conversion formats – which is worth-mentioning for a free online tool
Cons of PDF Joiner
You can convert only 20 files in one batch. If you've more files, you have to repeat the process
It can crash or become unresponsive during the conversion process
Like all online software, it needs an active internet connection to complete the process – which can be an issue if you are in a place without a healthy internet connection
A Conclusion

To encapsulate it all, this guideline has explained in detail 4 popular third-party tools to help readers merge pdf to/and jpg files. By comparing the features and functionality of the aforementioned software, we can conclude that iMyFone MintPDF is the best option if you're looking for offline or desktop software. It can convert unlimited PDF documents to image files with just a few clicks – and displays complete details about the files.
Likewise, if you want to merge pdf to jpg online, then iMyFone Online PDF Converter is the software you should choose. The developers update this software regularly to meet all the needs and requirements of the users. Unlike other online tools, it is highly efficient, quick, and intuitive to use.