No matter if you're a student, an entrepreneur, or an employer in a multinational firm, you always have pdf files on your computer. It the most reliable format to store your documents and share them easily using emails and other online platforms.
However, the issue arises when you face difficulty in sharing files due to large size – as we know emails can only transfer a document up to a specific size limit, generally 25MB. But you need not worry as we will walk you through a number of tools you can use to strong compress pdf in just a few minutes.
Without keeping you wait any further, let's cut to the chase.
Part 1: What You Need to Know About PDF Compression
A few know the mechanism of a PDF file's size and different terms associated with it such as DPI, PDF compressing, and compressing levels.
Before heading to find out how you can compress pdf by 50%, it's vital to have a basic understanding of these terms. You must have wondered why a PDF file's size is big as compared to a word file even if it contains fewer pages.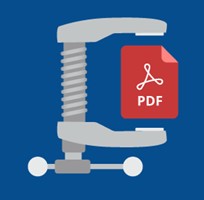 Truth to be told, the size of a PDF document depends on fonts embedded inside a PDF document. A single font can increase the size of a pdf file by up to 400-600kb. Also, the number and type of images used in the pdf document determine its size.
But you can compress pdf to 100kb if you want to, regardless of what its original size is. However, the more you compress the size, the lower will be the resolution of the images and the quality of the document.
To help you out, we have reviewed the top 3 pdf compression software of 2020.
Part 2: iMyFone Online PDF Compressor: Your #1 PDF Compressor
If you're looking for the quickest and most reliable method to compress your pdf files, then iMyFone Online PDF Compressor is at your service. It doesn't bombard you with unnecessary information not does it reduces the quality of your documents and that's what makes it the #1 online pdf compressor.
It is intuitive, easy to use dashboard, and super-fast compression are the reasons why it must be your first choice to strong compress pdf.
Follow the below simple steps to compress files using iMyFone Online PDF Compressor:
Step 1: Go to the official website of the iMyFone Online PDF Compressor.
Step 2:Now, drag and drop the PDF files that you want to compress using the 'Choose File' or + sign.

Step 3:Once you upload the files, the program will show you three standard compression levels. To apply the strongest compression, choose "Extreme Compression".

Step 4:Then, it will start compressing the file and once the process is completed, you have to download the compressed file within 4 hours.
That's sit. It just takes you three simple steps and bang! You've compressed by PDF document.
Pros of Using iMyFone Online PDF Compressor
iMyFone Online PDF Compressor stands out from its competitors because:
Multi-system compatibility: you can use it on both Mac and windows.
Can compress files with compression standards with just a few clicks.
Can use it with 100% as no issues of data leakage.
3 levels of compression provided. Including Extreme/Strong compression.
Cons of iMyFone Online PDF Compressor
No matter how good software is, there's always room for improvement. A few cons of this tool are:
Doesn't compress in bulk.
Offers just 3 modes, so you can't compress up to your specific levels.
It's free to use but you can compress 2 files in 24 hours.
By analyzing the both pros and cons of iMyFone Online PDF Compressor, one can easily ascertain why it's the top pdf compressor of 2020.
Part 3: Compress PDF Files Using PDF2Go
PDF2Go is another free online pdf compressor that is easy to understand and operate for all users. It offers a lot more features than just compressing your pdf documents and also pays foremost emphasis on the safety of your data.
The below steps show a step-by-step procedure to use PDF2Go:
Step 1:Go to the official website of PDF2Go.
Step 2:On the main interface, click on Compress PDF.
Step 3:Then, select the files you want to compress by clicking on Choose File or dragging them onto it.

Step 4:Now, you have to select which standard compression level you want to compress the files. You have to choose from basic, strong, and a range of preset compression options.

Step 5:Finally, hit on Start and once the process is completed, save the compressed file on your computer.
Pros of PDF2Go
It is quick, easy, and intuitive to use, making it a viable option for young students.
Totally free
Allows batch compressing i.e., more than on file at a time.
Cons of PDF2Go
It can reduce the quality of the output file during the compression process.
Sometimes, it shows an unrecognizable error that may be irritating for the users.
Part 4: PDFOptim to Compress pdf by 50%
PDFOptim is a reliable and highly acclaimed pdf compressor software. It allows users to manipulate the size of pdf files without worrying about the quality of the output file. It offers a lot more presets and options to compress the PDF files.
It shows the real-time comparison of original and compressing files in a side by side comparison window
Use the below steps to compress your pdf documents using PDFOptim:
Step 1:After downloading PDFOptim, launch it on your computer by double-clicking the main icon.
Step 2:Now, hit on the + option at the top menu and add the files to the program. Then, select the compression filter on the window dialog box as shown in the figure.

Step 3:After that, hit on Replace Original option and it will start shrinking the PDF document. Its powerful image filters help reduce the PDF size without affecting its quality and integrity.

Step 4:Now, browse a location in your computer to save the file using Save or Save as option.
Pros of PDFOptim
The compression process is super-quick and easy even for a novice.
Shows real progress of compression file.
High-quality image filters
Cons of PDFOptim
Offers limited features with no editing capabilities
Compression quality may be compromised at times.
Part 5: Use ZIP Folder to Compress PDF
Don't Want to use a third-party PDF compressor, you can still compress the files by simply zipping them. Most people use it as the quickest way to compress pdf files.
To do so:
Step 1:Put all the pdf files you need to compress in a new folder.
Step 2:Then, right-click the folder and select Send > "Compressed (Zipped) folder".
Step 3:It will automatically start compressing the file.
Step 4:Now save the zip file to any desired location. Its size has already reduced significantly.
Pros
One-step process – it can't get any quicker than this.
Totally free, you don't have to spend a dime.
Independent of the size of the folder. You can compress as many files as you want in just one go.
Compatible with both Windows and Mac.
Cons
Offers only one compression level.
Need an unzip tool to open.
Conclusion: Why Choose iMyFone Online PDF Compressor
To wrap it up, this article has provided a practical guideline on how can you compress pdf files in just a few minutes. The aforementioned three tools lead the pack of pdf compressors. Now, you don't have to spend hours reading online reviews and feedbacks and perform hit-and-trial to get the best pdf software. No matter if you want to compress pdf by 50%, compress pdf to 100kb, or any percentage, use any of them.
As for our recommendations, if you want the best compression tool that is also free to use, then do opt iMyFone Online PDF Compressor.