DVDs are now becoming obsolete, but some people still have their data stored on them. If they are scratched or unreadable, you can still recover the data present on them.

In this article, we will talk about DVD RW and how anyone can recover data from an unreadable/scratched DVD Disc RW for free. We will share the step-by-step methods to make the process easier for you.
Part 1. How to Recover Scratched/Unreadable/Damaged DVD RW
To be able to recover data from a DVD RW, make sure that it is readable. If the DVD RW is unreadable, then read part 2 of this article and follow the remedies to make your DVD RW readable again.
Once the DVD is readable, iMyFone D-Back Hard Drive Recovery Expert can help the user recover every kind of data that is and was on this DVD Disc RW. It supports more than 1000 file types and allows the user to preview the data before it can be recovered. It is compatible with Windows and macOS, so the user can download any version that he wants.
iMyFone D-Back Hard Drive Recovery Expert can recover data in any scenario, even if the data is corrupt or the disk is formatted. Let us see how to recover scratched/unreadable/damaged DVD RW using iMyFone D-Back Hard Drive Recovery Expert.
Step 1: Firstly, download iMyFone D-Back Hard Drive Recovery Expert on your computer and install it. Open the tool. Insert the DVD Disc RW in the computer and wait for it to get detected by the computer. Once detected, choose its drive.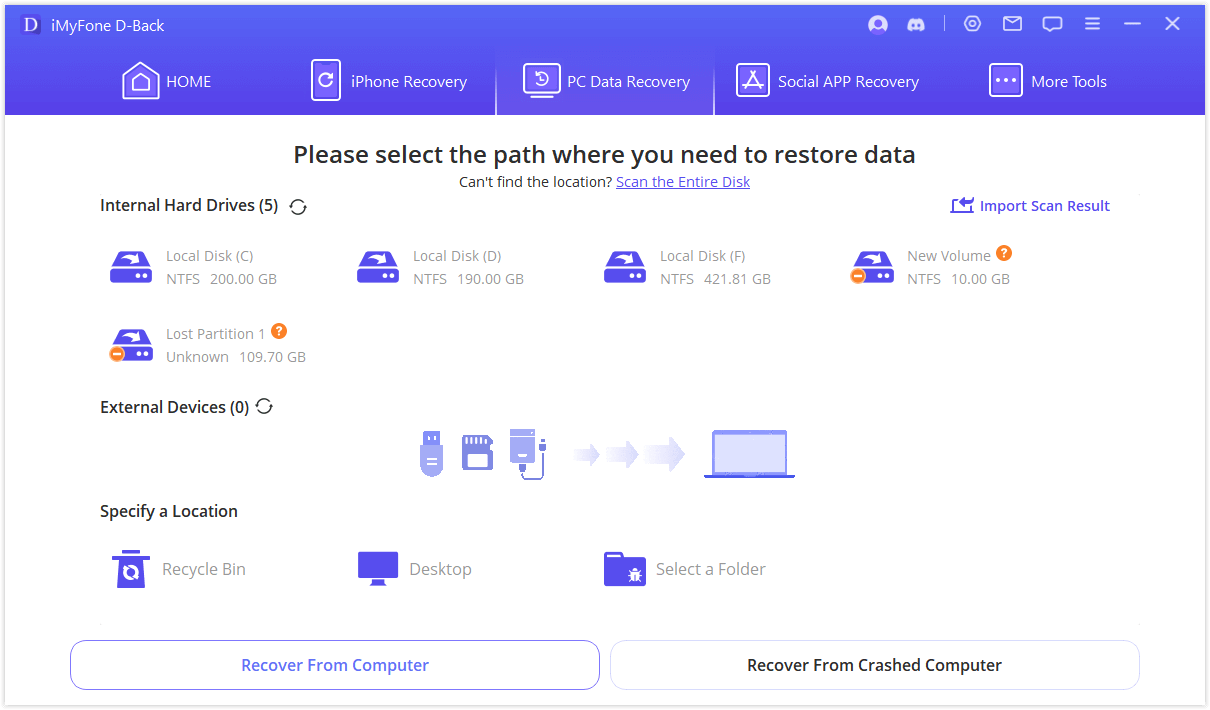 Step 2: When the DVD Disc RW drive is selected, scan the whole drive for data. The tool will perform a deep scan and find all the data there is and was on this DVD RW. The scanning process can be paused or stopped if the required file is found.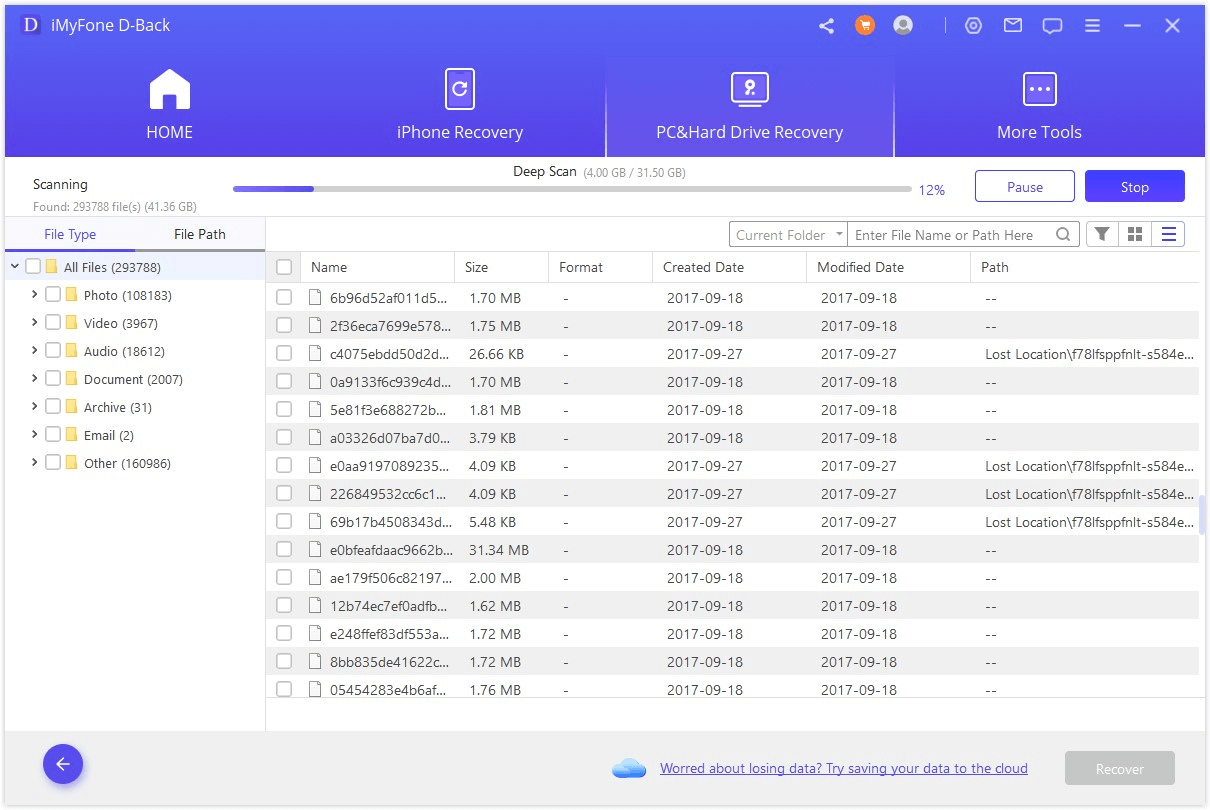 Step 3: Preview all the files and choose the files that you want to recover. Then click on "Recover" and select a path where you want to save this recovered data from DVD Disc RW.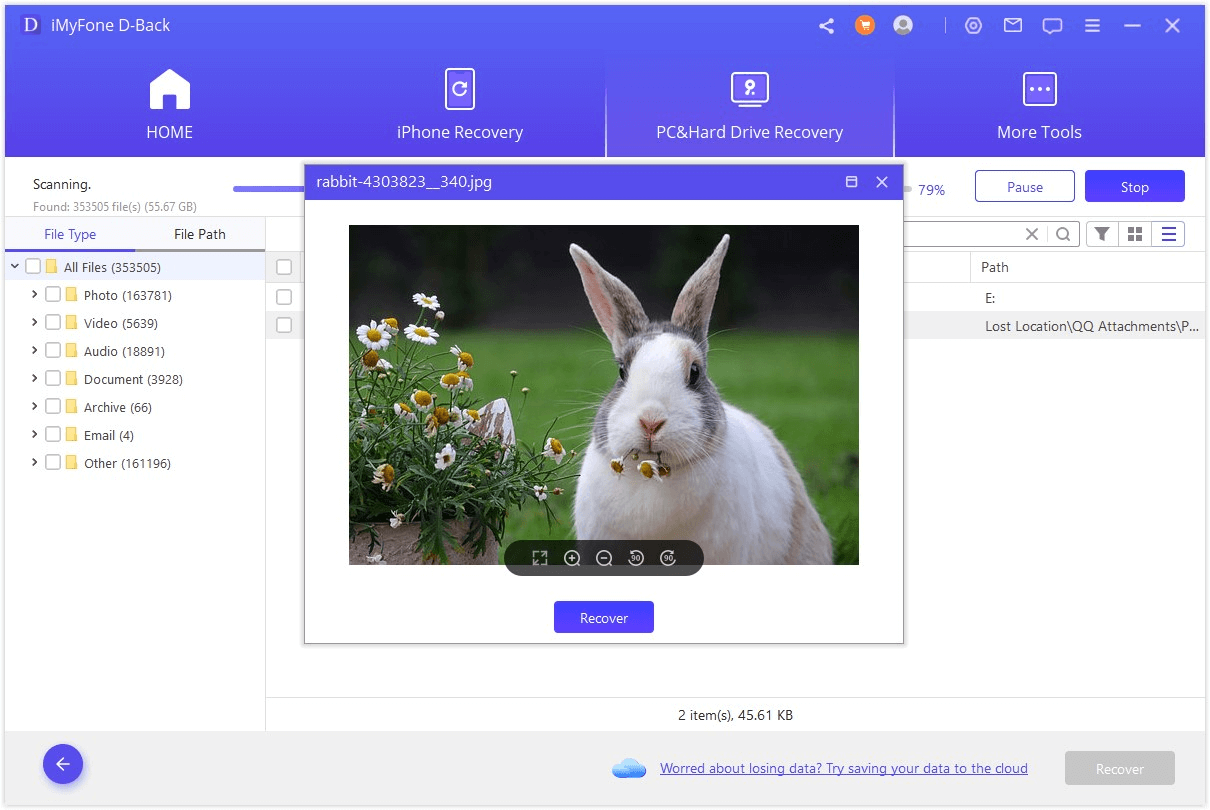 Bonus Tip: How to Fix Unreadable/Scratched DVD DISC RW
Let us first see what makes a DVD Disc RW unreadable. There are plenty of reasons that can scratch a DVD and make it unreadable. Mostly, there are two types of scratches, one is a circular scratch, and the other is a perpendicular scratch. However, circular scratches are more dangerous and tend to damage the DVD RW more than perpendicular scratches.
To fix an unreadable/scratched DVD Disc RW, the user can do the following remedies.
Take an incandescent 60W bulb and try to soften the scratches with its emitted heat. It can make the DVD data readable as it is a tested remedy.
The user can use linen or soft cloth, soak it with a little warm water, put on a little detergent, and try cleaning the disk. It is the most reliable and successful remedy to fix an unreadable DVD Disc.
If the scratches on the disk are deep, take any wax product like shoe polish and fill out the scratches on the disk. You can also do this remedy with toothpaste. Both work fine.
Part 3. FAQs
01

Can I Recover Deleted Files from DVD RW Free?
Yes. iMyFone D-Back Hard Drive Recovery Expert has a trial version available that users can download. Although it does not offer all the features, the free version has enough features to recover deleted files from DVD RW.
02

How Can I Make a DVD Readable Again?
If your DVD is scratched or unreadable, then it means that there are scratches on your DVD. You can try out the detailed solutions and remedies mentioned in the article. However, the best solution is to apply toothpaste to the DVD and then massage it with a towel or soft cloth. Leave it to dry and then wash it off.
03

How Do I Transfer Data from a Damaged DVD?
To transfer data from a damaged DVD, the user can use a third-party data recovery tool, iMyFone D-Back Hard Drive Recovery Expert. It is an advanced tool with a high success rate of recovery. It supports different data types and allows the user to recover any type of data, whether corrupt or damaged, from any drive of the computer. Once the data is recovered, the user can then select a path or destination and transfer the data from the damaged DVD to anywhere the user wants.
Conclusion
It is possible to get your data back from scratched and unreadable DVDs. If the DVD RW is unreadable, there are different techniques by which the scratches can be removed. However, even if the DVD is damaged, its data can be extracted with the help of the iMyFone D-Back Hard Drive Recovery Expert. It is a data recovery tool and can recover all types of deleted or formatted data. The user can download this tool from the website and try out its free version.