The latest version of Apple's Operating System – iOS 17 will release soon, and it will come with a lot of new features such as group notifications, new digital health feature amongst other features that make this new operating system version impressive.
However, while it is worth it to install this version of the iOS, it may come with quite some bugs and flaws such as being unable to connect to the App Store or personal hotspot not turning on.
For such kind of reasons, some iOS users may want to remove the updated iOS from their device. Fortunately, Apple allows you to downgrade from the new iOS version to an older version.
In this post, we will discuss a step-by-step guide especially on how to downgrade iOS 17 Beta/ iOS 17 to iOS 16 without computer.
Can You Downgrade iOS 17 Beta/ iOS 17 to iOS 16 without Computer?
If you are thinking about downgrading your iOS version from iOS 17 Beta/ iOS 17 to iOS 16 without using a computer, we have to let you know that it is not possible.
Whether you use iTunes or another software, you need to carry out the process of downgrading your iOS on a computer.
If anybody tells you they can help you downgrade to an older iOS version without computer, they are not being honest with you. Do not leave your device with them because your data may not be safe with them.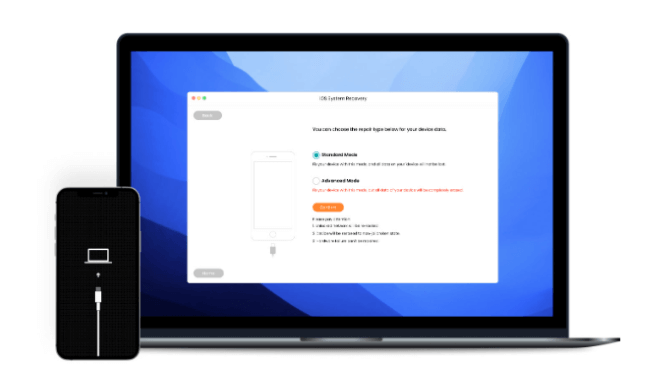 What to Do before Downgrade iOS 17 Beta/ iOS 17 to iOS 16?
You should ensure that all the data on your iPhone or iPad is backed up because a downgrade from iOS 17 Beta/ iOS 17 to iOS 16 will erase the data on your device. This will help you get back the lost data in case the downgrade is not successful.
Typically, Apple stops signing previous iOS versions after releasing iOS 17, so that means you may not have a lot of time to downgrade from iOS 17 Beta/ iOS 17 to iOS 16.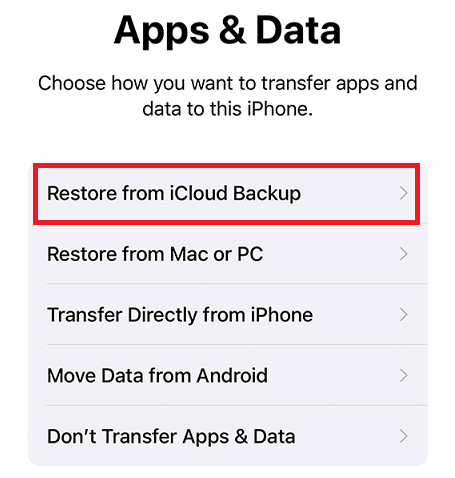 Downgrade from iOS 17 Beta/ iOS 17 to iOS 16 via iTunes (may cause data loss)
Step 1: Disable "Find My iPhone"
Typically, every restore operation on iOS devices involves disabling "Find My" or "Find My iPhone" although you can do this after wiping all the data on the device since you will get a prompt to do that. It only makes more sense to disable the feature first to avoid problems later.
You can disable "Find My iPhone" by opening the settings app and tap your device name. Then scroll down to tap "Find My" and disable it. You need to enter your Apple ID password to disable the feature.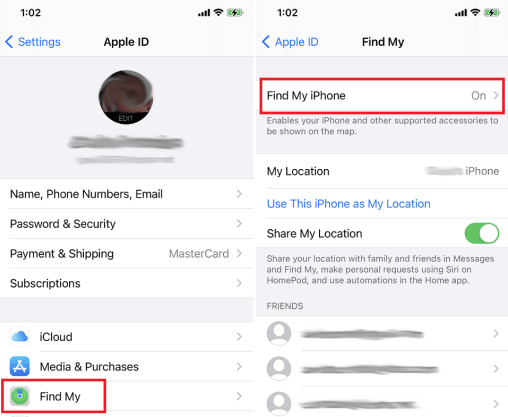 Step 2. Download the IPSW File for Your iPhone
Search the internet for the iOS 16 IPSW file for your iPhone model. Note that the files are large so be ready to wait for a while. If you download the files on a MacBook, you will find the files in your "Download" folder.
Step 3. Downgrade with iTunes
After you have downloaded the right IPSW file for your iPhone model, connect your iPhone to your computer. Remember that we have established the impossibility of downgrading without a computer.
After connecting your phone to your computer, your computer should launch iTunes automatically. If it does not, unlock the phone, allow the phone to trust the computer. If iTunes prompt you to install an update for you to connect the device with the latest iOS version, install the update.
After the phone has successfully connected to iTunes, the phone icon should be right next to the media dropdown. Click on the icon and navigate to "Summary". Then click 'Restore Backup' and install the firmware package that you downloaded just now. After the restore procee, your iPhone will be back to iOS 16 or older versions.

Downgrade iOS 17 Beta/ iOS 17 to iOS 16 without iTunes
If you find it difficult to downgrade from iOS 17 Beta/ iOS 17 to iOS 16, an effective tool that you can use is iMyFone Fixppo.
The tool is simple to use, reliable and has a track history of 100% success.
iMyFone Fixppo - System Repair
One-stop iPhone Troubleshooter:
Update to the latest iOS 17 beta.
No data loss with iOS issues fixed smoothly.
Easily downgrade iOS 17 beta to the previous version without jailbreak.
Repair 150+ iOS/iPadOS/tvOS system problems like stuck on Apple logo, screen won't turn on, recovery mode loop, reboot loop, and black screen, etc.
Limited Time 10% OFF Coupon Code for iMyFone Fixppo: YTR5E7
Step 1: Download the latest version of iMyFone Fixppo and install. Select "Standard Mode" when you launch the software. Use a lightning cable to create a connection between your computer and iOS device.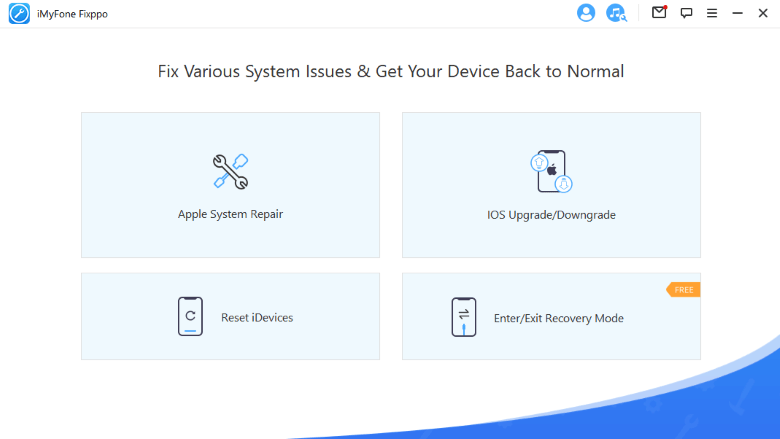 Step 2: Then click on "Start" to put your device in DFU mode so that the tool can detect your device automatically.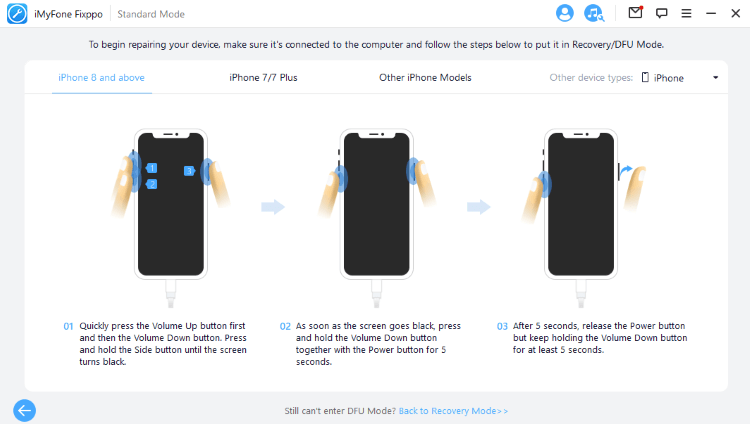 Step 3: When Fixppo detects your device, it will provide different versions of firmware and you can choose the one compatible with your device. If you do not see the one for iOS 16 automatically, you can click on the drop-down menu where you will select the appropriate lower version. When you find it, click on "Download".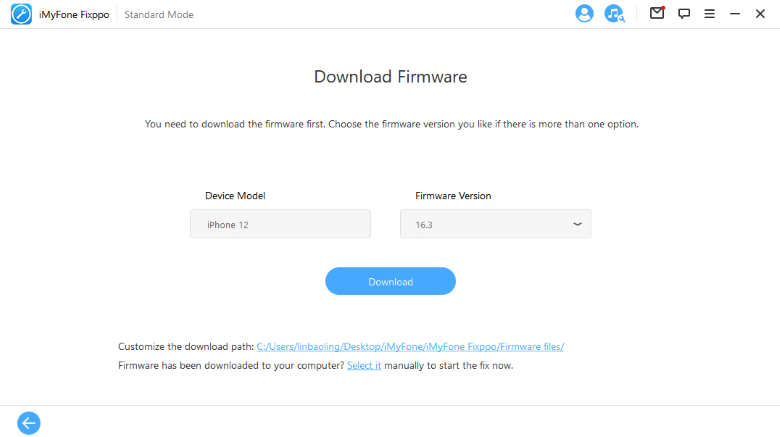 Step 4: After downloading the firmware, click on "Start to Fix" and the program will verify the firmware and install the lower iOS version on your phone.
Conclusion
Please note that downgrading your device from iOS 17 Beta/ iOS 17 to iOS 16 requires a computer in all methods. If you want to go through this process without losing data, iMyFone Fixppo will be your best bet. Get the software today on either Windows PC or MacBook.
With iMyFone Fixppo iOS System Recovery tool, you will be able to fix all iOS issues the occurred on iPhone, iPad, iPod touch, and it also allows you to downgrade iOS version to older versions.
As the best iTunes alternative, Fixppo's exclusive technology makes it simple to fix all iOS issues that iTunes can't do.
What's better, the existing data on your iPhone or iPad will not get lost when using Fixppo.
An easy-to-use interface is designed to help you downgrade your iOS within minutes.
It can also solve other iOS issues like iPhone screen too sensitive, iPhone 12/11 getting hot, iPhone glitching after update and more.
Check the steps below to downgrade from iOS 17 Beta/ iOS 17 to iOS 16 or older iOS version with ease.
Limited Time 10% OFF Coupon Code for iMyFone Fixppo: YTR5E7