From time to time, devices that you use may experience complications such as the newly bought iPhone 11 getting stuck on a black screen after updating to iOS 15/14/13 suddenly. Obviously, you have to get worried that you do not know what the causes for it and search for reliable solutions online. Fortunately, there are some workable ways you can try to get this black screen issue fixed. In this article, we will show how to determine if the black screen on iOS 15/14/13 iPhone 11(or any other iPhone) could be hardware or software issue and how to fix it.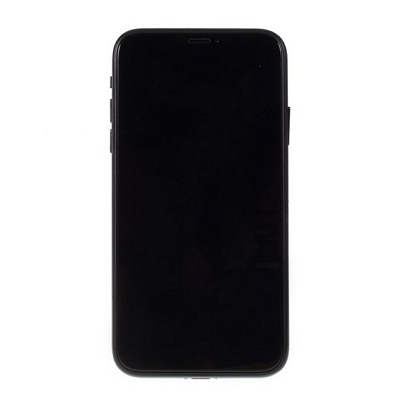 Part 1: Determine Whether It's a Hardware or Software Problem
The difficulty begins in figuring out the problem if it is software or hardware-based. The hardware related issue may result from the phone getting soaked in water, your iPhone fallen down or some other reasons. If this is the case, then it means a hardware component of your device is damaged.
In case the hardware is working fine, then the error could be the software of the device. This may arise due to a malware attack. Also, the corrupt application updates or an unstable firmware can also cause this problem. Alternatively, if an application crashes while working on the device's low space, it may cause a software problem.
To fix iPhone 13/12/11 stuck on a black screen, you only need to determine the reason and proceed to fix respectively considering the problem.
Part 2: How to Fix iPhone 13/12/11 Black Screen if it's a Software Problem
There are 3 solutions to fixing software problems when your iPhone 13/12/11 stuck on black screen and the phone did not turn on or did not respond to the charger, namely using an iOS system repair tool, hard reset iPhone and restore iPhone with iTunes.
Using an iOS repair tool is the most effective and safest solution, it will not cause any data loss and guarantee the 100% success rate.
Hard Resetting iPhone is the easiest solution, but it doesn't work in most cases.
Restoring with iTunes will result in data loss and it's very time consuming.
Now, you can jump to the solution you prefer directly
| Solutions | Success Rate | Data Loss | Ease of Use | Time Needed |
| --- | --- | --- | --- | --- |
| | 100% - works for iOS issues | No data loss | Easy | Fast |
| Force Restart | 30% - not working sometimes | No data loss | Easy | Fast |
| via Recovery Mode | 70% - sometimes successful | Wipes everything | Complicated | Time-Consuming |
Way 1. Fix iPhone 13/12/11 Black Screen Using iMyFone Fixppo without Any Data Loss
Fixing iPhone 13/12/11 Black Screen with software issues easily and thoroughly, all you need is the iMyFone Fixppo. This tool is specialized in repairing  all iOS issues including iPhone stuck on Apple logo, iPhone black screen, app crashes and so on with 100% success rate. It can also reset iPhone/iPad/iPod touch without password, fixing the "Forgetting password" issue. Most importantly, you won't lose any data during/ after the repair.  Also, it is quite simple to use,  only 3 steps and a couple of clicks needed, you can repair your iOS device and apps back to normal, you can totally do it on your own at home without asking help from others.
Now download and install Fixppo on your PC or Mac.
Step 1.  Choose Standard Mode
Once you have installed the program, launch it and click on "Standard Mode" option. Then connect the device to the computer and click "Next" to proceed.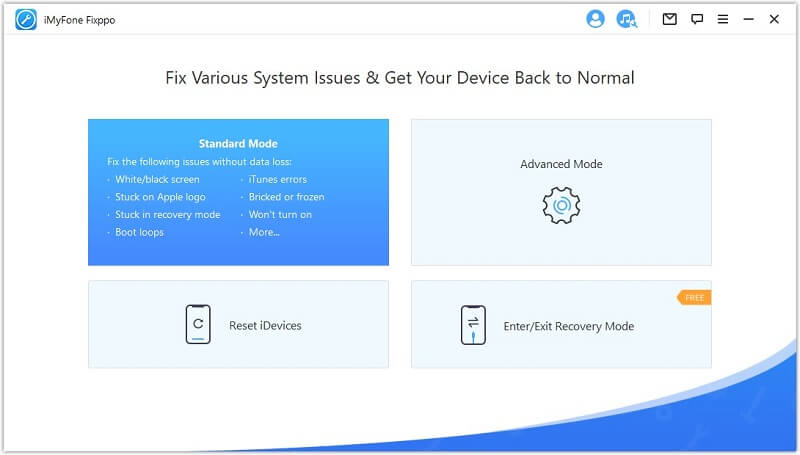 Step 2. Download the Device Firmware
iMyFone Fixppo automatically detects the device model and gives all the available versions to select from. Select the version you best compatible with your device and then click on "Download".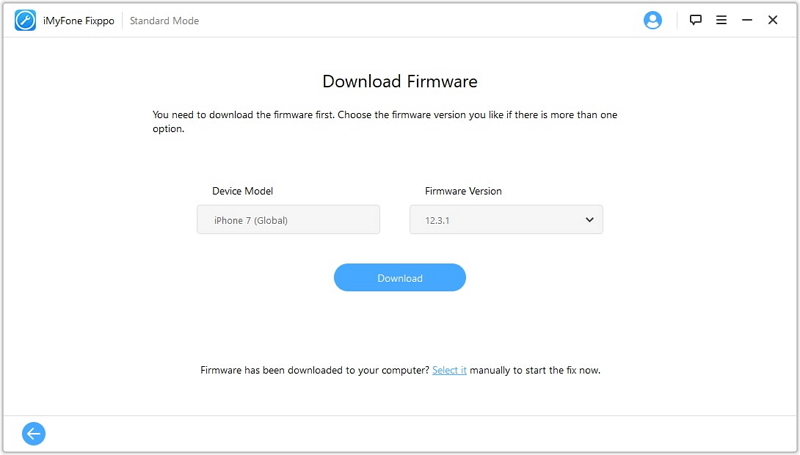 3. Fix iPhone 13/12/11 black screen problem
Considering firmware and device information are correct, you can proceed to install new firmware. Click "Start" button to begin installation. When in the process of fixing, it's highly recommended you avoid using the device.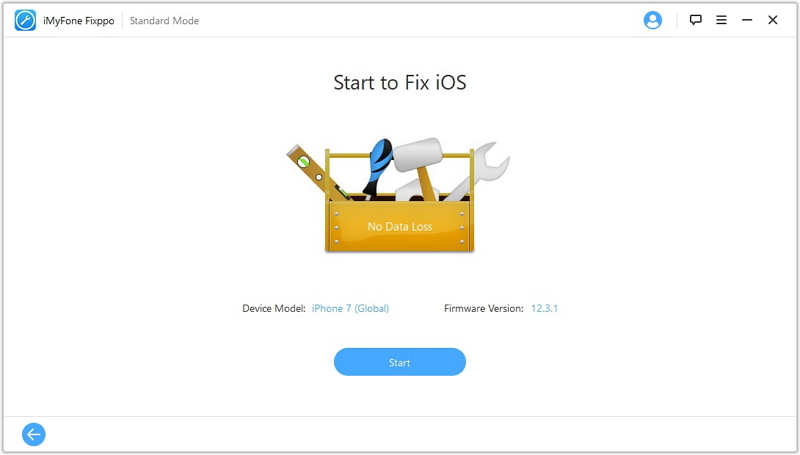 Within a short while, the iPhone 13/12/11 black screen issue can be fixed and you can check your device if it can boot normally.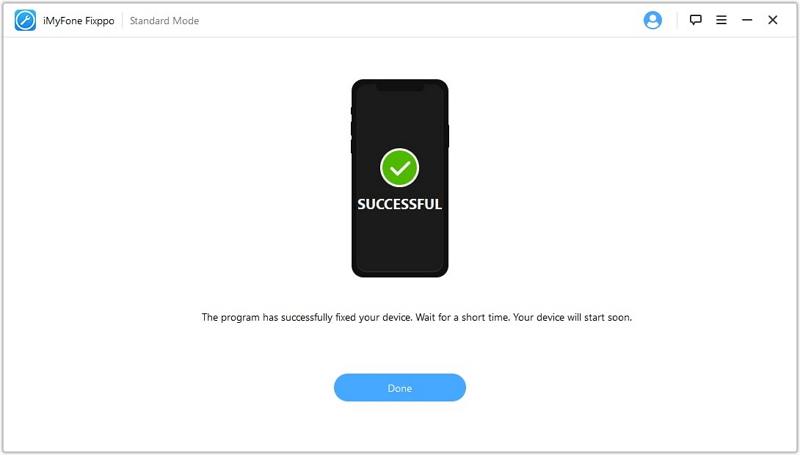 Way 2. Force Retart iPhone 13/12/11
Alternatively, you can consider to force restart your iPhone which might fix iPhone 11 stuck on black screen. To conduct hard reset using buttons follow these few simple steps.
Step 1: Start by pressing and releasing the "Volume Up" key.
Step 2: The quickly pressing and releasing the "Volume Down" key.
Step 3: Thereafter quickly press and hold the "Sleep" key up to when the apple logo appears.
Step 4: Then you can leave it to boot to complete the hard reset.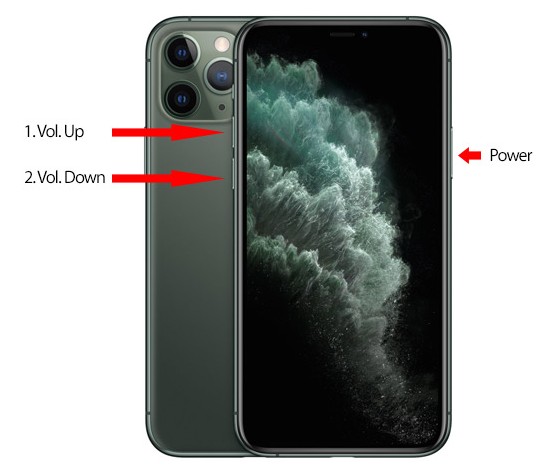 Way 3. Fix iPhone Black Screen by Restoring it with iTunes
The third option to fix iPhone 13/12/11 stuck on the black screen is by using iTunes. It's not recommended since it leads to the loss of data. In case you have no back up for your data, you will end up losing all your data if you opt for this option.
Step 1.  Connect your iPhone 13/12/11 to your computer and run the latest iTunes version. Within a few seconds, it will automatically detect the device.
Step 2. On iTunes, head to "Summary tab" and click on "Restore" button.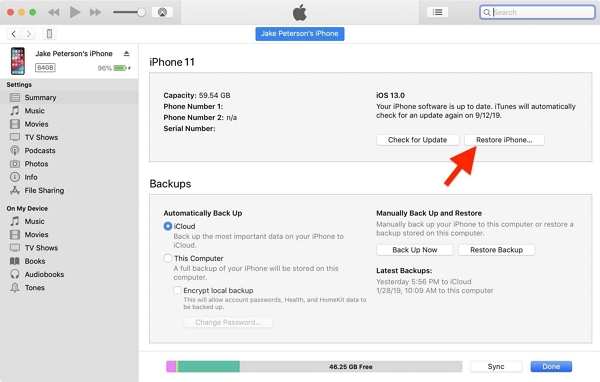 You will then receive a confirmation message. Click on "OK" option. By doing so you will have reset your iPhone 11 device.
Part 3: How to Fix iPhone 13/12/11 Black Screen if it's a Hardware Problem
Alternatively, you can check whether the iPhone 13/12/11 stuck on black screen with Apple logo or with spinning wheel is due to hardware problems. In this case, you can verify if the battery and the charger port are all okay.
If all these don't work for you, just visit the Apple store or iPhone repair store near you for assistance. Your device will be checked and in case of any faulty parts, they will be replaced.
Part 4: Some Tips to Avoid iPhone 13/12/11 Black Screen issues and Other Similar Problems
To be prepared always for such issues, you have to have measures to keep you ready. The measures help you tackle any problem and give you peace of mind.
Have contact with the Apple customer care team to contact them at any time in case of any problems with your device.
Avoid visiting malware prone sites that are risky to your device. Additionally, you can have a malware scanner on your device to notify you in case of any threats.
Avoid constant breach of security on your device in cases when you forget your
passwords. It makes the device prone to hackers and other unauthorized persons.
Keep constant checks on your devices space usage and applications that may be lagging your device. You can remove such applications or clear memory to continue using.
Frequently check the wellness of your battery as well as the charging system. This helps keep your device in good condition at all times.
Conclusion
Given the above solutions, you are assured to perfectly fix iPhone 13/12/11 stuck on black screen. There are additional quality checks on your device from time to time. The solutions are best suited for all iPhone 13/12/11 users and with frequent upgrading of the devices, there are expected changes. In case of any other issues with your iPhone devices, you can always count on us to give you a quick fix.