Getting the calm relaxing space you need for a quick nap or pause from the stress of daily life is essential to your well-being. While not everyone has the time or money to swing by a luxury spa and enjoy a deep body massage, you can experience the relaxing sounds of rain using your iPhone, iPad, or iPod Touch. Let's get into the details of how iOS 15 rain sounds can help improve your sense of peace.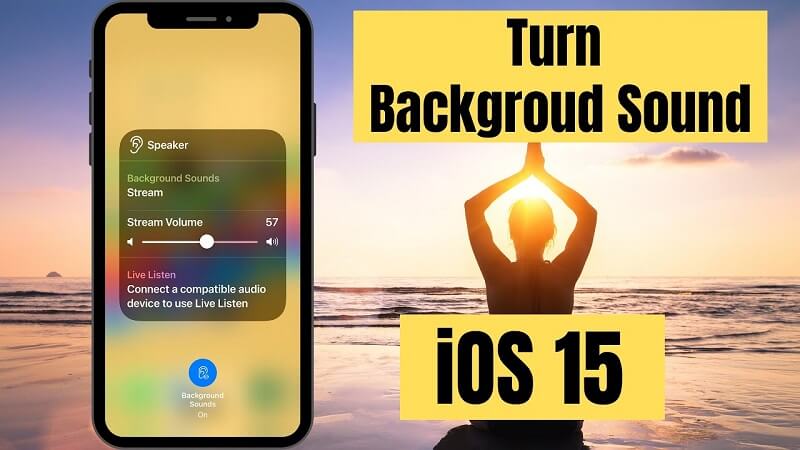 An Overview of iOS 15 Rain Sound
How to play rain sounds iOS 15 starts with understanding what iPhone Background Sounds is as a feature. This was added in iOS 15 to help people relax and stay calmer. It is an accessibility setting and not a separate app that can be accessed through the Control Center for convenience.
Apple created a series of ambient sounds in 2019 that included white noise, streams, rain, ocean, night, forest, and fireplace. With the addition of Background Sounds, you get all of those immersive options to enhance your audio experience. This way, you can fall asleep to nature sounds or study for your next exam with rain in the background.
How to Use iPhone Background Sounds in iOS 15?
Add rain sounds iOS 15 does not require any insider knowledge. You can easily enhance your device with this incredible setting using only a few short steps.
With the current version of iOS 15 Background Sounds, you get a continual loop of rain, stream, ocean, bright, balanced, and dark noises. These are different pitches that can be played by themselves or under any podcast, music, or video streaming app.
The goal of using Background Sounds is to create a more stress-free environment that allows you to reach a more positive disputation. It also is an excellent tool for increasing focus during studying, especially in locations with many distractions.
Open the Settings > Accessibility > Audio/Visual > Background Sounds and toggle it on.

By default, it will play Rain sounds, and the toggle acts as an on/off button.
If the toggle is on, you can open other audio/visual apps, and it will continue to play in the background.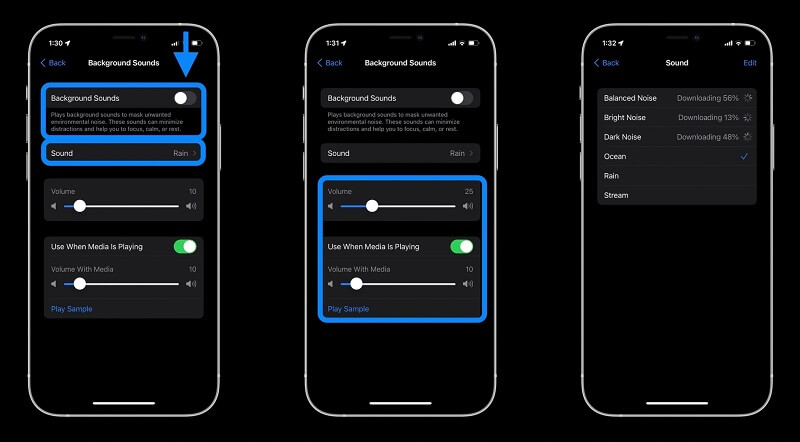 Where Can We Use Background Sound?
You can have Background Sounds iOS 15 playing behind practically any app you want. That includes binging your favorite show on Netflix or listening to a business podcast about entrepreneurship. You can also find shortcuts to turning on or off Background Sounds throughout your device, including:
1

Background Sounds in Control Center
It is probably the most convenient location to set your Background Sounds feature because it only takes a quick swipe to access. You are effectively adding a small tile of Background Sounds to the same screen as Airplane Mode or playback.
Go to Settings > Control Center. And then tap on the + next to Hearing.
Click the Ear icon, and then Background Sounds toward the bottom of the screen.
Now you can swipe down from the top right corner of your iPhone screen to access the feature in the future.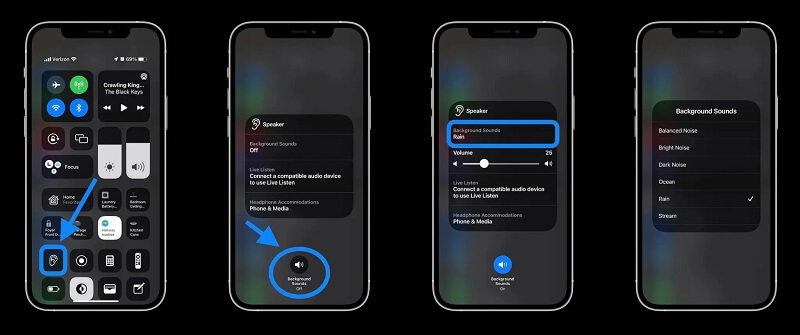 2

Siri & Accessibility Shortcut
Voice control is an excellent way to play iOS 15 rain sounds in the background of your regular activities. Instead of dealing with complicated settings all the time, you can set up a shortcut that allows you to access that playability anytime you want. This way, you can avoid Siri trying to play random content in one of your music apps instead of the actual feature you wish to access.
Go to Settings > Accessibility > Accessibility Shortcut > Background Sounds.
Now, whenever you ask Siri to play iOS 15 rain sounds or triple-click the iPhone's side button, you'll get the ambient noise you want.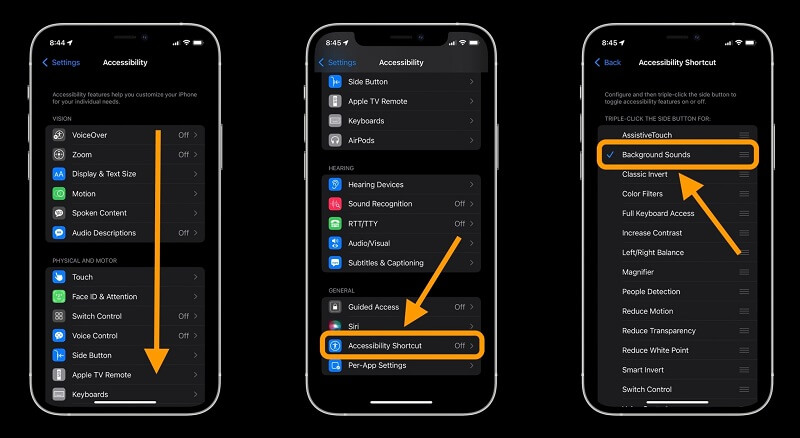 Bonus Tips: How to Fix Device if Rain Sounds are not Playing?
Once you learn how to play rain sounds iOS 15 on our device, you will never want to be without the relaxing audio experience again. That can be a problem if your iOS suddenly stops working or your device freezes up for no reason.
In those rare instances, it helps to have robust software on hand to repair issues that get in the way of our listening pleasure. If you meet this situation, we recommend you to use iMyFone Fixppo. It is a professional application that quickly restores your iPhone's functionality all with an easy-to-understand and follows user interface.
Fix iOS System Problem without Data Loss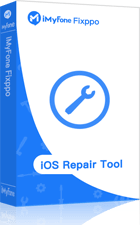 iMyFone Fixppo
Warming Up
We should all be able to enjoy the relaxing sounds that create a perfect environment for us to ease away the stress of the world for even a short while. With Background Sounds iOS 15, you get a variety of ambient noise that can make you feel more centered and at ease. In case this feature is not working, just download iMyFone Fixppo to repair any bugs or issues that are popping up.
Once you experience the power of this excellent software, you can upgrade to the premium version to enjoy all the added features. This way, you'll be able to sit back, relax, and enjoy iOS 15 rain sounds anytime, anywhere.