Are you one of the people who have been getting stuck on the iOS 16 black screen? This situation can be very annoying and frustrating at the same time. Have you tried to call Apple Support, and they couldn't help you? Or maybe you haven't called them because there is no need. It's time to tell you how to get rid of iOS 16 stuck on the black screen once and for all!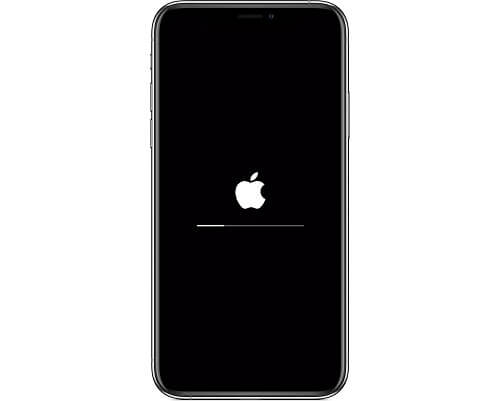 Watch the Video to Learn How to Get Rid of iOS 16 Stuck on Black Screen Quickly
Part 1: Why iOS 16 Stuck on Black Screen?
Various reasons might cause the black loading screen on iPhone. The most usual ones are listed below for you to be aware of before attempting the fixes.
System viruses aren't a big problem for Apple devices. Consequently, your gadget might become infected with a virus, which would explain why you are having such a frustrating issue.
Update to an incompatible iOS version typically results in a loading screen issue on the iPhone. Your device may have been updated to an unstable or incompatible iOS version.
If you run into a dispute while restoring the device, this issue can result.
Part 2: One-stop Solutions to Fix iOS 16 Stuck on Black Screen
If your iPhone is stuck on a black screen, you must keep calm and carry on. Before moving to the manual solutions, I would like to you a one-stop solution to fix this issue. iMyFone Fixppo, a powerful tool to help you fix all types of errors that occur on iOS devices, including iOS 16 stuck on the black screen, iphone dead or iPhone won't turn on, etc.
iMyFone Fixppo - iOS System Repair
Fix iOS issues without data loss
How to Use iMyFone Fixppo to Fix iOS 16 Stuck on Black Screen?
Step 1.On your Windows or Mac, install and launch the iMyFone Fixppo app. Select "Standard Mode" to start the iOS system repair procedure.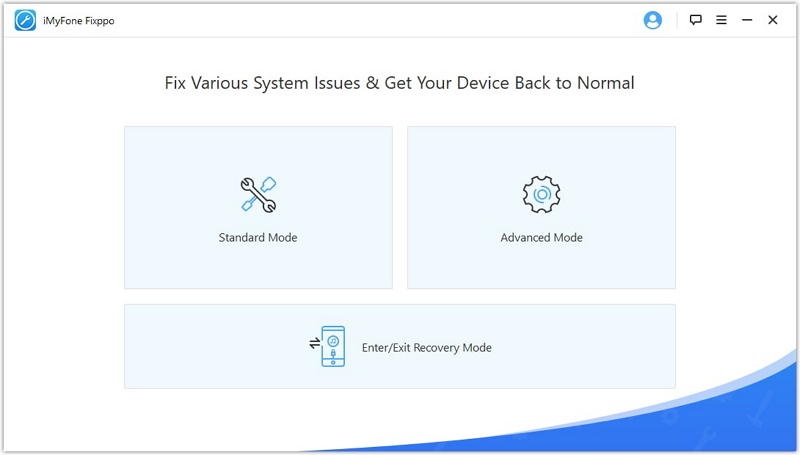 Step 2.Please wait for the tool to accurately display your iPhone's model and firmware version after connecting it to the computer. If it's not displaying the appropriate information, change it. Click "Download" once you've made your choice.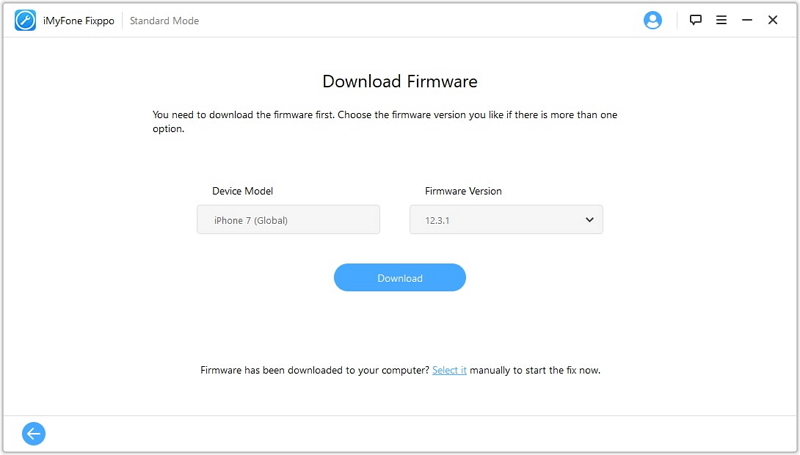 Step 3.Review the cautions that are visible on the screen. If you are certain at this point, press the "Start" button and wait while the app fixes your iPhone. Keep the device in place during the process.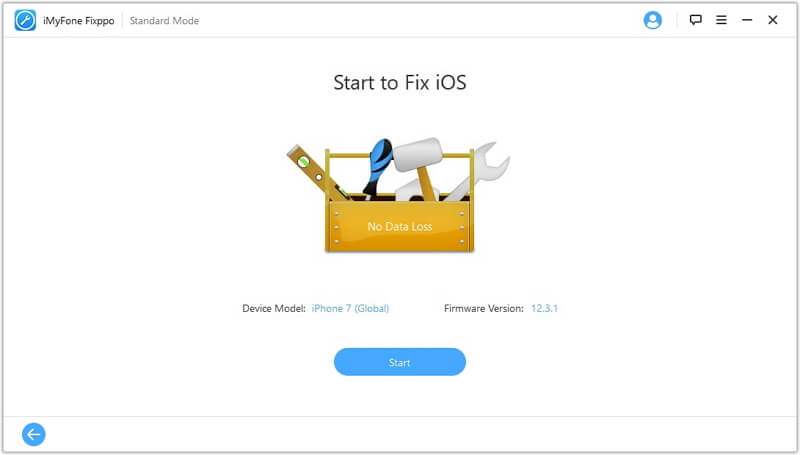 Step 4.Keep waiting for the procession complete. Then your iPhone will restart, and your screen should back to normal.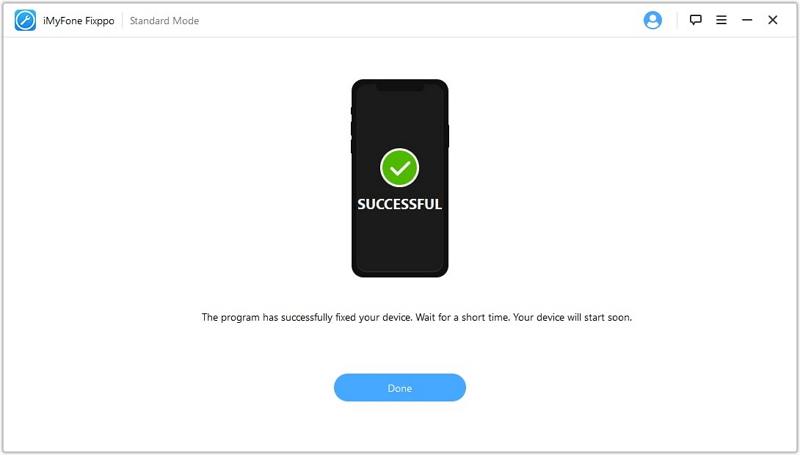 Part 3: 3 Common Ways to Fix iOS 16 Stuck on Black Screen
iOS 16 is a good operating system, but sometimes it can get stuck on a black screen. Here are 3 common ways to fix this issue.
1

Force Restart iPhone/iPad
Because it is simply a technique to switch the iPhone fast off and then back on, this is one of the simplest but also one of the most effective solutions to the problem of iOS 16 being stuck on the black screen and other iOS concerns. The procedure for forcibly restarting your iPhone can differ depending on the model.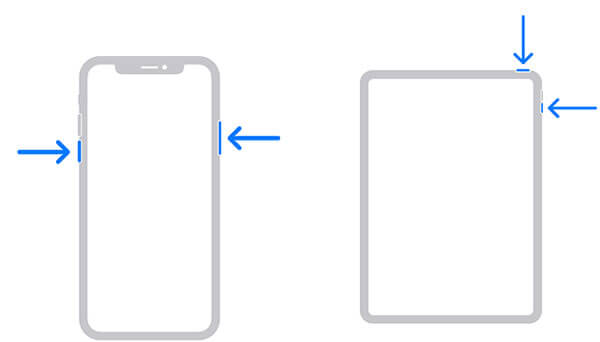 2

Put Your iPhone in Recovery Mode
If, after restarting your iOS device, you still see the black screen, you should try to resolve it in recovery mode. This procedure will result in total data loss. Here's how to go about it:
Connect the iPhone to your computer and launch iTunes. Check that you have the most recent version of iTunes installed.
Now, you have to restart your iOS device. However, do not let go of the buttons until the recovery mode screen appears on the screen.
Click the "Return iPhone" button in iTunes, and iTunes will reload the firmware on iOS and reset it to factory settings.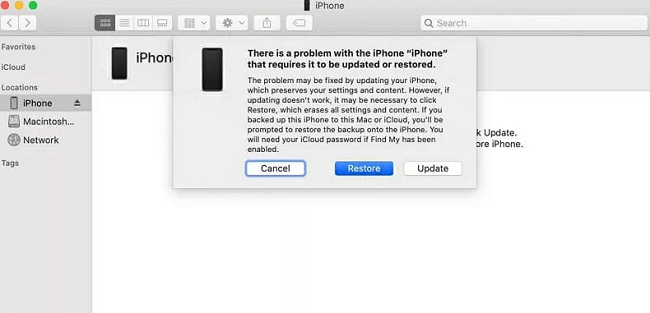 3

Enter DFU Mode
If placing your iPhone in recovery mode does not work or help and still your iOS is stuck on the black screen, you may need to put it in DFU mode before trying to restart it in iTunes. Device Firmware Update is frequently the last step to rule out software problems. It will delete every virus or issue causing the iOS black screen issue and install the most recent version.
Because iOS 16 is only accessible in iPhone 8 and earlier models, the instructions following are only for the mentioned ones.
Firstly, you have to press the volume up button but make sure to release it quickly. Now, quickly press and release the Volume Down button.
Then, keep the Side button down until the screen goes black. Press and hold the Volume Down button while still holding the Side button.
Hold down both buttons for 5 seconds. After 5 seconds, release the Side button but keep the Volume Down button pressed.
Your iPhone will successfully enter DFU mode, and you may restore it via iTunes or Finder.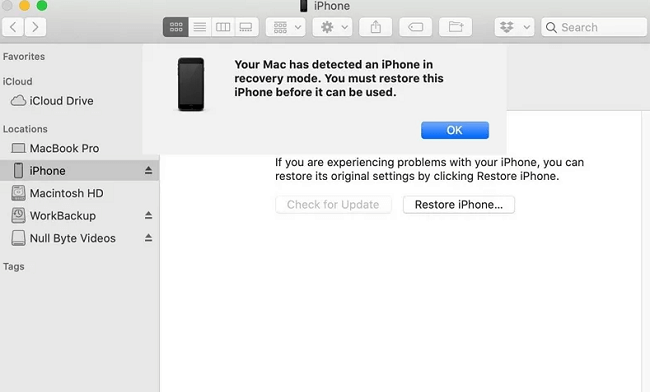 To Conclude
The new iOS 16 gives you a lot of exciting features, but when you upgrade your device to this OS version and still experience the iPhone stuck on the black screen or laggy, it is so discouraging. That's why we have given the best solution to get rid of iOS 16 stuck on the black screen. You can use the third-party tool - iMyFone Fixppo. It will provide you with the best services without any worry.