Question
My iPhone 8's Home button surprisingly got cracked. Recently I bought an iPhone. I left the device like that on my table, but when I turned to check something I found my iPhone 8 home button cracked (a hairline crack). It doesn't respond to my touch now. Please help me!
iMyFone Fixppo - System Repair
One-stop iPhone Troubleshooter:
Fix GPS stops working problem within a few clicks.
Fix GPS jumping around not locating accurately issue.
Compatible with all iOS versions and devices.
It's 100% secure to use without losing data.
Limited Time 10% OFF Coupon Code for iMyFone Fixppo: YTR5E7
Though this problem seems uncommon, finding your iPhone in such a state must be painful. You may find you are not able to use a Touch ID or fingerprint since the home button of your iPhone is broken. However, since the iPhone 8's home button (including the iPhone 7's home button) is different from that of the previous models (we will explain that later), we could help you with some solutions to combat the problem before you replace the button. Go through this article to explore more about how you can use touch ID or fingerprint when the iPhone 8 home button is cracked.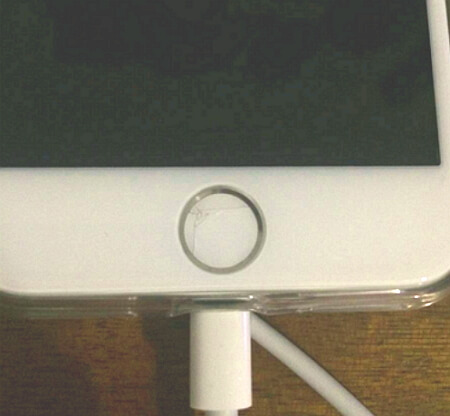 Is iPhone 8 Home Button Replaceable? Why?
Well! An iPhone 8's 'Home' button can be fixed only by Apple stores and not the mobile repair stores next door. The 'Home' button of your iPhone 8 works in sync with your logic board, which you can't change. Changing the 'Home' button would adversely affect the 'Touch ID' functionality of your device. iPhone models after iPhone 7 don't have a mechanical actuator anymore. It makes replacing the 'Home' button with a non-Apple one dysfunctional.
This is because the iPhone 7 and later models don't have a physical 'Home' button, it is a non-mechanical one. The new button not only transmits fingerprint identification but supports 'pressing' as well. The response you get (vibration) using the 'Home' button is due to the Taptic Engine encouraging the 'click' when pressed. This is a button-shaped sensor for sturdy performance. The button is entirely controlled by the software and doesn't wear out easily. Hence only the original iPhone button can interact with the logic board mounted within. So, if your iPhone 8 home button got cracked never let it get repaired by a local repair shop.
FYI: Replacing the 'Home' button from Apple might cost anywhere between $99 to $600. You can check more details here.
5 Tips You Can Try When iPhone 8 Home Button Is Cracked
Apple has introduced software locks on iPhones to eliminate independent repair of certain iPhone parts, such as 'Home' buttons. Now, as the home button of iPhone 8 is software-controlled, some technical tips related to software might help. You can try the tips mentioned below to fix the malfunction caused by the cracked iPhone 8 home button.
1. Hard Restart Your iPhone
Hard resetting usually resolves most iOS glitches of your iPhone, so that your iPhone can work normally after restarting. Here is the step-by-step guide to perform a hard reset on iPhone 8 or X.
First of all, tap on the 'Volume Up' button instantly and release.
After that click on the 'Volume Down' button in a similar fashion and lift your finger.
Finally, hold down the 'Power' button and wait till the Apple logo beams on the screen. Once the Apple logo shows up, wait for your iPhone to restart.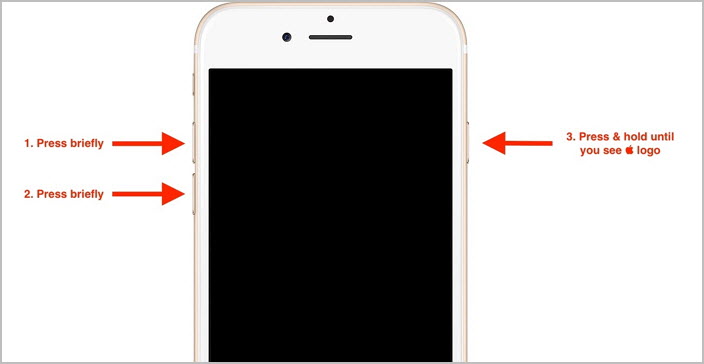 This can probably fix the inconsistent functioning of the broken iPhone 8 'Home' button and make it functional.
2. Reset All Settings
Another quick solution to resolve the iPhone home button issues when it is cracked is resetting all settings on your iPhone. Here is how to do that.
On your iPhone, go to 'Settings' > 'General' > 'Reset' > 'Reset All Settings'.
Upon prompted, type in your passcode (if any) and you are good to go.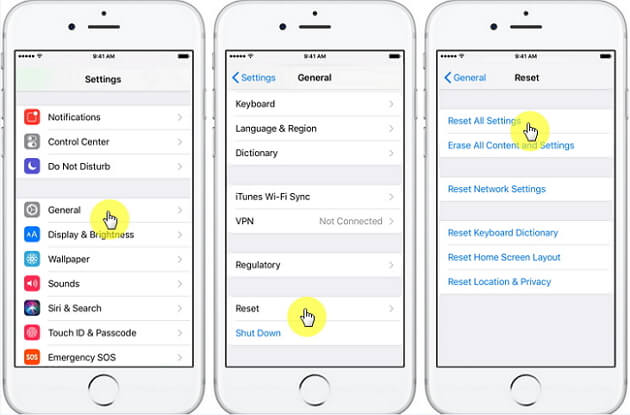 3. Reset Home Button Intensity
You can't completely turn down this feature, but it can be set to a bare minimum. Resetting the 'Home' button intensity might eliminate the unresponsiveness of the 'Home' button post the crack. Here is the guide.
Browse 'Settings' > 'General' > 'Home Button' > and then select '1' here.
An activated 'Home' button can only be confirmed through haptic, as the button is not a mechanical one. It helps you feel that the button has been pressed.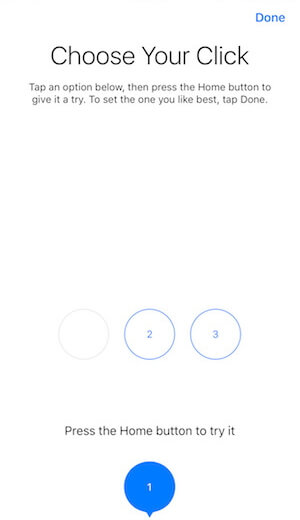 4. Backup iPhone 8 and Then Restore with iTunes
The Next method that you can try to fix your iPhone 8 and make the 'Home' button responsive is by following these steps:
Backup iPhone
Connect your iPhone 8 to a pre-trusted computer and launch 'iTunes'.
Now, tap on your iPhone there > 'Summary' > 'This Computer' > 'Backup Now'
Your iPhone will be backed up to the computer.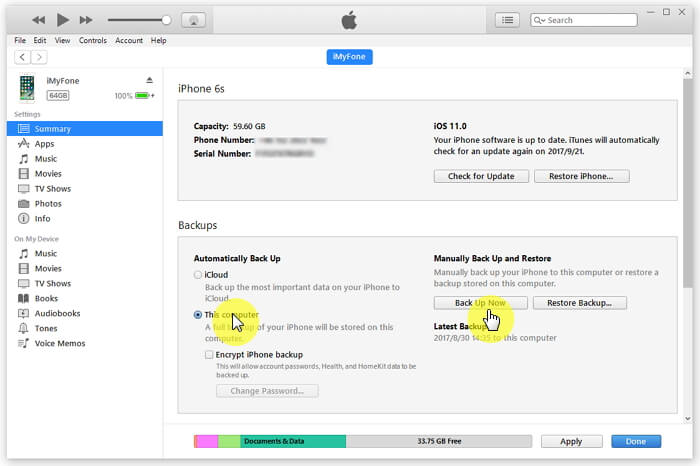 Restore iPhone
Launch iTunes again and connect your 'iPhone' using a lightning cable.
Tap on your iPhone icon in iTunes > 'Summary' > Select 'Restore iPhone' in iTunes.
Wait while iTunes restores your iPhone 8. Let it restart and your iPhone will restart like a new one.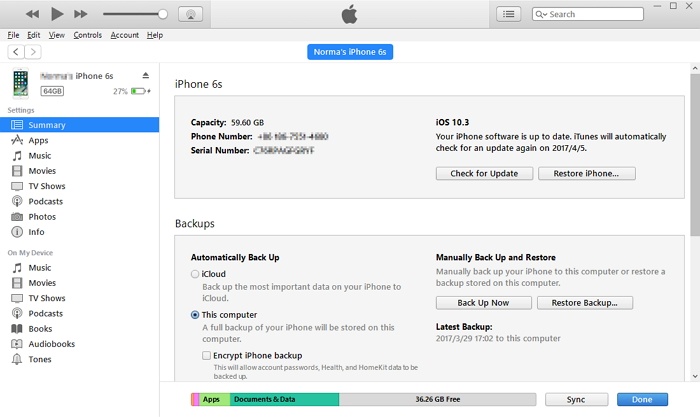 This should most probably resolve the insensitiveness of the iPhone 8 home button after it got cracked. If it doesn't you should then hop on to the next solution.
Tip
Once you try the above methods but the problem still exists, consider troubleshooting and repairing your iOS system with a professional helper -
iMyFone Fixppo
. If there are bugs with your system, then common solutions might not be able to resolve the problem smoothly but seeking help from a third-party tool should work.With this mighty tool, you can Fixes iPhone problems like iPhone stuck on hello screen or top of iPhone screen not working.This tool allows you to
back up your iPhone 8 selectively
as well, and won't overwrite any old backups available on your computer. It supports the extraction of more than 20 data types from your iOS devices including iPhone, iPad, and iPod touch. Furthermore, it is fully compatible with all iOS versions.
Fix iOS System Problem without Data Loss
One-click to reset your device without needing any passwords.
Protect your private data when you conduct repairs.
Downgrade back to iOS 17 until Apple issues an update.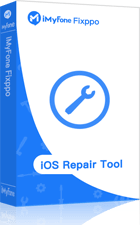 iMyFone Fixppo
Limited Time 10% OFF Coupon Code for iMyFone Fixppo: YTR5E7
5. How to Use iPhone 8 without Home Button
If your iPhone 8 home button is cracked, you can enable Assistive Touch to manage your iPhone. Assistive Touch helps you operate the iPhone through pinch and zoom gestures rather than tapping. Here are the steps for activating Assistive Touch:
On your iPhone, browse 'Settings' > 'General' > 'Accessibility' > 'AssistiveTouch'.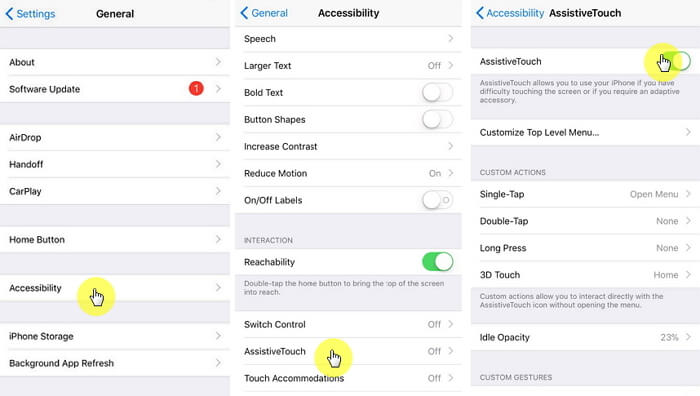 You can confirm that AssistiveTouch has been enabled if a dark square with a white circle is visible on your iPhone screen. This is the 'Assistive Menu' shortcut that appears on all screens. It is flexible to be dragged around the screen. Siri is also an option to enable 'Assistive Touch'.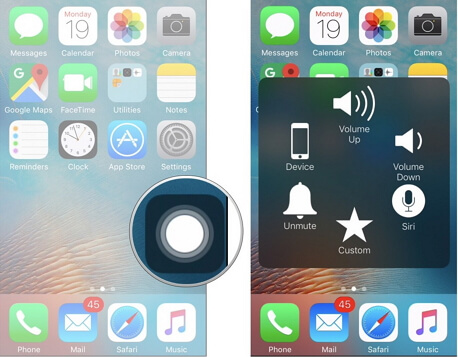 You can also add custom gestures to AssistiveTouch
Browse 'Settings' > 'General' > 'Accessibility' > 'Assistive Touch' > 'Create New Gesture' > Tap/Swipe and create a new gesture > click 'Stop' on the bottom right corner.
'Save' > Name it > 'Save'.
Note
You can tap 'Play' to preview or 'Record' to re-record a gesture. You can find these custom gestures under the 'Custom' section of the Assistive Touch menu. Alternatively, custom gestures can be added by clicking 'Custom' > tapping 'add buttons'.
To Conclude
If you want an all-in-one way to solve this issue, iMyFone Fixppo is highly recommended due to its profession. Do not hesitate to try the free version now!