5 Praised Joyoshare UltFix Alternatives That Work [2023]
Category: iPhone Issues
5 mins read
Recovery tools for the iOS system like Joyoshare UltFix share many tasks across themselves. To begin, each of them is capable of resolving a variety of problems that are common to iOS. And when you use the regular mode, they are also able to repair the system difficulties without causing any loss of data.
Nevertheless, as we can see,each one has its own drawbacks. Because of this, we realize how important it is to locate better alternatives to Joyoshare UltFix, which requires certain time while using its repair option while its limited functionality like some data can be lost. In this case, it's suggested to check those top Joyoshare UltFix alternatives with me now!
Part 1. Best 5 Joyoshare UltFix Alternatives to solve iOS issues
Let's start with our top recommendation.
1

iMyFone Fixppo [Worth Trying]

iMyFone Fixppo is an all-in-one repair tool for more than 150 operating-system issues and using this app can save you time and prevent any data loss when restoring your device to its original state. Therefore, we can't deny that it's the simplest approach to fix a tricky problem without much hassle: just press a button.

What's more, the expert fix will help you get through even the most intractable problems, like the iPhone keeps turning on and off and bring your lifeless phone back to you. You won't have to put in a lot of effort to solve a variety of issues because the augmented features of this software are laid out in a way that's easy to understand.

The application is delivered in a compressed format, which means that it won't take up a lot of room on your iPhone. Because of this, the overall performance of your iPhone will be improved because there won't be any delays. In addition, downloading and setting up this application is straightforward and all that is required of you is a visit to the program's official website.

How to fix an iPhone stuck on black screen with Standard Mode of Fixppo?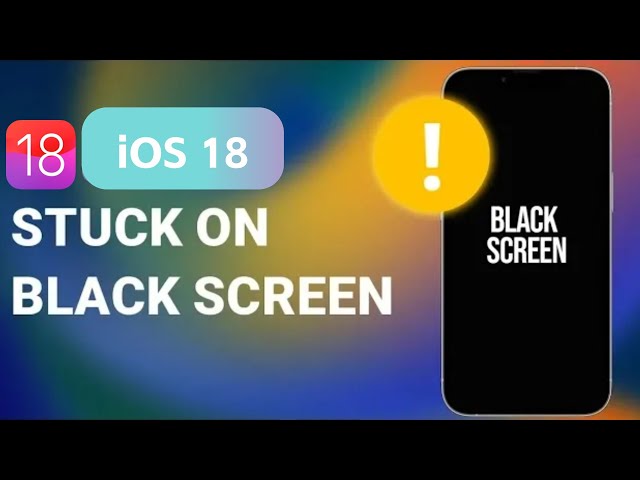 Step 1: After Fixppo has been installed properly, launch it and select Standard Mode.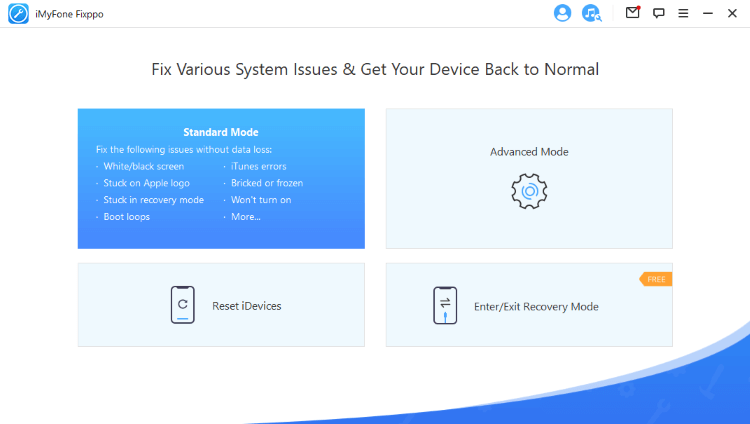 Step 2: Link your iPhone to your laptop or desktop by means of the lightning cord. And check steps shown on the interface to let your iPhone go into Recovery mode.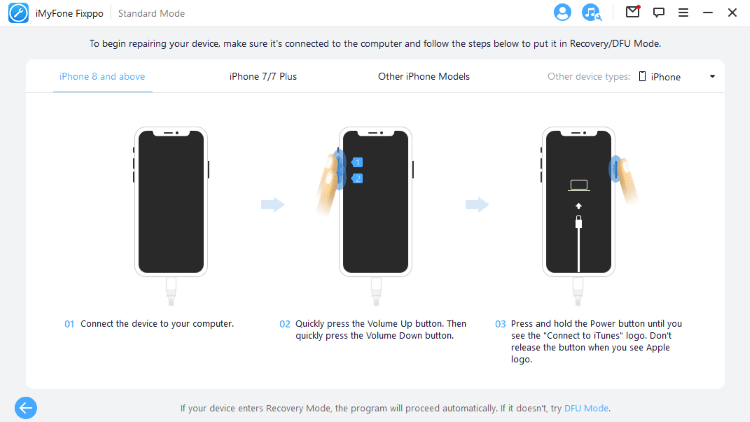 Step 3: After the software detects your device, the latest firmware is required for device repair. To initiate the download, just click the Download button.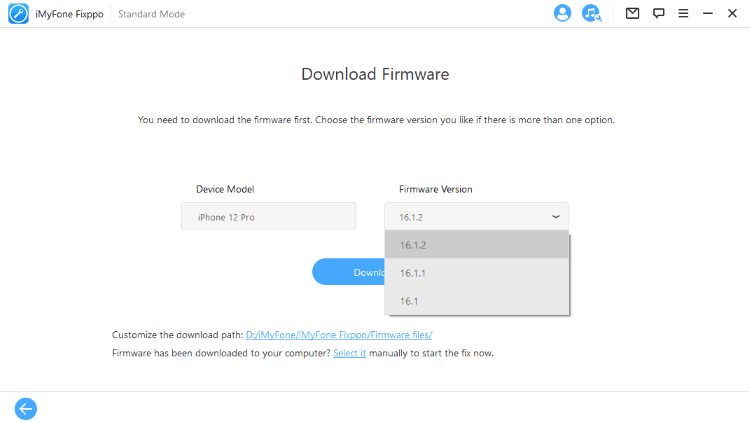 Step 4: With a click of Start after the download, Fixppo will immediately begin mending the device. Keep the device connected to the computer until the repair is complete and a restart to your device is required. Now, the iPhone should work without any problem.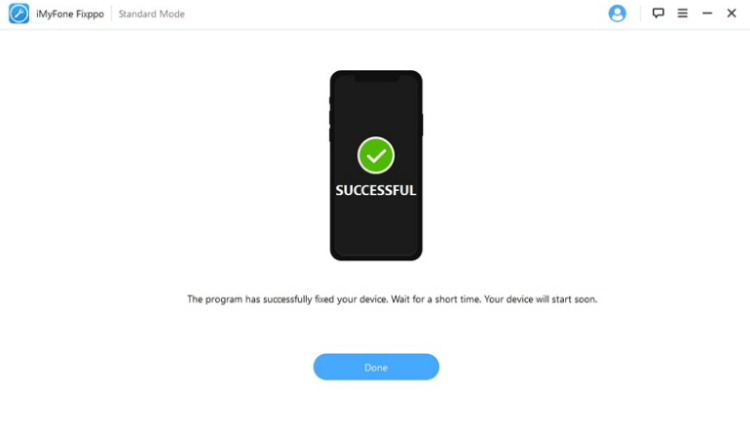 All-in-one iOS repair tool for all kinds of iOS issues.
No data loss if Standard Mode is applied to fix iPhone problems.
Reset iPhone in simple clicks if you forget password.
Beginners-friendly with highly advanced functionality.
It requires to use PC like other fixing tools.
2

UltFone

Because it is capable of repairing certain problems that could be harming your iPhone or iPad, UltFone programme gives you the opportunity to take advantage of prompt and dependable support. As a result of the app's compatibility with several features, it serves admirably as a suitable replacement for Joyoshare UltFix.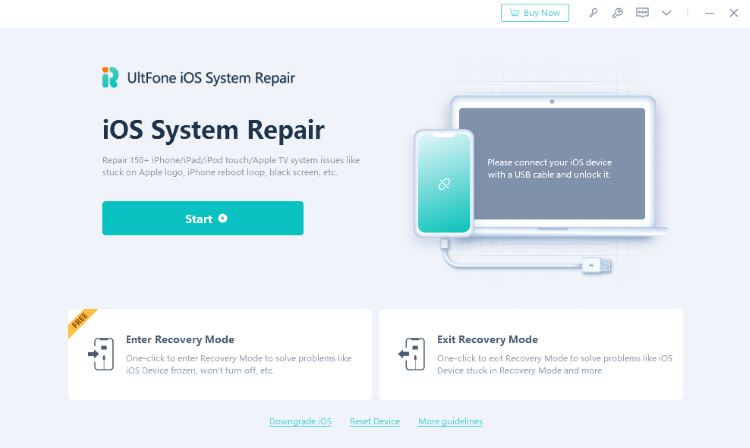 Data is not lost.
Get your credentials in order to be successful.
Work quickly.
Complex action sequences.
You may not be able to identify all of your iPhone's problems.
You are going to need to perform app updates every so often.
3

AnyFix

AnyFix fixes any problems that may occur while the phone is booting up. You are able to select the feature you like thanks to its user-friendly interface. It is simple to use, and you may check the boxes next to the files you want to restore with ease.

Nevertheless, it is sluggish and it requires upgrades quite frequently. In addition to this, you will need to invest some effort into getting the most out of it and wait for some time before the processes can be completed.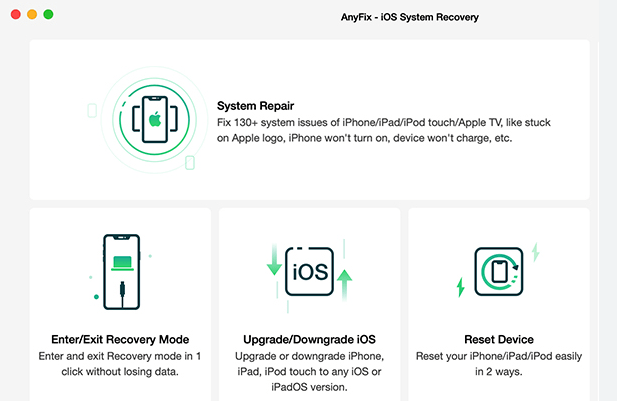 Solve common iPhone issues.
It comes with user-friendly interface.
It takes much time to respond and crashes during the process.
While restoring files, you have to proceed them one-by-one.
4

Reiboot

This programme was designed in such a way that it can resolve over 150 different types of problems that are associated with the iOS operating system. Because the software that is running on your phone does not cause data loss, you do not need to be concerned about losing any information.

Since it is compatible with virtually all contemporary devices, Tenorshare ReiBoot is also a good option to consider as an alternative to Joyoshare UltFix in fixing many tricky problems.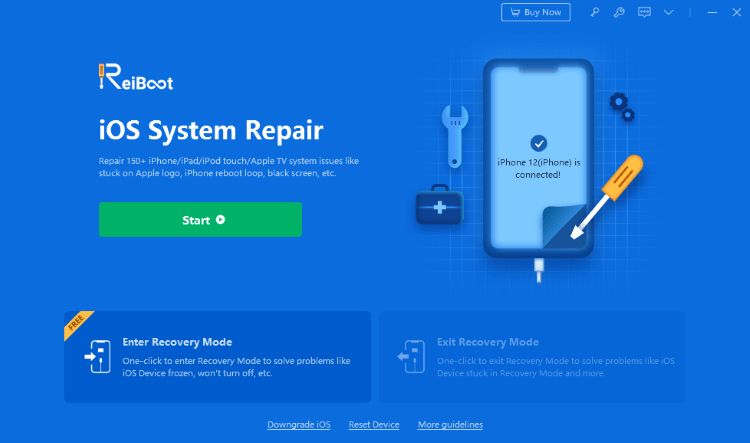 It's a dependable app like many other iOS system repair tool.
Allows to detect even tiny faults.
It comes with easily understood characteristics.
Does not function properly with certain devices.
Have some lags when using its mode.
There are some slowdowns throughout.
5

FoneLab

It is possible to use FoneLab iOS System Recovery on a variety of different mobile devices. The usage is really easy, and all you have to do is follow a few straightforward instructions. In addition, you will not have any difficulty using it, even if this is the very first time you have done so. However, certain features may not run smoothly duing the process and you should take more time to try it.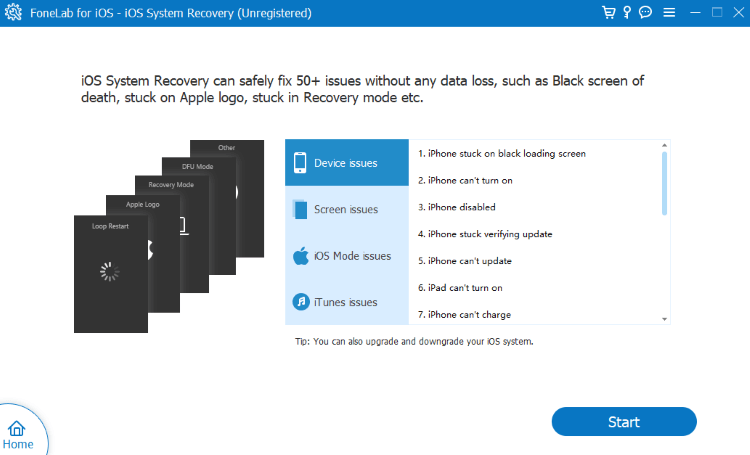 It can find even the most inconsequential problems.
Compatible with a wide variety of electronic gadgets
Spend a little bit of time identifying problems.
A high level of expertise is required for use.
It may suddenly colse itself during the process.
It crashes during the first and second try.
Part 2. Joyoshare UltFix Free Alternatives
You can also use free alternatives to Joyoshare UltFix if you're not in a hurry to try those paid solutions.
1. Force Restart Your Device up
To force a reload When your iPhone is stuck or frozen, you can call an iPhone repair service to fix 30% of all iOS problems. In order to do the hard reboot, please refer to the instructions below.
Those with an iPhone 6 or earlier:
For these devices, holding down the Power and Home buttons simultaneously is the correct procedure. When you see the Apple logo, you can let go of the buttons.
Those with iPhone 7 and 7 Plus:
For some individuals, pressing the Power and Volume Down buttons together is required (the Volume Up button works as well but it can easily take a screenshot rather than helping to force restart your iPhone). The Apple logo should appear on your screen after 8 to 10 seconds. Turn the two buttons off.
Any iPhone 8 or later model:
To raise the volume on these devices, press the Volume Up button briefly. Then, quickly press and release the Volume Down button. Press and hold the Power button until the Apple logo appears.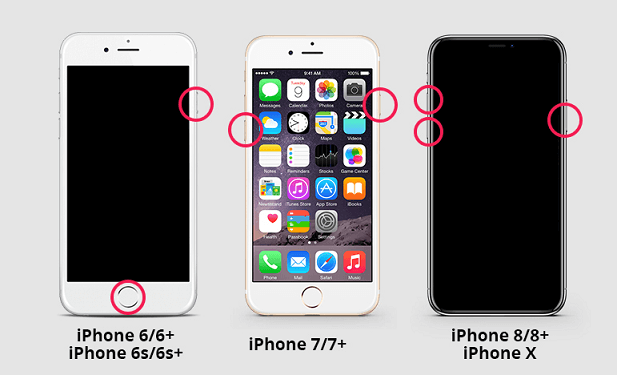 2. Enter Recovery Mode via iTunes
Some common problems can be resolved by putting the device into Recovery Mode on a computer running iTunes.
Put your iPhone into Recovery Mode by following steps outlined above and release the buttons when you see the 'Connect to iTunes' logo rather than the Apple logo and connect it to your computer.
If iTunes finds an iOS device in Recovery Mode, it will prompt you to restore or update the device. Depending on your situation, either option will work.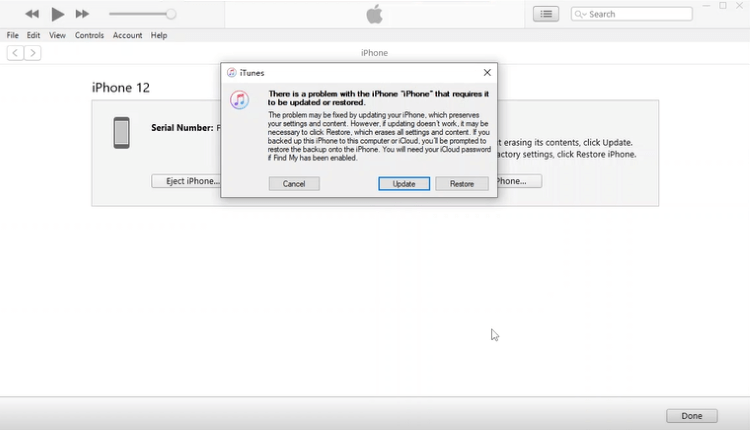 Conclusion
Well, now you have read about Joyoshare UltFix alternatives, we recommend using iMyFone Fixppo as your first choice. The best part is that anyone can try it freely and enjoy the advanced functionality of this tool without technical skills. If you are fed up with other common solutions that may not work for most cases, iMyFone Fixppo should be your choice from now.