"Hi, cutting long story short, there is no sound on iPhone I own. Please help me! Thanks in advance."
Thank you for this direct enquiry and considering turning to us for help. We have always made efforts to relieve our users from various iPhone or iPad related problems. We are here again for the same purpose. This time, the problem is no sound on iPhone. We find many Apple users have encountered this problem and also have asked the similar question in different forums. If your iPhone sound is also not working, you are at the right place and scrolling down would be the best option for you.
6 Tips to Fix No Sound on iPhone (iOS 15 beta 3/2/1 and iPhone 12 Supported)
1. Hard Reset iPhone
When there is no sound on iPhone, the primary thing you should try is to hard reset your iPhone. To do this, you need to follow the steps given below and within a while, you can check if you are out of the problem.
Start with holding down the "Sleep/Wake" button ("Volume Down" button for iPhone 7 and later versions) and the "Home" button at the same time.
Now, wait for the screen to get turned off and let the Apple logo appear.
When the logo comes, release the buttons. Your device will restart then.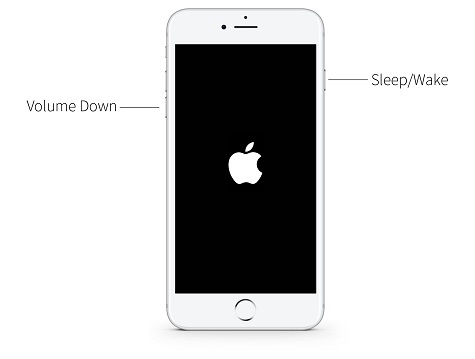 This is it. Now check he problem. If iPhone sound is not working even after this, you may try the following tips.
2. Check If Your iPhone Is in Headphone Mode
If there is no sound on your iPhone, one possible reason can be that your iPhone is stuck in the Headphone Mode. To check if you iPhone is in Headphone mode or not, tap on the volume buttons and pay attention to volume slider. If you see "Headphones" just above the volume slider than you has been stucked in Headphone mode which is why your device is thinking that headphones are still plugged in your device, despite the fact that they are not. Try cleaning out the headphone jack to remove any junk or debris present in it with the help of tweezers or by blowing compressed air directly into the headphone jack. Once you get it cleaned, plug in your headphones again in your iPhone and then plug it out, repeat this for several times and then check if your device starts making some sounds or still there are no sounds on iPhone.
3. Turn off Bluetooth & Do Not Disturb
This solutions for no sound on iPhone problem is for those users who make use of the Bluetooth headset along with their device. You need to confirm that your device is not paired with the headset. For this,
Run to "Settings" in your iphone.
Hit on "Bluetooth" and toggle the Bluetooth switch off.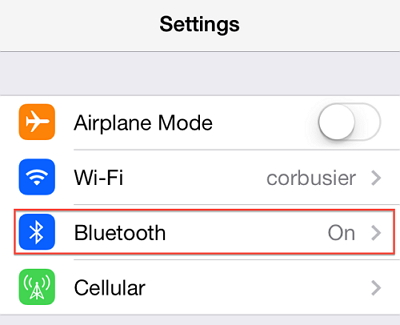 When iPhone sound is not working, you should also check "Do Not Disturb" option and turn it off if it is enabled. For this,
Run to "Settings" in your iPhone.
Go to "Do Not Disturb" and toggle the switch off to disable it.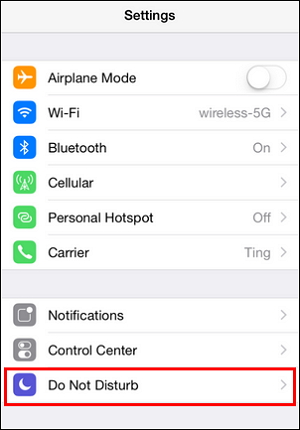 4. Reset All Settings
If unfortunately, you are still facing no sound on iPhone issue, there is a need to reset all your settings. Before you doubt about your data and start to panic, let us inform you that this step will not harm or lose any of your data. It will just erase the settings on your iPhone. To do that , follow the given steps:
Open "Settings" in your device.
Go to "General".
Now, tap "Reset" and then "Reset All Settings"
The sound issue might be removed after following these troubleshooting steps.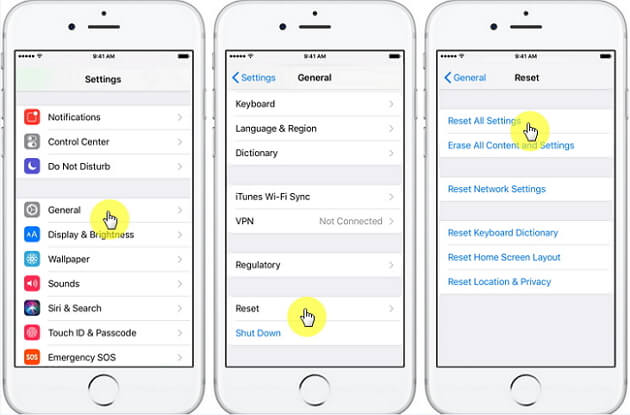 5. Fix No Sound on iPhone without Data Loss
Sad to say that, but if your iPhone sound is still not working, we guess there is a software malfunction in your device. If it is the case, you are just in need of iMyFone D-Back. Before you wonder what it is, we would gladly share you that this is an excellent data recovery tool that comes with various superb features.It has a quality feature namely "Fix iOS System" which is able to fix software malfunction with your device without any loss of data. There is a great compatibility of this program with iOS 15 beta/14/13 and iPhone 12/11. It comes with two separate versions which are Mac and Windows versions.
Key Features:
The "Fix iOS System" feature promises positive results for almost all the common iOS issue, ultimately making the device back to normal. It can also help when your iPhone is stuck in recovery mode, DFU mode, Apple logo and more problems.
There are 3 different modes that are offered with this amazing feature "Fix iOS System". They are "Standard Mode", "Exit Recovery Mode" and "Advanced Mode". You will not lose any data when you are using the "Standard Mode".
The program supports to recover 20+ types of data like photos, videos, Kik or WhatsApp data etc.
It allows you to preview data before recovery and is very user-friendly.
Step Guide to Fix No Sound on iPhone
Step 1 – Launch the program and connect your iPhone with the computer. Hit "Fix iOS System" and then choose "Standard Mode" from the first screen.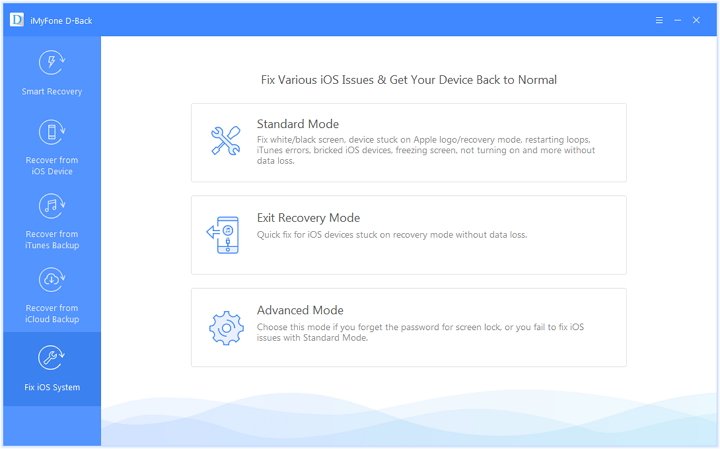 Step 2 – Next, put the iPhone in the DFU mode. The instructions will be on the screen if you don't aware how to do this.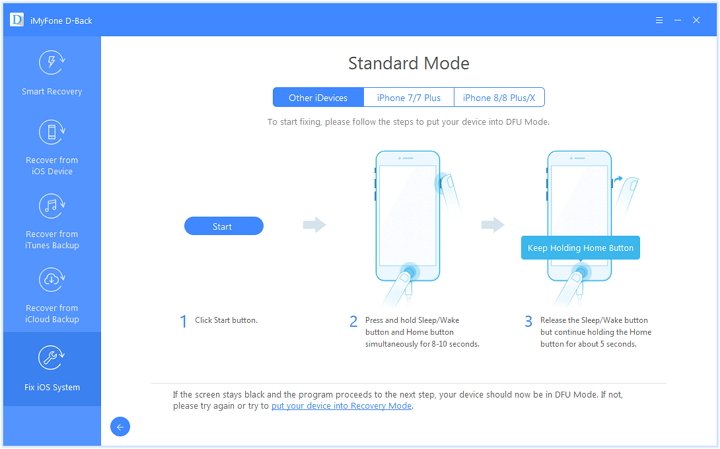 Step 3 – The program is smart enough to detect your device. After detecting, it will let you download the latest firmware matching to the device. Just press "Download" and leave on iMyFone D-Back.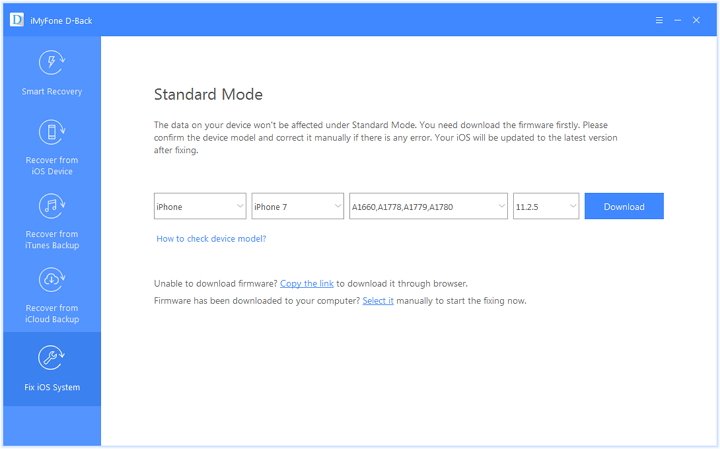 Step 4 – In the last, go to "Start to Fix" and your problem will start fixing automatically. Restart the device now and see if the problem is gone!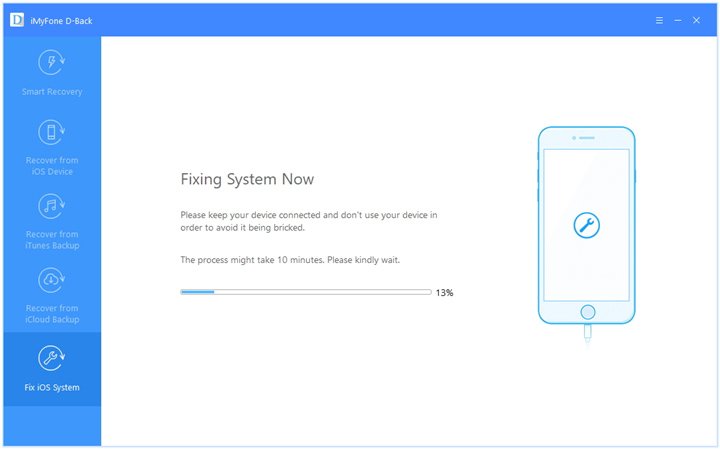 6. Hardware Issue
After giving an attempt to all the above tips and there is still on sound on your iPhone, your device might be having some hardware malfunction. Don't worry; it is normal for a device to go through a hardware problem. The fix for this is search for the nearest Apple service store and hand over your device to the technical expert to make it back to normal.
Conclusion
No sound on iPhone can be frustrating because sound is much important for we hardly live without music or videos these days in our free time. However, iPhone sound may not work sometimes due to various reasons. With the tips above, we really hope that your problem would have gone now and you are happily using your device now. Did you use any other method apart from the above ones? We would really like to hear from you.