Viruses are one of the most common threats which computers face today. They infect all sorts of computer devices, even Macs and other Apple products, which were once considered invincible to these viruses. In this article, we will look at some of the ways to get rid of these viruses.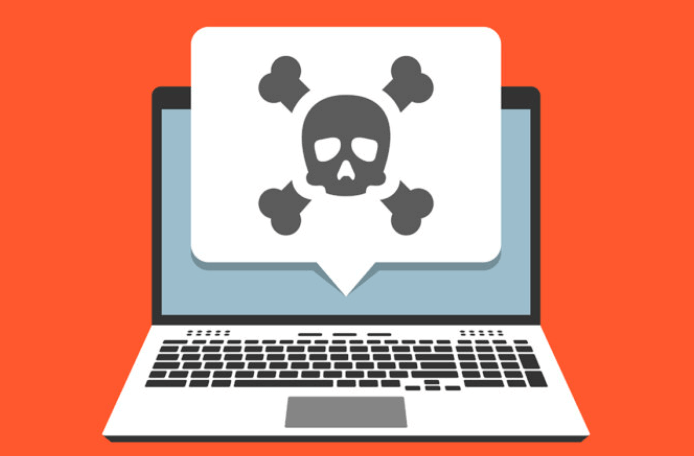 How to Get Rid of Virus on Mac?
The viruses you get on your Mac can be the same as those you get on your iPhones or Apple devices. Here, we have listed down some ways to free your Mac and Apple devices from viruses.
Stopping Malicious Programs from Running :
Step 1. Go to the rocket ship icon (Launchpad) in your bottom toolbar.
Step 2. Search for your activity monitor. It may be located in the "Other" folder by default. Click on it.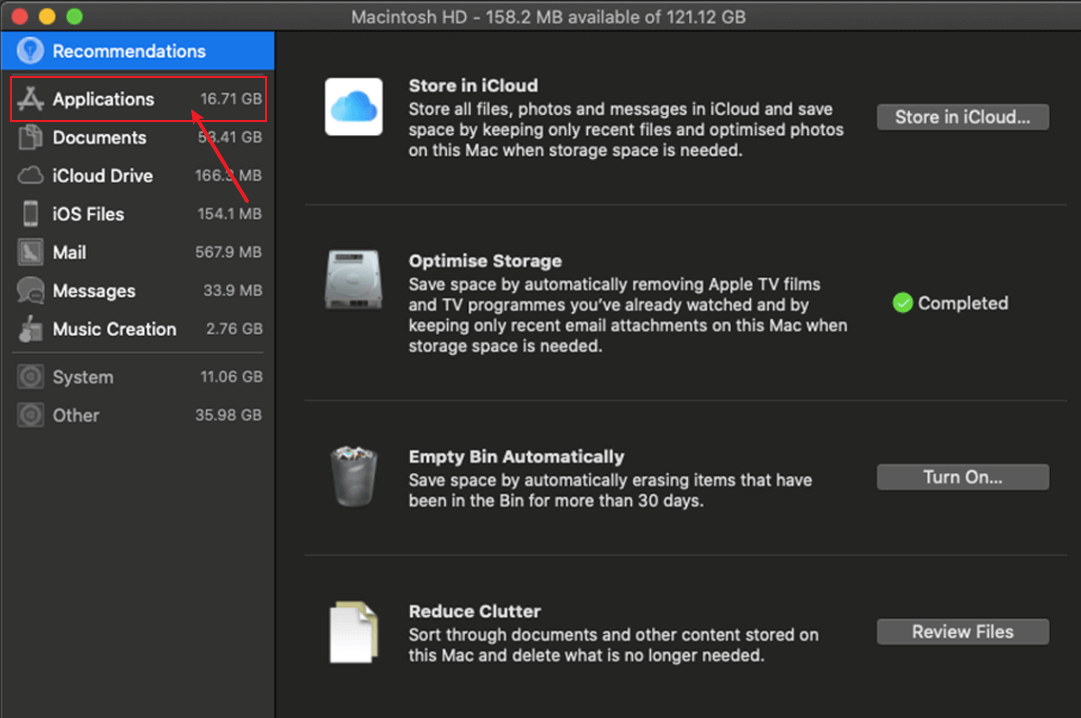 Step 3. You can find the malicious programs in the CPU tab of your Activity Monitor. The Activity Monitor indicates any active running malicious apps. To stop them from working, click on the "x" present on the top-left area of the window.
Uninstalling Bad Application :
This method can help you get rid of the virus on Mac and malware on iPhone. For this, you need to look for the apps.
You cannot recognize
Those exhibiting suspicious behavior (e.g., opening unexpectedly).
To uninstall these apps, follow the given steps
Step 1. In your Mac Finder, toggle over "Applications".
Step 2. Look for the apps that exhibit the characteristics mentioned above.
Step 3. In your Mac, drag any such apps to the "Trash" icon present in your screen's bottom toolbar. Click on the Trash icon and select "Empty" to empty the Trash. If you use iPhone, uninstall the apps from your phone.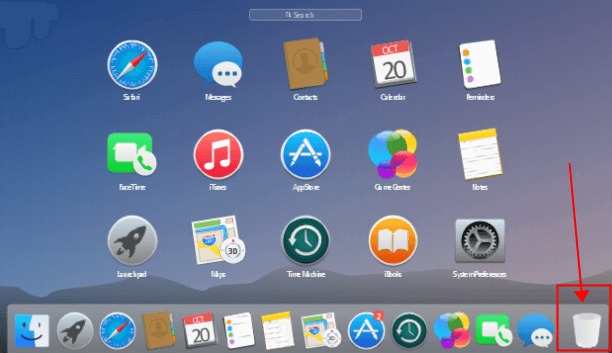 Getting Rid of Virus-Related Browser Extensions :
Malicious browser extensions can also be the reason why your Mac is behaving oddly. To get rid of this Mac virus, proceed to the following steps:

For Safari:

Step 1. Launch your Mac browser.

Step 2. Find "Safari" in the top toolbar and click "Safari Extensions".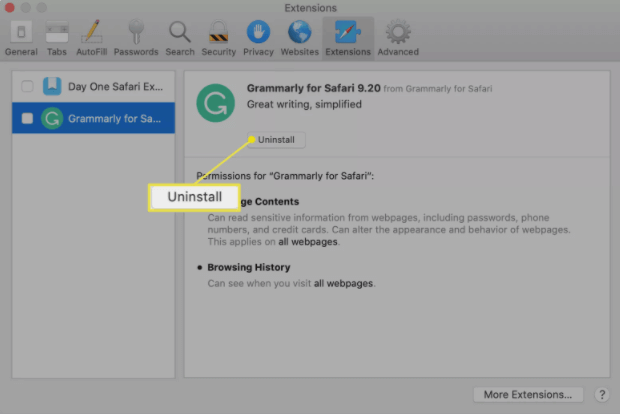 Step 3. Find any suspicious extensions and uninstall them.
---
For Google Chrome:
Step 1. Launch your Chrome and click the three dots in the top-right corner.
Step 2. Find the "More Tools" option. Hovering over it will cause a dropdown menu to fall. Click "Extensions" in that menu.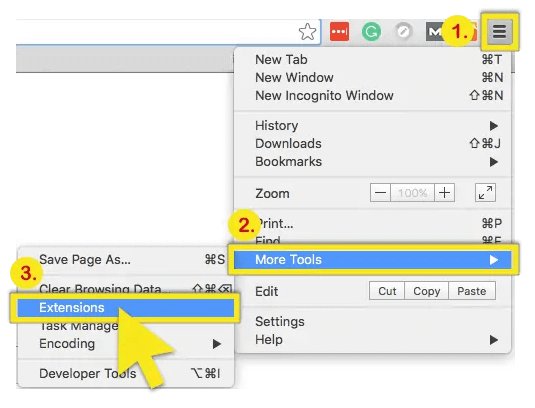 Step 3. You will come across a list of extensions. Click "Remove" to get rid of those you don't want to be present.
---
Clean Browser Extensions Using Umate Mac Cleaner:
Umate Mac Cleaner is the ultimate cleaning solution for your Mac. With Umate Mac Cleaner, you can increase your Mac's speed and eliminate unwanted and malicious apps.
It also allows you to remove malicious and unwanted browser extensions.
| | Possibility of File Corruption | Remove Speed | Whether Batch Operation is Supported | Easy of Use |
| --- | --- | --- | --- | --- |
| Umate Mac Cleaner | No | In a few seconds | Yes | Very Easy |
| Remove Manually | Yes | Relatively slow | No | Complicated |
This method comprises only two steps. These are:
Step 1. Go to the "Remove Extensions" part. Click "View Items" to load all the extensions.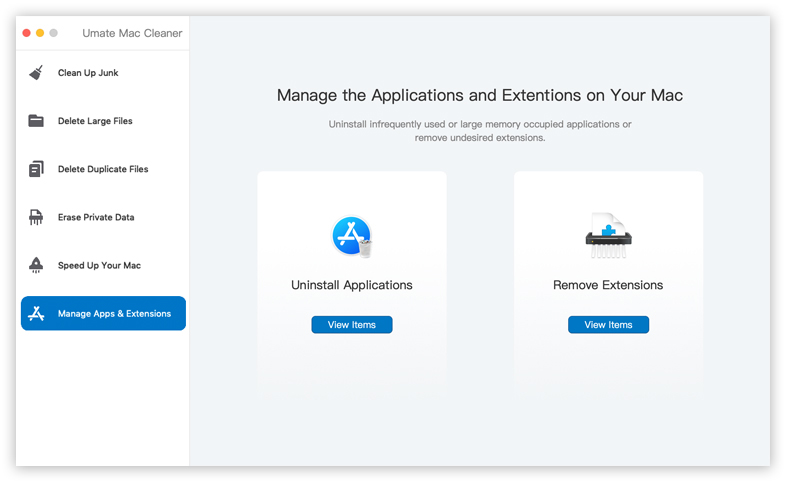 Step 2. Click on the extensions one by one to preview them. Select those you want to remove and then click "Remove" to delete the selected extensions.
Escape the Virus: Create a New User Profile :
Sometimes, viruses attach themselves to a specific user profile. Getting rid of this profile and creating a new one can free your Mac from the virus.

Here's how to do it:

Step 1. Go to System Preferences in the Apple menu and click Users and Groups.

Step 2. Click the "Lock" icon and type in your admin password.

Step 3. Click the "+" for adding a new user profile.

Step 4. Move your vital information from one user to another. You can do this by accessing the "Shared Folder." To create your Shared Folder, click the "Finder".

Step 5. After clicking the Finder, go to "Folder" and paste /Users.

You will see a shared folder where you can easily paste essential files from your previous profile.
How Can Macs Get Viruses?
Previously, it was presumed that there is nothing such as an "Apple Virus." However, every Apple device is vulnerable to these attacks. Here are some of the most notorious ways used by hackers to infect your Mac:
Using Fake Apps and Updates.
Cybercriminals may coerce you into downloading software, citing its importance for you and your Mac device. However, this so-called software can turn out to be dangerous malware.
Phishing Email:
Hackers can send you a fraudulent email that may look like a regular notification. However, clicking upon it can severely infect your Mac.
What Types of Mac Malware are There?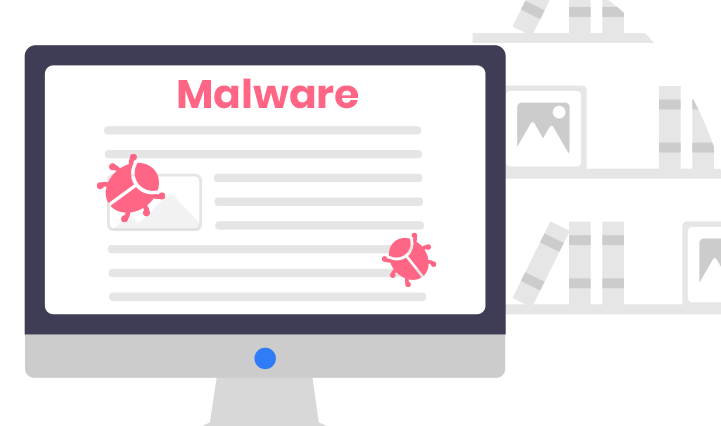 Talking about Mac, you can find all sorts of malware and viruses such as:
Spyware: Spyware follows your online activities. It keeps running in the background while sharing your surfing data with its creators.
Trojan: The Trojan is a famous Mac virus. Although it pretends to be a useful app, its primary objective is to access your Mac and harm it.
Scamware: Scamware provides your financial and personal information to hackers. For example, it can pretend to be an antivirus and show you a fake warning about malware. You will be forced to download the scamware, which will harm your Mac.
How to Check your Mac for Viruses?
There are various ways through which you can determine if malware has affected your Mac or not. They are:
Tip 1

Checking for Unwanted Applications:

As we have mentioned above, you can get rid of malicious and unwanted applications. All you need to do is go to your Activity Finder and find any apps that you cannot recognize.
Tip 2

Clearing the Downloads Folder:

Sometimes, we click on a link by mistake. This results in an unwanted downloaded file, which can also be malware. To remove this Apple Virus, you can look into your download folder to delete any unwanted file.
Tip 3

Using the Time Machine Feature:

Time Machine is an incredible feature offered by Apple for its Mac computers. Suppose your Mac is showing symptoms of malware infection after a recent update. In that case, you can restore your Mac from that recent update.
How to Avoid Virus Infection in Macs?
Ensure good internet habits. Do not visit the sites that are known to be malicious. Mentioning pornography sites in this regard is necessary.
Do not open any anonymous emails. Especially emails in your "Spam" folder contain malicious links.
Avoid downloading any software from random websites. For example, a phishing scam named MacDefender, MacProtector, and MacSecurity has stolen users' credit card information.
Select the sources from which you that allow downloading apps on your Mac.
FAQs about Mac Virus
1

How to Know if your Mac is Infected With Virus?
A virus-infected Mac shows the following signs and symptoms:
It gets a lot slower.
There are many advertising pop-ups.
You see apps in your Mac that you never installed.
Your Mac keeps crashing frequently.
It gets overheated.
2

How do I Get Rid of a Virus on my Mac Safari?
Safari viruses almost always show themselves as browser extensions. They gather your online information and transfer them to third parties, creating severe issues regarding online privacy. You can get rid of the virus on your Mac Safari by deleting these suspicious browser extensions.
3

Is it Hard to Get a Virus on Mac?
Compared to a Windows computer, getting a virus on Mac is a bit hard. However, threats of a malware attack remain there always. Therefore, you should ensure continuous and regular screening of your Mac.