Do you find yourself constantly in a situation wherein the internet on your Mac is running too slow? Are you spending several minutes waiting for websites to load on Safari? Don't worry! This is a very common issue faced by many Mac users. Over the years, many Mac users have reported the same issue. Don't worry, this article will detail all the ways in which you can fix the problem of the internet running slow on Mac.
Part 1: The Possible Reasons of Internet Running Slow on Mac
There may be several reasons in your Mac system which may be causing the issue of Macbook running slow on the internet. The problem may be related to the browser which you are using, the system or just the issue of internet connection. Many of these factors may not have anything to do with the Mac system which you have.
No matter what the reason behind the internet is slow on your Mac is, it can depreciate your productivity to a great extent. This is why we have compiled 10 effective ways here so that you can fix the Mac internet issue with ease.
Part 2: 7 Tips for You to Troubleshoot Internet Slow on Mac Issue
As discussed above, the reasons behind your Mac internet running slow can be many. Let's look at each of these factors and find out the solutions for them.
Tip 1: Check Your Internet Connection
Many times, the internet connection which your Mac system is connected to may be the reason behind the internet is slow on your Mac. To check this, you can see if the internet connection on your Mac is established properly. You can try to connect any of your other devices to this wireless network and see if the internet is working properly. If it is, then you can disconnect and reconnect your Mac to the wireless network and try again.
Tip 2: Test Your Internet Speed
Wondering about why is my Mac running slow on the internet? You may be paying for a slow internet connection. You can find this out by visiting the official website of the internet connection provider and check for the plan which you are using. You can even run the speed test online. If it is, then you just need to upgrade to a package which provides higher internet speeds. If it is not, then you may have to take certain measures to fix the internet connection.
Tip 3: Restart Your Router
Sometimes, the router may cause the issue of the internet being slow on your Mac. To fix this, turn off the router for a few minutes and turn it on again. Make sure that there are no objects blocking the signals from the router and connect your Mac with the wireless network to try again.
Tip 4: Test All Your Macs
If you have more than one Macs, try to connect them to the internet network and check the speed. If the issue of the internet being slow is only on one particular Mac, go to the Wi-Fi menu, and turn off the Wi-Fi for a few seconds and turn it on again. Such a simple action can restore the speed of the internet connection on your Mac system.
Tip 5: Enable Wireless Security
If you have not already enabled wireless security, you must do it now! Without this, many of your neighbors may be enjoying the wireless connection and then the internet may be slow on your Mac. Check the router's manual and set up a high-security password which nobody can guess.
Tip 6: Close Unnecessary Apps and Browser Tabs
If you have several apps and browser tabs open in the background, they all would be connecting to the internet and syncing data from time to time. This is one of the possible reasons why your Mac's internet may slow down and causing the websites stuck at the loading page. Please close all the unnecessary apps and browser tabs in the background, and open a new one to check the speed.
Tip 7: Using a Professional Mac Manager
In addition to the reasons mentioned above, there are other major aspects you should pay attention to. Such as full Mac disk, too many startups or overloaded browser extensions, all these can cause the problem of internet running slow on Mac. It can be very difficult to manage all these items manually, but it will be pretty easy if we have a specialized tool to finish all the process in just one-click.
Yes, here I am going to recommend the tool named iMyFone Umate Mac Cleaner, it can find and delete all the junk files on your Mac, speed up your Mac by managing login items, heavy consumers and launch agents, or even remove the extensions on your Mac thoroughly and safely. Now, let's have a look at how does it solve the internet running slow on Mac issue from these aspects:
1. Clean up Your Mac to Release More Space  to Improve Internet Running Speed
A cluttered system can have a major effect on the performance of your Mac. If you want to improve the internet running speed on your Mac, you would have to clear out all the junk files.  But it can be difficult for us to find all the junk files manually and hard to know which are truly junk files. That means we can not make sure if the clean up of the files will affect the data or not. But Umate Mac Cleaner can ease your worries. This tool can easily clear up all the junk files so that to improve Mac internet speed. It provides with both quick clean and deep clean mode, and smartly help you choose the data can be deleted safely. You can get more free space for internet running in this way. The steps can be seen as below:
Step 1: After installing the tool, launch the tool on your Mac and select "Clean Up Junk" from the main interface. Then click on the "Scan" button.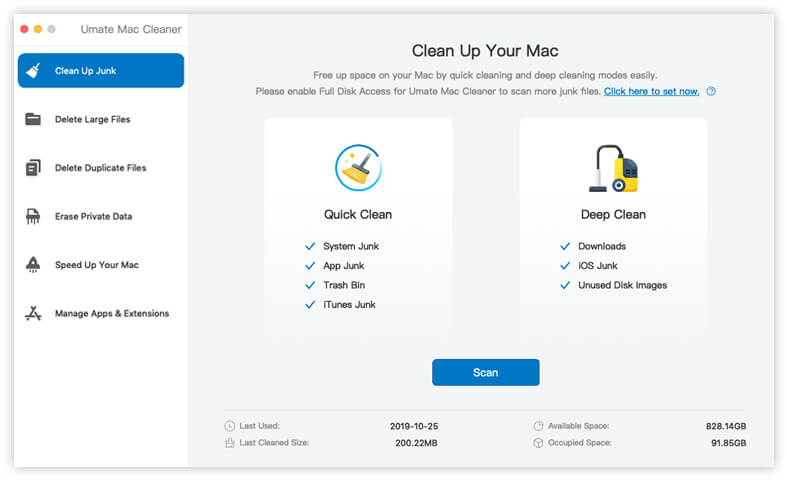 Step 2: The scan progress will be displayed on the screen for you. After this, for deep cleaning, click on "View Details" and then on "Deep Clean" to continue.
Step 3: Select the items which you wish to clear and click on "Clean".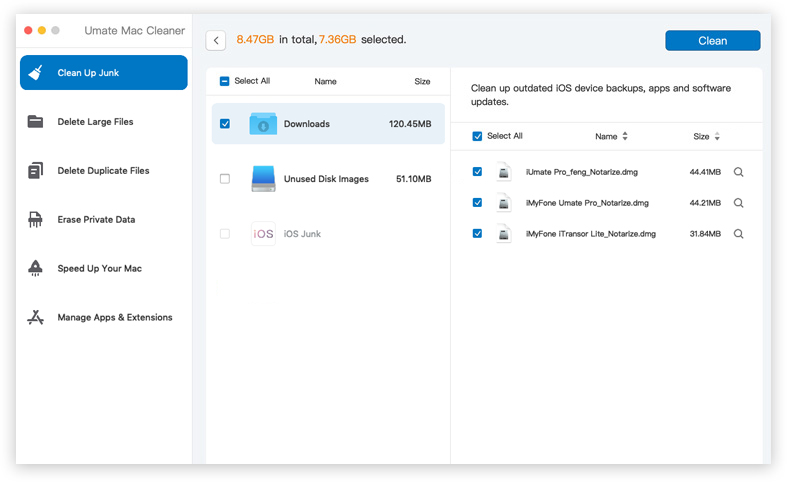 This is how easy it is to clear up the junk files on your Mac to release more space. This can instantly speed up the internet on your system.
2. Check CPU Consumption, Startups  (Login items) and Launch Agents on Your Mac
There may be many programs which may be launching as soon as you switch on the system. They may be cluttered in the background which may be causing the problem of your Mac internet slowing down. In addition, many processes can largely eat the CPU to slow sown your internet running. Another possible reason is that some launch agents will run in he background, this can also affect the speed of your internet running. You can disable all these items on your Mac using iMyFone Umate Mac Cleaner in the following way.
Step 1: From the main interface, click on "Speed Up Your Mac" and select "Start Now" option.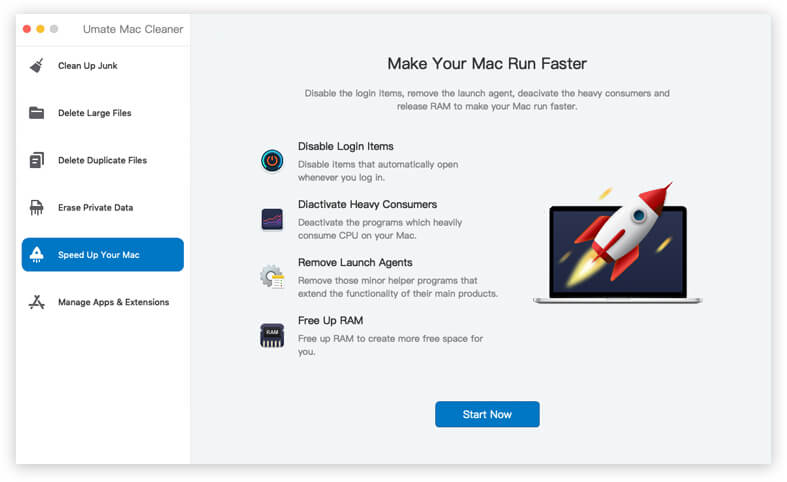 Step 2: You can see the "Login Items", "Heavy Consumers" and "Launch Agents" tabs. Click on each of them to view and select the unwanted items to disable.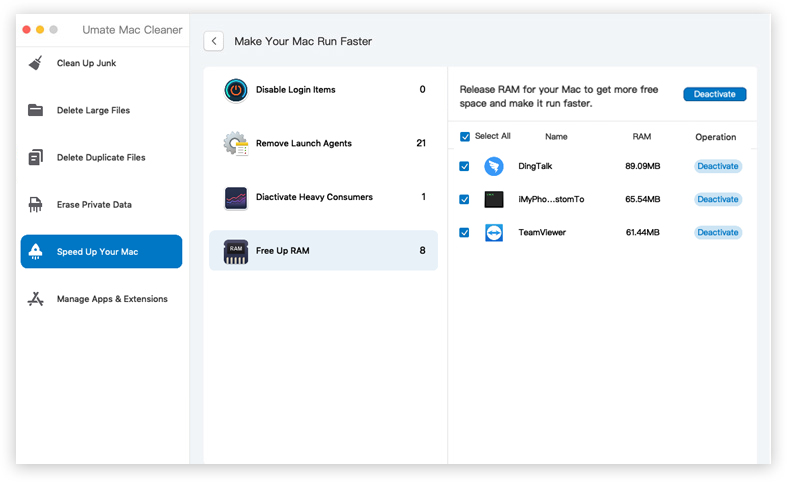 With just a few clicks you would have successfully disabled the startups on your Mac. After this, the speed of the internet on your Mac system would have significantly improved.
3. Check and Remove Safari Extensions
Even the Safari extensions may be using up the internet connection due to which the internet may have become slow. iMyFone Umate Mac Cleaner can be used to remove all the Safari extensions in the following way.
Step 1: From the main interface, select "Manage Apps & Extensions" and select "View Items" below "Remove Extensions".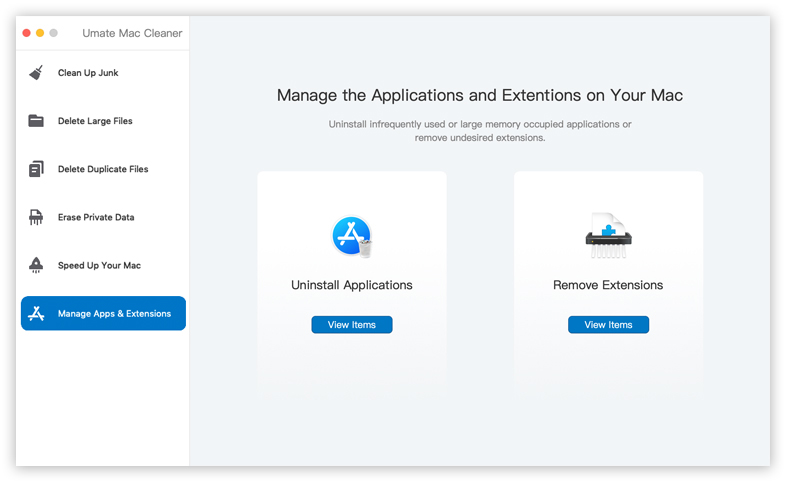 Step 2: Select the extensions one by one and click on "Remove".
This way the unnecessary Safari extensions can be removed and original internet speed can be enjoyed.
4. Clean Up Browser Caches to Boost Internet Running on Your Mac
You can also use the program to check and delete the browser caches. They can be HTML5 storage, autofill values, browsers last session, browsing history, cookies and download history. These data may make your browser overloaded and then slow down your internet running speed. The steps can be easy finished as below:
Step 1: From the main interface, click on "Erase Private Data" and select "Scan" button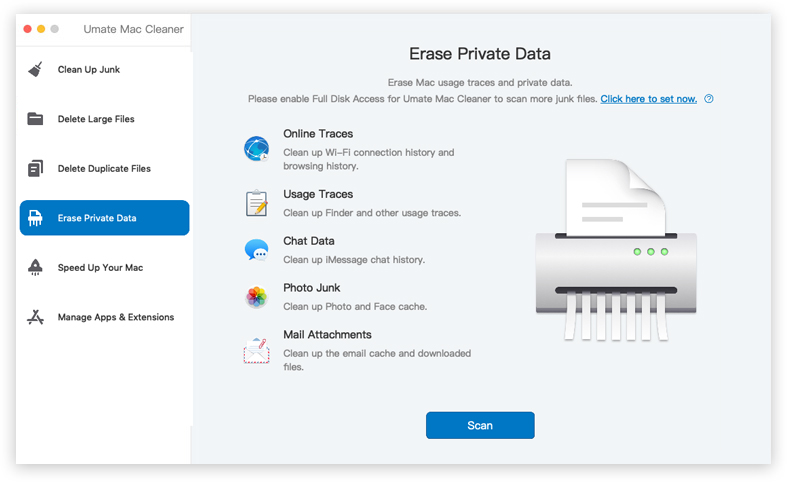 Step 2: After scanning, all the data will be displayed here. Choose "Online Traces" to erase all the browser caches.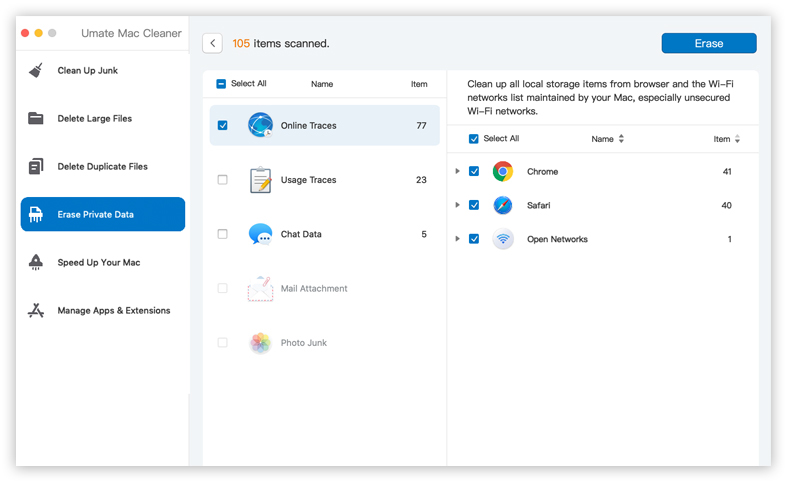 Summary
Mac network slow can be a pretty annoying issue since no online process would seem to function at the normal speed. The above 10 tips can be great to solve this problem and restore the normal internet speed on your Mac system again. iMyFone Umate Mac Cleaner is a multipurpose tool which can prove to be very useful in such scenarios where the performance of the system needs to be improved, hence it is highly recommended.