[2023] How to Get Free Likes and Followers on Instagram
Category: Videos Maker
2 mins read
Do you want to learn more about how to get free Instagram likes and followers? Now, you can read this article. The more Instagram likes you get, the more popular you are. If you wanto to go viral on this platform, then this is still an important metric. Here are some tips that may help you get more free likes on your posts. Let's start!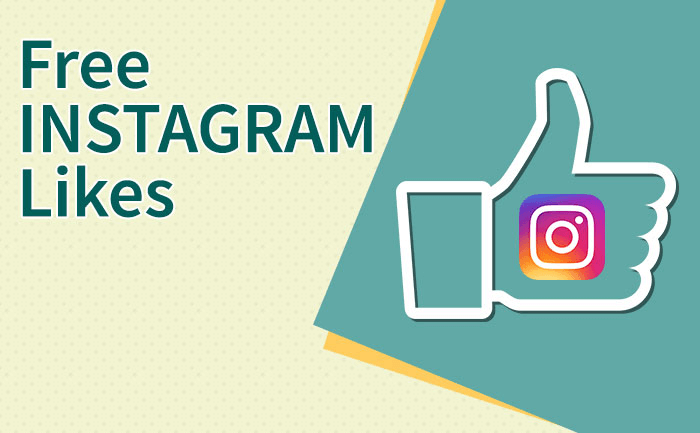 Part 1. 3 General Ways to Get Free Instagram Likes and Followers
In the first part, we will introduce 3 general ways taht people often do to get likes and followers on Instagram. But to be sure, there are more ways than that.
1

Make High Quality Content and Post Consistently
---
Making high quality content is the most direact way to get free likes and followers on Instagram. However, all you know now is a concept. Let's make these concrete! The first step you need to do is to learn editting your posts. If you not only post photos,but also post videos on Instagram, then you can learn the ways TikTok users often do, like cropping videos and trimming sounds.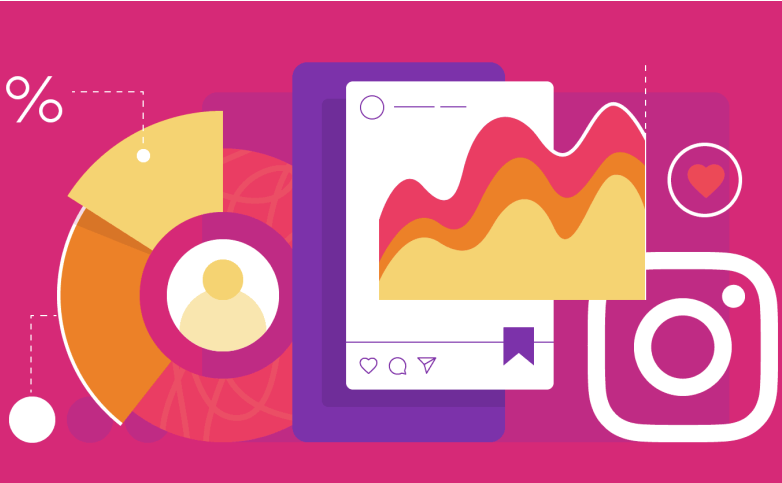 If you want to go a step further in producing high quality content, here are a few things you can consider.
Write comperlling captions.
Tag your location and relevent users.
Observe carefully and post at the right time.
Engage with audience and ask them for their opinions
If you think it is hard to create a video, then you can try a popular video editor - iMyFone TopClipper. Not only can this tool help you create videos, but also it provides you many free trials.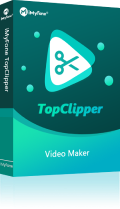 1,000,000+ Downloads
Key features of iMyFone TopClipper:
Re-edit videos automatically and imput with high quality in just a few seconds.
Make subtle changes to every frame of the original video to get you a brand new video.
Help you get as many free likes as you get on TikTok and get more views on Instagram.
Provide TikTok Downloader for users when attempting to remove videos' wateramrk.
10% OFF Coupon Code: TC10OFF
2

Keep Up with Trends and Try to Go Viral
---
If you want to go viral and get more likes on Instagram, please don't ignore the power of trends. One of the obvious ways to keep up with trends is to use hashtags. Using the right hashtags can not only help you get more views, but also earn more likes and gain more followers. Of course, there are plenty of ways to keep up with trends. All you need to do is keep an eye on the latest events.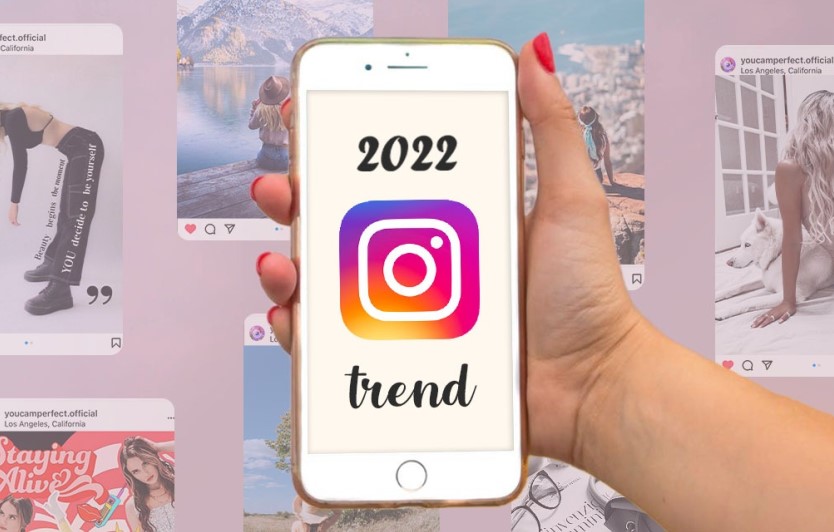 3

Get More Interaction with Your Audience
---
One of the best ways to get more free likes and followers on Instagram is to engage with your audience directly. These potential users are likely to be successfully converted into your loyal fans. As you keep posting new content, you will get more and more likes. Everything is gradual, and patience is especially important at this moment.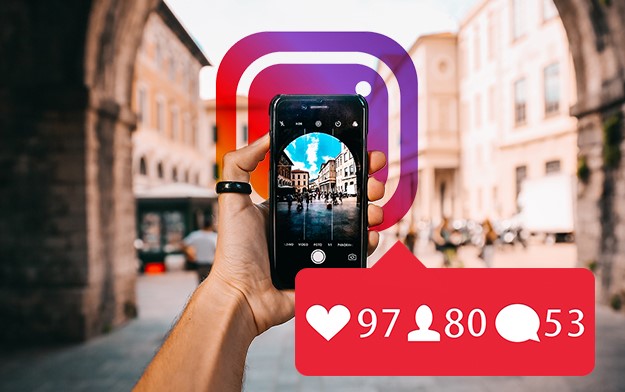 There are more ways to get free likes than the above, but we don't list them all here. If you are not only an instagram user but also has a TikTok account, you may wondering how to get free likes on TikTok. By the way, you can use these approaches on the Instagram Reels.
Part 2. 5 Shortcuts to Get Free Instagram Likes and Followers
In this part, you will see 5 shortcuts to get free likes and followers on Instagram. Sometimes, you can also buy likes and followers through these sites. Let's get to know them one by one.
1

FAMOID

FAMOID is a popular site that people who want get free likes will use. Famoid's service for likes provide users a free trail before purchasing. The steps are easy, just enter your username and email address into the input box, then 50 likes will arrives on your posts within 10 to 15 minutes. You can use this site every 24 hours. Your Instagram passwords and private information won't be required. It has other services like, "Free Followers", "Free Views" and "Follower Counter".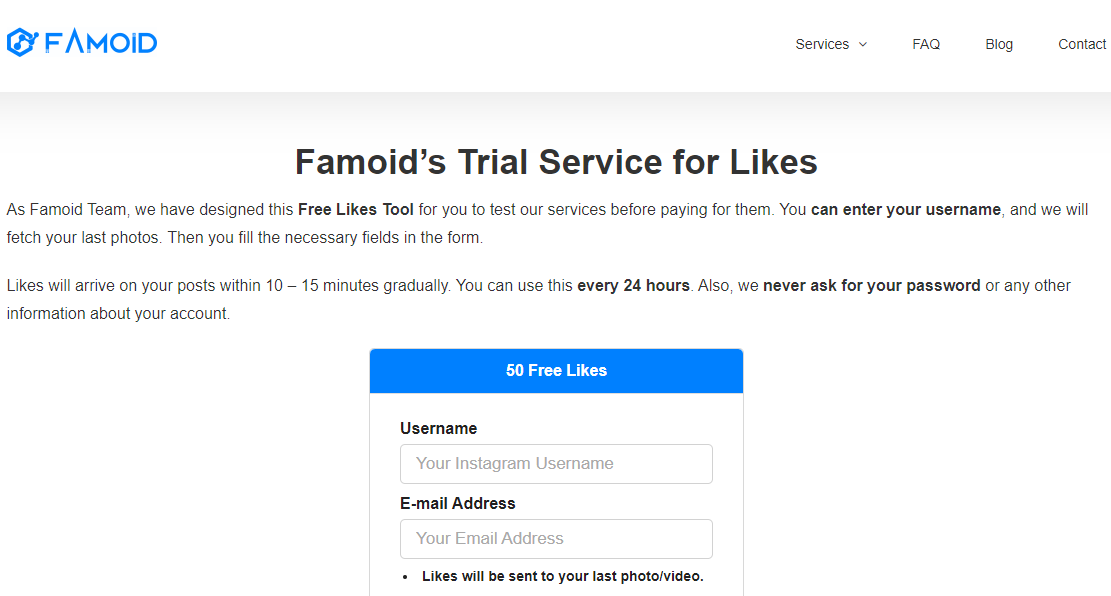 ---
2

MEGAFAMOUS

MEGAFAMOUS also has a free trail to get free likes before you're ready to buy its service. No serveys or verificaiton is needed, you will get as least 10 likes or up to 50 likes in its free trail. This site is a little different from the first one we've introduced. With a fast service, it can split likes between multiple upload. Only 3 steps, you can get free likes on Instagram through this site, "Submit Username" -> "Select Media" -> "Watch Results". You can also buy likes, followers and views from it.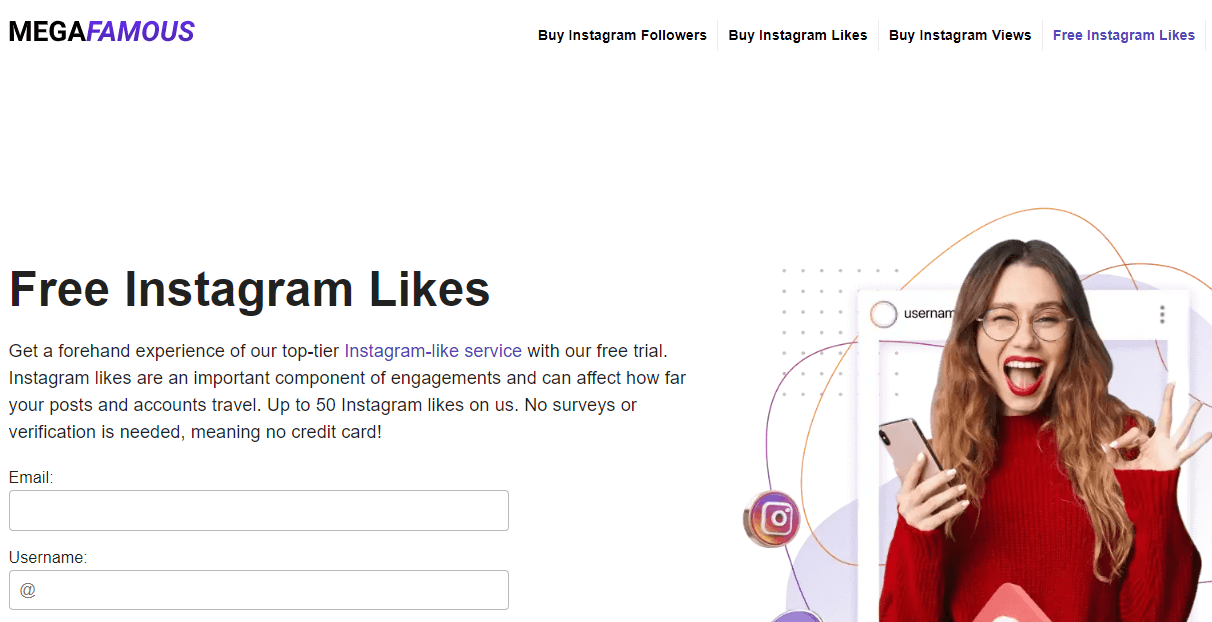 ---
3

InstaFollowers

InstaFollowers allows Instagram users to get free likes first, if they plan to buy likes and followers. It has some requirements. The account you use with the free service cannot be a private account. So remember to check account privacy before trying it. Then, you can paste your photos' link into the input box, click "Free Trial" to get 10 likes. This company has a wide range of services. Not only can you buy Instagram likes and followers, but also you can buy likes of TikTok, views of Instagram Reels as well as followers of Twitter.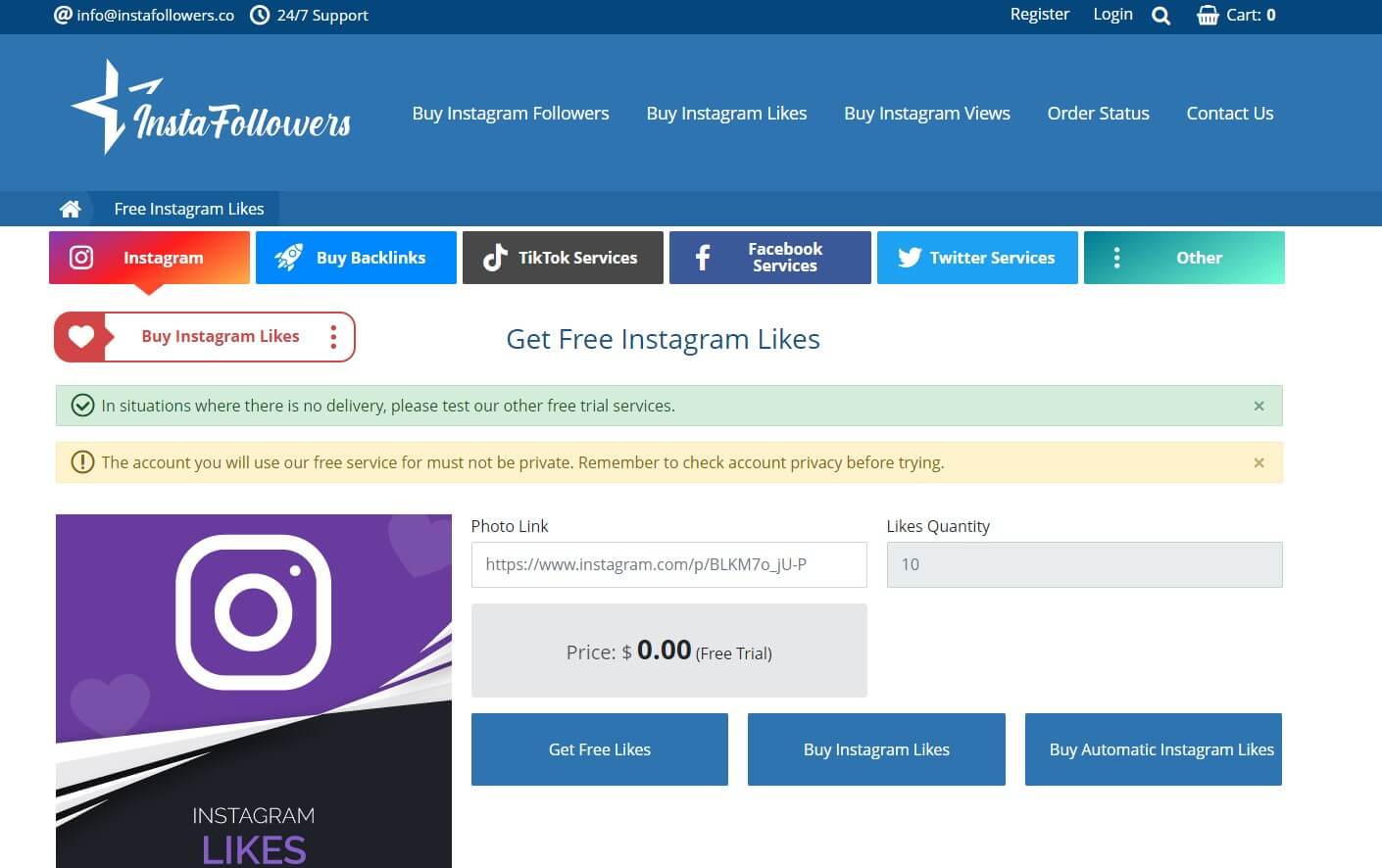 ---
4

Poprey

Poprey can offer 25 free likes for users who want to get more likes. Its system is fast, efficient, and easy to take advantage of. All you need to do is to type in your Instagram public account and enter your email address. If you want to get 200 likes, then you only need to pay for $ 1.9. This should be considered a very fair price. You can pay more attention to this site as it often has discounts.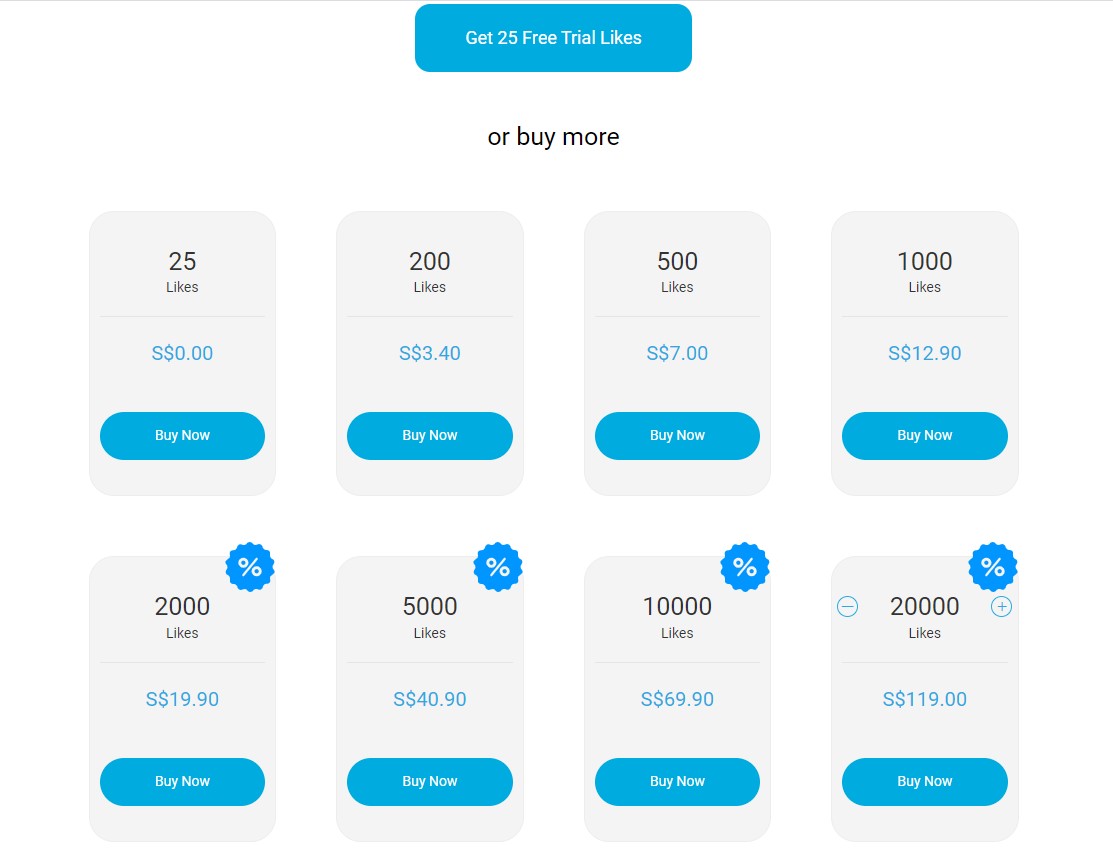 ---
5

Stormlikes

Stormlikes claims that it provide free Instagram likes from real people. But its free trial only offers 10 likes. The likes will match views of your post. The customer rating of this site is 4.78 out of 5 stars. You can go to its official page to learn more.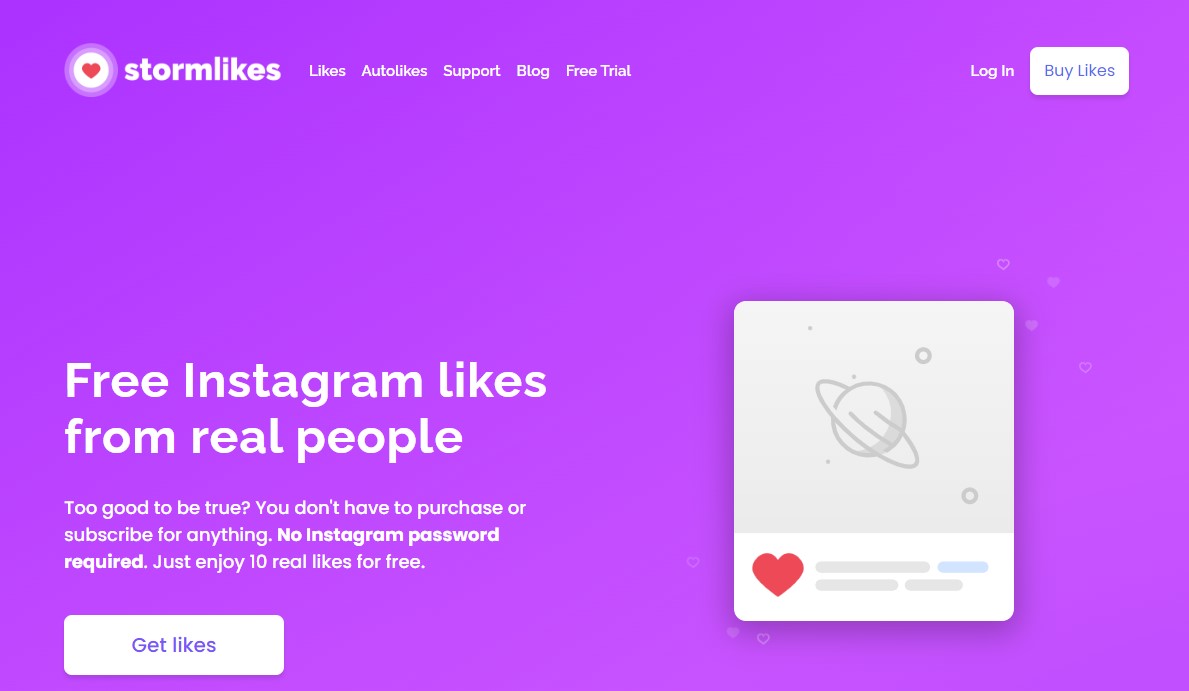 Part 3. FAQs about Free Likes and Followers on Instagram
You may confuse about free likes and followers on Instagram. So, in this part, we will reply to frequently asked questions about these.
1

Do Likes and Followers on Instagram Still Matter?

Absolutely, yes! Likes and followers on Instagram are still as important as ever. They're an essential part of Instagram algorithm, just as TikTok likes and followers are part of TikTok algorithm, and they still play an important role in recommending which content and which posts are the most compelling.
2

Can I Buy Likes and Followers on Instagram?

Well, the answer is yes. You can buy more Instagram likes and followers as there are many of sites available online. However, many of these likes are not ture, and those followers are either bots or inactive accounts. This means they will never engage with your post. If you really want to be popular on Instagram, then we suggest you to follow the general ways we've mentioned above.
3

Is it Illegal to Buy Likes and Followers on Instagram?

No, buying Instagram likes and followers is not illegal. Buying these are not against the law and regulations. Sometimes, Instagram influencers and bloggers will pay for these, too. After all, it's just a quick way to increase your followers. If you want to get free likes and followers, and even want more, then you try the shortcuts that we've mentioned.
Conclusion
When it comes to how to get more likes on Instagram, quality always trumps quantity. This may not happen overnight, but if you focus on posting engaging and interesrting content for your followers, likes anf followers will steadily increase. Using methods above at the same time, we believe that you will not only get more free likes and followers, but also go viral on Instagram.