AirServer Review: All about AirServer
Category: Mirror Tips
5 mins read
This article tells you the AirSever review and all about it to help you with using AirServer. We also will introduce you to a better alternative that is easy to understand and use.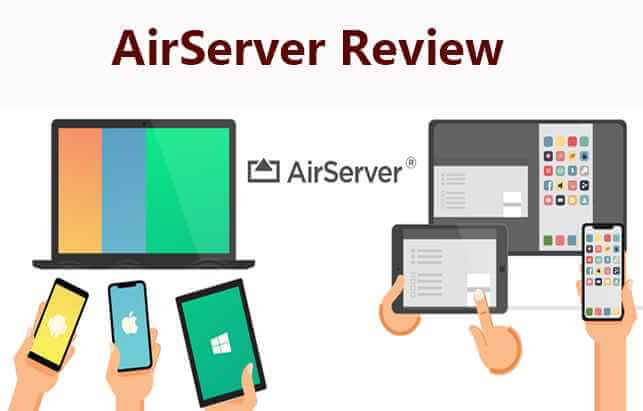 1

What is AirServer
---
AirServer transforms your PC into a universal AirPlay + Miracast + Google Cast receiver. With it, you can mirror your iOS & Mac via AirPlay, mirror your Android devices via Google Cast or Miracast. AirServer also enables multi-room AirPlay audio support.
iMyFone MirrorTo is a wonderful screen mirroring app that allows you to share your iOS/Android screen to a PC.
2

Features & Reviews of AirServer
---
AirServer has great features as a screen-casting app. These are the functions of AirServer and some user reviews. You can learn about whether AirServer can satisfy your need.
Features of AirServer
AirPlay Mirroring
AirPlay Audio
AirPlay Multi-room Audio
Google Cast Mirroring
Google Cast Audio
Miracast
Windows Wireless Display
For broadcasting my iPad, Mac, Samsung S8 mobile phone, PC, and more onto this program on my PC and Xbox. It's a good value. I put photos from my Samsung onto my Xbox and then onto my TV with AirServer! -- Spooky Fish UK Feb. 16, 2019
It works using Pixel 4 XL mirroring to Apple TV 3rd Gen. However, I can't seem to figure out why the sound plays on the phone but I'm able to watch the movie on the TV. -- Andrew Feb. 24, 2022
3

How to Use AirServer?
---
Steps to using Airserver on your Windows PC:
Step 1: Download & install AirServer for Windows 7/8/10 from its website.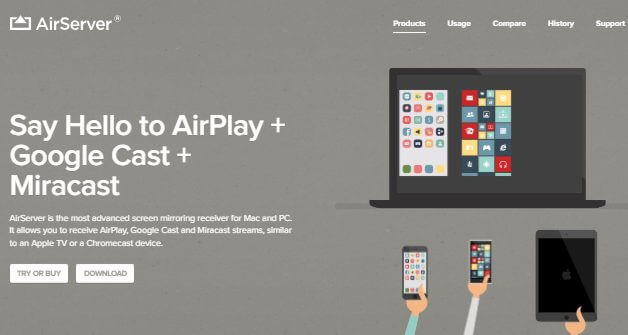 Step 2: Press the Windows Key + K to bring up a sidepanel.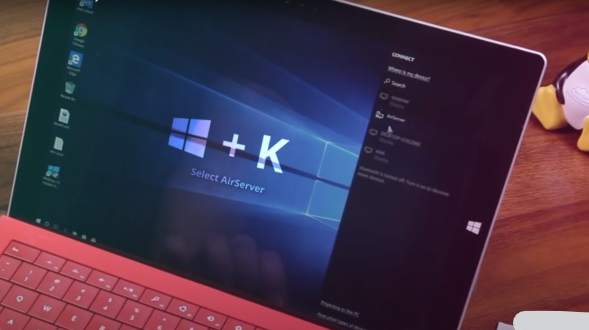 Step 3: On your computer, open the connect sidebar menu and select your AirServer from the list to connect.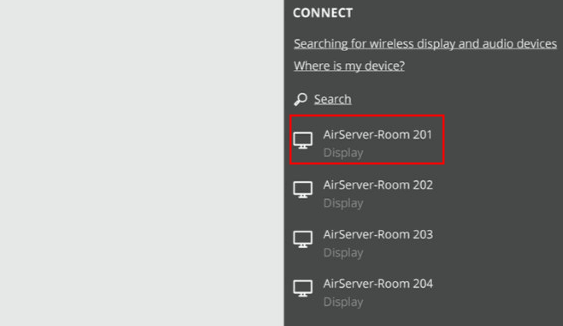 Step 4: Now you can mirror the screen of your Windows PC via AirServer.
Steps to mirroring your Mac to AirServer:
Step 1: Click the top menu on your Mac and click the AirPlay icon.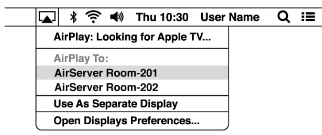 Step 2: Choose your AirServer receiver.
Step 3: Then you can mirror your macOS screen to AirServer automatically.
4

The Price of AirServer
---
Here is the price of customer licenses about AirServer for Mac & Windows PC.
| Product | Retail Price |
| --- | --- |
| AirServer for Mac - Consumer Licenses | $19.99 |
| AirServer Universal for PC/Windows 10 Desktop Edition - Consumer Licenses | $19.99 |
| Buy 2 licenses and get $4.00 discount | $35.98 |
5

FAQs about AirServer
---
1

Can you download AirServer on Chromebook?

Yes, AirServer supports all Chromebook with its built-in tab casting and desktop casting.
2

Which is better reflector or AirServer?

Reflector and AirServer are both great screen-mirroring apps. They both support AirPlay, Miracast, and Google Cast. Reflector is also compatible with AirParrot and supports multiple devices connection.
3

Is there a free version of AirServer?

No, you can use AirServer's 30-day free trial, and later you must buy it.
4

How long does AirServer license last?

Your AirServer license won't expire. You don't have to pay for a subscription when purchasing AirServer with it. It's a one-time purchase.
Conclusion
---
AirServer is a nice screen mirroring app that turns your computer into a receiver for AirPlay and Miracast. However, iMyFone MirrorTo is more easy to understand and use to screen mirror your mobile devices' screens to your PC with a USB cable or via Wi-Fi. Therefore, I highly recommend you try it. It really helps me with my life and work, such as playing mobile games with it on my PC and making presentations in meetings.