Smartphones have taken the world of entertainment as they offer an easy way to watch your favorite videos and play games. However, watching videos on your phone's small screen is not always the first choice and many people love to broadcast the mobile content on a big screen – the TV.
Luckily, there are hundreds of online tools available that allow users to connect their smartphones to TV in just a few seconds. To help you out, we have done comprehensive research and come up with a curated list of the most efficient and expansive apps to connect a phone to TV for both Android and Apple users.
Let's find out.
Part 1: Top 5 apps to connect your Android device to TV
Below are the most sought-after apps to connect an Android device to a TV.
1. Video & TV Cast
One of the best tools to mirror your Android phone to TV. Having over 100 million downloads, Video & TV Cast allows users to connect phone to TV without needing any wires. Its intuitive interface and ease of use make it an ideal choice for even not-so-tech-savvy users for a successful connection.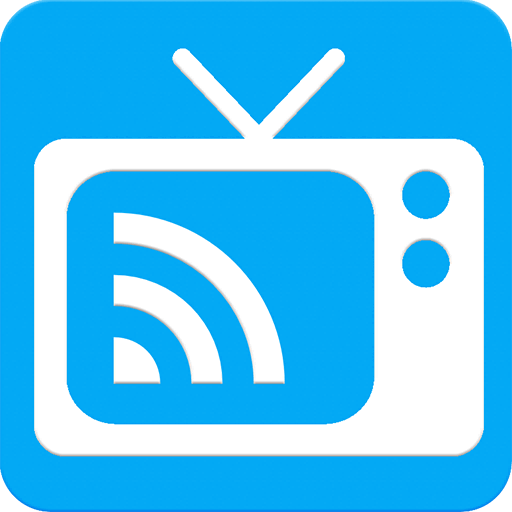 Features
Below are the main features of Video & TV Cast:
Easily and efficiently broadcast your phone screen to TV
Offers wireless connection
Simple interface having rich functionality
Users can manage unlimited bookmark
Price: This app is available for free for all users.
2. AirPlay For Android & Screen Mirroring TV
With this app installed on your Android device, mirroring it with a TV is just a few taps away. AirPlay For Android & Screen Mirroring TV offers a wireless connection, making it exceptionally easy for all users to broadcast mobile content on the big screen.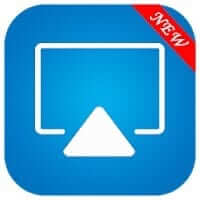 Features
Its main features are:
Provides a seamless Android and TV connection
Multiple wireless transmission
The app has a remote controller to manage your TV settings
It automatically syncs the details after the first connection between the devices.
Price: This app is free but offers in-app purchases.
3. Allshare Cast For Smart TV App
Allshare Cast is one of the most powerful software to connect your Android device to the big screen and enjoy unlimited videos on your phone and the internet. Its intuitive and user-friendly interface makes it an ideal choice for newbies to view the content on their TV sets.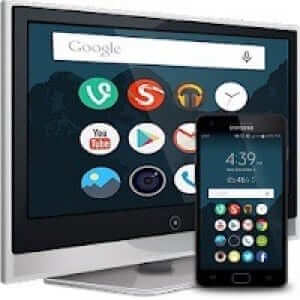 Features
Mirrors your mobile phone on the TV screen
Used as a remote control for your TV
Favorite channels are easily bookmarked
Slideshow of images and videos
Share game screen on the TV while playing games
Price: This tool is available for free.
4. Screen Mirroring: Connect Mobile to TV
Want a wireless that mirrors your smartphone on the TV screen effortlessly, why not try this simple yet feature-rich app. Users can also create an access point to connect their mobile and TV to the same network.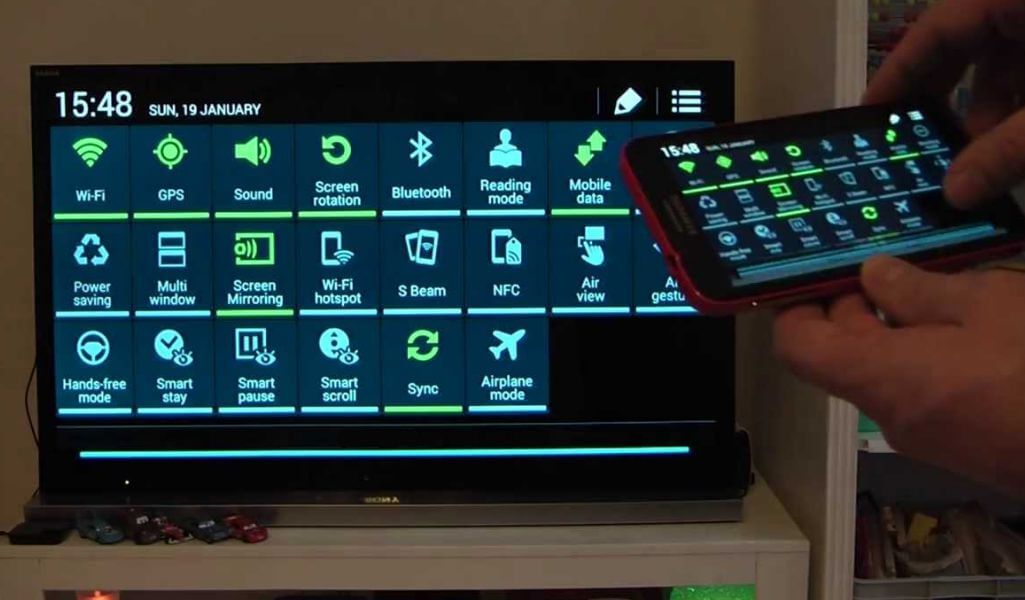 Features
Access mobile apps without disrupting TV
Intuitive remote to control TV screen
Favorite channels are easily bookmarked
Friendly UI
Advanced game controller
It can turn on the TV in Stand-By mode
Price: Free, offers in-app purchases
5. Wireless TV Connector
Another top-ranked is to synchronize your mobile and TV. Just like all other apps on the list, Wireless TV Connector empowers you to access videos, photos, games, and everything else on a big screen using a wireless connection.
Features
Provides a list of exciting channels
Control the TV screen
Easy to install and use
Offers a built-in tutorial to use it
Price: This app is free
Part 2: 5 Best Apps to Connect Your iPhone to TV
Here are the top-ranked apps to connect an iPhone to a TV.
1. TV Assist
A well-designed app for broadcasting your iPhone on the big screen with just a few taps. TV Assist highlighted feature is the quick and uninterrupted streaming of the phone's content as well as transfer files from your favorite websites.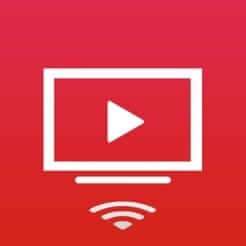 Features
Switch between photos on your TV and mobile screen
Send interesting videos from websites to TV
Advanced music player; categorizes your playlist
Price: Free, offers in-app purchases
2. Connect To TV
Equipped with a range of exciting features, this powerful app makes it exceptionally easy to stream videos, photos, and everything else on a big screen. Its ability to change the TV volume and help watch TV shows sets it apart.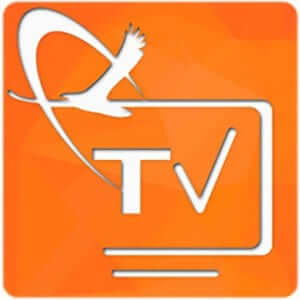 Features
Wirelessly connects your phone to TV
Used as a remote control
Supports many streaming devices
Price: Free, in-app purchases.
3. Streamer for Chromecast
Having 5.0 ratings on the App Store, Streamer for Chromecast is one of the most popular mirroring apps to connect phone to Apple TV. It comes in two modes, Standard and Advanced, and lets you broadcast your mobile on the big screen in HD.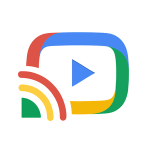 Features
Streams all types of media including games and apps on TV
Can adjust bit rate, the sound of streaming
Also used as a remote control
Price: Free version is available. Pro version for $17.99.
4. McPlayer
Having millions of installs and 5.0 ratings, McPlayer is easily the top-ranked app to play and stream your videos on TV. It supports a range of devices including PS3, Xbox, and many others.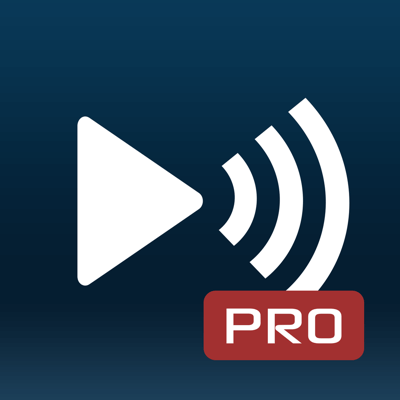 Features
Supports all video formats
Intuitive and easy-to-navigate interface
Playback control
Download media on your phone
Price: $5.99
5. AirBeamTV
AirBeamTV is another top screening app that allows users to share the iPhone/iPad screen on any TV. From videos and photos to apps and movies, users can stream anything on the big screen effortlessly, fast, and quickly.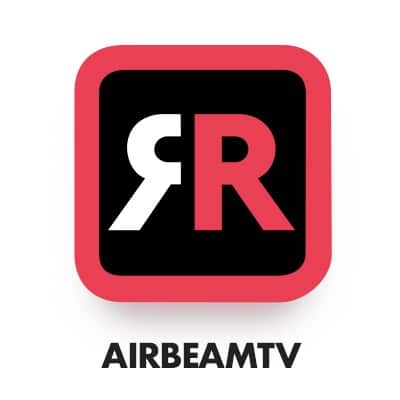 Features
Mirror iPhone/iPad screen wirelessly
Connects to Apple TV and other devices
HD quality streaming
Price: $9.99
Part 3: Top 5 Apps to connect your Android & iPhone
Below apps are viable for both iOS and Android users.
1. Mirroring 360
Mirroring 360 is a screencasting apps that you can run on both Windows and Mac. It doesn't require any additional downloads to stream its content on the big screen and share it with other users.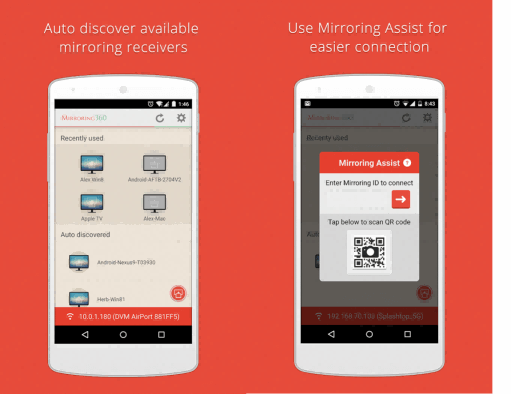 Features
Share the screen with up to 40 viewers
Users can view the shared screen from any device
Supports Amazon Fire TV Stick
Price: $15
2. AirServer Connect
AirServer is equipped with all the features that a top premium screencasting app offers to users. What's more, it offers multiple connections at the same time, allowing users to share the screen with other viewers, making it a top-ranked Airplay Windows to Apple TV app.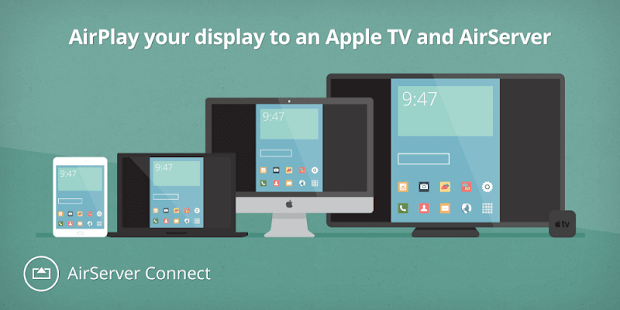 Features
Provides up to 8 connections simultaneously
Automatic new updates
Content sharing
Price: $19.99
3. VNC Viewer
Its universal compatibility with all operating systems including macOS, Linux, Windows, and others, makes it a highly acclaimed mirroring app. Users need to install a VNC Viewer to use this application.
Features
Supports Bluetooth
Keep a backup of your accounts and data
Connects to remote devices via cloud services
Price: $4.59/month
4. LetsView
Having thousands of active users, LetsView is one of the most popular screen mirroring apps. Thanks to its intuitive and simple interface, it's a perfect choice for novice users to connect my TV to my phone.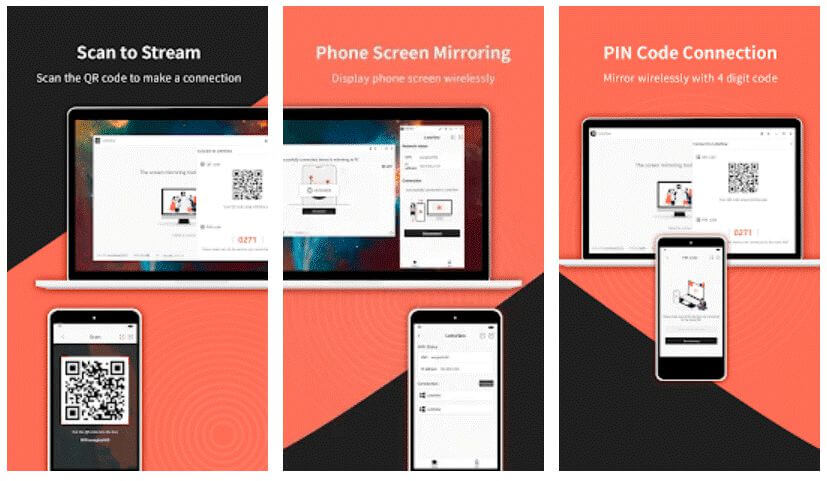 Features
Helps record the mobile screen.
Wireless streaming both Android and iPhone on the big screen
Supports many protocols including AirPlay and MiraCast
Price: Free
5. APowerMirror
For users who are looking for an app that can screen mirroring smartphones on a big screen as well as record screens in high quality, ApowerMirror is an ideal choice. It comes preloaded with all the stellar features you need for a smooth connection between your smartphone and TV.
What's more, it can be used by both Apple and Android users.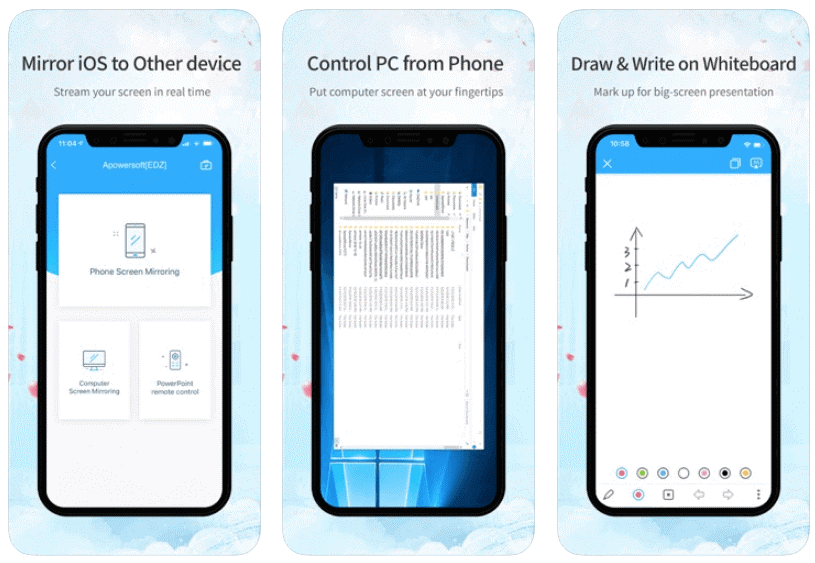 Features
Screen mirroring between devices
Record screen
Take screenshots
Make PowerPoint presentations
Price: $29.95 per month
Final Words
To sum it all, this article has walked you through the best apps to connect a phone to TV quickly and easily. You can rely on all the apps to broadcast unlimited videos and movies as well as apps and games on the big screen.
As far as our recommendation goes, we suggest you choose the app that suits your personal preferences and needs. Feel free to ask any questions.