How to Flip a Picture on iPhone?
Category: Mirror Tips
4 mins read
When you want to take a perfect selfie with your iPhone, everything looks great on the screen. However, when things are all done and you check your photos on the iPhone, only to find a reversed photo that directly affects the effect of the beauty. Definitely, it is pretty annoying to see all your photos be taken in a reversed way and turn out to be strange. Based on that, we offer 5 methods for you to flip a picture on iPhone.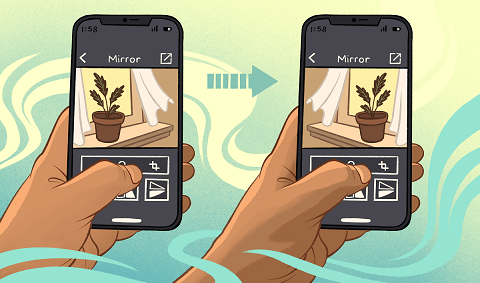 Part 1. 5 Ways to Flip a Picture on iPhone
1

Edit on Photos

Using the iPhone built-in function seems the simplest way to flip your photo. Let's see the detailed steps to flip it.

Step 1. Head to Photos, and tap Edit.

Step 2. Click the crop icon at the bottom of your screen. Then, tap the flip icon.

Step 3. Press Done to save your photo.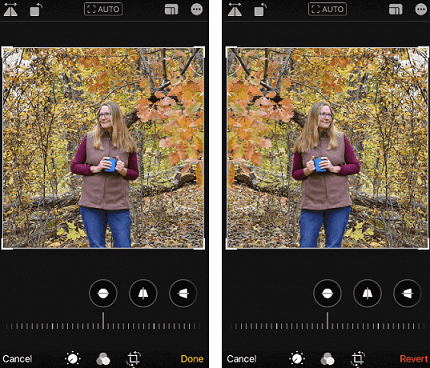 If you regret to flip your photo after saving the image, you can go back to the image, select Edit and choose Revert. You can recover your photo to the original one.
2

Use Photoshop Express

Photoshop Express is not only a perfecet tool to flip your photos, but also an excellent all-around editing app. With Photoshop Express, you can use its powerful editing tools for free. Here's how to use the program to flip an image on your iPhone.

Step 1. Download and launch Photoshop Express on your iPhone, and allow All Photos access on your iPhone.

Step 2. Select Rotate under the image, then choose Flip Horizontal to flip your photo.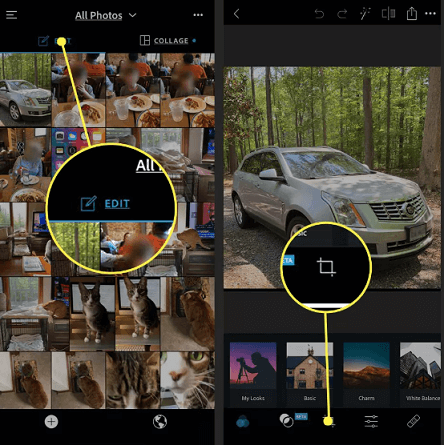 Step 3. Choose Camera Roll to save the mirrored photo.
The flipped version of your photo does not overwrite or delete the original image in the Photos app.
3

Run Snapseed

Google's Snapseed is one of the most popular editing apps for iPhone. You can use it to make dramatic edits to your photos. What's more, you can also create cool mirror images. Let's see the further steps to run this app.

Step 1.Download Snapseed and open it on your iPhone.

Step 2.Select your photos, and tap Tools. Then Rotate.

Step 3.Choose the flip icon, which looks like two triangles bisected with a dotted line. Then, tap the checkmark and then select Export to save your photo.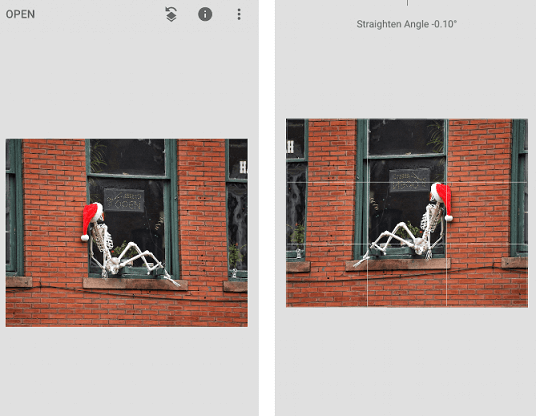 4

Via Photo Flipper

How to mirror an image on the iPhone can also be done using Photo Flipper. As the name suggests, this application is specifically designed to flip photos. Unlike Photoshop Express that provides a lot of features, Photo Flipper is much simpler and easier to use.

Step 1. Download and run the application on your iPhone. Then, tap Photos icon that can be found in the lower corner.

Step 2. Download and run the application on your iPhone. Then, tap Photos icon that can be found in the lower corner.

Step 3. Select the desired folder and choose the desired image to flip. After that, drag your finger and flip the image horizontally or vertically.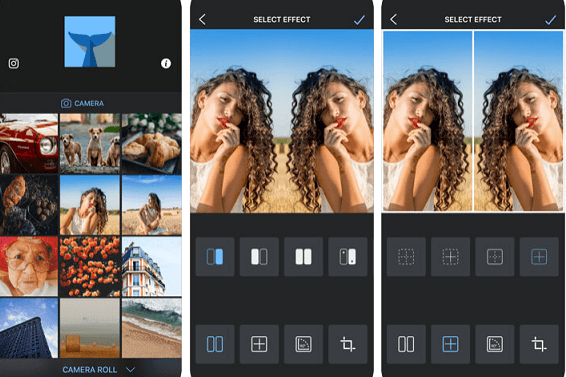 1 How to take a flipped picture in iOS 16?
You can easily mirror the image without installing third-party applications in iOS 16. Just go to your Photos app, the editing functions have already upgraded. Within a few seconds, your mirrored selfies will look decent to share on your social media.
2 Why can't my iPhone flip a picture?
If you don't see Auto rotate, but there's a Portrait icon instead, auto rotate is disabled. Tap Portrait to turn on auto rotate. If you've turned on the Talkback app in Accessibility Settings, you should know that enabling auto rotate can cause issues.
3 How do I flip an image in Microsoft Word?
To flip or mirror an image in Word, select the image, then go to Picture Format > Arrange > Rotate. Select Flip Vertical or Flip Horizontal depending on your needs.
Conclusion
If you just want to flip a picture on iPhone, the methods mentioned above are truly useful. However, if you are looking for a more powerful functions, like cast and control your iPhone screen to a larger screen. Then, iMyFone MirrorTo merits a try. It allows you to use this application at any time and place, and no requirements for any technical skills. So, just download it and enjoy its comfortable operations!