There are different reasons several individuals decide to make use of the screen recorder. They may find it necessary to record the screen perhaps when gaming, going through an outrageous WhatsApp thread, watching YouTube videos, or making how-to videos meant to be shared with someone else. All these reasons and many more define how relevant and useful screen recorders can be.

This content will help by exploring the different available screen recorders you can access when you think about capturing your screen on an Android phone for free.
| Screen Recorders | Best At | Offered by | Price | Installs/Size |
| --- | --- | --- | --- | --- |
| Built-in Screen Recorder | Used to record nearly any app | Android | Free | – |
| ADV Screen Recorder | Fully featured without any restrictions and no rooting | ByteRev | Free | 10,000,000+/ 6.2M |
| RecMe | Best screen recorder to record screen and audio. | MOBZAPP | Free | 1,000,000+/26M |
| AZ Screen Recorder | High-quality screen recorder for smooth and clear screen videos capturing | AZScreen Recorder | Free | 50,000,000+/11M |
| Super Screen Recorder | Best professional screen recorder for screen capturing | HappyBees | Free | 10,000,000+/ 24M |
| Mobizen Screen Recorder | Convenient and easy way to record video, gameplay, and live broadcasting. | MOBIZEN | Free | 100,000,000+/ 29M |
| Google Play Games | Easy way to record gameplay | Google LLC | Free | 1,000,000,000+/ 11M |
Part 1: Use The Built-in Screen Recorder on Android Phone
Different things have experienced amazing changes over the years. There was a time when the only thing to do to record your screen is to get a photographic camera or use another phone's camera to get the job done. This challenge was dealt with through the development of amazing apps that can do the job on the device itself. However, these are third-party apps that people need to download. 

There is a screen recorder that is inbuilt on all new Android phones. With this recorder, you can record nearly any app. It doesn't work effectively on Netflix (the screen will turn black).
Steps to Record Screen Using Built-in Screen Recorder
Step 1: Look for the Screen Recorder
The Screen Recorder should appear in the notification panel. Swipe down twice from the top of the phone's screen to see the Quick Settings, If the screen recorder icon is not there, it means it has not been used before. Click on the Customize icon that looks like a pencil and drag from the bottom of the screen Recorder icon to the top to see it in the Quick Settings. Exit by clicking on the arrow.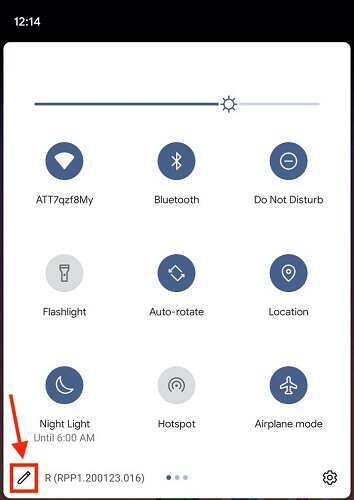 Note
To make Screen Recorder appear in the Quick Settings, you need to edit the icon list.  To begin, click on the pencil icon.
Step 2: Tap Screen Record
You will now see the "Screen Record" icon after swiping down twice from the top of the screen to see the Quick Settings.  Then click on it.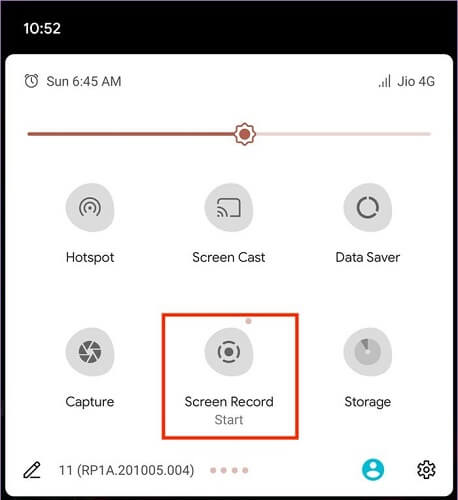 Note
Click on "
Screen Record
" to start the Screen Recorder.
Step 3: Start recording
You will see two different options. One is to choose to record audio with the screen recorder and the other is to choose to show touches on the screen. Swipe any of the buttons to the right to turn on the settings. Then click on "Start."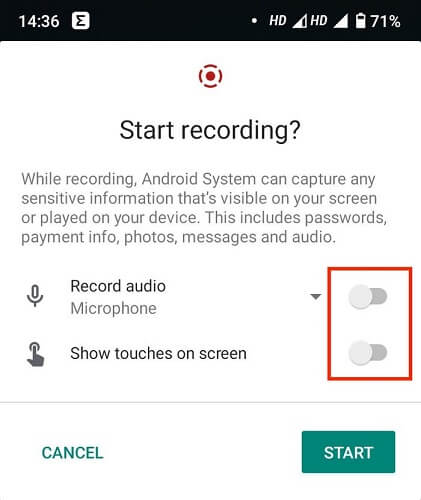 Note
You can choose to enable a visual indication of touches and sound before you start recording.
Step 4: Click on "Tap to stop"
To put a stop to the recording, swipe down from the top of the screen and click on a red Screen Recorder notification "Tap to stop".
Part 2: Free Screen Recorder for Android
What will you do if you are badly in need of getting down something on-going on your screen which you would like to remember for a long time or watch some other day or even want to share with someone else? The simple answer to this question is a screen recorder for Android. There are several third-party apps that you can download on the Google Play store that can help record screens on Android phones for free. Some of these free screen recorders for Android are explained as follows:
Part 2.1 ADV Screen Recorder
ADV Screen Recorder is a free, third-party app for Android phones. It is great for recording any activity going on your screen while using some other apps it is efficient when it comes to capturing the screen of your device along with the audio with the use of an inbuilt microphone.  AZ Screen Recorder does require your device to be rooted before its feature can be accessed.  It is not entirely different from other screen recorders. You will see its functional menu panel floating above the recording available for efficient use. In addition, you can improve the recorded video just by adding text and banners to it. Every user knows how awesome the customization elements are.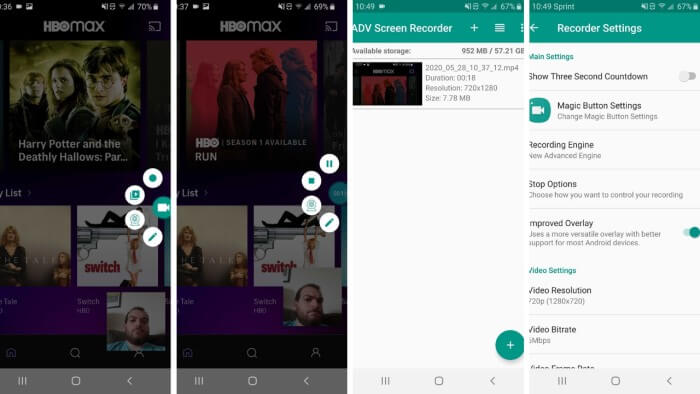 Pros:
It's the most suitable app for recording screens in HD Quality.
Access to tools for editing, timing, and improving videos.
You can use both the back and front camera while recording.
It supports screen drawing.
Cons:
Problem capturing gameplay in PUBG.
---
Part 2.2 RecMe
RecMe is one of the best apps for capturing screens for rooted phones. It is capable of recording both the video and internal audio conveniently and easily. There are numerous available options on the RecMe screen recorder to record your screen with a front and back camera with 1080 fps, 60 fps, and 32 Mbps/bitrate video qualities. It supports screen drawing to get the final result within the app, however, you need to unlock it first with the Pro version.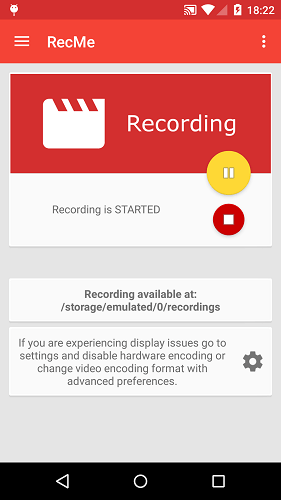 Pros:
It's a great app to record screens in HD quality.
You can save the recording in MKV or MP4 format.
You can control the recording with the widget.
It has many settings for quality and performance optimization
Cons:
It doesn't support Android 6.0 below.
It asks for too many permissions of the device.
---
Part 2.3 AZ Screen Recorder
AZ Screen Recorder is a free and ad-supported app that requires no rooting. With it, you can capture video/start a live video and take screenshots. You can control the app from the notification shade of the device and the moment you have the right permissions, the app will add a pop-up control button to the screen of the device. AZ Screen Recorder has numerous unique features and benefits. With it, you can capture the screen of your device in HD quality. It also supports recording audio through the mic which syncs automatically with the recorded video. It's a great screen recorder for game recording or creating tutorial videos.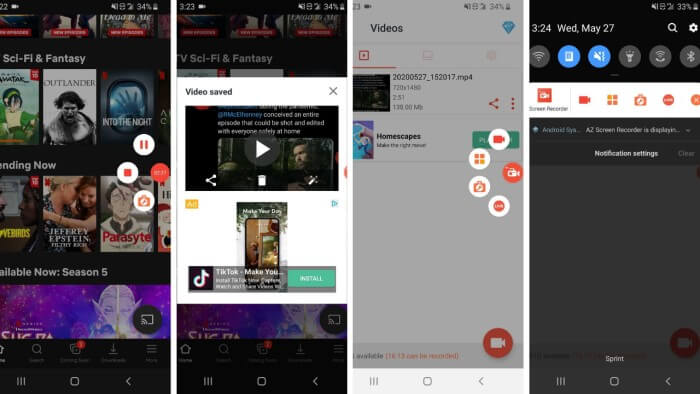 Pros:
It is affordable, accessible, light, and easy.
It features a front-facing camera overlay tool.
You can add comments to your video.
It supports microphone recording.
It has a built-in small video editor.
It supports change settings like frame rate, resolution, and lots more.
Cons:
Unlocking some features requires payment.
You have to pay to unlock certain features.
---
Part 2.4 Super Screen Recorder
Super Screen Recorder can help capture screens, take screenshots, and many more. It is easy to use and effective. You can record the video in 1080P, 60 FPS, and 12Mbps in high quality. It supports changing the video resolutions, bit rates, and frame rates. You can skip the parts in the recorded video through the pause and resume button. With this feature, you can easily prevent the further editing of Part.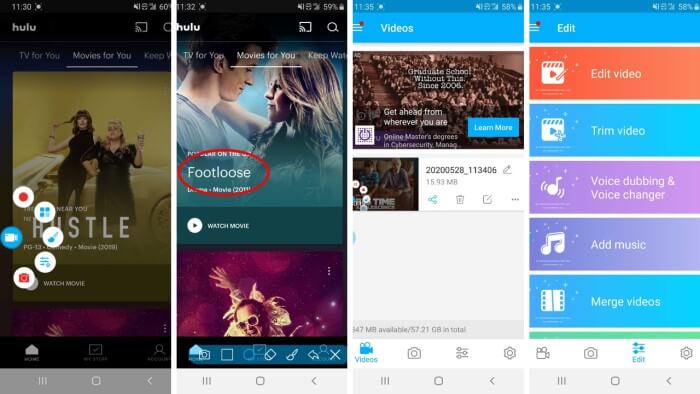 Pros:
It is very sensitive to shake. You can stop the recording just by shaking your device.
You can record a long video.
It features tools for video editing.
You can schedule your recording.
It supports adding watermarks.
Cons:
You need to purchase in-app products to have access to more features.
---
Part 2.5 Mobizen Screen Recorder
Mobizen is another great screen recording app with numerous features that help in capturing the screen of the device easily and conveniently. With it, you can have your videos in full HD quality, 60 FPS, 12 Mbps, and 1080 P resolution. It is free and makes recording and sharing gameplay, video chats, & how-to videos possible. It features a built-in video editor that is designed with a screen capturing tool which can be of help in different ways.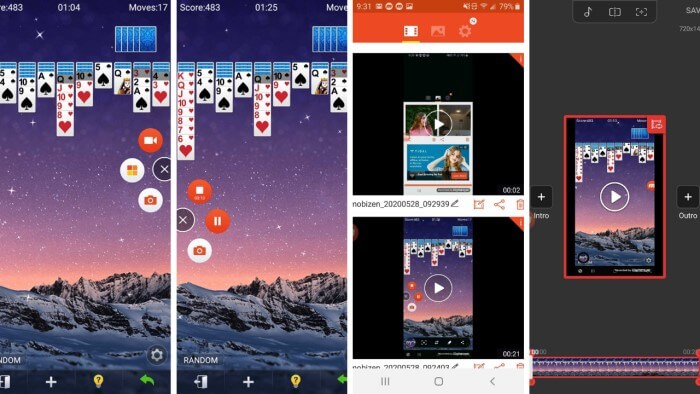 Pros:
It's easy to use.
It features watermark-free screen recording.
It allows saving work within the app.
It supports virtually all versions of android.
The built-in video editor helps with professional outputs.
Cons:
Certain glitches pop-up when you pause recording.
---
Part 2.6 Google Play Games
Google Play Games is a third-party app through which you can record screens on an Android phone for free.  It is used mainly to capture gaming stuff on your screen. You may feel like sharing your gaming talent with your friends, so with this app, you can capture your moves while playing your online game. Google Play Games also works for other activities on your device. All you need to do is to put it turned on to record the screen.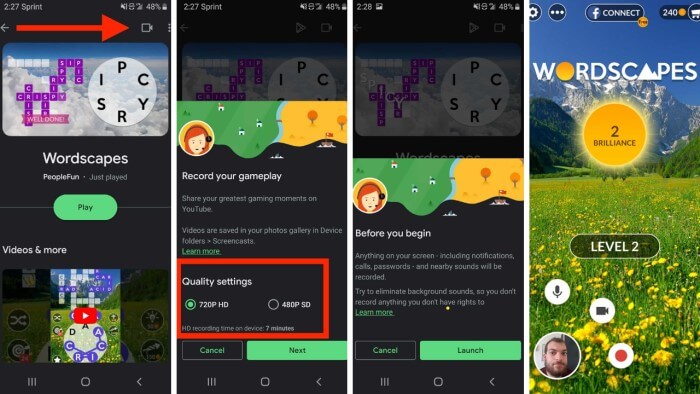 Pros:
It supports screen recording in 480p or 720p format.
It is easy and quick for recording gameplays.
It supports recording video with audio.
It works for non-gaming stuff.
Cons:
You only have four hours to record your screen.
Conclusion
It's great to have access to a free screen recorder for Android. It makes it easy to capture a lot of activities on your device and even have them in their best quality. Apart from the built-in screen recorder on Android Phone, other screen recorders that can be recommended include AZ Screen Recorder (its entire tools are effective and its screen resolution results are exceptional), Mobizen, and Super Screen Recorder.