Your iPhone comes with some default ringtones that you may or may not like. There are many online ringtone makers, but it is more quick to custom your own ringtones with some apps. Fortunately, there are apps that make it possible for you to create your ringtones. I am going to talk about the top 5 free and the top 5 paid apps for making ringtones on your iPhone.
Top 5 Best Ringtone Maker Apps for iPhone
If you want more features in your ringtone maker, or you don't like seeing ads, there are a lot of options you can go for. Here are the top five.
#1. iMyFone TunesMate Ringtone Maker
iMyFone TunesMate is an app that gives you one spot to manage all the ringtones/music/videos/playlists/photos and other media files on your iPhone. It's a great alternative to some mobile ringtone making apps. It lets you easily bypass the restrictions that come with your iPhone and iTunes. You can also use it to make custom ringtones with your favorite music on computer or iPhone, without hassle.
Options to Make Ringtones:
Custom ringtones from any songs, on computer or iPhone.
Set up the start and stop time manually, or set it up automatically while listening to the music.
"Fade in and Fade out" option is available to apply on the ringtone.
Sync iTunes files to iPhone won't cause any loss of data in iPhone.
Two-Way Transfer: Freely add ringtones to iPhone or extract ringtones from iPhone, supporting purchases and non-purchases.
How to Create Ringtones with TunesMate Ringtone Maker
Step 1: Launch TunesMate and connect your iPhone to your computer.
Step 2: Click the Music icon atop the navigation bar and then Ringtones. Select Ringtone Maker.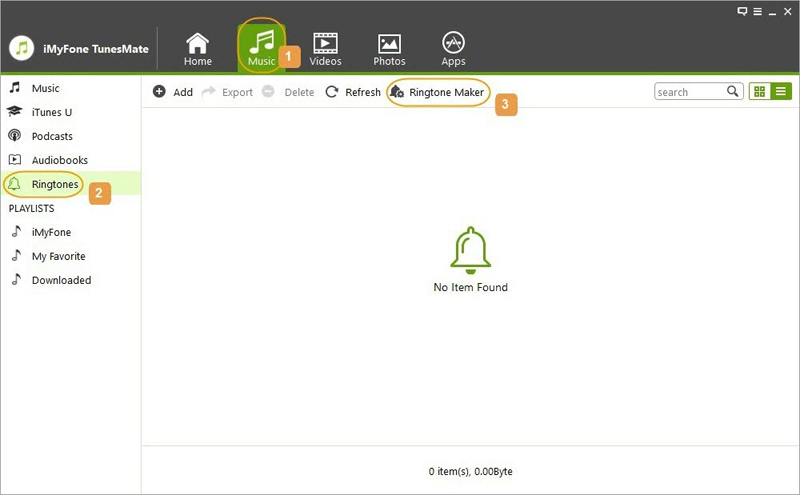 Step 3: Click "Local Music" or "Device Music" to choose a song. Then TunesMate will play it from start to end. You can use the "Set to start" and "Set to finish" button to decide the parts you want as a ringtone.
Note: There is a green area that tells you the parts of the song you have selected.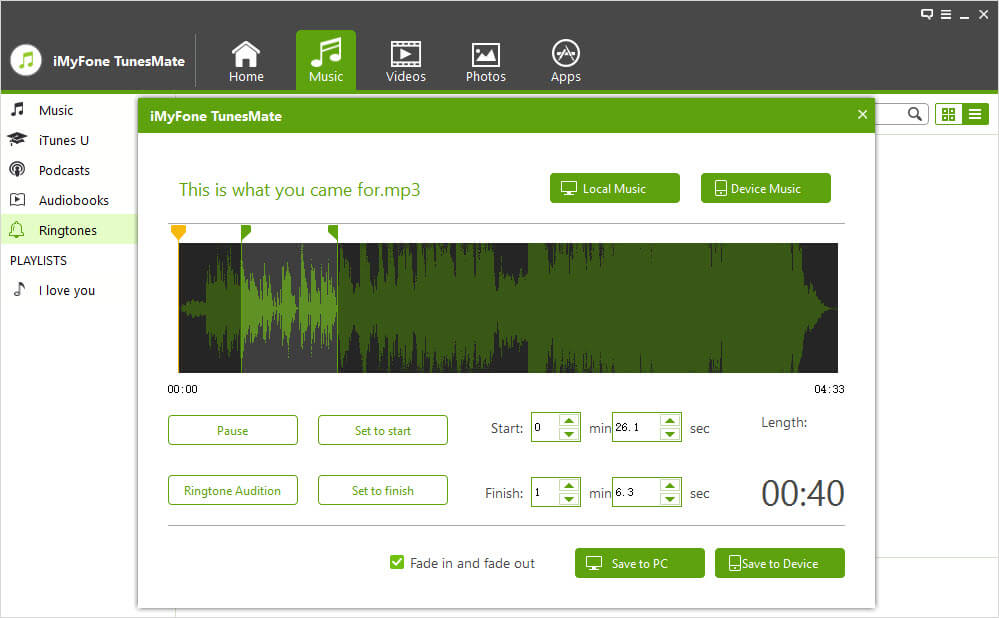 Step 4: When you are done, save it to your iPhone or your Computer.
#2. Ringtone Maker Pro
This app allows you customize ringtones with special effect. You can change the playback speed, make the sound pitch funny, convert male artist voice to female, country to club, and so on.
Price: $0.99
#3. Ringtone Designer Pro
The selling point for this app is its neat design. You can create your ringtone from existing songs on your device by dragging the sliders on the waveform. This app also lets you record external audio and make it a ringtone.
Price: $0.99
#4. Ringtone HD
This app lets you convert an existing song to a ringtone. You can also record live audio and convert it to a ringtone. You can choose to assign a ringtone to a specific caller. You can also select the parts of a song you want to turn to a ringtone.
Price: $0.99
#5. DIY Ringtone
You can personalize the interface of this app by putting your own background pictures. It also lets you control the speed and fade of ringtones you create.
Price: $0.99
---
To conclude, each of the introduced App has its own features. However, they can only customize and edit the songs you purchased on your iPhone. As for TunesMate, there is no limits. It enables you easily manage purchased and non-purchased songs and ringtones on not only your devices, but also computers and iTunes. You can even transfer any of the songs under your friends Apple IDs without extra payment. Have a free trial and enjoy your unlimited music and ringtones now!