It's normal for users to look for something better than iTunes because of the simple fact that iTunes has a lot of limits. If you wish to transfer files to your iPhone without erasing the data that's on it, or if you want to transfer files that you didn't officially purchase, you could face difficulties with iTunes. Many people want an alternative - and thankfully, several alternatives exist, like CopyTrans manager.
What's CopyTrans Manager?
CopyTrans is a device manager that helps you go beyond the normal functions of iTunes. It is not just a supplement to iTunes, it's an alternative altogether. This is great for those who don't want to deal with all of the restrictions and bloated software. With CopyTrans, you can transfer files easily back and forth between your computer, and even your iTunes library without any loss of data.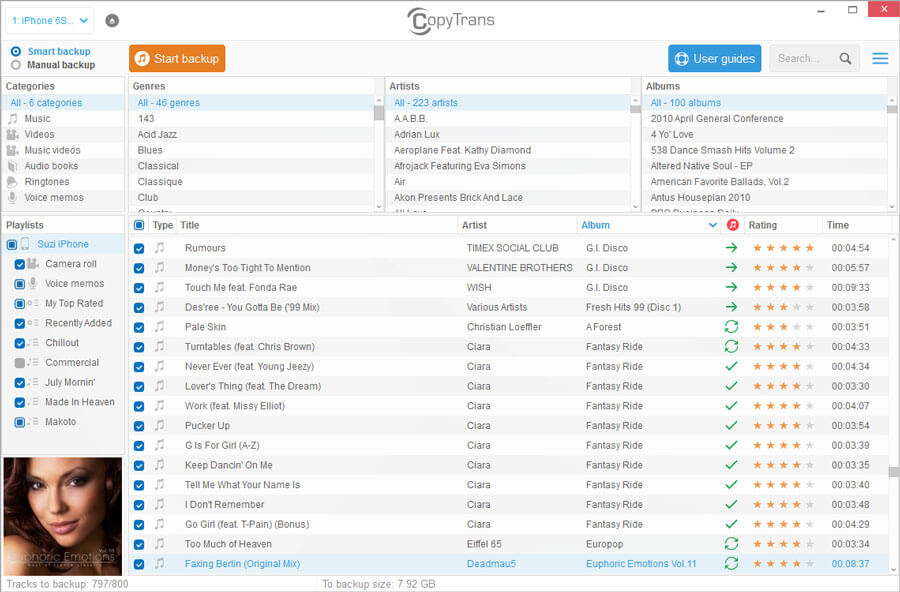 With CopyTrans, you never have to "authorize" anything, you can use more than one device and sync them all with your library. Not only can you transfer iPhone files to PC, but you can manage your files using CopyTrans as well.
Main Features of CopyTrans Manager
Transfer music, videos, photos, and more, without ever having to open iTunes.
Transfer without the need for an Internet connection.
Share files with many iPhone/iPad/iPod.
Restore iTunes library from iPhone, iPod, iPad.
Edit your iTunes library and add files to it without opening iTunes.
R

CopyTrans Test & Review
When downloading CopyTrans Manager, I need to download its CopyTrans Control Center first. After downloading the control center, I could try to download the CopyTrans in it. I don't think it's friendly for its user. I don't know how much storage space that CopyTrans, but it took me about 15 minutes to download and install. To be honest, it confused me a lot when installing.
The CopyTrans was so big that occupy almost my whole screen. The display of my iPhone music/video/books is complicated. I don't know the meaning of some icons on it. When I turn to "Camera Roll", I cannot preview the pictures. I didn't know which is the one I need, which is not, as you can see the screenshot below.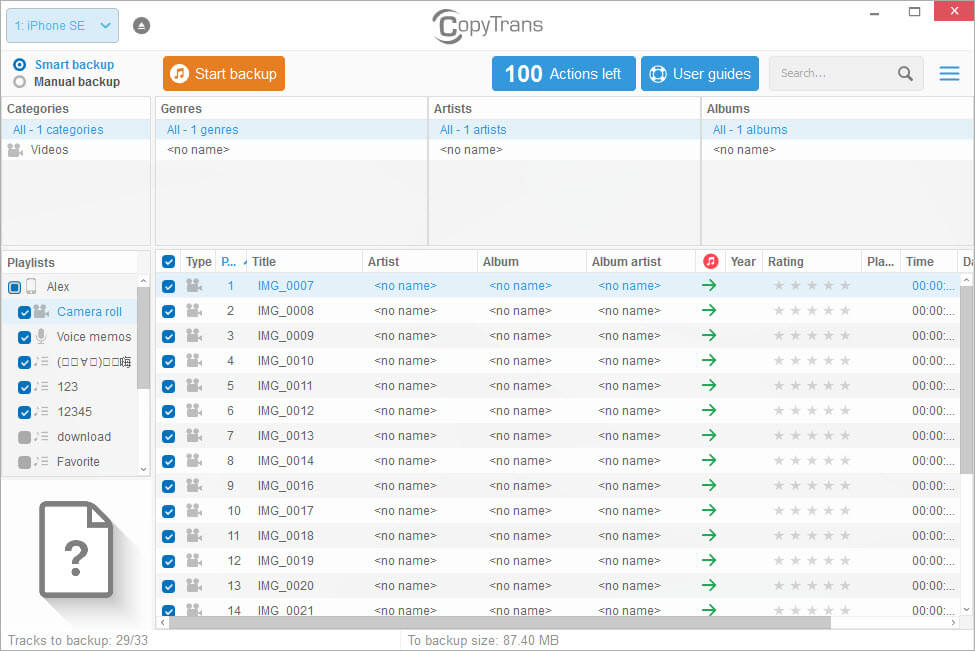 I tried to figured out how to add music to my iPhone, but it could not. Then I went to its official website, and noticed there was no description about this function. But as an iTunes alternative, how could it be. So what I could do was to back up my data to computer or transfer data to iTunes. But I failed to add data to my iPhone.
Pros
You can extract music, videos, photos, PDF from iPhone to computer or iTunes, which cannot be done by iTunes.
It can detect many more than one iPhone/iPad/iPod.
You can rebuild your library instead having your data erased every time you sync.
It can detect the difference between your iPhone library and iTunes library.
Cons
The interface isn't as easy or intuitive, and hard to understand.
You can only extract iPhone data out, but not import data into iPhone.
Its photo function is not useful as you cannot preview the photos.
You cannot share iPhone data with your friends or family.
It does not offer free trial to experience.
Best CopyTrans Alternative - The Ultimate iTunes Alternative
Key Features(iOS 12 Supported):
Even though CopyTrans is very good, there are some alternatives to it that can offer some more functionality. One of the best device managers out there is actually iMyFone TunesMate. With TunesMate you can transfer media files of any kind from computer to iPhone or from your iPhone to computer. Also you can transfer other data between your iPhone and iTunes library.
You never have to worry about your data being erased during transfer, either, like you do with iTunes. It offers the functionality of CopyTrans with more features and an easier to use interface.
Main Features of iMyFone TunesMate
Sync without Deletion - Sync iTunes music, video, playlists, files to iPhone without deleting existing data from iPhone.
Transfer to/from iPhone - Add files to iPhone from computer/iTunes; Transfer files from your iPhone to computer/iTunes.
Transfer to/from iTunes - Sync iTunes with numerous devices to enrich its library without erasing current data.
Share Music with Friends - Share purchases or non-purchases with friends or family, even in different Apple IDs.
All Media Files Supported - Files transferred include music, video, playlists, photos, albums, podcasts, audiobooks, etc.
Best iTunes Alternative - you can sync without limits, transfer freely, export seamlessly, and manage intelligently.
R

iMyFone TunesMate Test & Review
Being praised by increasing users since its release, iMyFone TunesMate has helped lots of users to transfer iPhone music freely and receive lots of positive reviews, like getintopc.com, Geekreply, tricksworldzz.com, etc.

I downloaded the software from its official website and it took less than 1 minute to finish. Its interface is simple and interesting. From its home menu, I knew what kinds of files that I can transfer or manage.
I chose "Music" tab as I wanted to add some music to my iPhone. It showed me all the audio types and music playlists of my iPhone. I clicked on "Add > Add File" and it let me select music from my computer. It just took me a moment to add about 20 songs.
It was not hard for me to figure out how to edit music info. I clicked on the "Pen" icon at the end of a song and it let me to edit name, artist, album, genre, etc.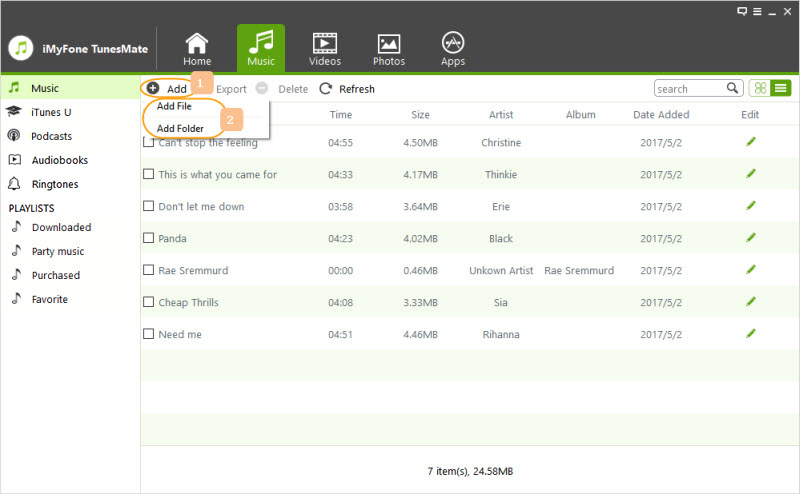 In my opinion, Tunesmate is easy to use which is very important for new users. It has enough functions that allow you to manage or transfer data to your iPhone. So I think it's a good iTunes alternative.
Pros
If you want more functionality than the trial version, then you have to pay.
The function of transferring ringtones is being developed, you may need to wait for the later updates.
It doesn't support Android devices.
Cons
If you want more functionality than the trial version, then you have to pay.
The function of transferring ringtones is being developed, you may need to wait for the later updates.
It doesn't support Android devices.
TunesMate: Transfer Music from iPhone to External Hard Drive
Step 1: Make sure you have TunesMate installed on your computer. Connect your device and the hard drive to it.
Step 2: Launch TunesMate. Click Music in the menu bar. It will show all your music there. Choose the music files you need to transfer. Click on Export > Export to PC/Mac.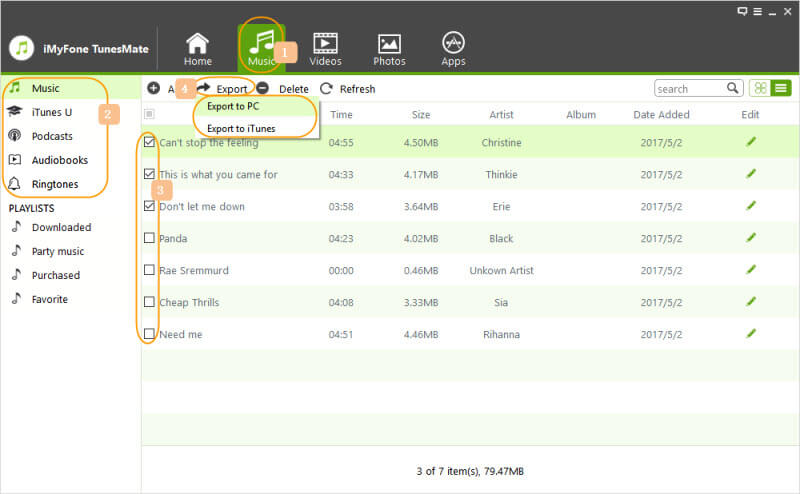 Step 3: Browse your external hard drive and click Select Folder to start the transferring.
As you can see, it is extremely easy to transfer files on TunesMate. If you are looking for an alternative to both iTunes and CopyTrans, this is the one to try.