iPod has become very common these days because they perfectly cater to your needs of carrying our favorite music to everywhere. Our commutes and everyday task will be very boring without the existence of music. After buying an iPod, transferring music to it can be a problem for some people. Here are a number of ways to transfer music to your iPod nano with ease.
1. How to Add Music to iPod Nano without iTunes (Easy)
Adding music to iPod using iTunes will delete the existing music from iPod as well. If you won't lose any data, stop using iTunes. Instead, you can try iMyFone TunesMate iOS Transfer which is an application that allows you to have control over your music.
It can help you transfer music and all other kinds of files to and from iOS device and computer. It is a simple alternative to iTunes with a number of other functions. It allows you to copy music to your iPod without losing any previous data.
Add music to iPod from iTunes, computer, external hard drive, etc.
Extract music from iPod/iPhone, including purchases and non-purchases.
Enrich iTunes library from unlimited iDevices, even in different Apple IDs.
Back up iPod/iPhone/iPad files and restore backups any time.
Steps to Add Songs from Computer to iPod Nano Easily
Step 1. Download and install iMyFone TunesMate on your computer. Connect your iPod to your computer via USB cable.
Step 2. Open iMyFone TunesMate app and click the 'Music' tab on the top.
Step 3. Click on Add > Add File, and browse the songs to transfer.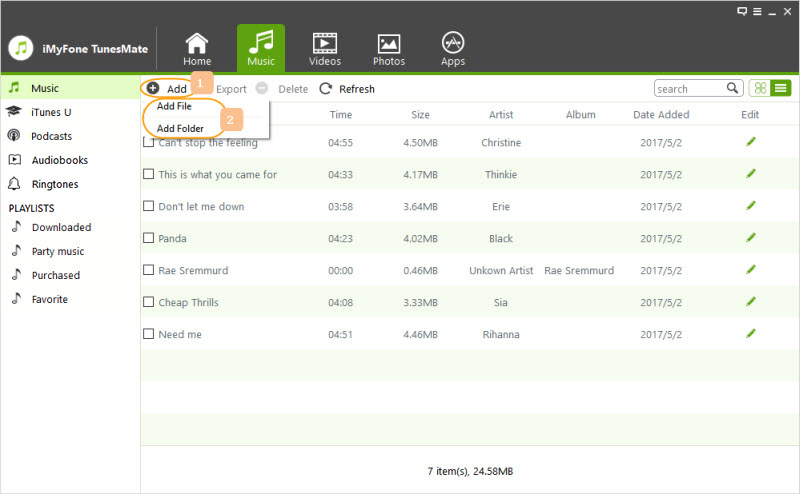 Steps to Add Songs from iTunes to iPod Nano without Losing Data
Step 1. Open TunesMate and connect your iPod to it.
Step 2. Go to "Transfer iTunes Media to iDevice" and make sure Music is checked and click on Transfer to begin.
2. How to Copy Music to iPod Nano Using iTunes (Data Loss)
Download and Install iTunes on your computer if you don't already have it installed.
Connect your iPod to the computer by the USB cable provided with iPod. If iTunes is not already running, it will start once you plug the iPod in.
After you have plugged in the iPod, select your iPod in iTunes.
Once your iPod is connected, iPod management screen will appear that has a number of tabs to carry out different functions. Select the 'music' tab and when you click on it and a number of options will appear.
Check "Sync Music" and click "Sync" button.

Note
Disadvantage of This Method
This method is not simple and beneficial. Sometimes, your iPod doesn't sync with iTunes and ends up wasting your time and energy. Also when you download songs from iTunes, it overwrites the music already present in your iPod causing you to lose data.
3. How to Adding Music to iPod Nano by Copying (Limited)
Connect your iPod to computer.
Connect a USB to your computer having desired music files.
Go to my computer and select the iPod.
Click the 'tools' option on the top of file manager window and go down to 'folder options'.
Click on 'show hidden files and folders'.
Find the folder named 'iPod_control' and then find the music folder. Your songs go to this folder.
Copy or drag the files from the connected USB drive to this folder.
The file will be transferred from USB drive to your iPod.
Please make sure all the songs you want to add are MP3 files, or you may not be able to play on your iPod.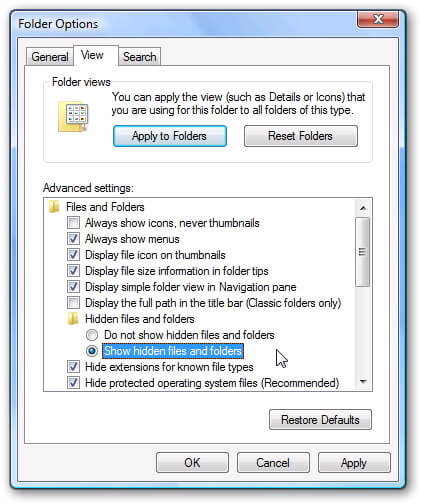 4. Top 3 Free Websites to Download Music for Free
Here are top 3 free website to download music to computer. After downloading the free music to computer, just use iMyFone TunesMate to add the free music to iPod without losing the current songs.
MP3Skull is a search website to find free music. It also allows you to download music for free. It provides a popular internet-based search platform for individuals and business. It has more than 10 million full-length music files which are legally available to download and share. Users are allowed to search the MP3 files from several sources at once.

SoundClick was started in 1997 and famous for live social music hub. From it, you can download more than 5 million live full length music files easily. It also has clear music classifications that users can enjoy their favours. Its key feature allows mp3 downloading and live audio streaming.
MyFreeMp3 may not have so many choices, but its interface is very simple and clear. You need to enter the name of the song or artist to find the songs you want. After finding the songs, you are legally allowed to download the music for free.