Problems with duplicate songs on iPod usually arise when you transfer music or you let someone transfer music from your iTunes. Merging different playlists on your iPod also causes the songs to be duplicated, and this also makes it hard for the user to detect the copied songs. The issue of duplicate songs may occur when you delete a file and are asked if you want to keep it in your iTunes or not.
How to Prevent iTunes from Getting Duplicate Music?
Whenever you put a song in your iTunes library, a copy of the song is made and added automatically to your iTunes folder. The best way to deal with the whole issue of duplicated music is by making sure that iTunes does not duplicate the music in the first place. This can be done by carrying out the following instructions:
Step 1.Open up iTunes on your computer.
Step 2.Go to Edit > Preferences > Advanced, and then uncheck the square box next to Copy files to iTunes Media folder when adding to library.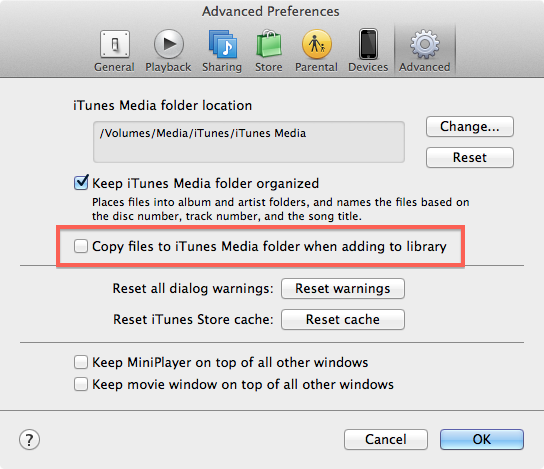 Step 3.Click "OK" button at the bottom to confirm the settings.
There you go. Now you have prevented iTunes from getting duplicate file including duplicate song.
How to Delete Duplicate Songs on iPod?
Now that you know how to prevent duplicates from being created, here is how to delete duplicate songs on iPod if they already exist. The process is fairly simple and easy. Firstly you have to show duplicates on iPod to be able to delete them. This is how you delete duplicate songs on iPod.
How to Show and Remove Duplicates on iPod via iTunes:
After you sync iPod music files to iTunes, here are steps for you to view and delete duplicate music file on iPod via iTunes. Check them out:
Step 1.Make sure you have the latest version of iTunes and then open it.
Step 2.Select Music at the left sidebar to enter iTunes music library.
Step 3.Click "File" at the top menu bar, then click "Library", and click "Show Duplicate Items". All duplicates will be showed in a list, and you can sort the songs by categorizing them according to artists or genre.

Step 4.Press "Ctrl" button on your computer keyboard, and select song one by one. After all duplicates are chosen, right click and click "Delete from Library". A pop up window will ask you whether or not to delete those songs. Click "Delete Song" to confirm the process.
How to Recover Deleted Songs on iPod?
If you accidentally deleted a songs on your iPod, don't worry as it would still exist in your iTunes purchase history. You might not have to purchase it again. Just follow instructions below to recover the songs:
Step 1.Open up the iTunes app on your iPhone, and log in with the Apple ID that you used to purchase music.
Step 2.Select the "More" option in the bottom right corner, and then click on the "purchased" tab.
Step 3.Click on the "Music" option, and a list with all the songs you have purchased will appear. Click on the download button next to the song you want to recover.
Get Rid of Duplicate Songs Issue with iTunes Alternative
People might get stuck when getting duplicate songs on iPod after transferring music from iTunes to iPod. Although you can usually solve the problem by employing one of the methods mentioned above. However, iTunes sometimes creates more problems than it solves. This happens because iTunes repeatedly crashes, causing that it won't sync with your device, and if it does there is a chance that after transferring files all the data on your iPod might get deleted. Plus, you always need to keep upgrading to the latest version of iTunes which is a huge hassle.
Such being the case, you can use an iTunes alternative, i.e., iMyFone TunesMate, which is a really good iTunes rebuilder and iOS device manager. It can help you with transferring videos, music and photos from iOS device to iTunes/Computer and iTunes/computer to iDevice. It also lets you back up your iPod data safely on your computer. With just one click using TunesMate you can even manage apps on your iOS device.
Key Features:
Automatically filter duplicate songs while transferring: from iTunes to iOS devices or from iOS devices to iTunes, it won't transfer duplicates.
Free 2-way transfer between iOS device and iTunes/computer: music, video, and photo all supported for transferring.
Both free and paid music/movies are supported to be transferred: get rid of iTunes limitation of purchased items.
Will not erase old data in your iOS devices while transferring: sync media files securely and efficiently to iDevices with no chances of data loss.
Transfer data from unlimited iDevices and unlimited iTunes libraries: TunesMate can transfer iOS data to and from unlimited devices or iTunes libraries.
In the following guide, we take transferring iTunes media files to iOS device with iMyFone TunesMate as an example to show how to delete duplicate songs on iPod.
Step 1.Launch iMyFone TunesMate on your computer, and connect your iPad to computer with original USB cable.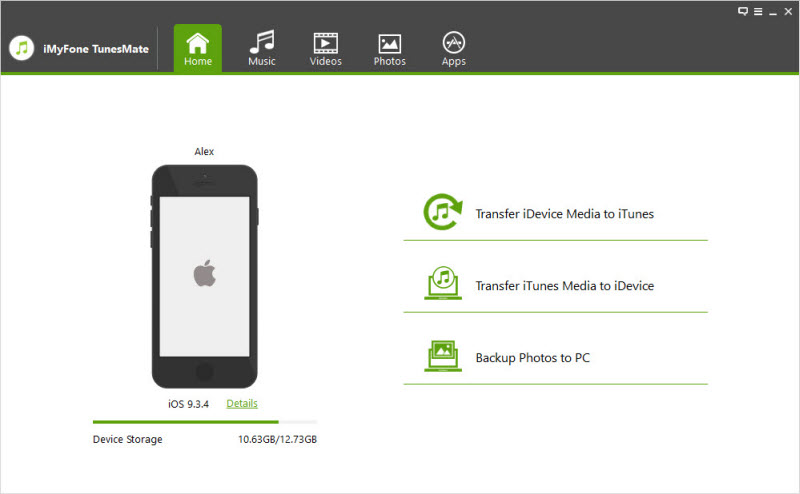 Step 2.Click "Transfer iTunes Media to iDevice" on the home interface to transfer iTunes media file to iPod, and click "Start" in pop-up window panel to scan all media files on your iTunes library.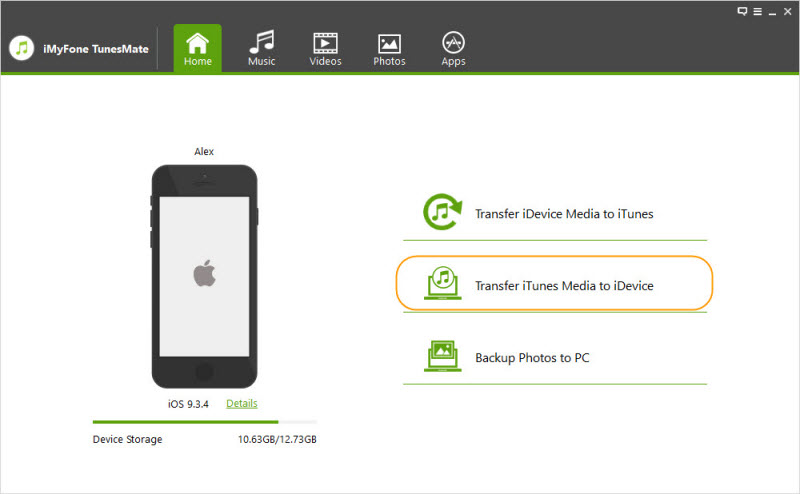 Step 3.All the media types will be checked by default. Choose "Music" only if you simply want to transfer songs from iTunes to iPod. Click "Transfer" button to begin the transfer process. Click "OK" button to finish it.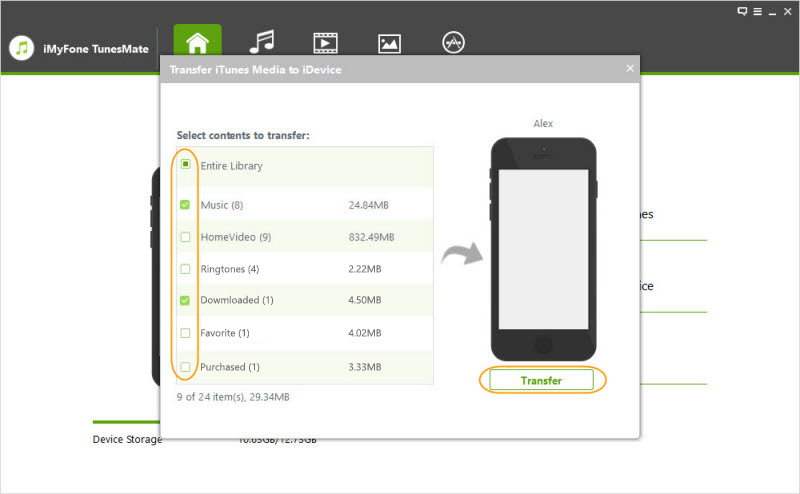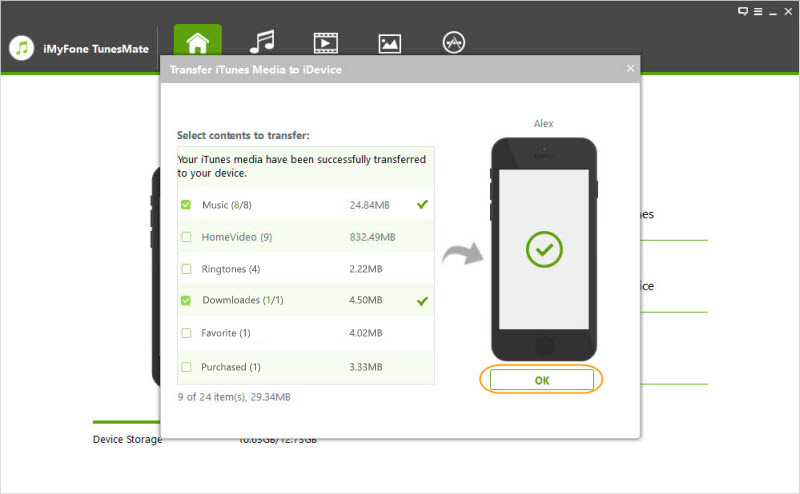 Please take note that duplicate songs will not be transferred during the process, and only songs that don't exist on iPod will be transferred. In this way, you successfully delete duplicate songs on iPod. It means all the songs imported this way will not be duplicated and thus you won't have to deal with the hassle of finding duplicated songs and deleting them.