iTunes keeps your media files like movies, songs, ringtones, and playlists, and it is the default software to deal with your music on iPhone/iPad/iPod. Since all iPhone can be synced with just a single iTunes library, you will have to rebuild the whole music library when your PC meets some hardware issues. In this manner, it is prescribed to transfer music from iTunes library to an external storage such as flash drive or USB to make duplicates.
This guide will offer you basic approaches to export iTunes tunes/playlist to flash drive or USB efficiently. Continue reading to get the well-ordered directions.
An Effective Tool to Transfer Music from iTunes to Flash Drive
Have you known about iMyFone iOS Manager ? If not, then you are missing a great opportunity to enjoy one of the best apps out there for transferring your data between your iPhone/iPad/iPod and your PC.
Key Features
Support all sorts of music formats - Freely move music between iDevice and PC/external hard drive/iTunes.
Transfer without Data Loss – It enables you to transfer music files without the fear of incidentally deleting any songs while moving.
Feature in Format Converter – While transferring music/video to iDevice, iMyFone TunesMate will change automatically those formats which are incompatible with compatible ones.
Here is a guide on how to transfer music from iTunes to flash drive easily and quickly. It includes two main steps: Transfer iTunes Music to iPhone & Export iPhone Music to Flash Drive.
Step 1: Transfer iTunes Music to iPhone
1. Open iMyFone TunesMate and plug your device into your PC.
2. Select "Transfer iTunes Media to iDevice", iMyFone TunesMate will scan all the media files on your iPhone.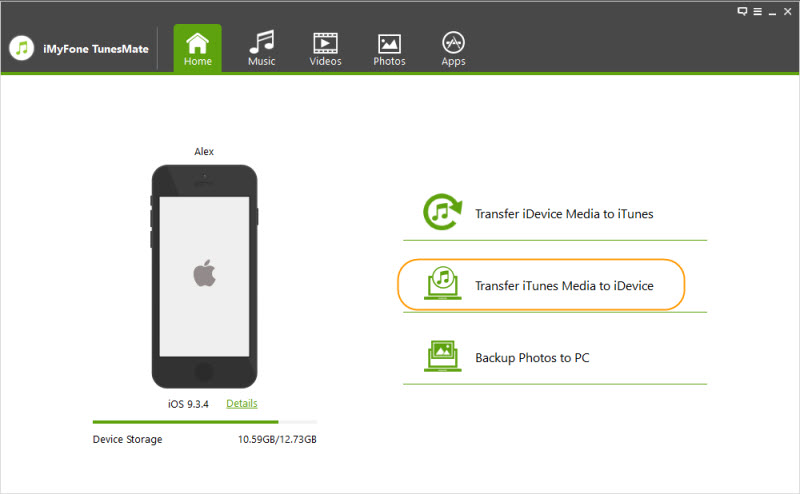 3. After the scan finished, ensure that the "Music" check box is checked, then tap "Transfer" Afterwards, your iTunes will transfer automatically to your iPhone.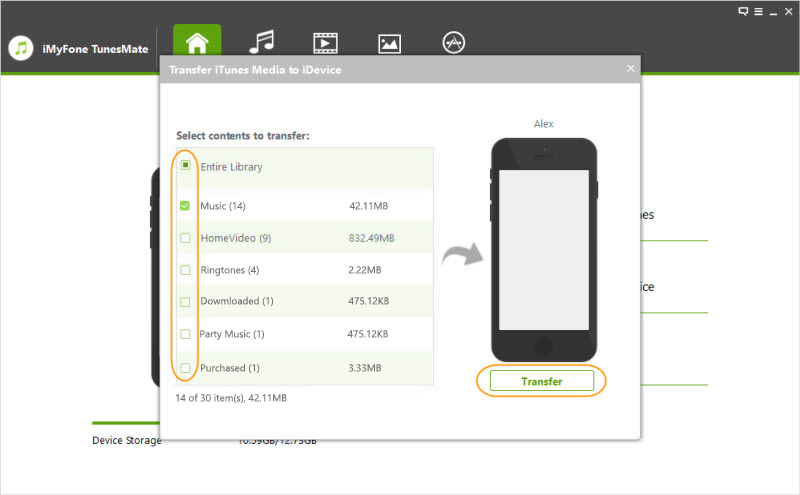 Step 2 Export Music from iPhone to Flash Drive
It is straightforward and quick to transfer music from iTunes to flash drive or USB with iMyFone Tunesmate, which is an iTunes option that deals with your iPhone data on PC quickly.
1. Launch iMyFone TunesMate, and connect your iPhone to PC. iMyFone TunesMate will collect your iTunes library and load your iPhone information.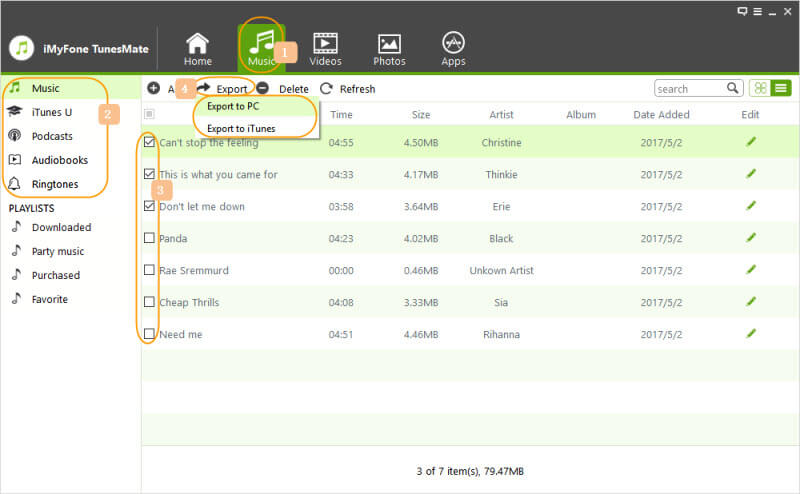 2. Click on Music tab. Select the music you wish to transfer and then click Export > Export to PC > Choose your flash drive > Click Select Folder button to transfer.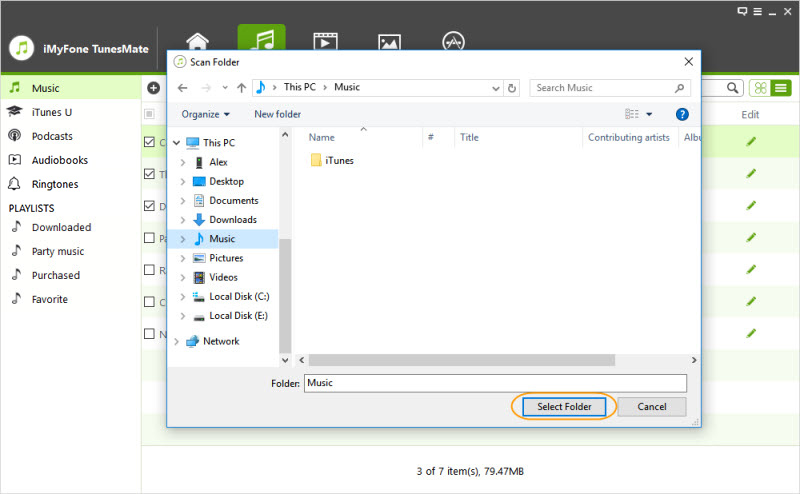 Export Music from iTunes to Flash Drive Directly
If you wish to export your songs from your iTunes library directly to your flash drive all you have to do follow is simply follow the instructions below.
1. Plug your flash drive into PC.
2. Open iTunes and click on Edit > Preferences
3. Click on the "Advanced" tab, you will see the current iTunes Library location.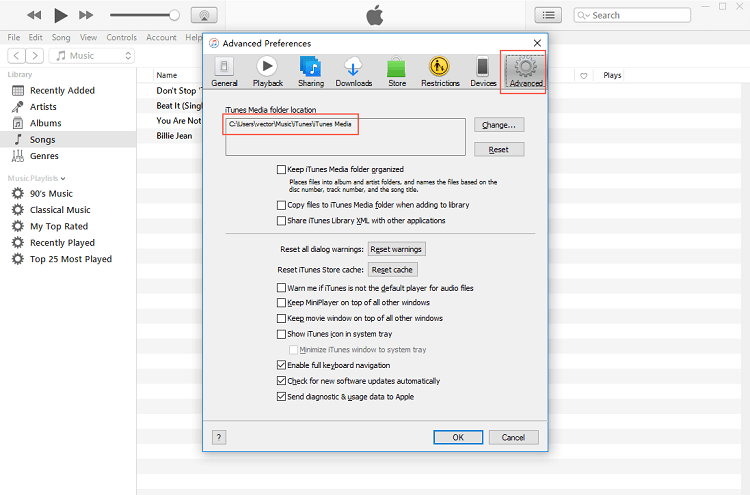 4. Navigate to the iTunes library file path
5. Select the music you want to transfer and then drag them to your flash drive
---
Contrast Between the Above Two Methods
Before we contrast, let's take a look at what both softwares offer.
iTunes
With iTunes, you can save and make a duplicate of information and data in your PC storage. If you misplace damage or replace your device, you can get them back and transfer your information and intelligence to the new device.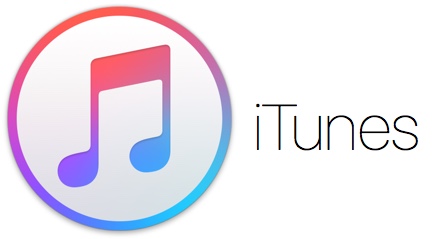 iMyFone
While iTunes can do a satisfactory job with regards to this, iMyFone TunesMate provides the possibilities of helping you sidestep huge numbers of the limitations that Apple forces on its clients. For instance, with iMyFone TunesMate, you can share purchased songs to other devices freely.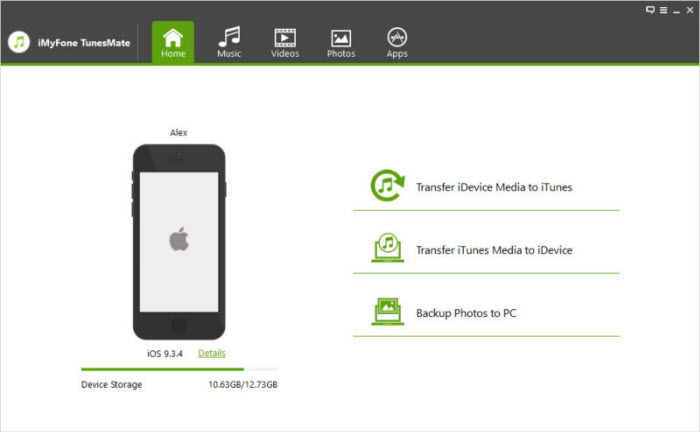 Which One is Better
Although both softwares can transfer songs from iTunes library to flash drive, there are some differences between them:
You can't transfer purchased songs to your flash drive if you use the iTunes, however, iMyFone TunesMate can achieve it without this limit.
When you are transferring lots of songs, iTunes always crashed or transfer slowly, but with iMyFone TunesMate the process is done much faster.
Sometimes iTunes may not locate the songs you want to transfer. Meanwhile, iMyFone TunesMate can scan all the songs from your device.
With iMyFone TunesMate, you can do anything you need with your iTunes media. It gives you the sort of freedom you would never have with iTunes.