[Full Guide] How to Convert MP4 to WMV in 2023?
Category: Repair Files
5 mins read
Both MP4 and WMV feature video compression. MP4 was created by the International Organization for Standardization and is widely used across several platforms, while Windows created WMV.
The type of compression makes the most difference. Since WMV is a lossless format, file compression does not affect video quality. Due to MP4's lossy nature, the video quality declines following compression.

Before choosing one format for a particular case, there are several differences to consider—this manual aids in understanding the detailed comparison between WMV and MP4. Continue reading if you need toconvert MP4 to WMV . Let's dive deeper.
Part 1: MP4 VS WMV: Which One is Better?
Many people need clarification about what to choose between MP4 and WMV. Have you the same confusion? Let's compare the WMV and MP4 file formats to industry standards to see which one is better for you!
1

Popularity

Because of its universality, MP4 is utilized by Windows, Mac, Linux, Android, and web browsers. Unlike WMV, it does not require a plug-in or third-party support. Users for file sharing and online file uploading prefer it. Blu-ray and DVDs, on the other hand, employ WMV. So, from a popularity perspective, MP4 is publicly more loved.
2

Compatibility

The most compatible format is MP4. Almost every platform or device, including Apple, Android, and Microsoft, is supported. WMV is mainly played on Windows-based computers. Except for Android and many iOS devices, it is not supported without a third-party WMV player.
3

Video Quality

Whether WMV or MP4 is the superior format frequently comes up. Although it is often believed that MP4 has superior quality than WMV, container format has a negligible effect on the product's quality. The primary components affecting quality are the encoding technique, bitrate, etc. Due to its effective compression techniques, MP4 files will provide more excellent quality when compared to WMV files at the same bitrate.
4

File Size

WMV features a two-fold compression rate, making it often smaller than MP4 while maintaining the same quality. Unlike MP4, WMV does not support more modern codecs like H.256. Compared to WMV, MP4 may produce files with a superior encoder that are lower in size and of higher quality.
Part 2: How to Convert MP4 to WMV?
There are a bunch of different platforms to convert files from MP4 to WMV or vice versa, but each platform has some benefits and some limitations.
Due to this many people don't know what will be the best one according to their needs. To tackle this condition here are the 3 best converters. Let's discuss them one by one.
1

iMyFone UltraRepair

iMyFone UltraRepair is an excellent program that supports video and audio formats. You may store music and video in the best format for mobile devices using UltraRepair. You can quickly convert MP4 to WMV or other formats using the following procedures.
Step 1: Downloading and installation.
Install iMyFone UltraRepair by downloading it and doing so as directed on-screen.
Step 2: Open iMyFone UltraRepair, select Video Format Conversion button.
Head to iMyFone website and download UltraRepair. Once you have it, open it and browser to Video Format Conversion.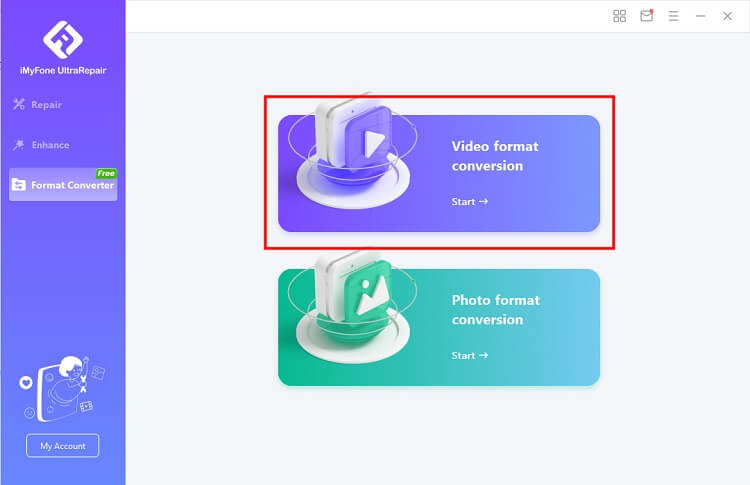 Step 3: Import video to it, choose the output format, Convert video for 1-click.
Before the conversion, you can click the Settings icon to customize the output format with a special frame rate. You can click the Convert All button at the bottom right corner to start the conversion.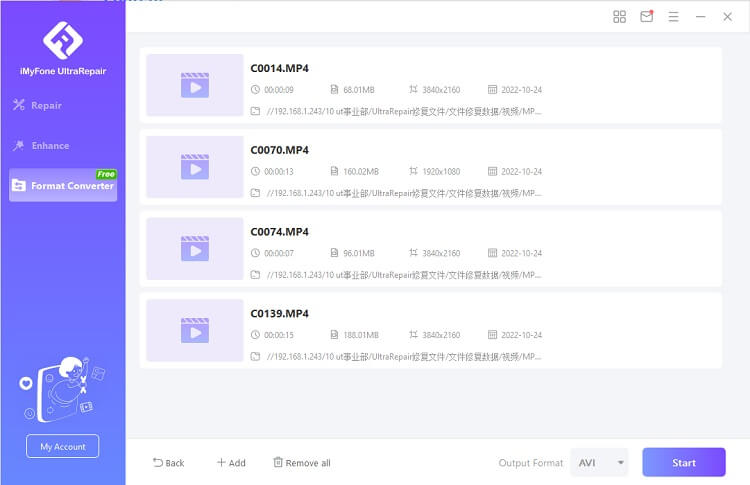 Ok, that is! Now you can save the videos. Learn more.
Allows multiple ways to upload file
Free
Simple and easy-to-use
Safe and secure
Faster rate of conversion
You can do the online converting procedure using an amazing platform known as Online Video Converter. You may use its free tool component to convert MP4 files into WMV files. You may subscribe to the premium plan to take advantage of more features.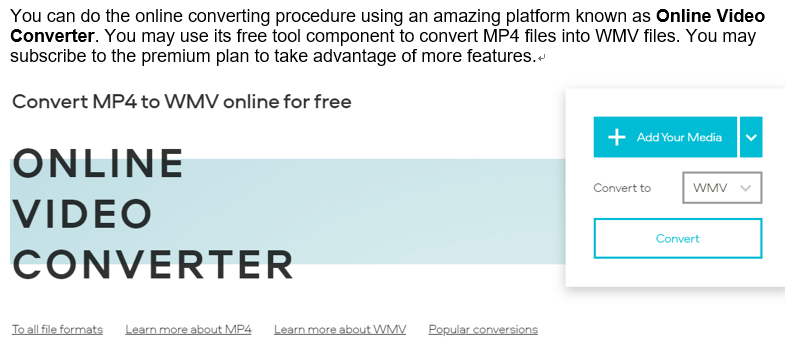 You may add the video from Dropbox or Google Drive or upload it directly from your device. Make sure WMV is selected as the output choice.
You may select the required quality using the improved settings as well. If your movie is more than 100MB, you will need to purchase a plan in order to utilize an online video converter.
Easy-to-use
Supports almost all formats
Fast and Smooth
Safe and Secure
Free version has limitations i.e. limited file size (up to 100 MB)
Low rating
A variety of video, document, music, eBook, picture, archive, presentation, and spreadsheet formats may be converted using CloudConvert. With a total memory capacity of more than 5,168 TB, it has converted more than 600 million files. The site is extremely secure; only you have access to your files.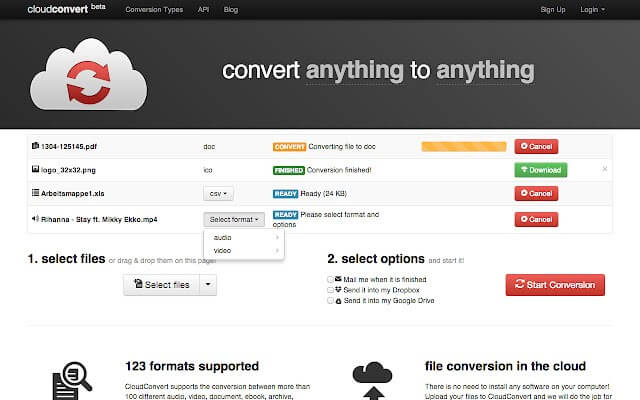 On the website, upload the MP4 file you wish to convert and enter the necessary video and audio parameters. After that, click the Convert button. Your video is ready to be downloaded to your device once the conversion is complete. CloudConvert allows up to 25 conversions each day.
User-friendly interface
Large cloud capacity
High user ratings
Extremely Secure
Converted video contains CloudConvert watermark
Sometimes, it takes longer to convert file
[Bonus Tips] How to Repair Corrupted Video with a File Repair Tool?
iMyFone UltraRepair is a multi-functional tool. You can fix your damaged files, including photos, videos, and documents, using iMyFone UltraRepair. Here are the formats that this innovative yet practical tool can correct. With iMyFone UltraRepair for Windows PC, you can fix your damaged files right away.
Fix any damaged documents, videos, or images.
To repair damaged files, follow these three easy actions.
Support for Windows 11 and Windows 10/8/Vista/7.
It is helpful for videos as well as photos.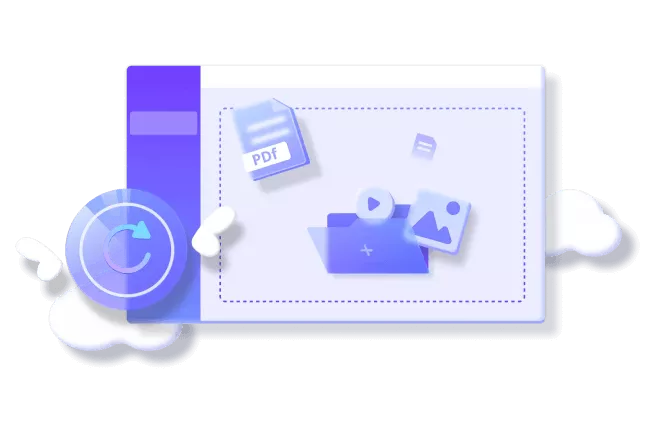 Key Features:
Supported Video Formats: MOV, MP4, AVI, FLV, INSV, 3GP, M2TS, MKV, MTS, and MXF
Supported Photo Formats: JPEG, JPG, CR3, CR2, RAF, DNG, ARW, GPR, TIF, TIFF, CRW
Supported Documents Formats: All documents' formats, including DOCX, PPTX, PDF, XLSX
It's a paid tool, and the demo version has limited functionality.
Conclusion
To summarize the WMV vs. MP4 comparison, WMV has a higher compression rate, whereas MP4 offers higher quality. If your goal is to collect data and conserve disc space, WMV is a better choice; if you can't compromise on quality, try MP4. Also there are several methods offered for you to convert MP4 to WMV.