Unfortunately, dealing with broken, damaged, or corrupt Excel files can be a real problem. You could be in the middle of calculating necessary data for your business or tracking your weight loss diet, only to lose all of your critical information instantly. That is why learning how to repair .xlsx files is an essential trick so that you always have the correct data and information needed.
Repair Xlsx File Manually
Excel file repair is essential because we frequently mishandle files or use corrupt storage locations that become challenging to retrieve data from in the future. Whether you are stuck with a malware attack or an app-related issue, these are some effective methods to repair your Excel files.
1

Repair Method
Microsoft was pretty clever to include a smile and reliable method for Excel repair online free through the Excel software. This is a built-in feature that doesn't cost anything extra to try. It may not work every time, but it is an excellent place to start.
Open a new .xlsx file through the Open option. And find the corrupted file and pick the Open and Repair option.
Choose Extract Data if Excel cannot get the file to open. Then click on Yes to confirm.
2

HTML Method
HTML is the language of the internet. You can use this programming language without actually needing to learn it by saving your corrupted file into a different format. This takes a bit more technical patience but has solid results.
Open the .xlsx file and select Save As from the options list. Then pick Other Formats > Web Page.
Close Excel and right-click on the saved file on your computer. Then select Open With>Microsoft Office Excel or related format.
Alter the .xlsx file name, so it is unique and save.
3

Copy Data Method
This repair xlsx file method involves copying the individual cell data from the corrupted file and inserting it into a new workbook. This way, you workaround the corrupt file system and introduce a fresh version free from bugs.
Open the xlsx file and right-click a sheet tab, and pick the Select All Sheets option.
Choose to Move or Copy. Be sure to mark the checkbox Create a Copy and pick the New Book option. Click OK.
Repair Xlsx File with Third-Party Tool
Often the manual methods of Excel file repair do not turn out all that effective. This could be because the original damaged file is beyond repair, or there is some software conflict causing a bigger problem that you cannot see manually. In those cases, working with a more robust software solution is your best bet.
1

Microsoft Excel Recovery Tool
This is a pretty comprehensive Excel file repair service that works with corrupted files. It scans for any file errors and uses a wide range of elements to conduct repairs. The downside is it has a hard time with objects or certain data types, but if you use just text and numbers, you can probably get a quality outcome.
Works with .xls, .xlt, .xlsx, .xlsm, .xltm, .xltx and also .xlam Microsoft Excel files.
It can help retrieve data from older versions of Excel dating back to 1995.
Simplified user interface with easy-to-follow instructions.
Has a free trial version.
2

iMyFone UltraRepair
iMyFone UltraRepair has expanded its incredibly reliable repair software to include Excel files. This robust software system has an attractive user interface and a high success rate with all kinds of data throughout the workbook. In addition, you can batch multiple files together and view files with unrecognizable formats as if they were the original content.
Main Features about iMyFone UltraRepair
Quick and effective software that runs incredibly fast.
Supports all major Excel file types as well as other Microsoft Office files like Word, PowerPoint, and more..
Only takes a single click to begin file repair.
Available on both Windows and Mac systems.
See how to repair Xlsx file with iMyFone UltraRepair
Step 1.Launch iMyFone UltraRepair on your PC. To begin, upload the xlxs file you want to repair. And click the "Add File" button on the main screen.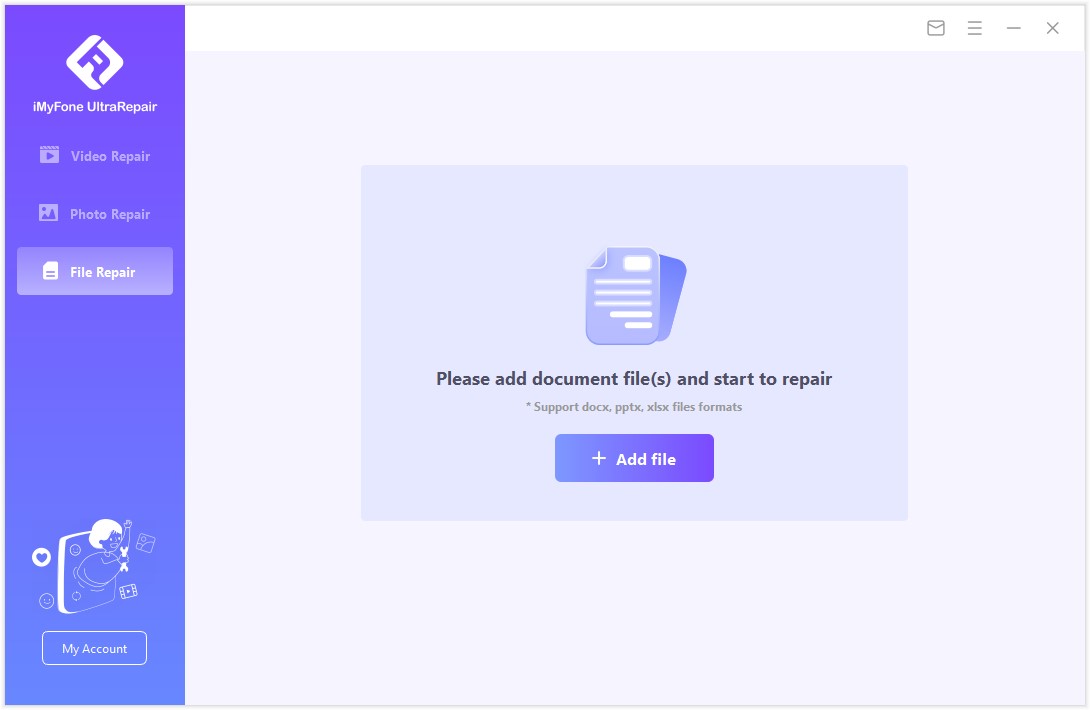 Step 2.When the uploading procedure is complete, the user interface will display info, check it again and click the "Repair" button to start.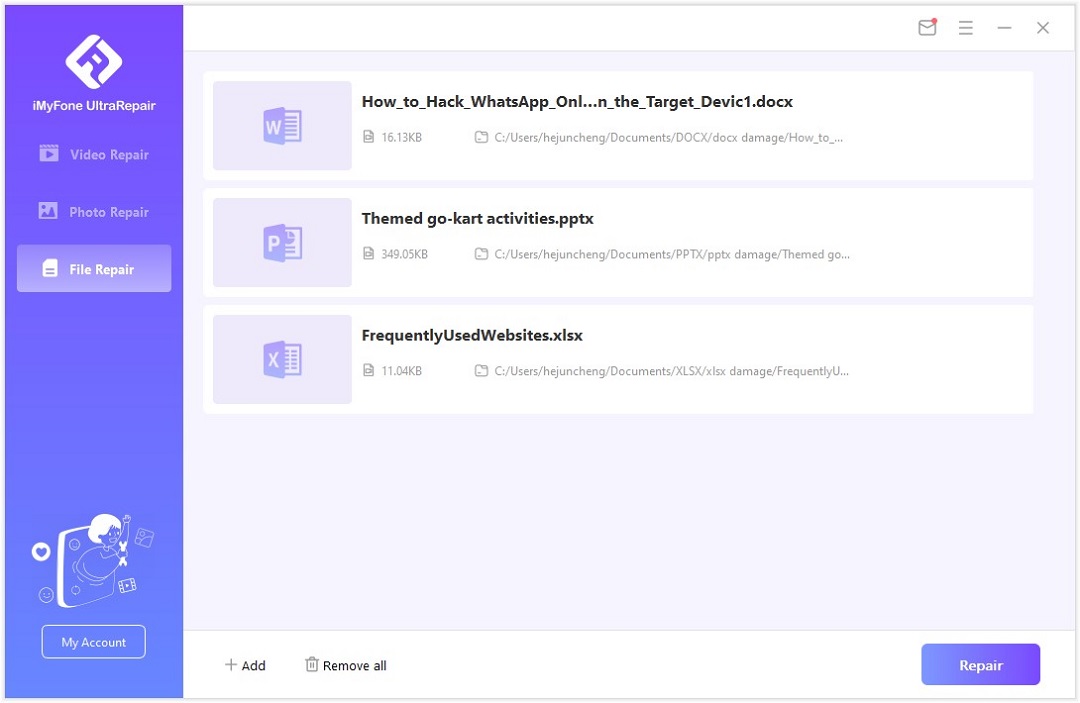 Step 3.Keep waiting for the procession finish.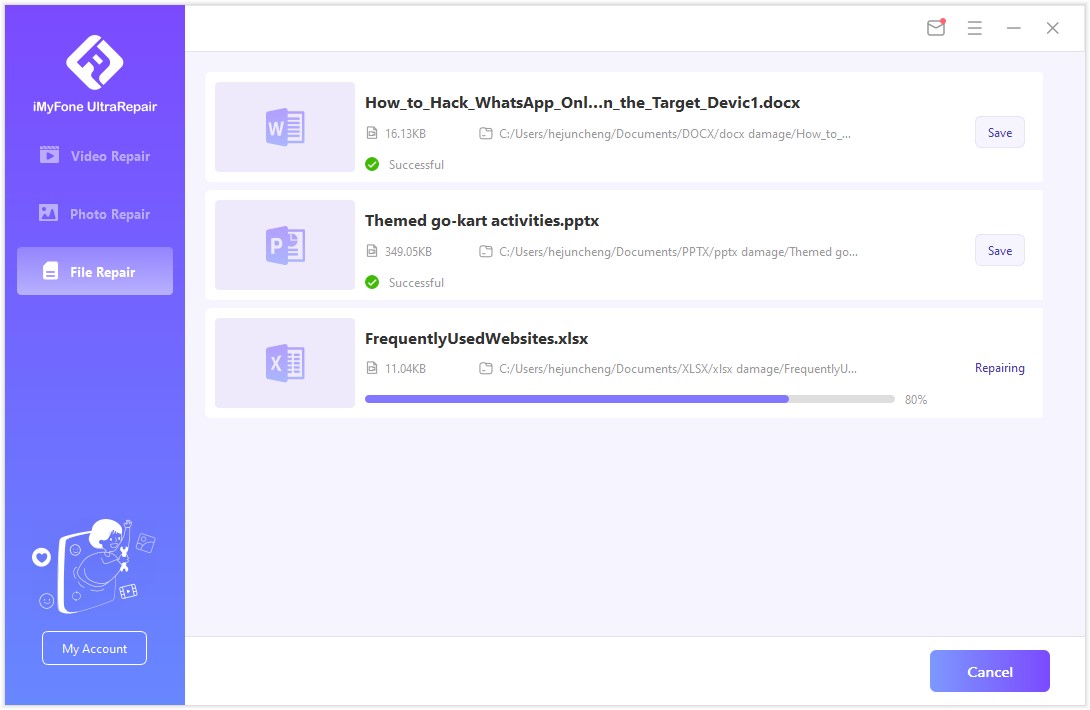 Step 4.Now you can save the file to PC.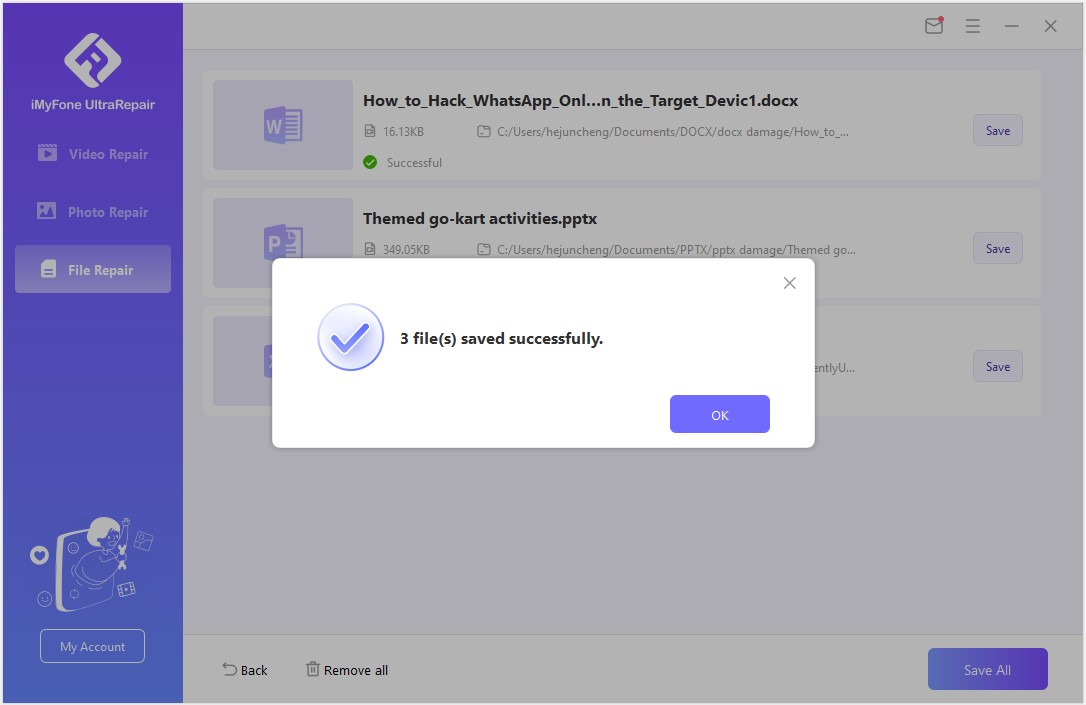 And it's done.
3

Xlsx-Recovery
This is a unique software application from the team at SysTools. You can repair spreadsheets or workbooks dating back to Excel 2007, and it has a handy preview panel to try and make out some of the data points of the file before you conduct a repair. The success rate is not as good as UltraRepair, but the user interface is clean and worth a look.
Main Features about Xlsx-Recovery
Has 3 different options for .xlsx file recovery: add file, add folder, and search in drive.
Preview panel to give you an idea of what is there first.
Preserves some cell formatting, formulas, and other properties.
Wrapping it Up
You can find many Excel repair online free tools that offer negligible success rates for fixing your corrupt or damaged .xlsx files. If none of the manual methods work out, the best option is to download the free version of iMyFone UltraRepair to test out the software's effectiveness.
Once you see how easy to use and accurate UltraRepair is, you'll want to upgrade to the premium version to enjoy all the benefits for years to come. This way, you never have to worry about a damaged Excel file again!