Maybr you will often be faced with 5 common video errors, and all of them can make you frustrated. If you are also tired of downloading the same videos again and again, or switching media players, you are lucky to here to find the solutions. Here, not only can you learn to repair video files, but also you can solve different video errors.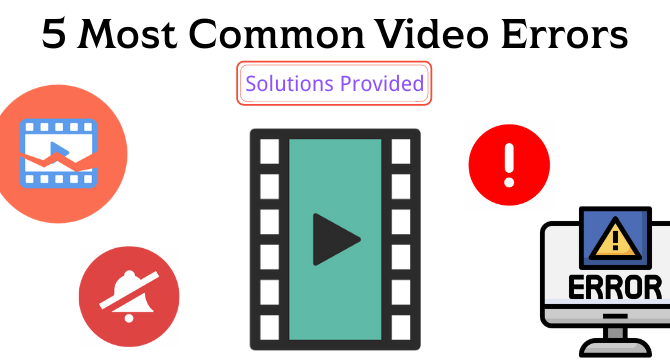 Part 1: 5 Most Common Video Errors You May Encounter
One way to repair video files may not work for everyone. It is because the cause for different errors is also different. So, here we will discuss different video errors and how to fix them. In this way, you can find and use the right solution to the specific problem you face.
Error 1: Error Loading Media Files Cannot Be Played
It is the most common error you will find when playing a video someone sent you. You can also encounter this if you download a video online and play it on your media player. The reason behind this error is that the file is corrupted.

So, either it is corrupt right from the source, or there have been some issues downloading it. Additionally, you may be using a video with a media player that does not support its file format. The following are different ways you can try to fix it:
Downloading the video again(if it does not work, then there are no downloading issues).
Using different media players.
Repair video files using some video repairing tools.
Error 2: No Sound When Playing Videos
Sometimes the video plays well, but there is no sound. This error can be very frustrating as well as audio has a huge role in every video. If you are sure that the video has some sound, but you are unable to get that sound, then these fixes may help you: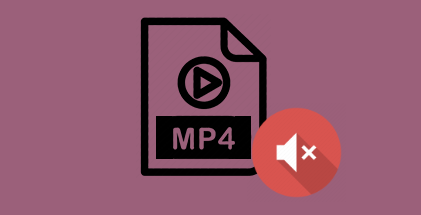 Repairing video file.
Checking headphones or speakers by playing some other audio.
Restarting the system.
Updating sound drivers.
Error 3: Videos Cannot be Played on Browser or App
We have many different media players and browsers that we use to play our videos. It brings versatility, but all videos do not support all browsers and apps that play them. If you have the video in your offline storage, it is because of the support issue. However, if you are playing an online video, the issue lies within the network.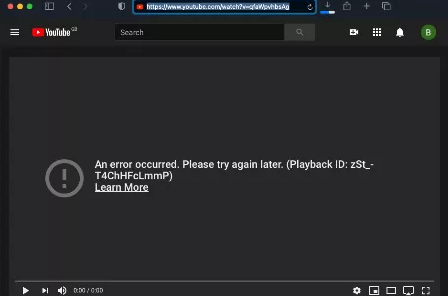 So, you first need to check where the issue lies, and then you can apply any solution to the issue. Below are some different methods to fix this error:
Checking that your browser has a good internet connection by using some other website.
Reloading the page if playing a video online.
Trying some other app or browser to play the video.
Error 4: Missing Codec Error When Playing Video
A missing codec error means that your video has some missing codec or some old video driver is causing the issue. When you get this error, you will also get a code along with the error. The good part is that you can search for that code to find out which codecs are missing. Downloading and installing them will make the issue go away. However, this will be a tedious process, so here are a few things that you can do: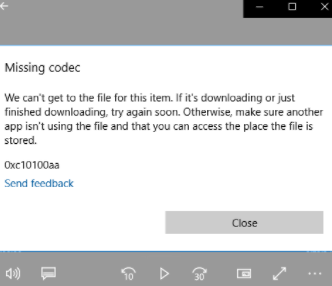 Using video repairing tools to fix missing codec.
Downloading file again.
Error 5: Blurry or Pixelated Videos
So, you are playing a blurry video with distortions in it? Sometimes you may face an issue where the video has pixelated parts. In most cases, these issues are because of a corrupt video file or some issue with your system. Fixing this problem is easier because a few simple checks can tell you where the issue lies. Here are a few things that you may need to try: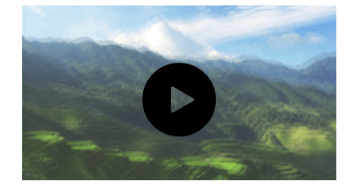 Ask the person to send the file again and download it again.
Update media player and device drivers
Try playing another video to see if the issue is with the system or video.
Part 2: All in One Video Repair Tool for You to Try
If you are done searching about different video errors and how to fix them and are still unable to solve the issue, you need something better. iMyFone UltraRepair is the tool that you need. It is an all-in-one tool that can solve all the video errors you face. The best thing about it is its ease of usage, making the whole process effortless.
Main Features about UltraRepair
Repair up to 7 types of videos and photos.
Available for free on Windows 10 and 11.
Fix any video error within 3 simple and easy steps.
Fix blurry, pixelated and corrupted videos into crystal clear resolutions.
Using iMyFone UltraRepair for your video repair needs is as easy. Below are the 3 steps you need to follow to use iMyFone UltraRepair to repair your videos.
Step 1.You will start by adding files to the repair tool. You will see a button on the tool's home page, which means you do not need to mess with any options.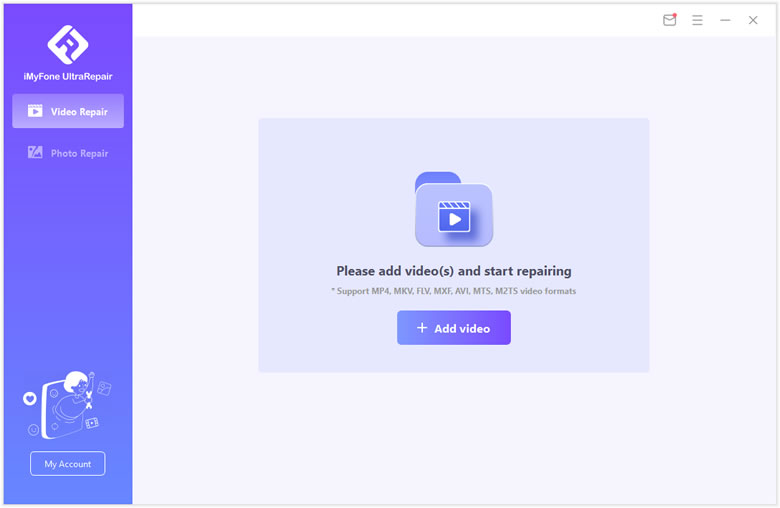 Step 2.Once you add files, you can start repairing them by clicking on the Repair button at the bottom right.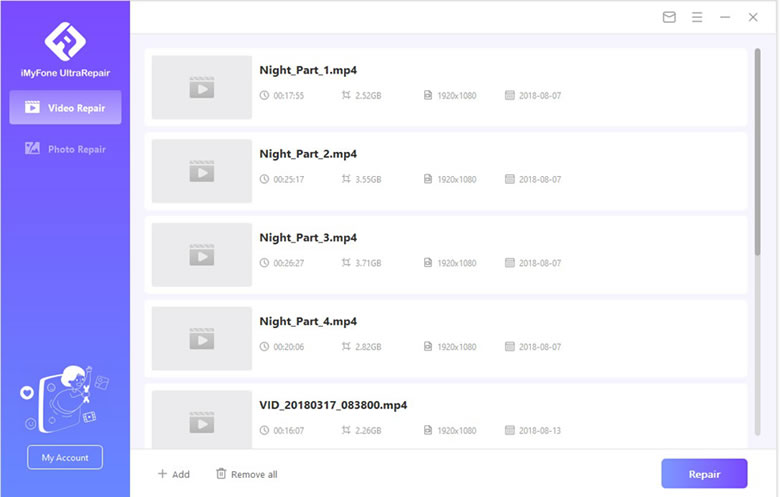 Step 3.As soon as the repairing process finishes, you can Save files. Its advanced technology will bring a high success rate for you.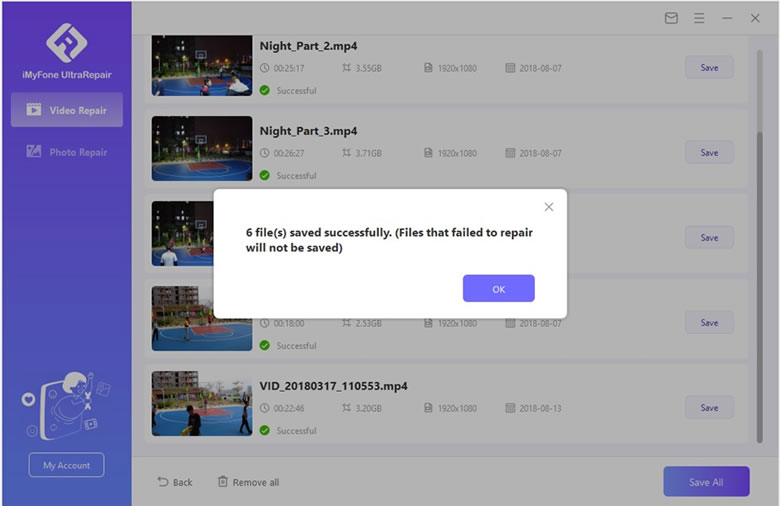 FAQs: More You May Want to Know about Video Errors
1. Why are my photos blurry on Facebook, and can I fix them?
It is common to have your pictures blurry on Facebook while the same picture on your device is crystal clear. The issue here is that you use the wrong file format for uploading pictures on Facebook. So, if you want to fix this issue, try using JPEG or PNG images, as they will not get blurry.
2. What can I do to fix the black screen when playing videos on a PC?
A common solution to this problem is to turn your PC's gaming mode on. This will make sure to provide maximum performance from the processor. In this way, your black screen issue will be gone. However, there might be some other issues that will need you to use specific fixes.
Conclusion
When you repair a video file, you can solve most of the issues and errors that you are facing. However, it is important to know video errors and how to fix them. Only in this way can you solve the error efficiently. If you can not slove your problems by the methods what we have mentioned above, you can take iMyFone UltraRepair to have a try. We hope that you can finally solve different video errors that you are faced with.