No matter how up-to-date your device is, there is still the chance of getting damaged or corrupted files. For example, you could end up with a video of your kiddo's first steps only to find it has gotten harmed somehow when you try to send it to friends. Or maybe you have photos from a recent trip to the islands, only to see they are damaged and pixelated.
In all of these cases, there are methods of fixing the damage, but the most comprehensive and easy-to-use solution is iMyFone UltraRepair. Check out our complete UltraRepair review below to learn more!
Part 1. Overview about iMyFone UltraRepair
iMyFone UltraRepair is a professional file repair tool launched in 2022. With this tool, you can repair corrupted photos, and videos files. There are also features for recovering documents and more on the way from the developer notes. This tool is incredibly easy to use with a simple guided click operation that anyone can follow.
Part 2. Features of iMyFone UltraRepair
Besides being easy to navigate with a clean and modern user interface, our UltraRepair review uncovered other features specific to the different types of files you are attempting to repair. Includes:
01

Photo Repair
Repair photos across multiple devices like cameras, mobile phones, tablets, action cameras, and more.
Repair photos with poor image quality like blurriness, red-eye, pixelation, etc.
Quickly repair multiple photos in a single batch to save you time and processing.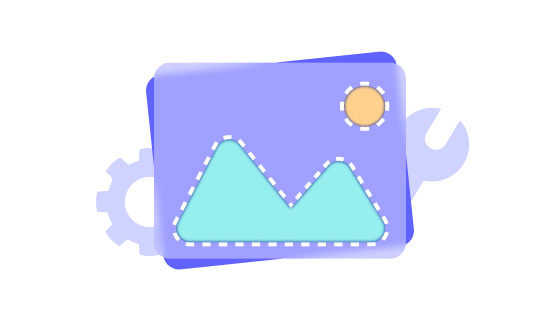 02

Video Repair
Restore unplayable files recorded using popular camera brands like Canon, Nikon, Sony, GoPro, and more.
Enhance different corrupted or broken files that are suffering from low pixelation, poor audio, low saturation, etc.
Includes advanced technology and algorithms to ensure a highly effective success rate for file repair.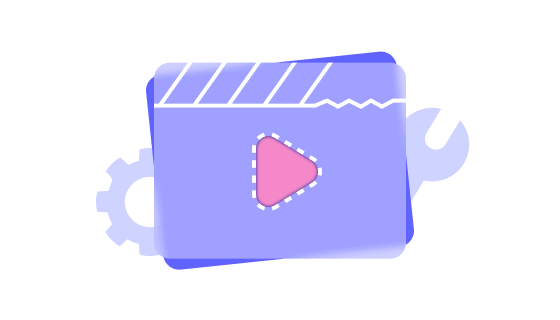 Part 3. How to Use iMyFone UltraRepair?
When we conducted our UltraRepair review, we were amazed at how easy the software is to use. There are no complicated instructions to follow or require a lot of insider IT knowledge. As long as you can follow the instructions on the screen, you will have no problem repairing all of your old video and photo files.
01

Use iMyFone UltraRepair to Repair Corrupted Photos
Step 1. Install iMyFone UltraRepair on your PC and run the program, then click on Photo Repair on the left panel.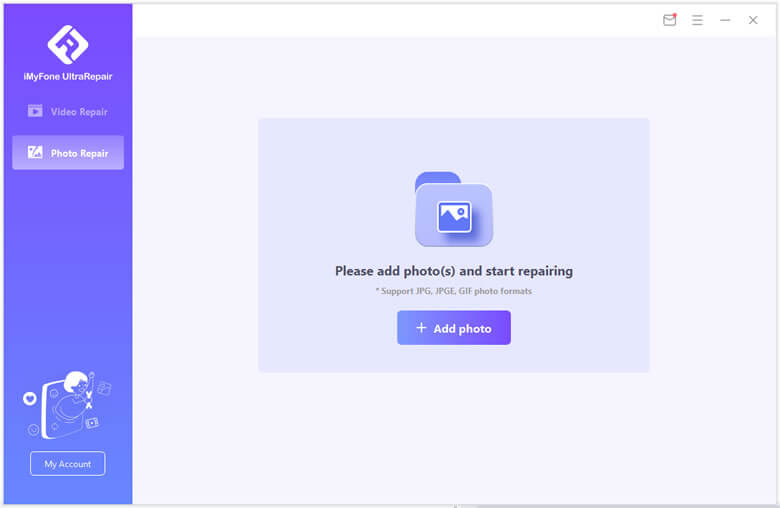 Step 2. Click on Add photo to select the JPG, JPEG, or GIFs you are repairing.
Step 3. Click on Repair and wait for the advanced process to finish.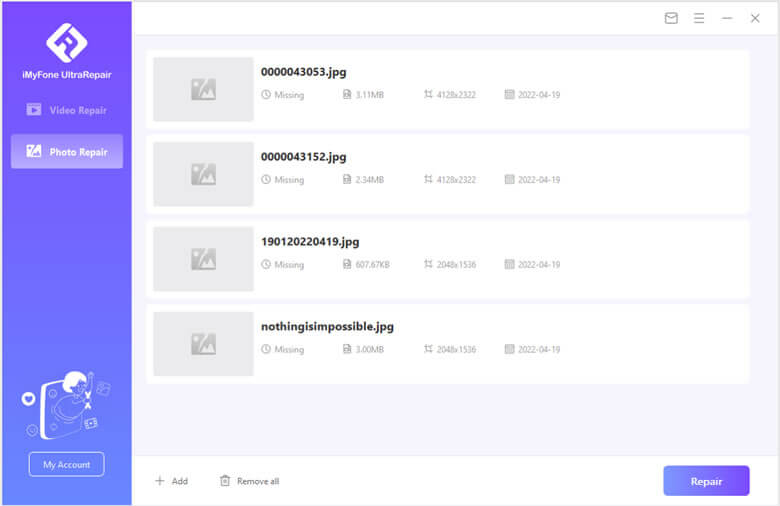 Step 4. Save any repaired photos to a location of your choosing on your desktop, hard drive, or other removable drives.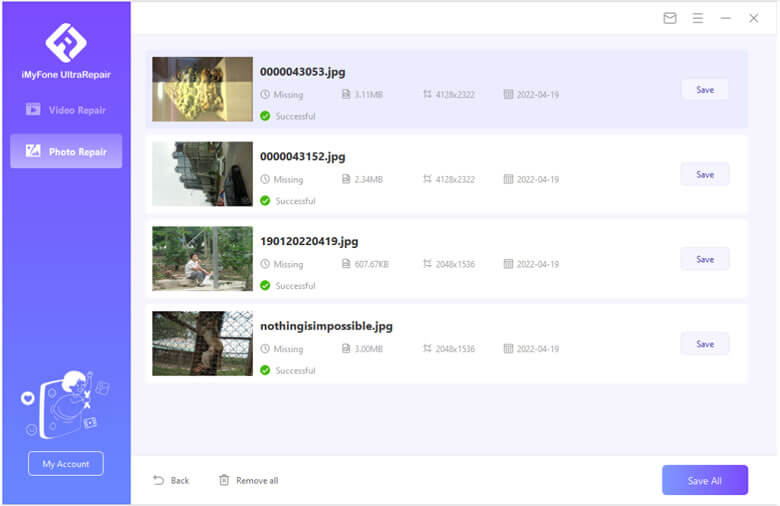 ---
02

Use iMyFone UltraRepair to Repair Corrupted Videos
Step 1. Install UltraRepair and run the program, then click on Add Video to upload the video content you wish to fix.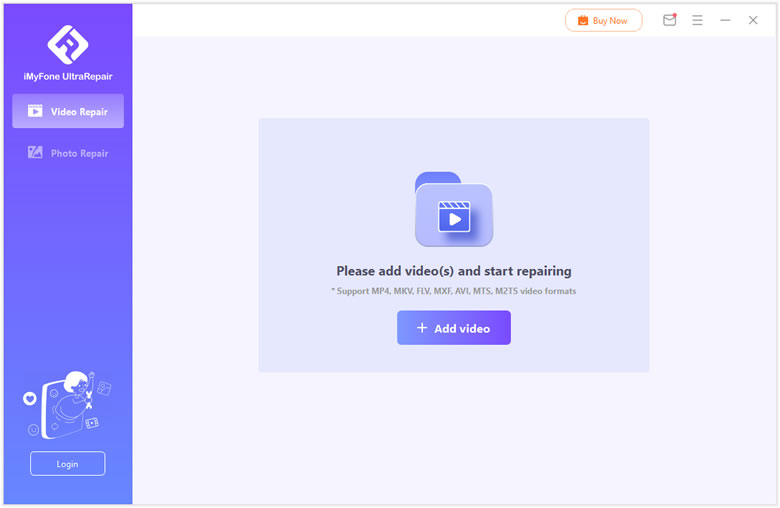 Step 2. Click on Repair to begin the advanced repairing process of UltraRepair.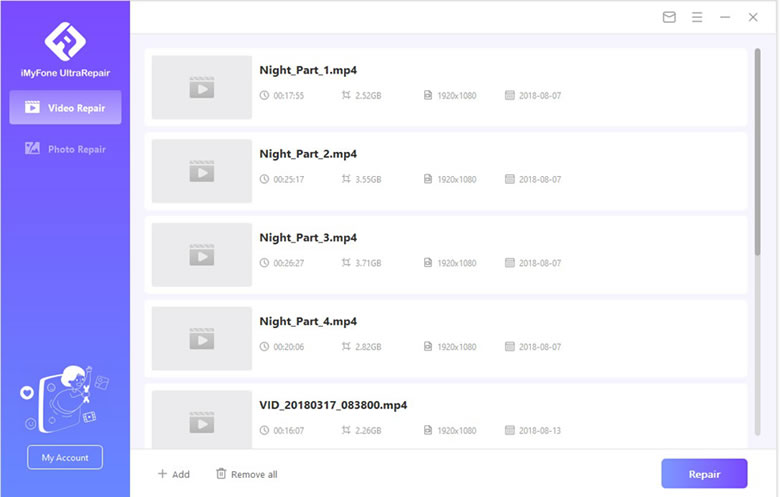 Step 3. Once it is finished, select the locations you wish to save your repaired files.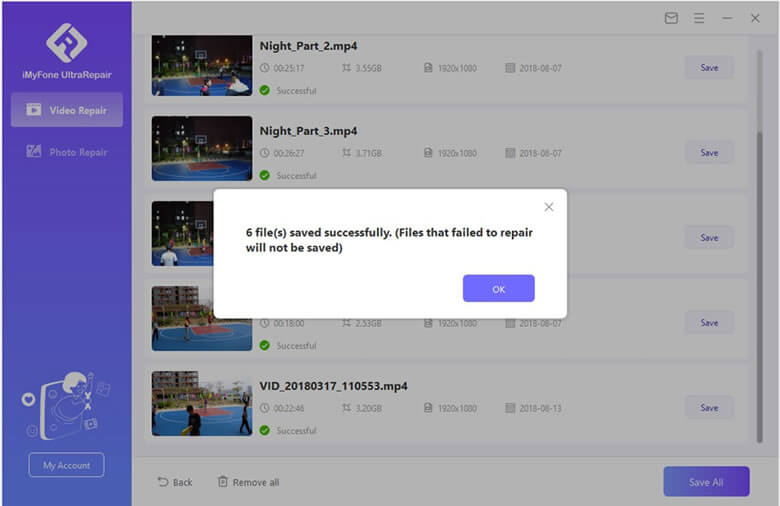 ---
03

Use iMyFone UltraRepair to Repair Corrupted File
Step 1. Install and launch iMyFone UltraRepair and select the "File Repair" section on the side of the program, then click on the "Add Files" button.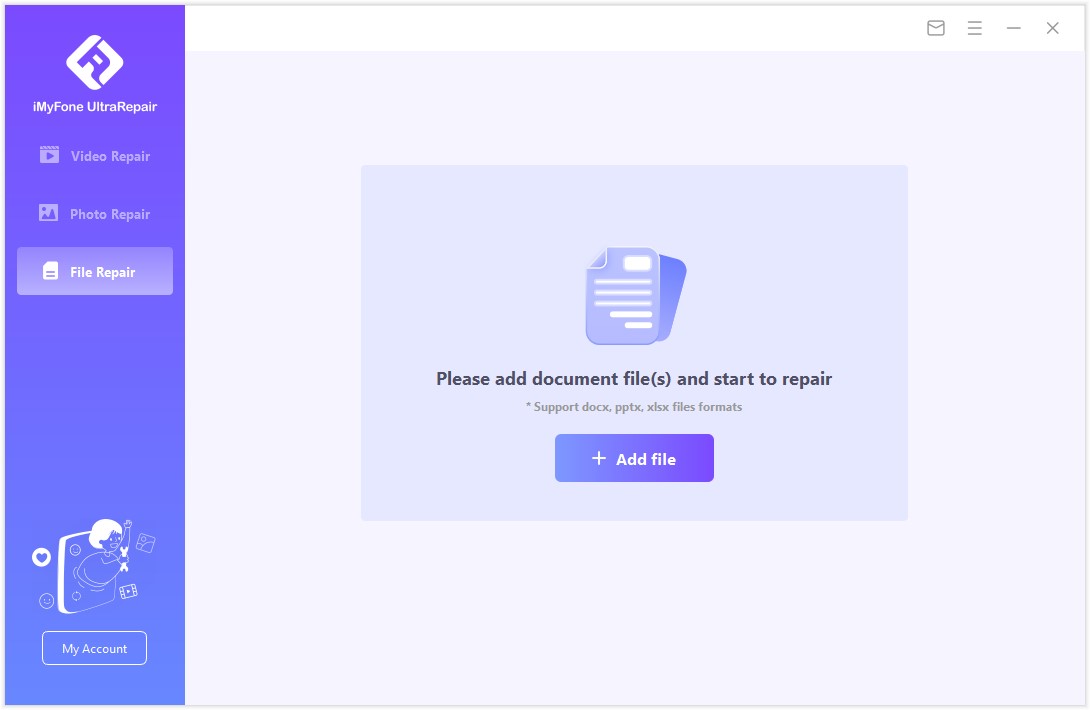 Step 2. When you uploading procession finished, the program will load them and display the progress on the screen.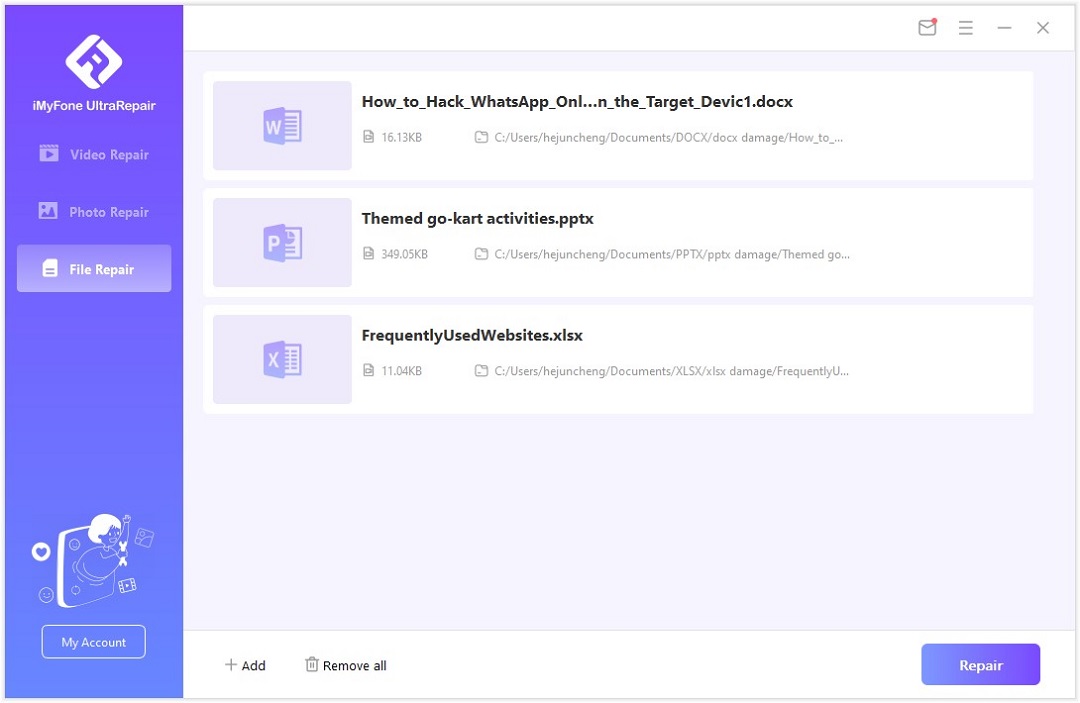 Step 3. The application will scan the loaded document and fix, just keep waiting for the procession finished.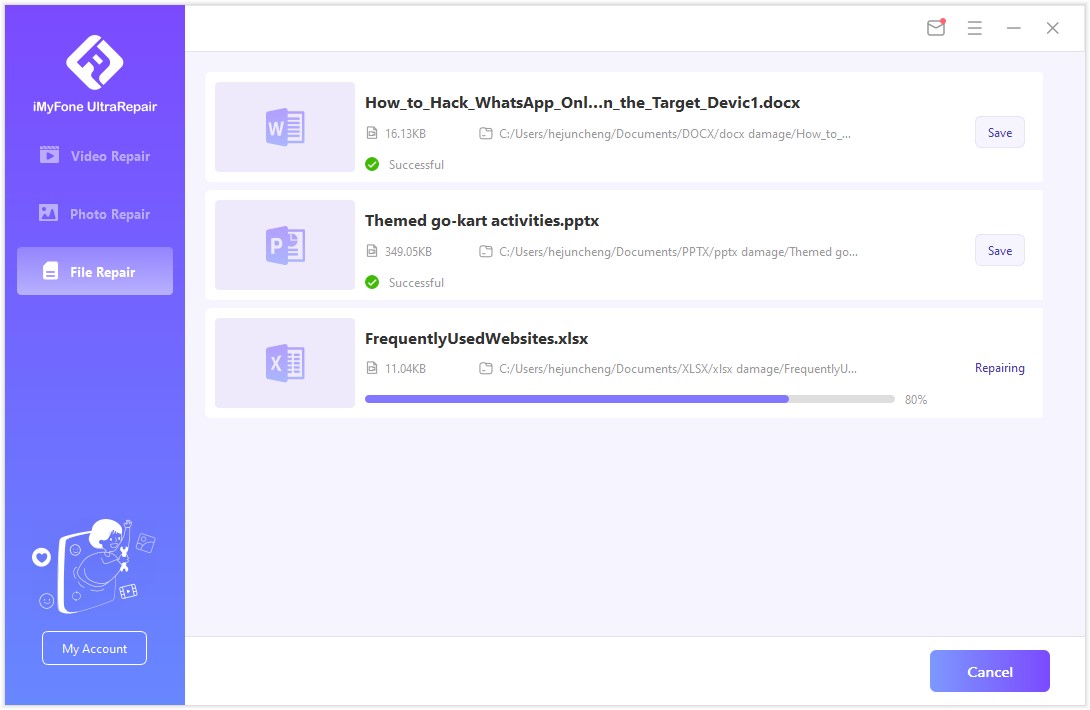 Step 4. Click on the "Save All" button to save the repaired file.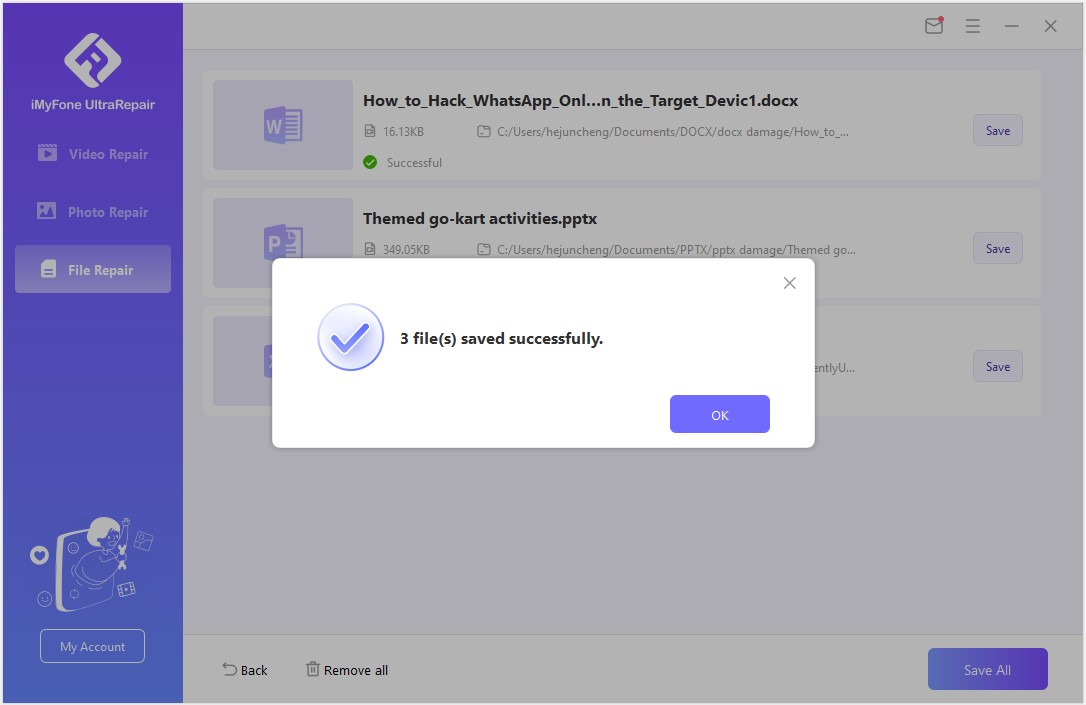 Part 4. The Price of iMyFone UltraRepair
Before we get into the specific pricing in our UltraRepair review, you should note that you can download a free version of the software that allows you to repair files up to a size limit. There is also an advanced preview option to ensure your files are repairable. Once you have tested the software out, you can select different pricing options according to your needs.
01

For UltraRepair Photo Repair Tool
| | 1-Month | 1-Year Plan | Lifetime Plan |
| --- | --- | --- | --- |
| Price | $19.95 | $29.95 | $49.95 |
02

For UltraRepair Video Repair Tool
| | 1-Month | 1-Year Plan | Lifetime Plan |
| --- | --- | --- | --- |
| Price | $29.95 | $39.95 | $59.95 |
03

For UltraRepair File Repair Tool
| | 1-Month | 1-Year Plan | Lifetime Plan |
| --- | --- | --- | --- |
| Price | $19.95 | $29.95 | $49.95 |
Limited Time 10% off Coupon Code for UltraRepair: YTR5E7
There is no pricing available yet for the UltraRepair file-focused option that works with PDFs, Word docs, and Excel files, as this is still in development and likely to be announced soon.
Part 5. UltraRepair Review FAQs
1

What types of video files does the video repair tool work with?
iMyFone UltraRepair currently works with file formats, including MP4, MKV, FLV, MXF, AVI, MTS, and M2TS. New formats are being announced frequently as the developers update the software.
2

What types of corruption can this tool repair?
UltraRepair works with pretty much any type of corrupt file. For example, if you have a grainy, blurry, pixilated video that seems jerky and out of sync, UltraRepair can restore it to a smooth viewing experience.
3

What is the "Advanced Repair" option?
In those rare cases of extreme file damage, UltraRepair allows you to add a sample file from the same device and in the same format to aid in the repair.
Conclusion
That's all reviews about iMyFone UltraRepair, a practical tool to help you restore your video and photo files to their former glory. You can download the free trial version to get an idea of how effective and easy it is to use this application.