WhatsApp has recently introduced a feature of status. The user can put up statuses just like stories on Facebook and Instagram. It is removed after 24 hours. Some WhatsApp statuses are so good that users want to save or download them. For this purpose, some apps allow the users to download or save the status. Today, we are going to talk about a few status saver apps for iPhone and Android. We will share their complete review so you can easily select the best one.
Part 1. What is WhatsApp Status Saver?
WhatsApp status saver is simply an app for iPhone or Android that allows the user to download WhatsApp statuses. It can include images or videos. The user can easily download or save a friend's status, whether it is an image or video. It is for people that want to repost an interesting status or edit it creatively and then reshare it.
Part 2. Free WhatsApp Status Saver for iPhone/Android Phone
2.1. GB WhatsApp Status Saver APK Review
GBWhatsApp is a customized mod of WhatsApp that allows the user to use two WhatsApp accounts on a single device. The best thing about GBWhatsApp is that the user can download this tool along with the original WhatsApp and won't interfere with it. It has different and unique features that default WhatsApp does not have.
GBWhatsApp allows the user to individually lock every chat. It enables the user to send larger files, and almost 90 pictures can be sent at a single time rather than only 10. The user can hide the online status and enjoy two different accounts on a single device. It has different themes that users can enjoy as well.
Coming to our main objective of the status saver. The user can simply open any status and download it to the phone. It has a status saver feature and works pretty fine like other features. If the user wants to enjoy GBWhatsApp, then an APK available online that the users can download and install on their Android phones.
2.2. FM WhatsApp Status Saver APK Review
FMWhatsApp is another WhatsApp mod that has enhanced features just like GBWhatsApp. It allows the user to read and see deleted messages and their friends' status. It has all the features that a default WhatsApp does not have. There is a myth that WhatsApp mod users will be banned; however, it is not true at all. FMWhatsApp has an anti-ban APK that users can download and then install on their Android phone to enjoy the extra features.
FMWhatsApp allows the user to download the status of their friends and family and then reshare it later. It is a status saver app, and this feature is not available in the default version of WhatsApp. Many more features in FMWhatsApp include call blocker, anti-delete messages, high-quality video and image sharing, App lock, chat backup, messaging a number without saving, and more.
2.3. Better WhatsApp Status Saver - iMyFone ChatsBack
The two custom WhatsApp mods that we talked about are only available on Android. So, what should an iOS user do in this situation? We have a solution that will work with both Android and iOS users. It is iMyFone ChatsBack. It is a better WhatsApp status saver than the apps we have discussed.
iMyFone ChatsBack is a desktop application that works as a data recovery tool for WhatsApp. It works with Android and iOS devices and can recover all types of WhatsApp data, including photos, audio, documents, status, messages, and more. It can save the statues and creates a backup that you can save on your computer and use the videos for further editing or any other purpose.
Main Features about iMyFone ChatsBack:
iMyFone ChatsBack can recover data directly from Google Drive or iTunes backup.
It can also recover WhatsApp data even if there is no backup.
The user can preview all the files before recovery.
It saves plenty of time for the saver by recovering data in a few minutes.
The user can also make selective data recovery if needed.
iMyFone ChatsBack is 100% safe and reliable to use.
Compatible with both the Windows and macOS operating systems.
Step 1: Download iMyFone ChatsBack on your computer and open the tool. You will see different recovery options. Click on "Device Storage" as we want to recover data from device storage.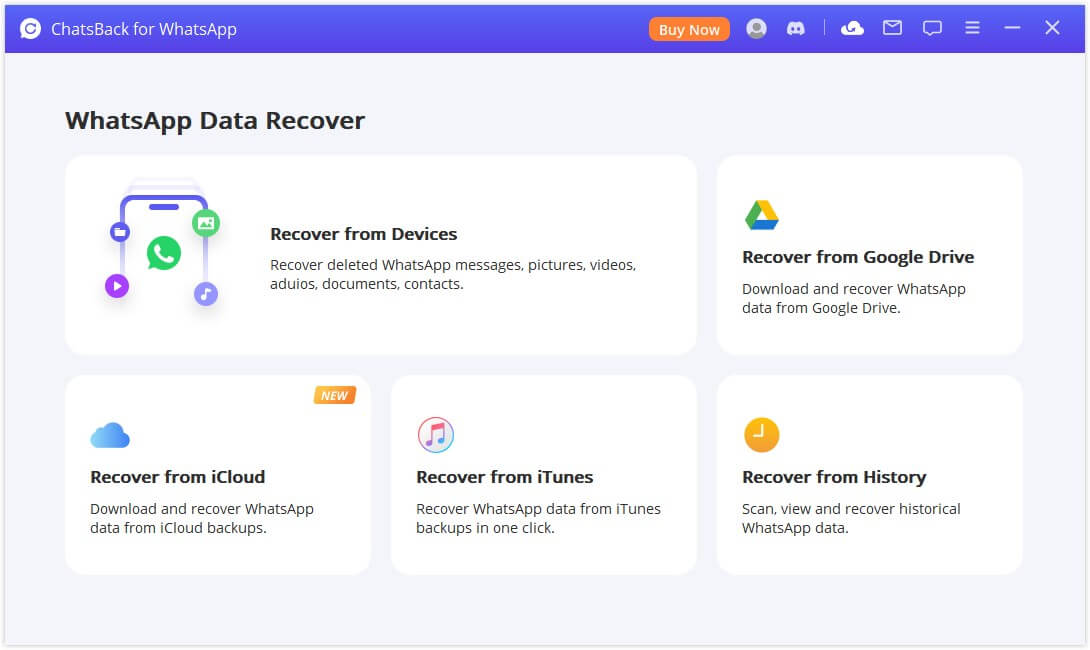 Step 2: Take a USB cable and connect your phone (Android or iOS) to the computer. The tool will detect your device. For iPhone users, the user can select the type of WhatsApp and then hit "OK" to proceed. And it will access your data from the storage.
But for Android users, the user needs to create an environment for data recovery. Grant permission, log into your WhatsApp, enter the code, and verify your account. Then the tool will analyze the database and start the scanning process.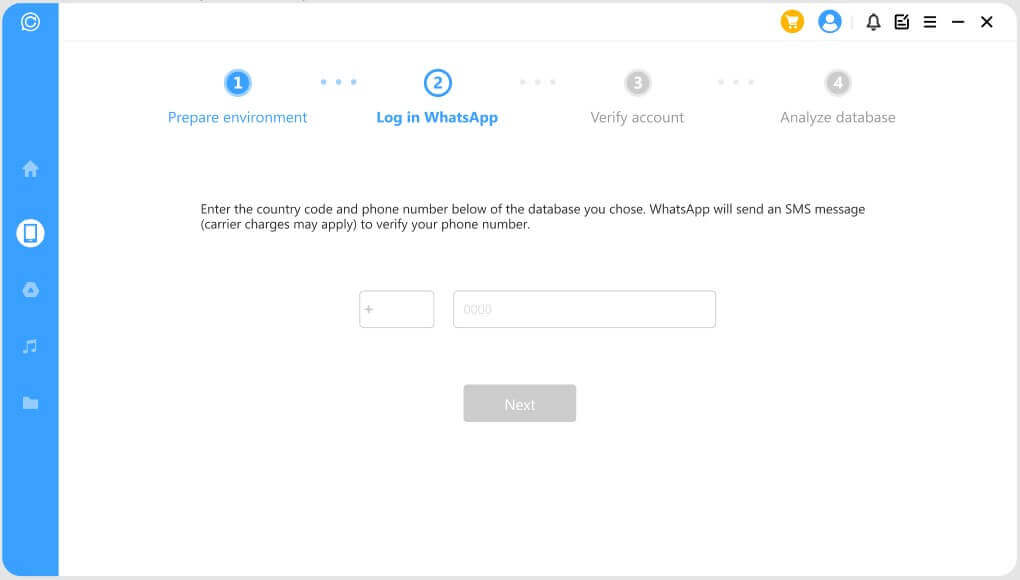 Step 3: Now, after scanning, the user can preview all the recoverable data, including WhatsApp messages, photos, videos, status, and more. Choose the data that you want to recover. The user can then click on "Recover to PC" or "Recover to Device" to restore the data.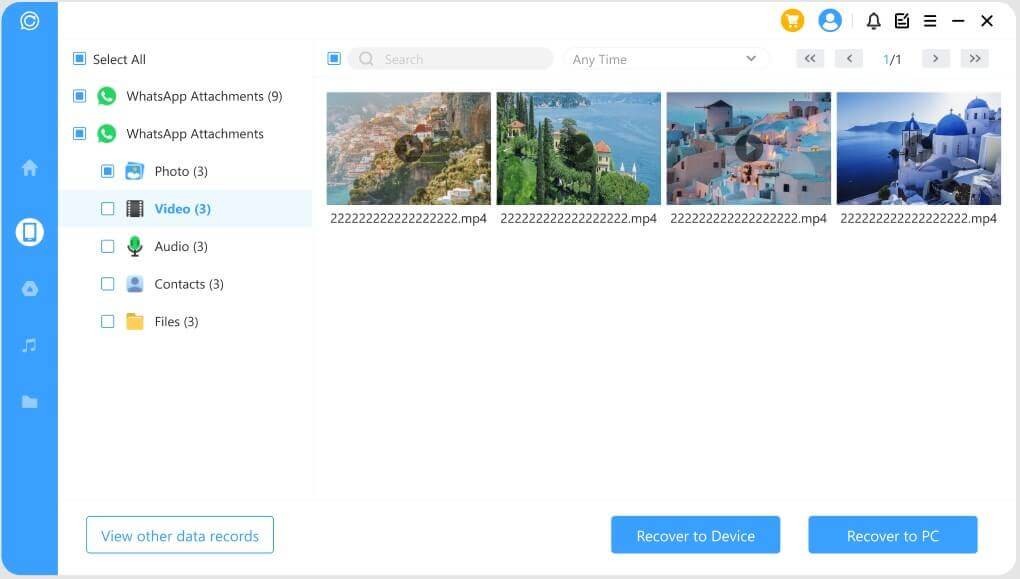 Advantages Over GBWhatsApp and FMWhatsApp:
iMyFone ChatsBack:
Able to recover deleted WhatsApp data, including media.
Can restore selective data to PC as well as on the device.
Does not require a WhatsApp mod.
Able to recover data from Google Drive and iTunes backup.
Can also recover WhatsApp data without backup.
Can create a WhatsApp backup easily.
iMyFone ChatsBack can export WhatsApp chats in different formats.
Part 3. FAQs

1

Is There a Status Saver for Business WhatsApp?
Yes. The tools we mentioned for WhatsApp status saver also work for Business WhatsApp. So, the user can download any version of the tool and start downloading the status.
2

How Can I Download WhatsApp Status Saver?
As these WhatsApp mods are not available in Play Store, the user can download their APK, copy them on the phone and install them. There is no way to directly install the tool from the Play Store.
Conclusion
WhatsApp has different mods that allow the user to experience features like never before. GBWhatsApp and FMWhatsApp are the most famous mods that users can download and enjoy their features. However, these only work with Android devices. For iOS devices, we have iMyFone ChatsBack. With this tool, it works with Android and iOS devices, and the user can easily recover any deleted data, including status. iMyFone ChatsBack has a free trial version that users can download for free.