WhatsApp is the most used social media platform, with 2 billion having the privilege to create their accounts on this platform. Despite WhatsApp being a highly popular platform, you'll find it difficult to transfer WhatsApp data across different devices.
iMyTrans emerges as one of the most reliable tools for creating the local backup of your WhatsApp data and then exporting WhatsApp data across various platforms and devices.
How to use iMyFone iMyTrans, and what are the benefits of using this tool? Let us find it in the iMyTrans Review.
Part 1: iMyFone iMyTrans Review
1.1 What 's iMyTrans?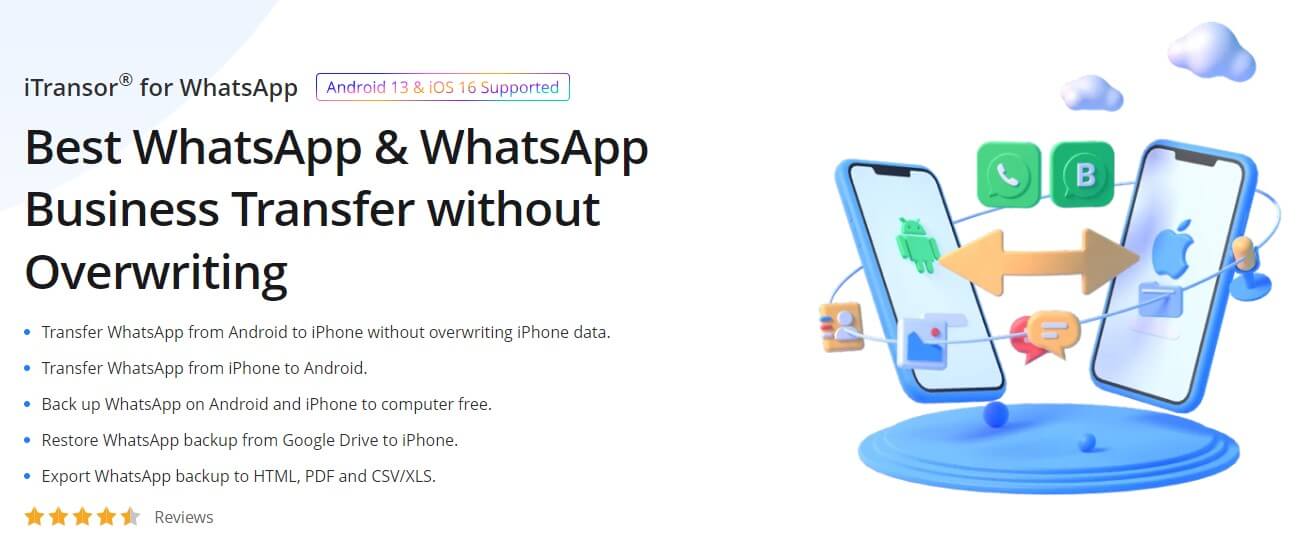 iMyTrans is a brilliant app that stimulates transferring WhatsApp data across different devices. The best thing about this tool is that it doesn't overwrite the data when you transfer WhatsApp across other devices. Using this excellent tool, you can also export the WhatsApp backup to your PDF, HTML, XLS/CSV files without using any third-party app.
1.2 The features of iMyTrans
1. Transfer WhatsApp across different devices
Whether you're using iPhone, Android, or PC, iMyTrans allows you to share WhatsApp data among these devices. Luckily, you can export WhatsApp data from iPhone to Android and vice versa. Moreover, transferring the data from PC to iPhone, iPhone to PC, Android to PC, or PC to Android won't be an issue.
2. Easy to use
The best thing about iMyTrans is that it has an intuitive user interface, as you can share WhatsApp attachments and chat history from one device to another in one click.
3. Direct Transfer
iMyTrans doesn't ask you to arrange another tool to share WhatsApp across different devices. Instead, it exports the WhatsApp data directly.
4. All attachments and chat are covered
The tool allows you to share every type of WhatsApp data, including videos, photos, WhatsApp messages, and more.
5. Keeps every backup
The significant thing about iMyTrans is that it doesn't overwrite the data or delete your previous backups.
6. Free Storage
iMyTrans blesses you with free storage, preventing you from purchasing the cloud service to store the WhatsApp backup.
Part 2: Is iMyTrans Safe?
Many users tend to ask this question and the befitting answer is that iMyTrans is a 100% safe platform. You won't find any malware or virus in this program, and iMyTrans takes care of your privacy, ensuring that your personal information doesn't get compromised. Moreover, this software also comes with various security upgrades that help users stay updated and download the latest features. iMyTrans also comes up with a 30-day money-back guarantee that allows you to claim your money if you don't like the services of iMyTrans.
Part 3: How to use iMyTrans?
Using the iMyTrans is easy, as you'll only need to follow a few steps to get your job. We are taking the iMyTrans Android to iPhone as an example to show you how to share WhatsApp data between Android and iPhone.
Step 1: Visit the official website of iMyTrans and save time before installing the latest version of your PC soon. Next, launch the iMyTrans and connect the Android and iPhone devices to the PC through USB cables. Next, choose'' Transfer WhatsApp between devices''.
Step 2: Now, iMyTrans will detect your devices. Since you're sharing the WhatsApp data from Android to iPhone, all you need to do is make sure that Android devices appear as a source and iPhone as a destination.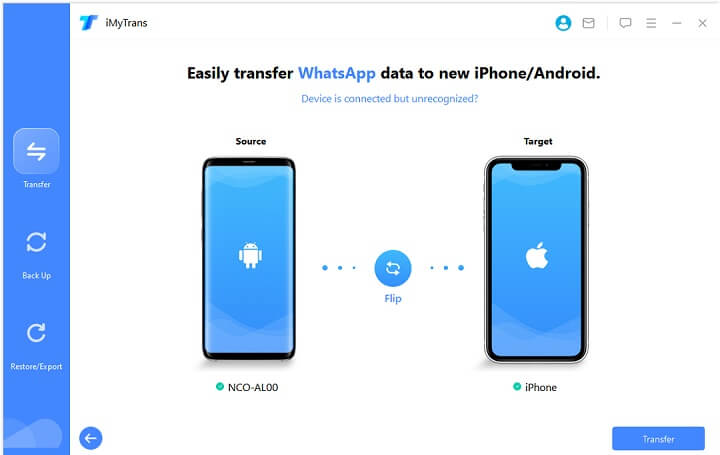 Step 3: Tap the ''Transfer'' icon to transfer the Android WhatsApp data to the PC. Remember, the process will take some time, and you must only disconnect all of the devices once the iMyTrans transfers the WhatsApp data.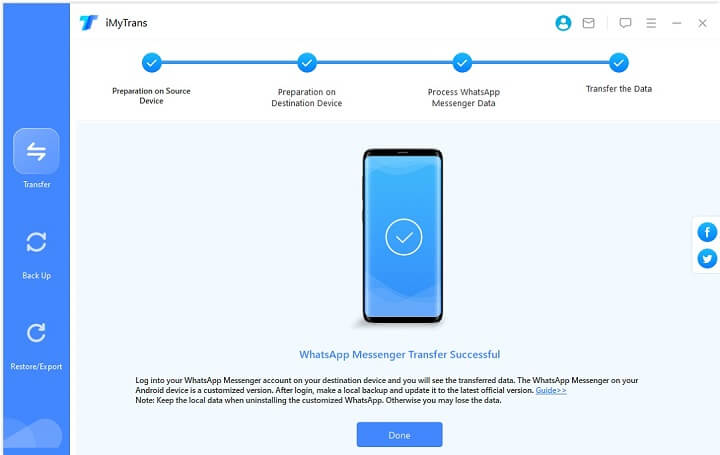 Part 4: FAQs about iMyTrans Review
4.1 What is iMyTrans price?
Despite offering professional and advanced services, you can pay a small amount to claim the premium package of iMyTrans. Instead, if you intend to acquire the monthly package of this software, all you have to pay is only $29.95. A yearly package of iMyTrans costs you only $39.95. Surprisingly, if you're looking to get the lifetime plan of iMyTrans, the software will charge you only $49.95.
4.2 Will the other data on my phone be affected by using iMyTrans?
Those who fear that the installation of iMyTrans can affect the data stored on the mobile device, making personal information should relax. Since iMyTrans doesn't track your device data and comes up with 100% reliable security features, you don't have to worry about your data getting vulnerable to a malware or virus attack.
4.3 Can I use iMyTrans to transfer whatsapp messages from Android to iPhone?
It goes without saying that iMyTrans can transfer data from one device to another. The best thing about this tool is that it doesn't care about the model or brand of a device. Instead, you can share the WhatsApp data from one device brand to a contrasting phone brand. Hence, if you're looking to transfer WhatsApp messages from Android to iPhone, you won't have any difficulty serving your purpose. You can transfer WhatsApp messages from Android to iPhone in a few clicks.
Conclusion
You can look forward to various things after reading the iMyTrans review. This software has all the ingredients needed to share WhatsApp data across different devices without compromising data quality. Apart from offering the simplest user interface, iMyTrans comes up with an affordable premium package. So, opting for iMyTrans will be the best decision you have made in your life.