"Does anyone know how to access voicemail on Android? I want to listen to the voicemails that my friend left. I'm owing a Samsung Galaxy S9! Thanks in advance!"
Voicemail is a recorded audio message which you can listen to later. For instance, you want to talk to your friend about something really important. However, if your friend is busy and unable to pick your call, you can drop a voicemail to your friend instead of a text.
A voicemail isn't stored on your device. Instead, it is stored in a mailbox on your network service provider's server, just like a mail. However, many people find it difficult to set up and access voicemail services on Android phones. There are a few different ways on how to access voicemail on Android and how to set up voicemail.
How to Access Saved Voicemail on Android
You can get into voicemail on Android phones by calling your voicemail service. Some carriers offer you the option to see a list of voicemails recorded in your Phone app. Don't worry! There are other ways of accessing voicemail on Android.
Option 1. Tap A Message Notification to Check Voicemail on Android
This is pretty easy and straightforward. You are always notified when you receive a message. Similarly, when you receive a voicemail, you can access voicemail on Android phones from the notifications.
Swipe down from the top of your Android phone screen.

Tap on the voicemail message.
Option 2. How to Access Visual Voicemail on Android Using Visual Voicemail
Visual Voicemail also can help you in accessing voicemail on Android. Here's how:
Open your Android Phone app.

Select Visual Voicemail.

Go ahead, check, and listen to your voicemails.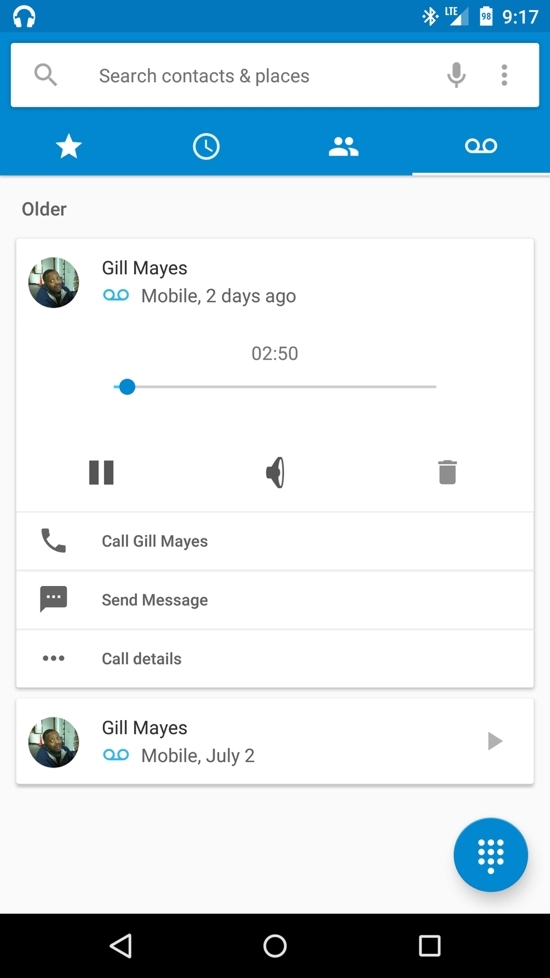 If you can't see any option listed as visual voicemail, it means visual voicemail is not enabled on your Android phone. Here' how you can enable it.
Go to your phone Settings.

Go to Apps, select Visual Voicemail.

Go to Permissions and in that turn on the phone Setting.
Voila! You can access voicemail on Android phones via Visual Voicemail. However, for visual voicemail, the Android version of your phone should be Android 6.0 or above. Moreover, not all network service providers offer Visual Voicemail. Some even levy additional charges for using it.
Option 3. Access Voicemail on Android by Calling In
This is one of the most common and easiest ways of accessing voicemails on Android. You have to simply call your mailbox where your voicemails are stored. Use the quick dial or from your Android phone call your number to listen to your voicemails.
Step 1. Go to the Phone app.
Step 2. Select the dial pad option at the bottom.
Step 3. Tap and hold 1.
If you've locked your voicemails with a password, enter your password to access your voicemails.
Option 4. See A Transcript of Your Voicemails (Xfinity and T-Mobile USA users only)
If your mobile service provider is Xfinity and T-Mobile, then you can get a transcript of your voicemails. To get a transcript, your phone's Android version must be Android 8.0 and up. Currently, you can get a transcript only in English and Spanish. To get a transcript, turn on the option of voicemail transcript.
Go to your Phone app.

Tap the three dots.

Go to Settings and select Voicemail.

Turn on the option of Voicemail Transcription.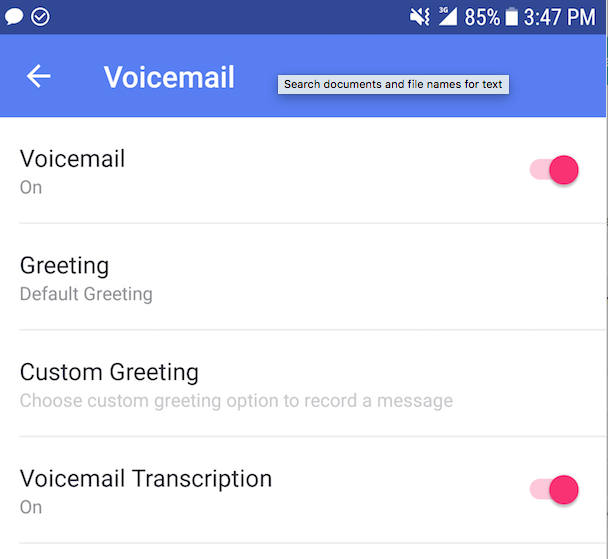 If you can't view the option of Voicemail Transcription, it means your phone's Visual Voicemail option isn't enabled. Scroll up and check how to enable Visual Voicemail for your phone. You can even share transcripts with anyone. Select the Share option and select the app through which you want to send a transcript.
When you enable the voicemail transcription option, Google will transcribe all voicemails, including the old ones. If you disable the voicemail transcription option anytime, all voicemail recordings and transcriptions will be deleted from your Phone app. Your voicemails are transcribed by google on a computer. Google doesn't permanently store voicemails as it is not associated with your Google account. All voicemails are stored on your phone.
How to Set Up Voicemail on Android
If you haven't set up, do it now! Even if you're using other voicemail applications like Google Voice, your carrier voicemail service will always be a valid option if other such services fail.
As mentioned above, you can access voicemail on Android phones by tapping and holding down key 1 on the dial pad. After that, your phone will dial your phone number. You will be connected to a mailbox where all your voicemails are stored. You'll be prompted to enter the password. Password is your phone number's last four digits, followed by the key #. If this doesn't work for you, follow the below-mentioned steps.
Step 1. Go to the Phone app.
Step 2. Tap the three dots.
Step 3. Go to Settings and choose Call settings.
Step 4. In the Call settings, choose Voicemail.
Step 5. Go to Advanced Settings.
Step 6. Select Setup and tap on Voicemail Number.
Step 7. Enter your phone number and select OK.
Once you've completed these steps, you need to call your carrier voicemail service for further steps. Select how your name should be, a password for your voicemails, a greeting message, etc.
Bonus Tip: How to Access Saved VoiceMail on Android
If you unfortunately delete voicemail that are important to you from your Android device, then you may need a pro recovery tool to help you get them back. Here D-Back Android comes. The iMyFone D-Back recovery software for Android devices is a useful tool that helps you to get back the saved voicemail on Android no matter with or without backup.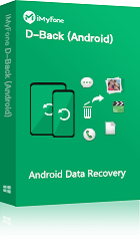 1,000,000 Downloads
D-Back Android Offers
The highest level of security along with a faster retrieval rate, offers 3 recovery modes.

It helps you to recover various data types, including WiFi passwords, photos, text messages, etc.

Before the recovery, you can preview and filter which ones are needed.

D-Back can help you in getting back your lost data from both rooted and unrooted Android devices.

It is 100% safe to use and there is no exposure or leakage of personal data.
Wrapping Up
The importance of voicemails is increasing as professionals have started using voicemails instead of just relying on emails and calls. With so many different ways explained, you now know how to access voicemail on Android. Set up voicemail on your phone because voicemail isn't going out of style!