Losing important contacts can undoubtedly make a huge loss for anyone who has kept them for many years. It is hard to lose contact with friends, important people, loved ones, and people that are close to us. If you have also lost your contacts, don't worry; this article will help you recover them effortlessly.
You will learn some quick ways to recover your essential contact without losing precious time.
Part 1: Can I Recover Deleted Contacts from My Android Phone?
Yes, the recovery of your contact is possible, whether permanently or temporarily. You will learn how to recover them quickly with the easiest and simple methods.
Recovery is the process of reclaiming all your important data that is deleted accidentally or deliberately. Significant data loss occurs due to a virus attack, malware, accidental deletion, hardware problem, etc. Sometimes, it is quite difficult to recover the data, but you will recover it through this article. It is easy nowadays to manage and save contacts, but on the other hand, it is challenging to keep them safe from such damage.
Part 2. How to Recover Contacts from Android Phone
There are many ways to recover your contact from an Android phone, but we will teach you to verify whether or not the contact is deleted. If they are deleted, proceed to other ways mentioned in this article.
2.1. Verify if The Contacts Have Been Hidden Or Deleted Before Recovery
Sometimes our mobile phone does not show all the contacts available. It shows only the phone or sim card contacts. We will guide you on how to get them back.
There is also a possibility that you have accidentally hidden or blocked any contact which will be unable to preview in the contacts application. Let's see how you can verify the contacts before recovery.
Step 1: Open "Contacts" from the application menu of your Android phone.
Step 2: Tap on the more icon on the right-hand side of your screen. Go to "Settings" to manage the options available.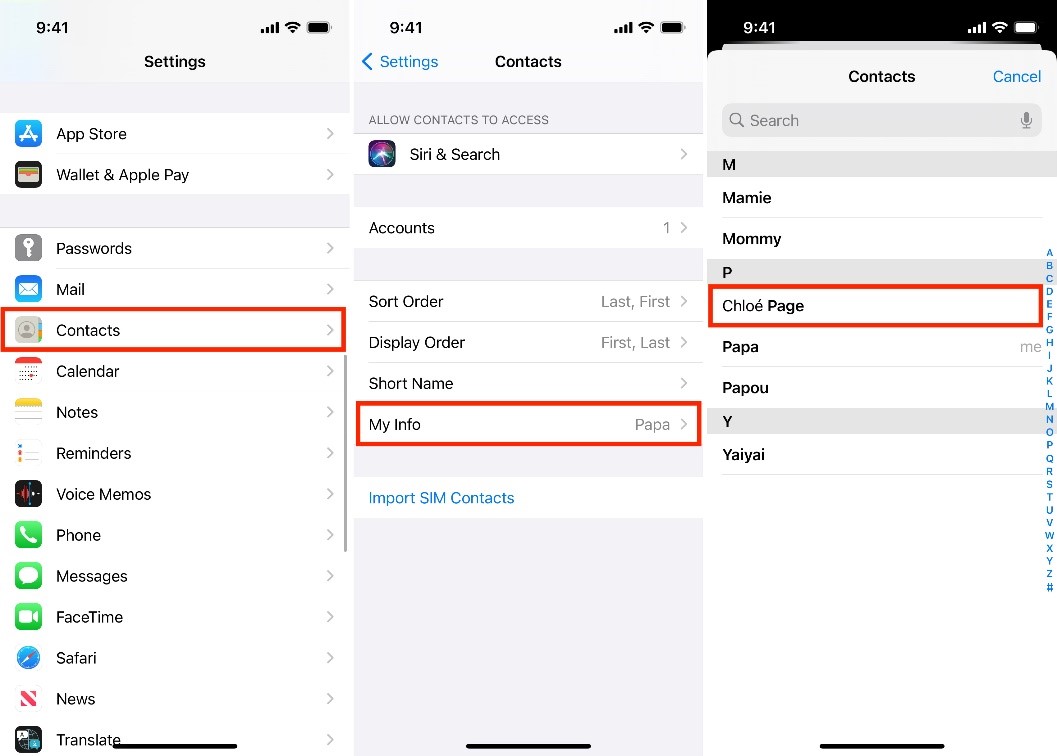 Step 3: Tap "Contacts To Display" and switch the selector to "All contacts." It will show you all the contact after selecting this option. Check for the contacts, whether retrieved or not; otherwise, try another way to move them back.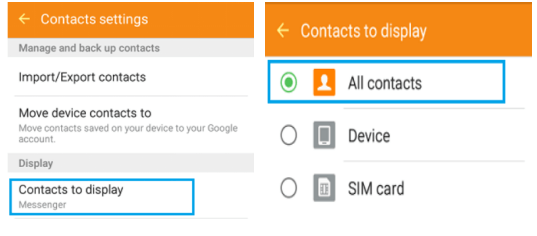 2.2. Restore Deleted Contacts from Trash
The contact may have been accidentally deleted, or you have deleted it in anger. They are not permanently deleted because some Android phones have a feature to store them in the trash for 30 days. After 30 days, they will be automatically deleted permanently. Let's see how this works.
Step 1: Open "Contacts" on your Android phone from the app drawer.
Step 2: Tap the more icon on the top right corner. Tap "Recycle Bin" or "Trash," which is available on your phone.
Step 3: Select the available contact and "Restore" to recover them within seconds. After the process, check your contacts for confirmation.
2.3. Retrieve Deleted/Lost Contacts from Android with Advanced Method
If both methods fail, use this way to recover your vital contacts. This is the most advanced recovery method, no matter how your contacts are deleted.
iMyFone D-Back for Android is legitimate recovery software well-known for its accuracy. Apart from contacts, you can recover ten other types of data. It has a brilliant recovery algorithm that recovers all past files, no matter how old. It requires a meager amount of disk space, and you can run it on a low-end computer because it doesn't require a high processor. It recovers the data from 6000+ Android phones, including tablets. It recovers your data from impossible scenarios like black screen, broken screen, and rooted devices.
iMyFone D-Back for Android creates a preview before the recovery so that a user can filter out the files the person is looking for. Let's dive into the steps and learn to recover the contacts.
Step 1:Download iMyFone D-Back for Android and install it on your PC. It is currently available only for Windows.
Step 2:Launch the software on your PC, Click "Recover from phone." After entering, connect your mobile phone via data cable with your PC.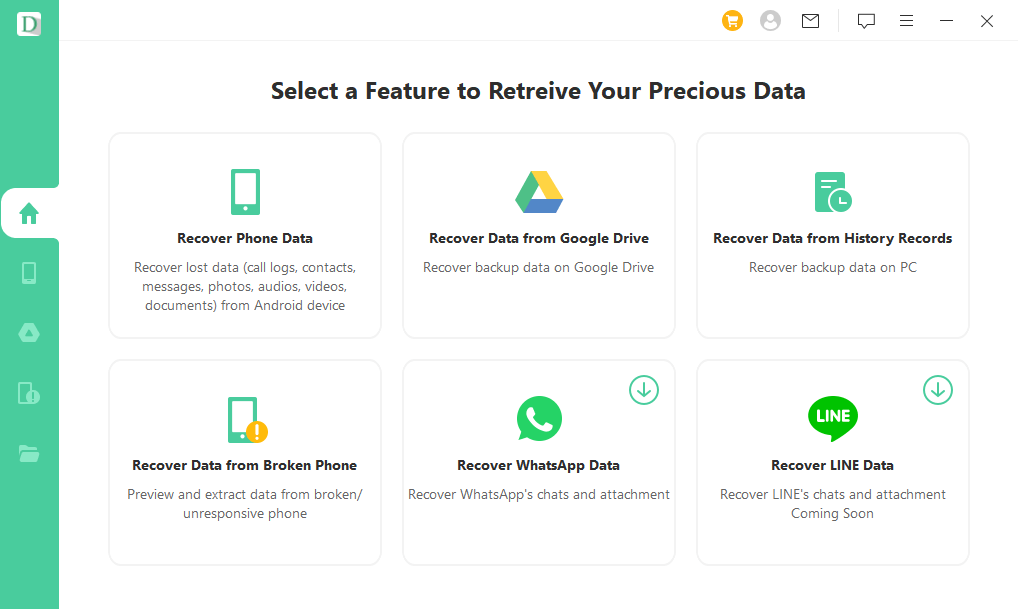 Step 3:Select "Contacts" as a file type and hit "Recover."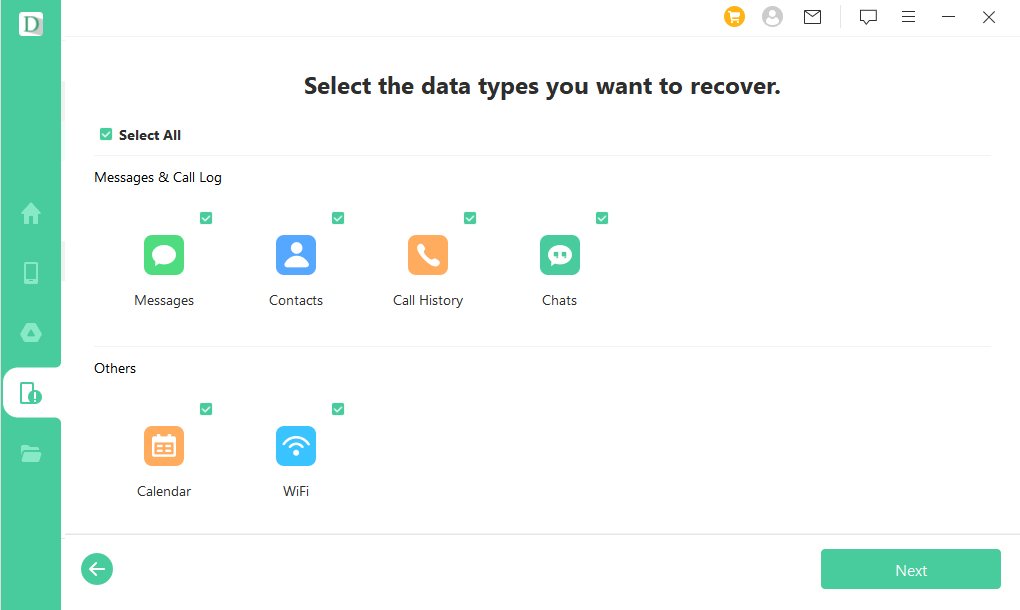 Step 4:It will load a preview for you. Please select the relevant contact you want to recover and hit "Recover." Enter the "File Path" and "File Type" and then again hit "Recover" to recover the contacts.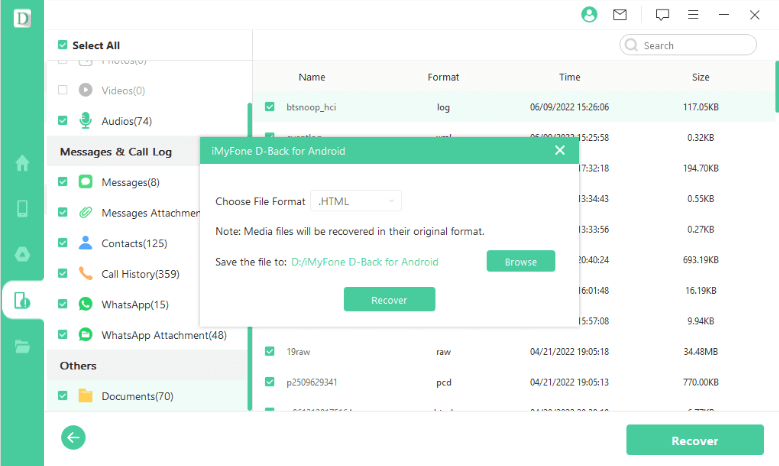 Part 3. FAQs
01

How can I recover contacts from a broken android phone?
You can recover it through iMyFone D-Back for Android because it directly accesses the phone's data without allowing it.
02

Can permanently deleted contacts be recovered?
Yes, permanently deleted contacts can be recovered via iMyFone D-Back for Android, an exceptional software because of its services.
03

How can I retrieve deleted contacts on android without backup?
You can retrieve the contacts from the trash folder, or they might be hidden on your phone; otherwise, you can use iMyFone D-Back for Android when both ways fail.
Conclusion
Contacts are the only way that connects us with our loved ones. It is unbearable to lose such contacts that are close to us, but don't worry; you can still recover them. Follow the methods we have discussed, but if you need the best results, you can use iMyFone D-Back for Android. It offers the best and most accurate recovery if you lose important contacts.