In 2017, Amazon released a new logistics mobile app called Amazon Relay app. The goal of the app is to increase the distribution and delivery of products that people sell on Amazon. With so many deliveries happening every day, Amazon needs outsourced drivers to help them ship across the country.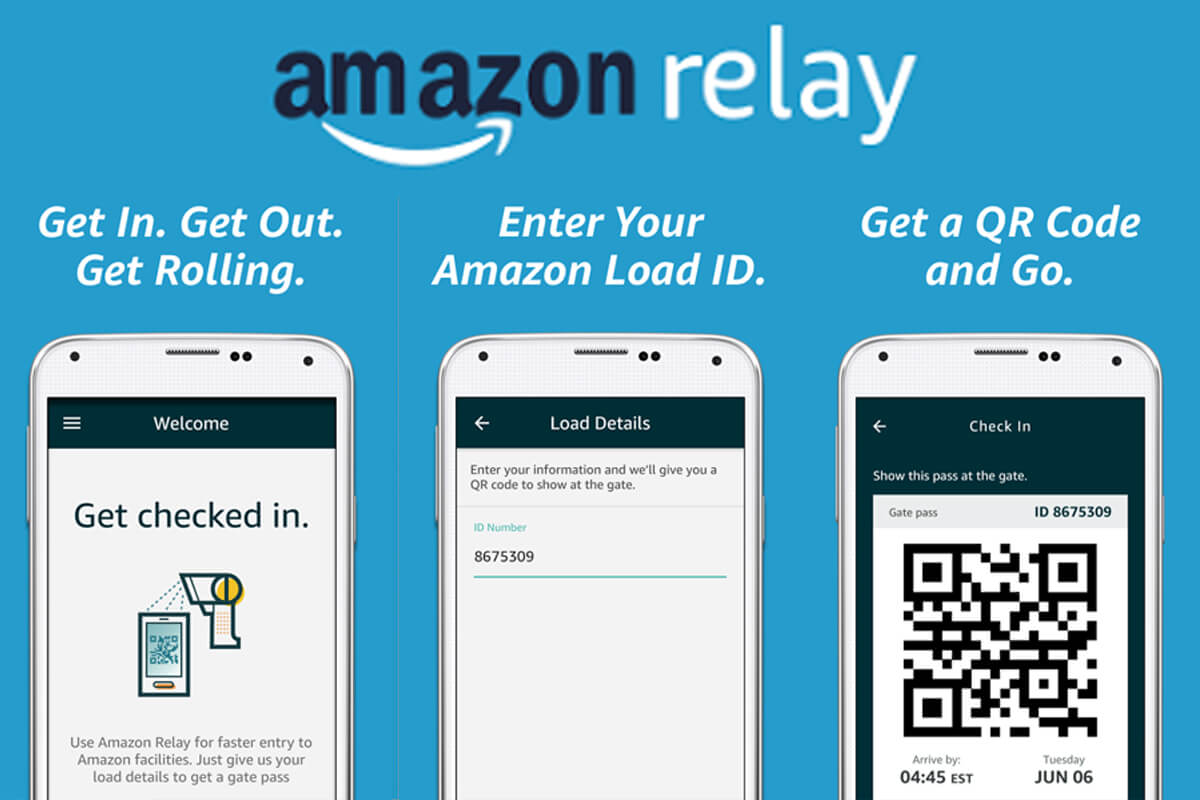 In 2020, more than 65% of the U.S. population will visit Amazon once a month to buy a product. Without a doubt, this is a huge business opportunity! Amazon Relay helps connect private drivers and companies with all these deliveries so they can make money by shipping them across the country. Drivers see the loads they want to take on, click to accept those deliveries, and start earning money.
The Amazon Relay program is designed to handle shipping. Amazon's goal is to work with drivers who have a proven track record, excellent safety, and high precision. They'll prefer experienced drivers to novices, but as long as you can demonstrate that you can get the job done, you'll find plenty of opportunities to deliver Amazon freight nationwide.
It's that simple.
Part 1: How Amazon Relay Helps Carriers?
---
Relay will automatically book loads that match your criteria so you can focus your time on growing your business. Enjoy a wide range of exclusive jobs across Amazon's entire shipping network with transparent pricing and 1-click job booking.
Statistics show that there is a shortage of truck drivers in 2019. What is the situation? Currently, Canada reports a shortage of about 25,000 truck drivers, while the United States reports a shortage of about 60,000 truck drivers. This is expected to increase over the next few years.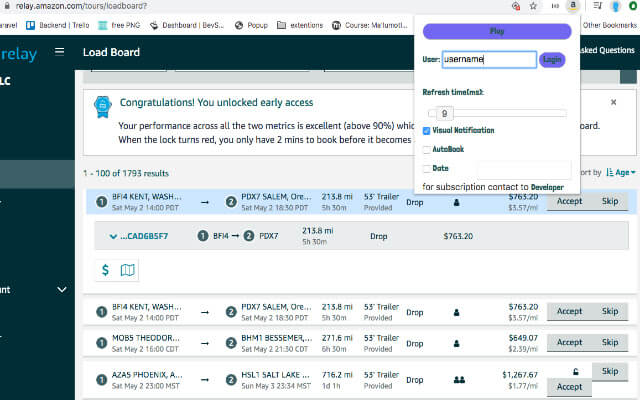 Amazon Relay does a cool calculation where they show a basic outline of the job (where you're going, how much you're towing, if you need a partner) and then run the numbers to give you per-mile earnings. This varies widely between $1.21 and $3.09. The best payments tend to be on major freight routes between major cities, like Los Angeles to Phoenix or New York to Miami, to name a few.
Amazon Relay gives you and your small shipping line everything you need to be profitable. You may not be able to earn the income of the big companies on a regular basis, but due to the supply and demand nature of the app, you actually have the potential to earn more as your shipments increase. That means the more people using Amazon, the more likely you are to get a job. Since no one expects Amazon to be leaving anytime soon, yes, the potential to earn high income is good.
Part 2: What are the Amazon Relay Requirements?
---
Amazon Relay does everything in its power to work with companies and independent truck drivers to ensure safety, accuracy, and reliability. The more you can demonstrate that you've been on the road for a while and understand how to efficiently meet your delivery requirements, the happier Amazon will be to work with you.
To qualify as an Amazon carrier, you must:
1 Possess a valid DOT number with interstate authorization and a valid MC number.
2 Become a "Carrier" entity type authorized for property and lease.
3 Get a Federal Motor Carrier Safety Administration (FMCSA) safety rating of "Satisfied," "None," or "Not Rated".
4 Has a Behavioral Analysis and Security Improvement Category (BASIC) score that meets Amazon Relay's official standards.
5 Have all required insurance policies.
In most cases, you can expect Amazon to approve your application within 2 to 4 business days, as long as the above documents are in place.
Part 3: How about Amazon Relay Rates?
---
Spot load rates for different shipments will depend on many factors, such as what you're carrying, weight and distance traveled. You can find many YouTubers on the Amazon Relay load board for current offerings ranging from $1.21 to $3.09 per mile. It can be anywhere from hundreds to thousands. As of June 22, 2022, the average annual salary for Amazon Relay in the United States was $62,960. Just in case you need a simple wage calculator, it works out to be around $30.27 per hour. This equates to $1,211 per week or $5,247 per month.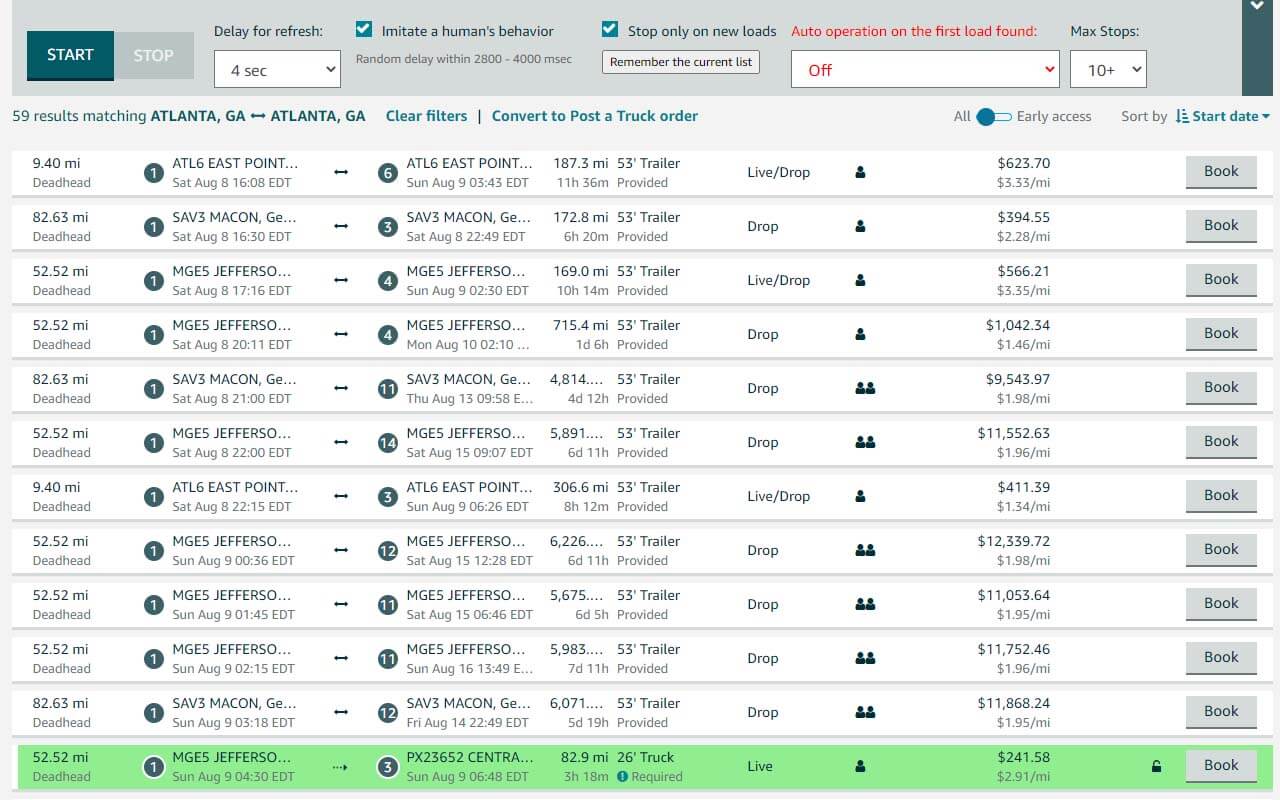 The major shipping companies will definitely pay more and have employee benefits, but getting into these companies requires close networks and years of work until you get noticed.
Amazon Relay is easier to get paid than brokers or regular business-driven companies. Instead of waiting months to clear funds, Amazon makes payments based on a payment cycle that runs from Sunday to Saturday. Everything completed by 11:59pm Saturday will be paid the following Friday. All invoices are automatically generated and available for you to view in the Amazon Relay portal.
Part 4: Amazon Relay Trucking Tips & Tricks
---
Most automatic bookers refresh the Amazon Relay page one to ten times per second. The faster Amazon relays page reloads, the better chance of getting a better load. Refreshing the Amazon Relay page too quickly can slow down Amazon server response time. How to get the most orders from Amazon Relay? How to complete the order task at the lowest cost. Here are 2 very useful tools found for you that may be able to help you.
1. SwiftRelay Autobooker
---
Swifttrelay Auto Booker is a versatile Amazon Relay Page Refresher and Auto Booker resource. SwiftRelay Auto Booker simplifies the dispatcher's job by automatically refreshing and booking optimal loads. SwiftRelay Autobooker, in addition to simple automatic refresh, can also mimic the refresh mode of the dispatcher.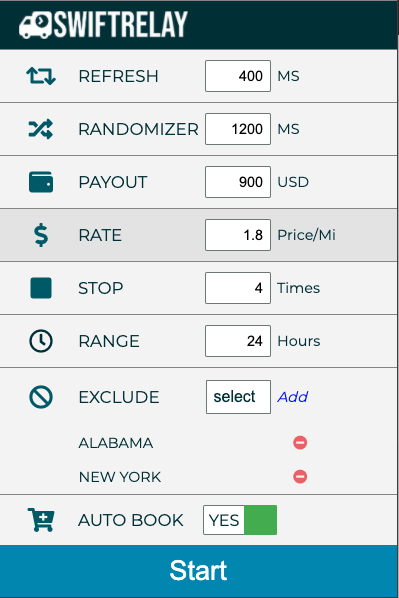 Related Tips
1. Minimum spend
2. Minimum rate per mile
3. Refresh rate in millisecondse
4. Maximum number of stops
5. Car book
6. Exclusion status
7. Randomizer
8. Simulate a human operator
9. Booking time frame
10. Highlight matching loads
2. iMyFone AnyTo Location Spoofer
---
iMyFone AnyTo Location Spoofer is a technical software for GPS technology. It has become one of the favorite software of millions of computing users with its powerful functions and easy-to-understand operation method. As a technical application assistance software, any software or application running based on GPS technology can be solved by iMyFone AnyTo Location Spoofer.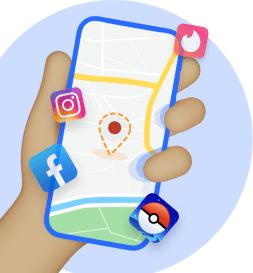 Change GPS Location on iOS/Android
Change the location of your GPS to anywhere in the world.
Plan a route and move on it at a customizable speed. Search for a specific destination.
It works very well with location-based apps like Tinder, Snapchat, popular social media platforms, etc.
Be compatible with both Android as well as iOS phones.
Let's see how to use the program:
Step 1: Setup iMyFone AnyTo
Click the Try It Free button below to install iMyFone AnyTo on your computer. Then open it and click Get Started. Connect your phone to the PC via USB. Click Trust on the device for the prompt.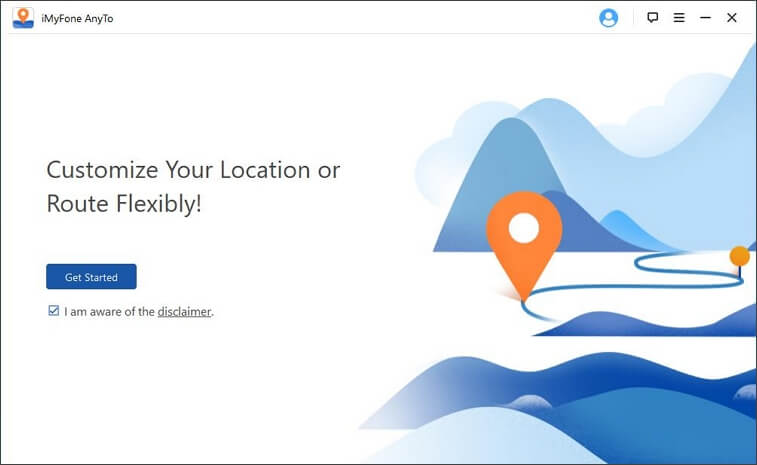 Step 2: Select Teleport Mode
After your map has loaded, it will show where you are on the map by default. choose Teleport Mode in the top right corner, the third icon.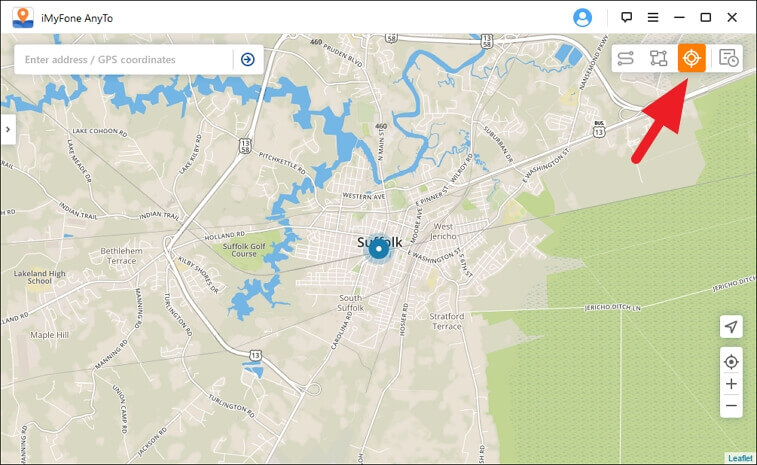 Step 3: Select an address for your device's map
Now on the map, just pinpoint a place that you hope you were there.
You can drag and pinpoint Tokyo on the map, or search Tokyo in the Search box. Then this Pogo spoofer will show the infomation including address, coordinates and the distance. You can zoom in and out the map to locate your place.
Alright! Now just click on the Move button. You can see the location is changed to the new place instantly.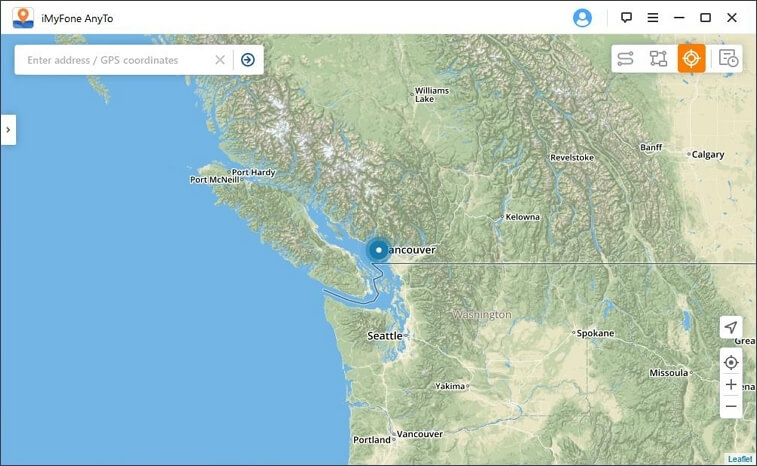 Open the Map on your device, you will find that you have successfully spoof your location. Now that you have started, you can continue enjoying.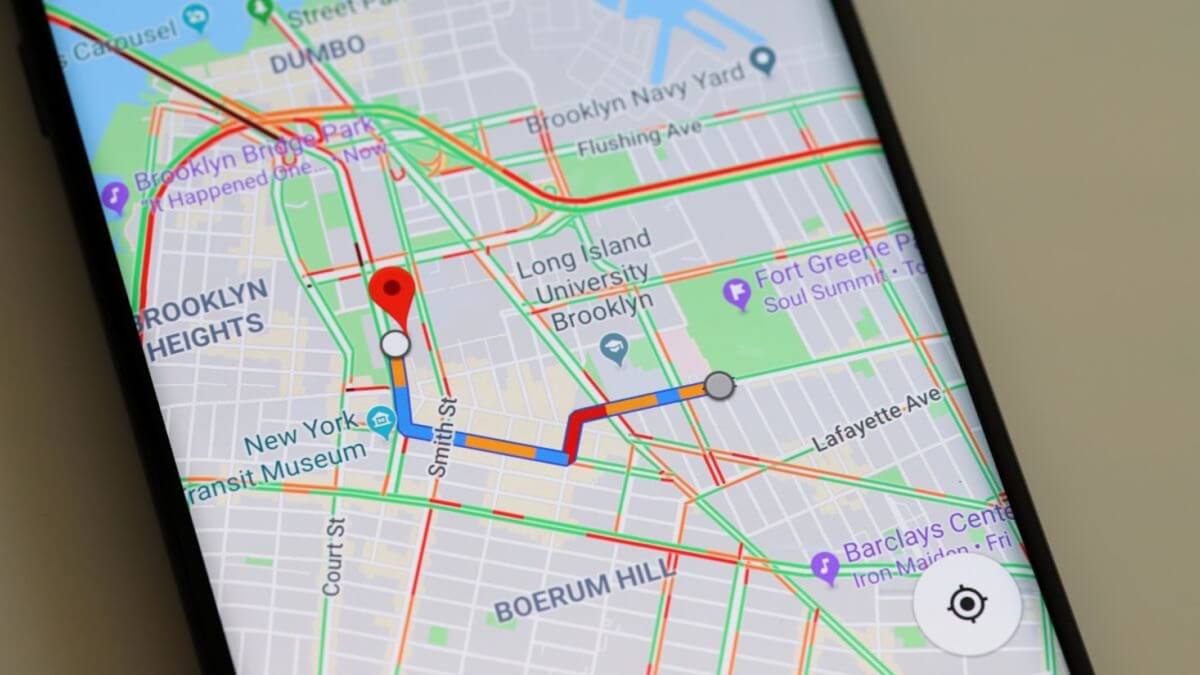 Good luck!
Part 5: Hot FAQs about Amazon Relay App?
---
1 Does Amazon Relay pay for fuel?
Small business freight carriers that use Relay (our service for freight carriers to book and haul available Amazon loads utilizing their free capacity) have a fuel surcharge covered by Amazon, which is based on weekly national averages published by the U.S. Energy Information Administration for every mile that carriers ...
---
2 Can I work for Amazon with my own truck?
What is Amazon Flex? It's simple: You use your own vehicle to deliver packages for Amazon as a way of earning extra money to move you closer to your goals. Reserve a block. Make deliveries.
---
3 How do I start a box truck business?
How to Start a Box Truck Business in 5 Simple Steps:
Step 1: Establish Your Business.
Step 2: Create a Business Plan For Your Box Truck Business.
Step 3: Open Up a Business Checking Account and Credit Card.
Step 4: Obtain Funding.
Step 5: Obtain Licenses, Permits and Insurance.
---
Conclusion
For many in the trucking industry who don't want to work with control managers who treat them unfairly, there's no question that Amazon Relay app is a great opportunity. Amazon helps truck drivers across the country regain power and independence. At the same time, if there is more accessible software to help us fulfill our desires, we might as well try it. Get your iMyFone AnyTo now!