Spoofing or faking of the location has become a very common trend nowadays. Gone are those days when Chrome location spoofer was of use to only developers. With changing time, location spoofing has become a very common subject with tech-savvy people doing it all the time to exploit games or downloads that are not available in their home country. Location spoofing successfully hides the identity of your server under a proxy server to fool chrome of your GPS location, thus accessing a lot of regions restricted materials like games, movies etc. Let's take a look at how it is done.
Part 1: Why Fake Location in Chrome?

The reasons to spoof location in Chrome can be many like:
Access a particular game that is not available on any sources in your home country: Sometimes, some games are not released in your region, or the versions are yet to come into your region. If you are too impatient to wait, using spoofing to get the game is something you can try.
Convincing a website of a fake location to access TV content: This allows you to enjoy the latest episodes for a series you have been eagerly waiting for if it gets released in another country.
Accessing news updates from another region/country: This allows you to get region-centric updates from another region or country.
Accessing navigation directions in another country without resetting the location again: this option can be used if you're planning to travel to another destination.
Part 2: 2 Ways to Fake Location in Google Chrome for PC/Mac

Way 1: Manually Set the Location on Google Chrome
Often while using websites through PC's or MAC's with cyber-crimes on the rise, we are worried about our privacy. In the case of PC's or MAC's, our IP addresses give away almost everything about our location, creating a huge risk every time we are on the net finding something or during online transactions.
Many times, we do require advanced browsers like Chrome for location-specific information or data. These advanced browsers let us manually set our location. Let's take a look at how we can fake location in Chrome, tricking the websites of our location using this method.
Step 1: Launch the web page that is asking for our location specifications.
Step 2: Now for Mac and Windows, there is going to be a difference in the steps in launching and initiating the spoofing process. In case of Windows, press Ctrl+Shift+I and in case of Mac, press Cmd+Option+I.
Step 3: As soon as the command goes through, a console called the 'Developer's console' will open on the screen.
Step 4: Once the 'console' appears, vertical three dots need to be clicked at the bottom.
Step 5: Click on 'Sensors' option and from the drop down menu near "Geolocation" option, choose "Others" option.
Step 6: You can now enter the latitudes and longitudes of the location you want. Launch the page again, click on 'Allow' to the location data, and the map shall successfully identify the location.
Way 2: Use an Extension to Spoof Location in Google Chrome
To do location spoofing on Chrome, certain extensions are used to customize a web browser and enable spoofing. An extension is a software program that can be linked with a browser to enable the browser to perform functions outside its regular constraint. One such browser extension is 'Location Guard' that can be used in a majority of domains by an individual configuring facility to gain access to location and its specifics. To add an extension such as, 'Location Guard' and use it, certain simple steps need to be followed:
Step 1: Firstly, go to the Chrome web store and look for the "Location Guard" extension using search bar. When you find it, click "Add to Chrome" button.
Step 2: Go to the extension icon on your browser's top right corner. Choose "Options" from there.
Step 3: Now under the "Default Level", set the "High" option. You can simply reboot the service by pausing it and resuming it.
Step 4: All good now! You can visit any website that requires location access and hit "Allow" on the location access notification. The Location Guard extension will distort your location automatically.
This accessibility extension is a huge convenience as they mask your real server's identity with external factors like noise. Such extensions come with a varying degree of protected levels, with the intensity of noise increases with the increase in the levels of security. These extensions are profoundly used by many users as it provides a very good masking feature.
Part 3: How to Spoof Chrome Location for iOS Device?

Now, all this while, we have just been speaking about Windows. What about phones? To give an accuracy rate as good as 'location guard,' a new product i.e. "iMyFone AnyTo" has been launched that allows iOS users to change their location in iOS devices. Using this, you can easily fake location in Chrome in your iOS device, even in iOS 14. This product is a tool that allows us to teleport anywhere in the world successfully thereby believing other location-based apps to change their locations based on the chosen location. Let's know some of the best features for this tool.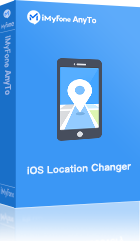 1,000,000+ Downloads
Features of iMyFone AnyTo:
Allows instant change to any location the world.
You can accurately get the location by keyingthe coordinates.
It helps you to take the support of moving speed like walking or running to set a route for you.
It helps save all the history regarding every place you have ever been to for future reference.
Works in coordination with other location-based apps.
How to Fake Location in Chrome Using iMyFone AnyTo
Step 1: Download and Launch the Tool
This involves downloading and installing iMyFoneAnyTo into a computer/Mac. Once you do that, launch the tool and then click on "Get Started".
Step 2: Get the iPhone Connected and Choose Location
Once the tool is launched, connect your iPhone to your computer/Mac with the help of a USB cable and unlock it to tap "Trust This Computer".
Enter your phone password again to start the process. Once you unlock the phone, within a few seconds, map screen will be launched, helping you identify your location on the map.
Step 3: Enable Teleport Mode
This step involves identifying the country or region where you want your proxy server to be. This can be done using the "Teleport Mode" option that is displayed on the top right corner of the screen (the third icon).
Once this option is selected, either you can enter your preferred GPS coordinates in the space provided, or you can use zooming feature to get the destination.
Step 4: Fake Location in One Click
When you select the destination and search for it, you will see a pop-up window appearing on the left side of the screen. Here, the complete information about the destination will be displayed with information like the place, name, geographic coordinates, etc. Click on the option "Move".
Step 5: Get the Results
Once this option is clicked, your server location, along with the location of all location-based apps, will change. To reset all your extension settings, just restart your iPhone again with real-time location coordinates.
Real-time location on your iPhone changed, and the location in Google Chrome on your iPhone will changed synchronously.
Tips: How to Turn on/off Chrome Location on iPhone/iPad?
It is always recommended to reset your settings once you get your desired information from a region-restricted location as there are a lot of location-based apps that contain information that is stored in the device. Also, it is for the safety of all your phone data and information that location sharing should be turned off once the work is done. But how do we do that?
Step 1: On your iPhone or iPad, open "Settings".
Step 2: Click on Chrome from the list.
Step 3: Choose the option "Location".
Step 4: Now, you can see three options i.e. "Never", "Ask Next Time" or "While Using the App". You can choose the first if you completely want to stop using your location in the Chrome.
Conclusion
Now that we know all the basics about spoofing and faking location in Chrome, one thing that we should keep in mind is never to go 'too far' with such technological gimmicks. The reason is that at the end of the day, it is technology and born out of human creativity. As long as we use masking for the right reasons, it's all good, but using it for the wrong reasons may have some serious implications. But talking about 'for' the technology, with advanced extensions we can access any information we want and any time we want. This has given us the freedom to be virtual 'all over the world' with an ergonomic convenience.