For all students, Google has taken a decision to give unlimited Google Drive Storage space where you can save and store your unlimited pictures, videos, file, documents, and anything you like. This offer is only for students having an education email.
Those who don't have this email can use other methods. We are going to discuss all the methods to get extra cloud storage. We will also share some points to free up and get more Google Drive Storage without buying.
Part 1: How to Get Unlimited Google Drive Storage for Students/Education Users Free
Google has recently announced to share 5 TB pooled storage space for students free of cost. Now, any student can enjoy massive storage space without being worried about the space left behind. You will have to follow these easy steps to get unlimited Google Drive Storage.
1.1. Sign Up with Education Email
Step 1: Ask your school administrator for your education email. You will be eligible to use the free storage only with education email.
Step 2: Now, sign in to your Google Drive account through your education email and enjoy unlimited storage space as a student.
1.2. Sign Up without Education Email
Those who do not have any education email or student account can use unlimited Google Drive space by using a third-party tool. We are going to share the guide on using AllDrive as a good third-party tool free of cost. This tool will help you to merge different Google Drive accounts to expand storage space.
You can combine the storage spaces of many Google Drive accounts as a single account and use them to store a large number of files and data. Let's see how it will work.
Step 1: Click "Get started free" on AllDrive official website first and then create an iMyFone account. You will see different options on the screen.
Step 2: Tap on "Add Clouds", select Google Drive, and click on the Add button. You can repeat this step to add multiple accounts.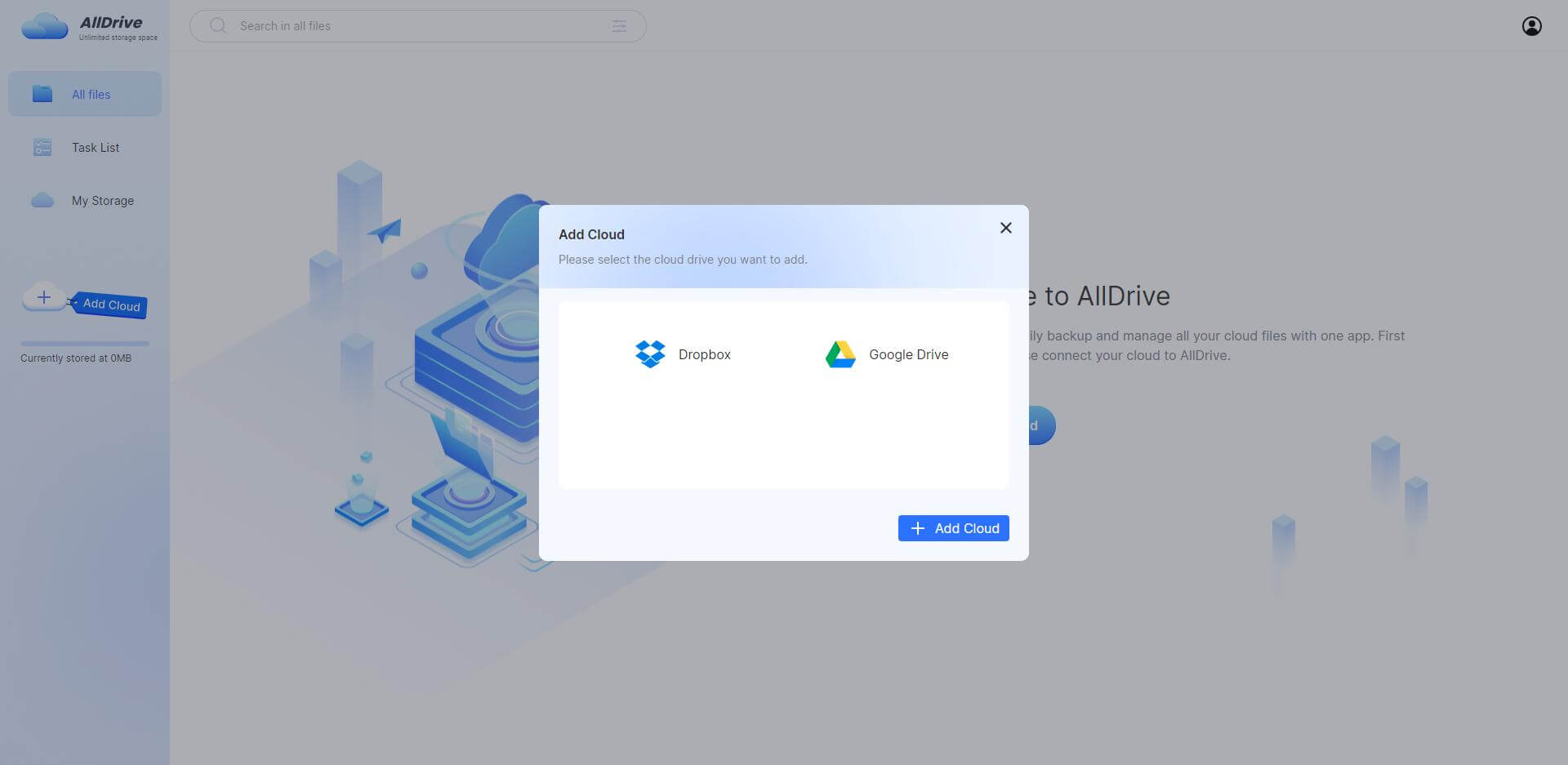 Step 3: Then click Authorize and make sure the third-party cloud drive may be added to the storage path.
Step 4: After successful login, you will have a cloud having combined storage space of all the Google Drive accounts.
Bonus Tip: How to Increase Google Drive Space
Normally Google Drive provides 15 GB of data to users, but this space becomes short after a certain time. In this situation, users buy extra storage space from Google through paid plans.
Here are some points as a tip for those users who want extra/more Google Drive Storage Space. Before buying packages, follow all these below-mentioned points to get extra space and see the difference. If you want more space even after this, then you can go with the purchasing plan option.
Delete useless large files
Clean up Gmail account
Remove duplicate files
Free up Photo Storage
Empty Google Drive trash
Use Google's file format
Do not add shared files to Google Drive accounts.
Buy storage through paid plans
Part3. FAQs
1: How about Google Drive MOD Apk (Unlimited Storage)?
Google Drive MOD Apk is a modified version of Google Drive which provides you unlimited storage space free of cost. It can safely access and save your data files, review, share, and receive content easily. In other words, you can get your Google Drive account in a modified form on your mobile.
2: How to Get Unlimited Google Drive Storage for Free (Except for Education Users)?
Those who are not students and still want to enjoy Google Drive Unlimited Storage can use any third-party tool for this purpose. We have discussed an amazing software in this article. You can follow that method to get unlimited cloud space. Moreover, you can also follow the above-listed points to enhance your Google Drive storage before buying extra storage.
3: What is Google Drive Unlimited Storage Price?
Google offers its Premium plan with the highest data storage space of 2TB. For this Premium plan, Google charges around 5 USD per month or around 50 USD per year. You will have 2TB storage space, Google Expert access, extra member benefits, and share features with up to 5 others.
Conclusion
Google provides 15 GB of Google Drive storage to all users without charging a penny. Recently, Google has announced to provide unlimited space to students totally free of cost. For using this space, users are required to use the education email. That education email will only allow you to use a student's unlimited space for free.
Those who do not have any education email can use different methods mentioned in this article. Those methods will also help you to enjoy extra Google Drive Storage space free of cost. Moreover, you should try to free the available space by following the points in the bonus tip.