Flickr is a media platform for uploading, downloading, curating, and sharing images and video files with colleagues, friends, or loved ones. Moreover, Flickr is not something new. Most of you have heard that it was one of the popular online image and video services at the time of its launch, but eventually, it lost its importance.
However, Flickr is very secure, and multiple options exist to set privacy for your images. So, basically, in this article, we will mention some simple tips and pros, how to transfer photos from Google Drive to Flickr, and much more, so keep reading.
Part 1. How to Transfer Photos from Google Drive to Flickr with Advanced Method
If you are looking for simple tips or guides on how to transfer photos from Google Drive to Flickr, don't worry, the method is very simple. Multi cloud is a professional storage manager that helps you transfer your files from Flickr to Google Drive or vice versa, now follow the simple instruction which helps transfer images:
Step 1:First, you need to create an account in MultCloud.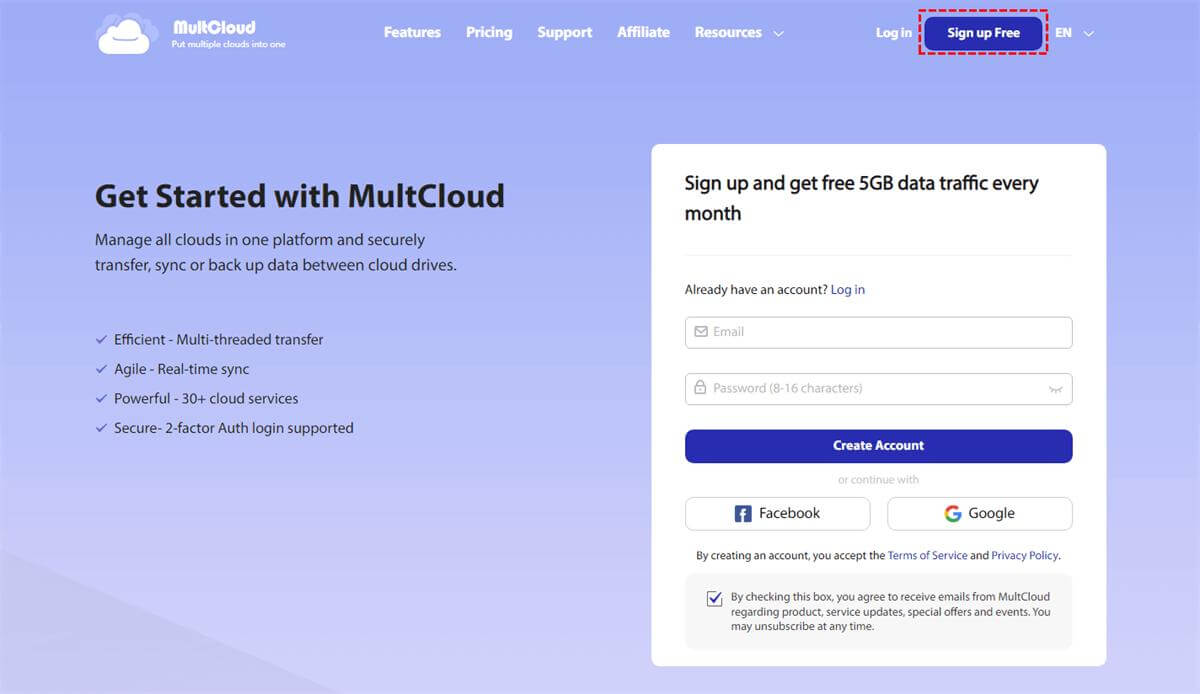 Step 2:Log in to the account. Select the Add Cloud option. Select Google Drive to add the drives to Multcloud and repeat this process for Flickr.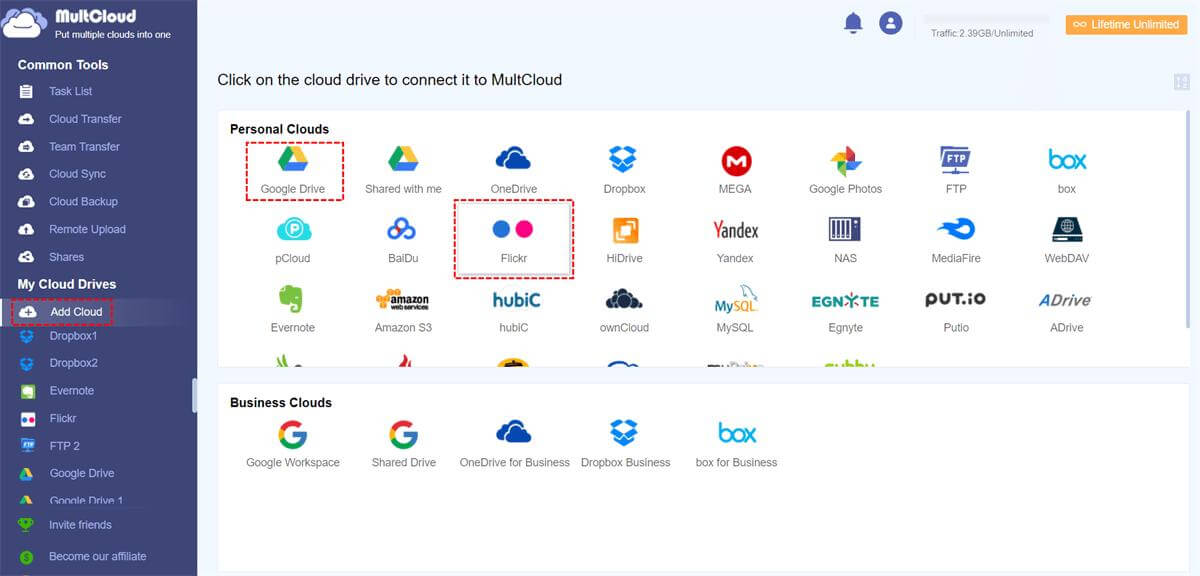 Step 3: Now move to the cloud transfer option. Select Google Drive as the source option. Select Flickr as the destination where you wish to transfer the file. Finally, click on the Transfer Now button.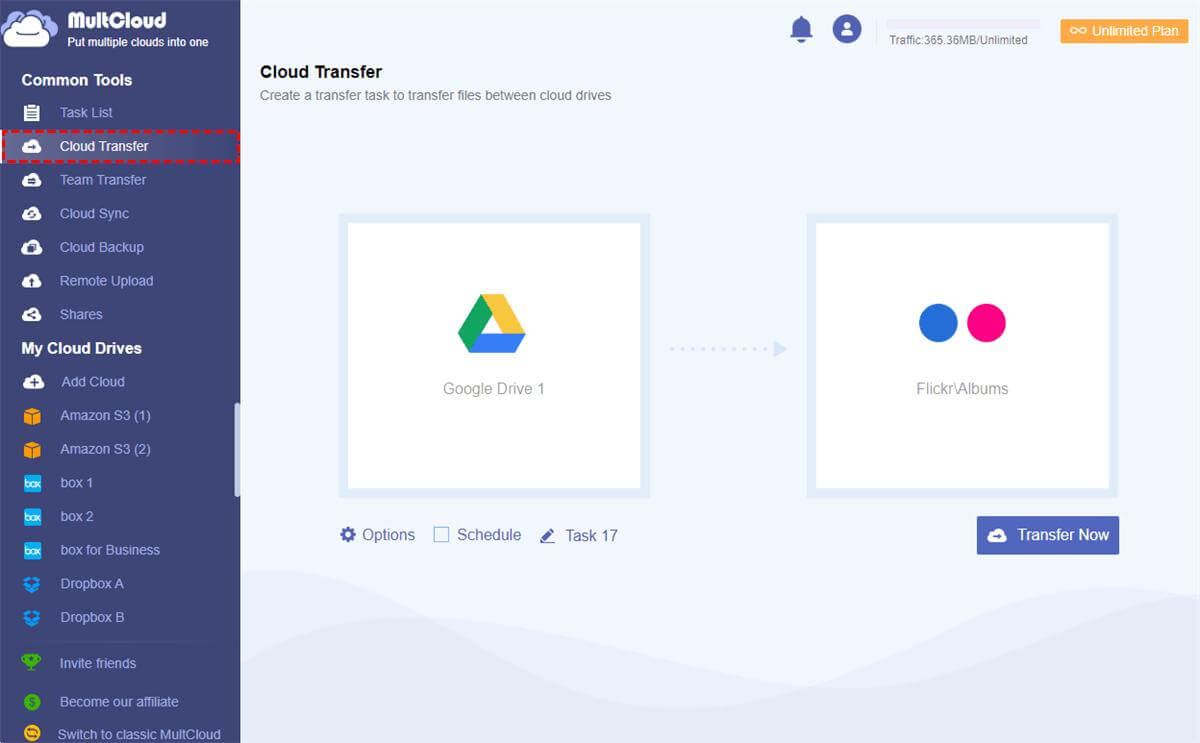 Part 2. How to Copy Files from Google Photos to Flickr by Downloading and Uploading
Google Photos and Flickr are not new. But many people are unaware of how to transfer photos from Google Photos to Flickr by downloading and uploading pictures. So in this part, we will list down simple steps that will help you copy files from Google Photos to Flickr.
Step 1: First, visit https://photos.google.com/ and log in to your account or sign up if you're a new user.
Step 2: After logging in, place the mouse on the photos, click the photos you wish to move, and then press the download options.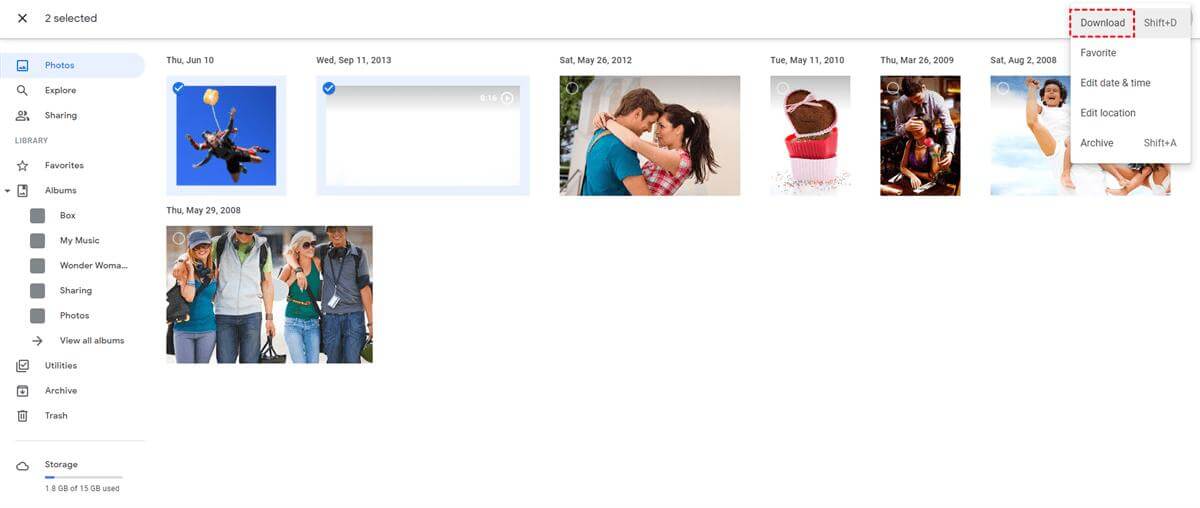 Step 3: Visit https://www.flickr.com/ and log in using your Flickr email and passcode.
Step 4: Now click the upload button and choose the photos and videos button to upload the file.

Once the uploading is completed, you can download it anytime.
Bonus Tip: Google Photos or Flickr, Which is Better?
Both have their pros and cons. It depends on your requirements. Below, we've highlighted some of the differences between the two applications. Let's have a look.
| | Google Photos | Flickr |
| --- | --- | --- |
| Storage Capacity | The storage capacity of Google Photos is impressive, and you can download images upto 16 megapixels and convert dull photos in ultra HD quality. Moreover, Google Photos provides 15 GB of free storage to store pictures with original quality. | The storage capacity of flickr is approximately 1000 pictures and videos. |
| Uploading and Downloading | It can automatically upload photos or videos on mobile and desktop. This can be uploaded from external media, uploaded RAW files, and choose between average and high-tech resolutions. | As far as flickr is concerned, the uploading is straightforward and very slow. On a desktop, select the folder, and the system performs the rest of the function, while on mobile, you need wifi or cellular data collection for uploading and downloading. |
| Photo Sharing | Google Photos allow you to send or share photos on social media platforms like Twitter, Facebook, Instagram, Snapchat, and Whatsapp, or you can share links to your images anywhere. | Flickr allows you to share links for a particular set of albums and pictures, but it helps you to control your privacy. It depends on you who can see the images you have shared on different social media platforms. |
| Organization and Unique Features | Thoughtful research, photo recognition, and automatic features of albums are some significant pros of Google Photos. But it doesn't maintain the structure of your files. | For flickr, multiple users can send love and add comments to their photos, and you can tag different people. Moreover, a new feature of flickr lets you group your images by a particular subject, and yes, unlike Google Photos, it maintains the album's structure. |
Conclusion
To transfer photos from Google Drive to Flickr is straightforward. You need to follow the simple steps. All your ultra HD images will be transferred from Google Drive or Google Photos to Flickr. Make sure you follow the steps accurately. If you miss any step, it will be a waste of time, and you will have to start again.