[2023 Quick Tips] How to Compress 4K Video without Losing Quality
Category: Compress Video
5 mins read
The augmented resolution of 4K videos brings forth a considerable surge in the size of the file, presenting a difficulty in storing and sharing, regardless of the fact that it has changed our way of viewing video content. And the crucial factor in minimizing these 4K video files is through compression.
Nonetheless, a lot of individuals are unwilling to adopt this approach due to apprehensions regarding compromised quality. This article will delve into the method of how to compress 4K video while retaining its quality, enabling you to reap the advantages of 4K technology without encountering difficulties in storage and sharing.

Part 1: Why You Need to Compress 4K Video?
Due to their high-quality and larger size, 4K videos require compression which is essential to avoid storage problems, and to ease their sharing and organizing process. The process of uploading and downloading these videos may also experience sluggishness, causing annoyance for the users. Moreover, the hardware may have difficulties in processing 4K videos that are too large in size.
Therefore, users can try to make those 4k videos more manageable by compressing them, which will result in smaller sizes, increased shareability and storage, faster upload and download times. The CPU consumption and heat buildup will be decreased as well. In general, shrinking 4K videos offers a convenient way for dealing with the obstacles linked to handling top-notch videos.
Compress 4K videos without limitation on the quantity.
Part 2: Which is the Recommended 4K Video Compressor?
When selecting a 4K video compressor, there are various aspects to take into account such as the speed and degree of compression, user-friendliness, suitability with your computer setup, etc. A well-suited 4K video compression tool should possess the capability to minimize the video's size while maintaining its quality. Moreover, there should be options for users to modify the video's quality and size according to the particular necessities.
And one 4K video compression software that meets all of these requirements is iMyFone AnySmall. With a plethora of cutting-edge functionalities, this software enables you to compress 4K videos as well as other videos of large size, void of any degradation in their overall quality.
10% OFF Coupon Code to Compress 4K Videos: AS10OFF
Part 3: How to Compress 4K Videos without Losing Quality via AnySmall?
With the already known features, it should be easier for you to follow steps here to see how to compress 4K videos without losing quality with this recommended video compressor.
Step 1.

Download the Software to add 4K videos

Download and install the software, launch it on your computer and click on the window to choose and add 4K video files you want to compress.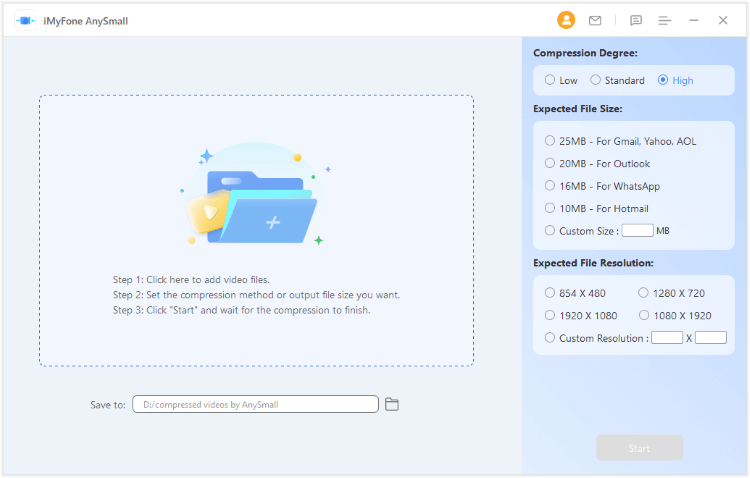 Step 2.

Adjust compression degree to your liking

The videos you add will show up on the interface. And from the menu of Compression Degree, you can choose from Low to High, the higher the degree, the more video size can be reduced, while the quality remains the same.

For further compression settings, you can customize the video size you like by entering the megabyte under Expected File Size, which is customizable to your individual needs.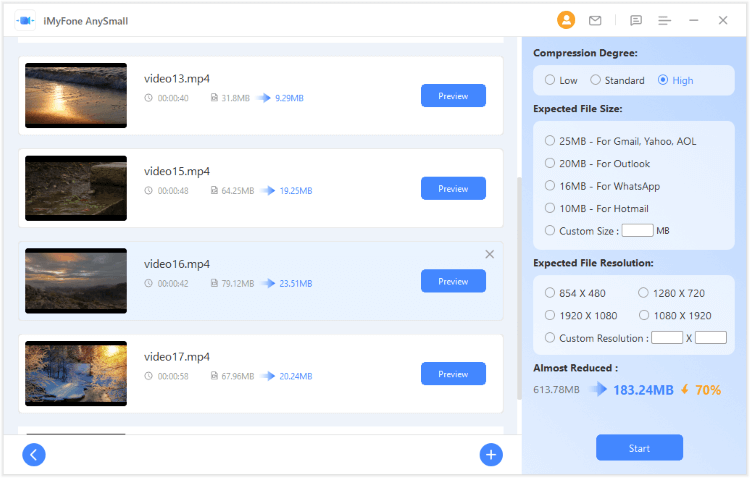 Step 3.

Start to compress 4K videos

After that, tap on the Start button to begin the compression process. The whole process won't take long, please wait for it to finish.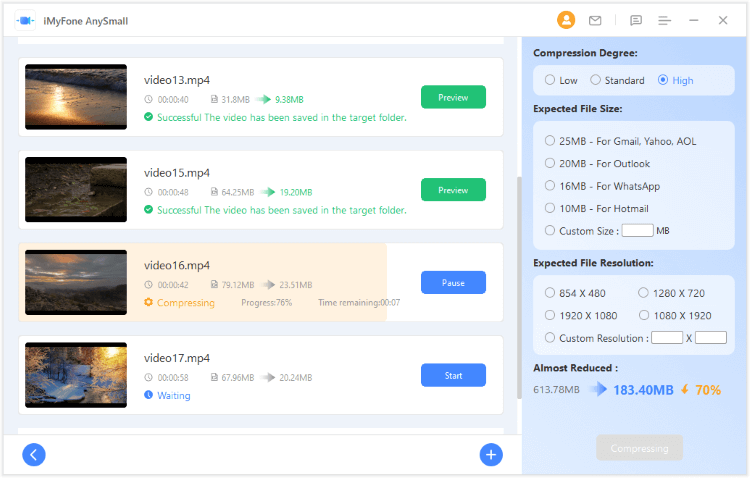 Step 4.

Go get the compressed videos

The videos will be saved automatically when the program finished compressing. You can get them from the destination folder and use them freely for other purposes.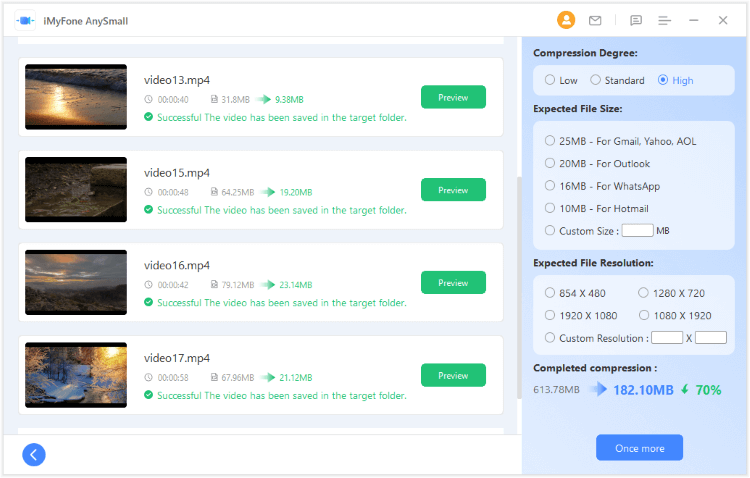 Part 4: Is Online Video Compressor Works for 4K Video Compression?
To spare the effort of downloading software, many people would seek help from those online video compressors, hoping to get the desired results that desktop video compressors may generate. However, things may not go as expected and users prefer to try desktop tools when they see the comparison table below.
| Criteria | Online Video Compressor | Desktop Video Compressor |
| --- | --- | --- |
| Speed | Limited by internet connection and server capacity | Generally faster, as processing is done locally |
| Compression Quality | Some may loss quality because of the poor compression algorithms | Full control over the output quality |
| Features Offered | Limited to basic compression | Offers more advanced features and customization options |
| File Size Limit | The majority of them support to upload videos of up to 500MB only | No limit on the video size |
| Video Quantity Limit | Most of them support to upload 1 video only at a time | You can upload and compress unlimited videos at once |
| Privacy | May raise privacy concerns due to uploading sensitive files to a third-party server | No privacy concerns as all processing is done locally |
Part 5: FAQs about How to Compress 4K Videos
1

How can I reduce the file size of a 4K video without losing too much quality?

To reduce the file size of a 4K video without significant loss of quality, you may want to use a combination of compression techniques such as reducing the bitrate, adjusting the resolution and frame rate.
2

Can I compress a 4K video on my phone or tablet?

Yes, there are many mobile apps available that allow you to compress 4K videos directly on your phone or tablet such as iMyFone AnySmall app, Panda Resizer, etc. However, compressing videos can be a resource-intensive process that may require significant processing power and memory, so you may want to use a high-end device or a cloud-based service to ensure optimal performance.
3

What are the main challenges of compressing 4K videos?

The primary hurdles in compressing 4K videos include the large file size and the intricate detail and intricacy of the video. Achieving a satisfactory balance between video quality and file size is crucial when compressing 4K videos, which may demand ample processing capability and storage capacity.
Conclusion
To summarize, compressing 4K video while maintaining its quality may appear challenging; however, it is crucial for optimizing storage capacity and enhancing playback efficiency. And if you're in search of a dependable means to compress 4K video, iMyFone AnySmall comes highly recommended.