[2023]How to Recover Deleted/Lost Safari History on Mac/iPhone
Category: PC Data Recovery
5 mins read
Safari history is a very useful feature as it allows you to quickly find the websites that you visited before and now want to visit again but don't remember the address. In some cases, Mac users want to recover history on a Mac to find the sites that they visited before, even though the history has been accidently cleared.
For example, one user asked "Is there any way to recover my Safari browsing history if I erased it by mistake so I can find back the site that I visited before?" Fortunately, it is possible to recover cleared Safari history. Read on to learn where is Safari history stored on Mac, how to find it, as well as the different ways to recover Safari history Mac.
Part 1. How to Find Safari History on Mac
Many Mac users may wonder where safari search history is stored on Mac. Apparently, finding history on Safari is quite straightforward as all you need to do is navigate to the Preferences section and then manage the history files from there.
Follow these instructions to find Safari history Mac:
Launch Safari on your Mac.
Use Command + Comma (,) buttons on your Mac's keyboard to navigate to the Preferences section. Alternatively, you can use the menu bar of the browser to do this.
Once in the Preferences section, choose the General tab and then click on the option called Remove history items. With that option, you can either set the history to be automatically cleared after a certain time or set it to clear manually.
If you want to search your history or delete the records related to visited websites selectively, then press Command + Y keys on your Mac's keyboard while the Safari browser is running and it will take you to the history view.
Part 2. How to Recover Deleted/Lost Safari History on Mac with Software
Using a data recovery tool is another reliable way to see your deleted/lost Safari history Mac. Data recovery software allows you to recover virtually all kinds of data, including search history. So, it is likely that you will be able to perform successful data recovery.
iMyFone D-Back is a recommended tool that you can use for Safari history Mac recovery. Choosing this tool is recommended because of its ease of use, cost, and variety of advantages that other data recovery tools generally lack. Available for Mac, iMyFone D-Back uses advanced data recovery algorithm to find and recover history on Safari with high success rate.
Recover deleted/lost Safari data on your Mac, such as browsing history, cookies, etc.
Before recovering, you can freely scan your data in Safari history while previewing it to determine what data can be recovered.
Supported Mac devices include MacBook, MacBook Pro, MacBook Air, Mac Mini, and more.
The iMyFone D-back data hard drive doesn't only work with files on Windows/Mac, but it can also help you to recover data from SD cards, hard drives, cameras, etc.
Steps to Recover Deleted/Lost Safari History on Mac Via iMyFone D-Back:
Step 1: Download, install, and launch iMyFone D-Back on your Mac. From its home interface, navigate to the folder where your Safari browsing data was located.
Step 2: iMyFone D-Back will start the scanning process.Once you find deleted/lost Safari history, stop the scanning process, select the file and click on the Recover button.
Step 3: In the end, select the path or location where you want to restore the search history on Mac and click on the OK button. Your data will be available at the selected location on your device.
Part 3. How to Check Deleted History on Safari on Mac for Free
1

Restore Deleted Safari History on Mac by Time Machine

Time Machine is a very useful tool on Mac that allows you to create and restore backups in an efficient and convenient manner. You can use it to restore your deleted Safari search history on Mac, providing that Time Machine was enabled and backup was created before the deletion of your Safari history.
Follow these instructions to restore deleted Safari history via Time Machine on Mac:
Step 1: First, make sure that the Time Machine feature is on/enabled on your Mac. To do this, launch Time Machine and navigate to Menu > Systems. Once there, toggle the switch to On if it is currently at Off position. This will enable Time Machine.
Step 2: Next, navigate to Time Machine option that manages the backups. You can find it in the Time Machine drop-down menu. Once you navigate to that section, you will be automatically connected to the backup location.
Step 3: Once you see a list of all the backups and snapshots that Time Machine has taken, find and navigate to the Applications window. Once there, look for the snapshots taken by Safari and then use the Restore button under it to start recovering the deleted Safari history.
This method to recover deleted Safari history only works if Time Machine was enabled before your web history got erased.
2

See Lost Safari History on Mac Via Cookies

As mentioned before, if the Time Machine on your Mac was not enabled before the deletion of your search history, then you won't be able to recover the history on Safari via that method. In this situation, you will need to use the cookies of your Safari browser to view and retrieve the history.

Cookies are small files that many websites use in order to store certain data. They contain data like URLs, etc. So, by finding and viewing cookies, you can see the sites that you have visited on your Safari browser.
Follow these instructions learn how to use cookies to retrieve lost browsing history on Safari:
Step 1: Launch Safari on your Mac. You can launch it from your Dock via the Launchpad menu.
Step 2: Once the Safari browser is opened, use the top-left corner of the screen to find and click on the Safari menu. Then, choose the Preferences option. It will open the settings menu for Safari.
Step 3: In the Preferences section, find and click on the Privacy tab. This is where cookies are saved. Once you are on the Privacy screen, click on the Manage Website Data option. This will show you a list of websites that you have accessed on Safari. Use it to retrieve your lost history on Safari.
Not all cookies store the same data. So, it is likely that you won't be able to retrieve websites that you wish to find via this method. Apart from this, cookies can sometimes get corrupted. In such cases, it becomes impossible to retrieve your Safari history from them.
Bonus Tip: Recover Deleted/Lost Safari History on iPhone
If you are looking for a way to recover deleted/lost Safari history on your iPhone, then you will be glad to know that it is possible thanks to professional iPhone data recovery tools. It is recommended that you use iMyFone D-Back iPhone data recovery tool for this purpose as it is easy to use and allows you to recover many types of deleted/lost data (including Safari history) thanks to its variety of recovery modes.
iMyFone D-Back is compatible with the latest iOS versions and it is suitable for beginners as all you need to do is use it's simple 3-step process to recover your deleted data on Safari. iMyFone D-Back has a free trial version which you can use to see whether it satisfies your needs. Once you are fully satisfied, you can choose your desired plan to unlock all of its features.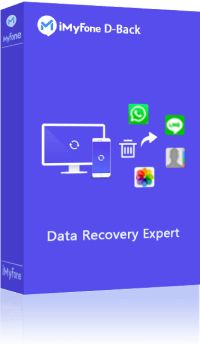 Selectively recover 22+ file types including WhatsApp, Viber, WeChat, Kik, Line, photos, videos, messages, contacts, and notes.
Allows you to preview the recoverable data and recover them selectively.
Provides 5 recovery modes: Recover from iOS Device/iTunes Backup/iCloud Backup/Smart Recovery/Fix IOS System.
It supports the newest iPhone 14 Pro Max, iPhone 14 Pro, iPhone 14, iPhone XS Max, etc.
Conclusion
There are several ways to recover cleared Safari history on Mac. Depending on the different scenarios, any of the above-listed methods can prove to be useful. So, it is recommended that you try these methods one-by-one until you have successfully recovered the browser history on Safari.
Of course, if you need to save time and recover Safari history on a Mac quickly, don't hesitate to try iMyFone D-Back. And if you are looking to recover deleted Safari history on your iPhone, it is also possible. Simply use the 3-step recovery process of iMyFone D-Back and selectively recover the files that you want.